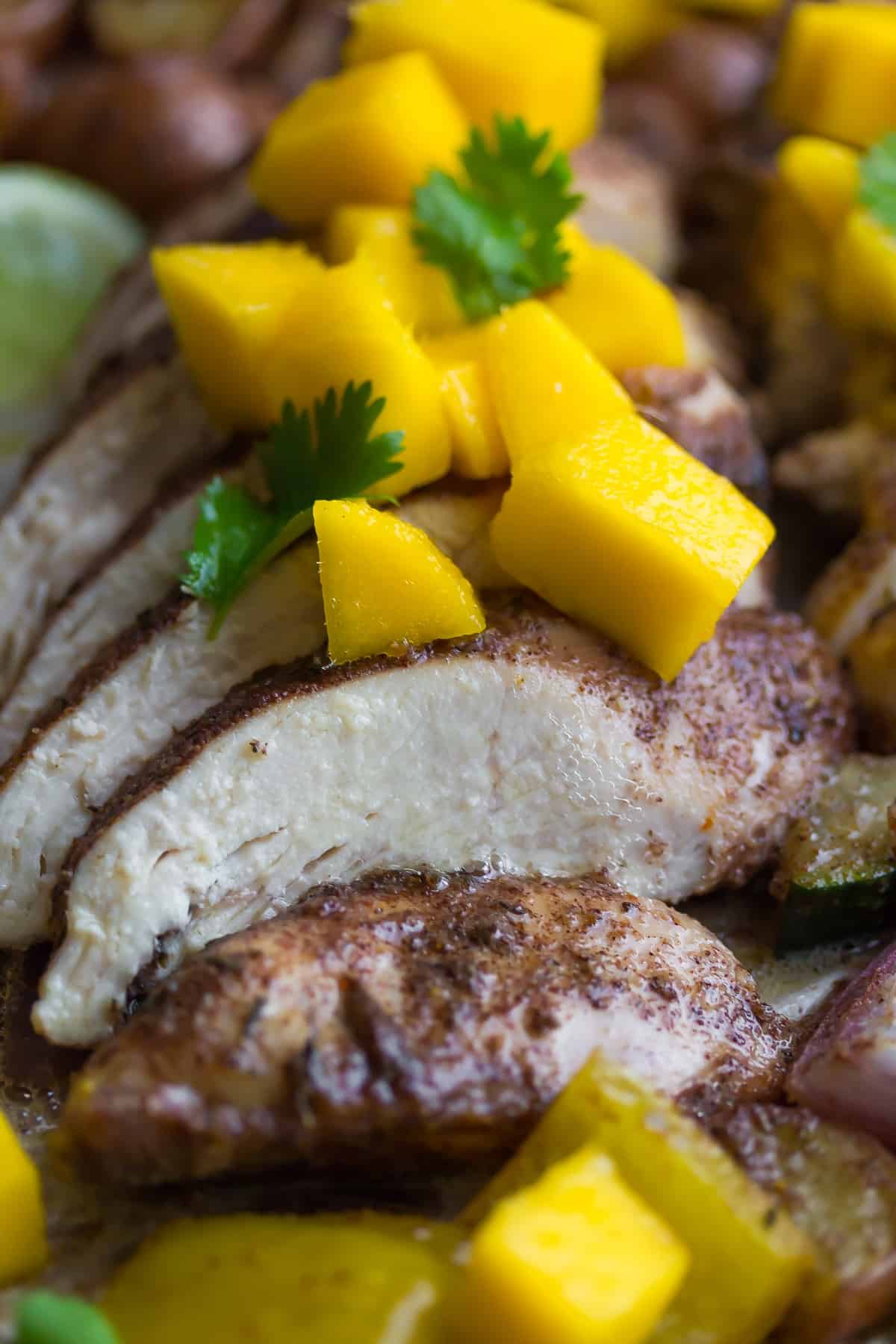 This healthy Jamaican chicken sheet pan dinner bakes up on one pan in under 30 minutes, making it perfect for an easy weeknight dinner.
Interrupting the parade of peppermint, gingerbread and all things holidays to bring you this delicious Jamaican chicken sheet pan dinner!
I do love the holidays, I really do!  But the 24/7 non-stop flow of holiday treats on Facebook wears me out a bit.  And sometimes I get an identity crisis, like when I forget that I'm Canadian and Thanksgiving happened months ago, and no, I don't get Thursday off work to eat turkey.
And seeing as it's the DARKEST time of year…dark when I wake up, dark by the time Ben gets home…I have really been craving bright, tropical food.  It's not just for summer, and you heard it here first 😉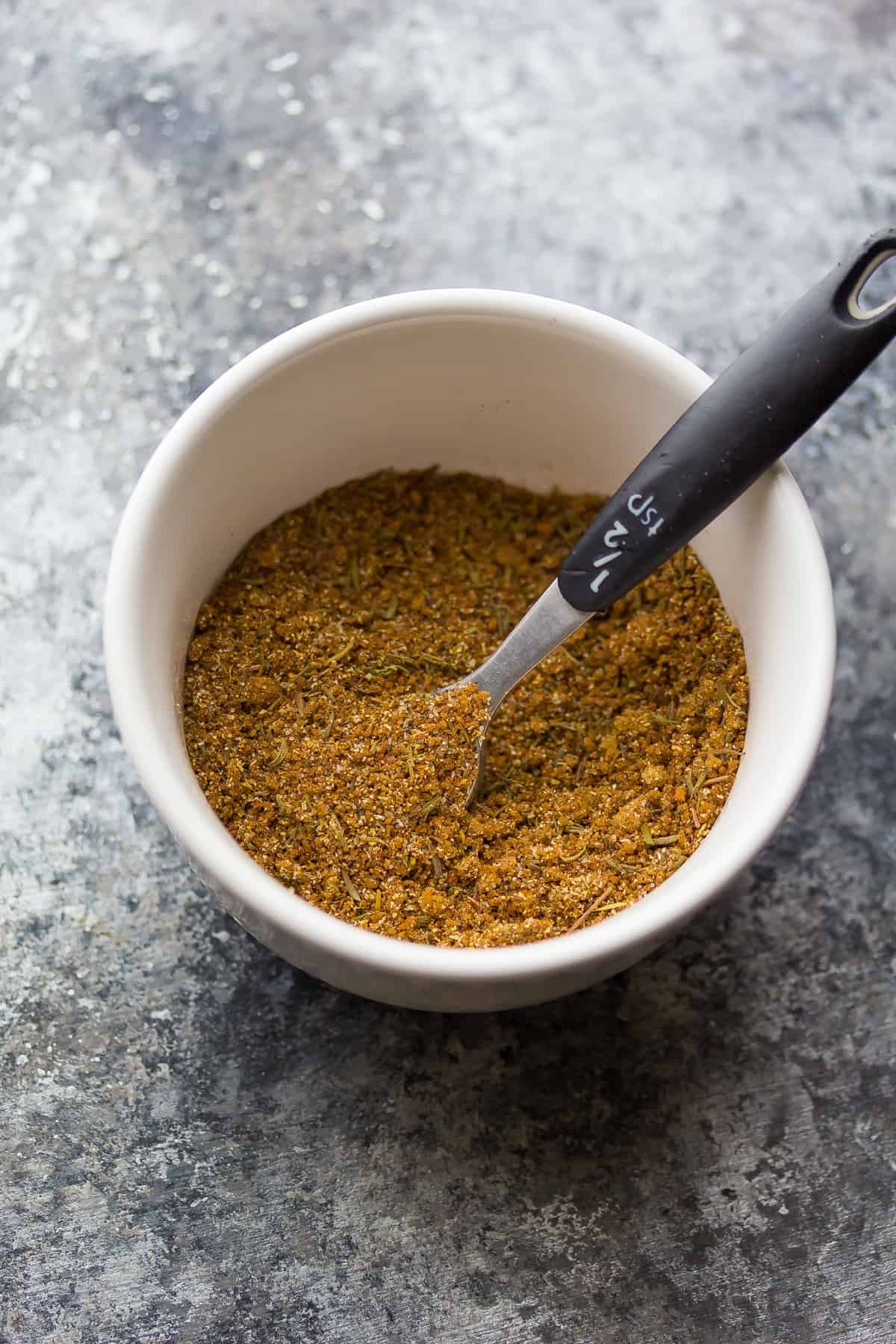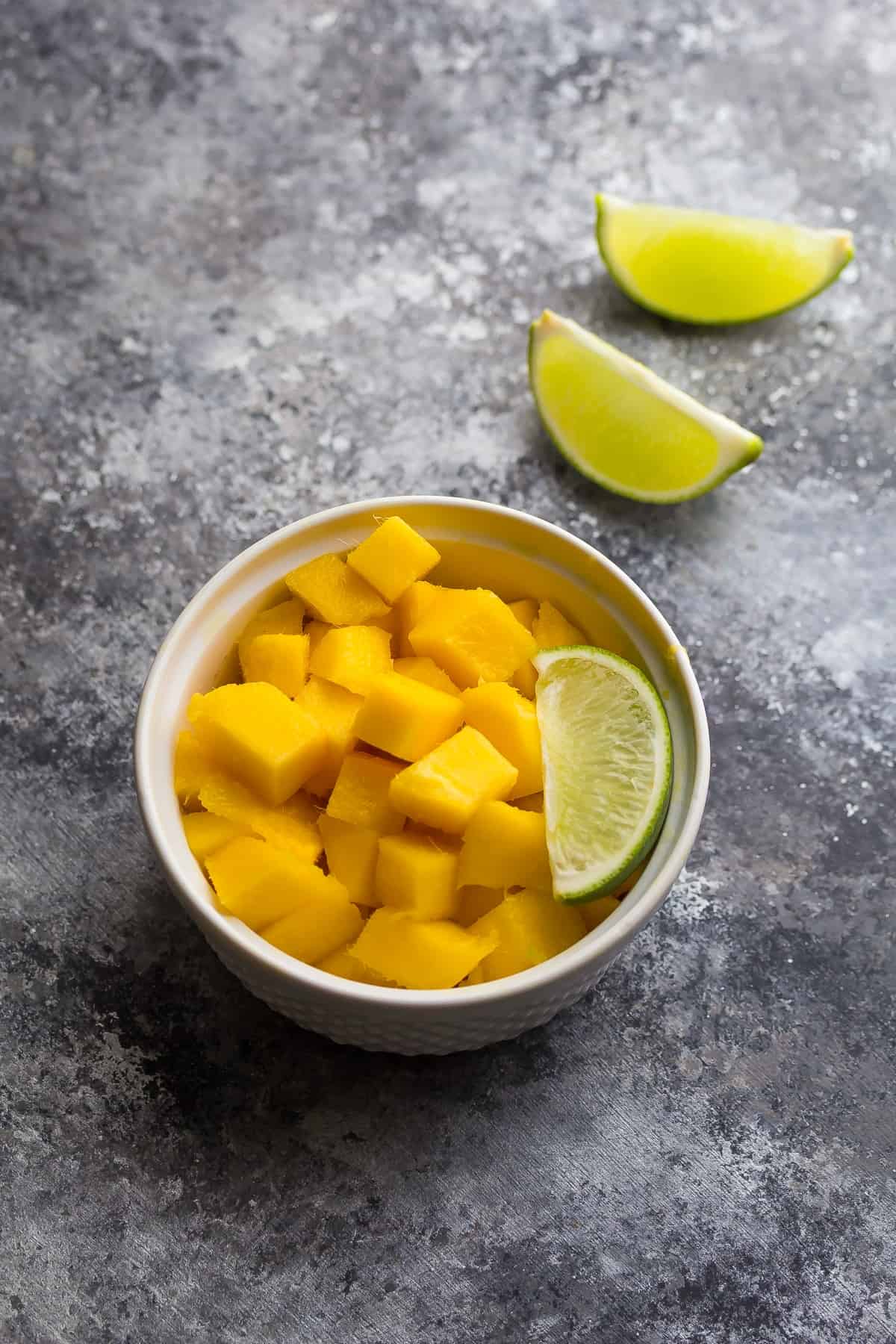 Today's recipe starts with a super simple rub filled with delicious Jamaican spices: allspice, nutmeg, thyme, a bit of cinnamon, and as much cayenne as you'd like.  You can make it Ben spicy (aka: mouth flaming, tongue hanging out of mouth, sweat on brow spicy), or Denise spicy (aka: just a nice mild heat).  Or you can leave it out altogether.
It's so typical of me to overdo the spice, I always underestimate cayenne.  So our first Jamaican chicken sheet pan dinner was most definitely 'Ben-spicy', but I still couldn't stop eating it.  I'm a glutton for punishment…but it tasted so good I couldn't help myself.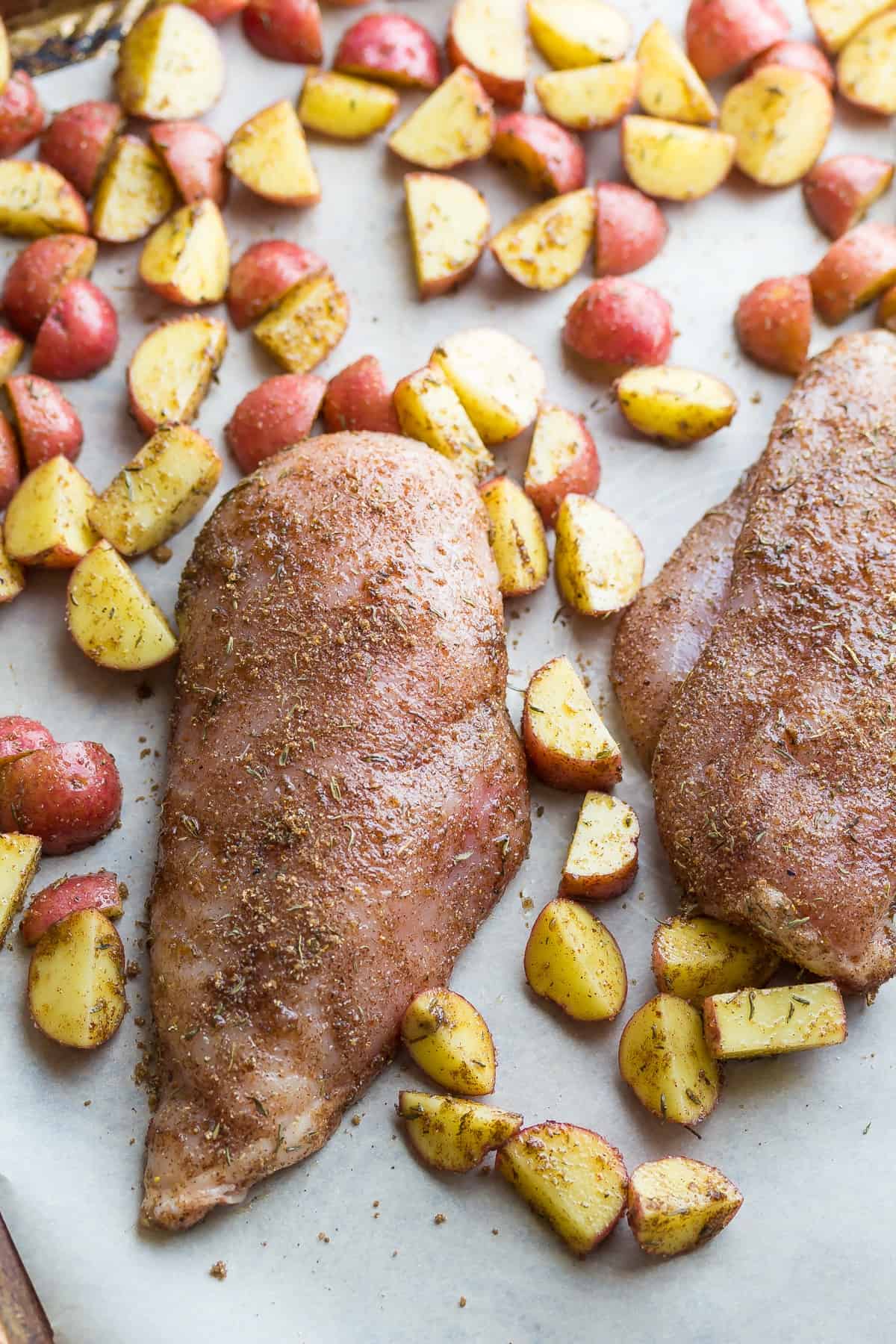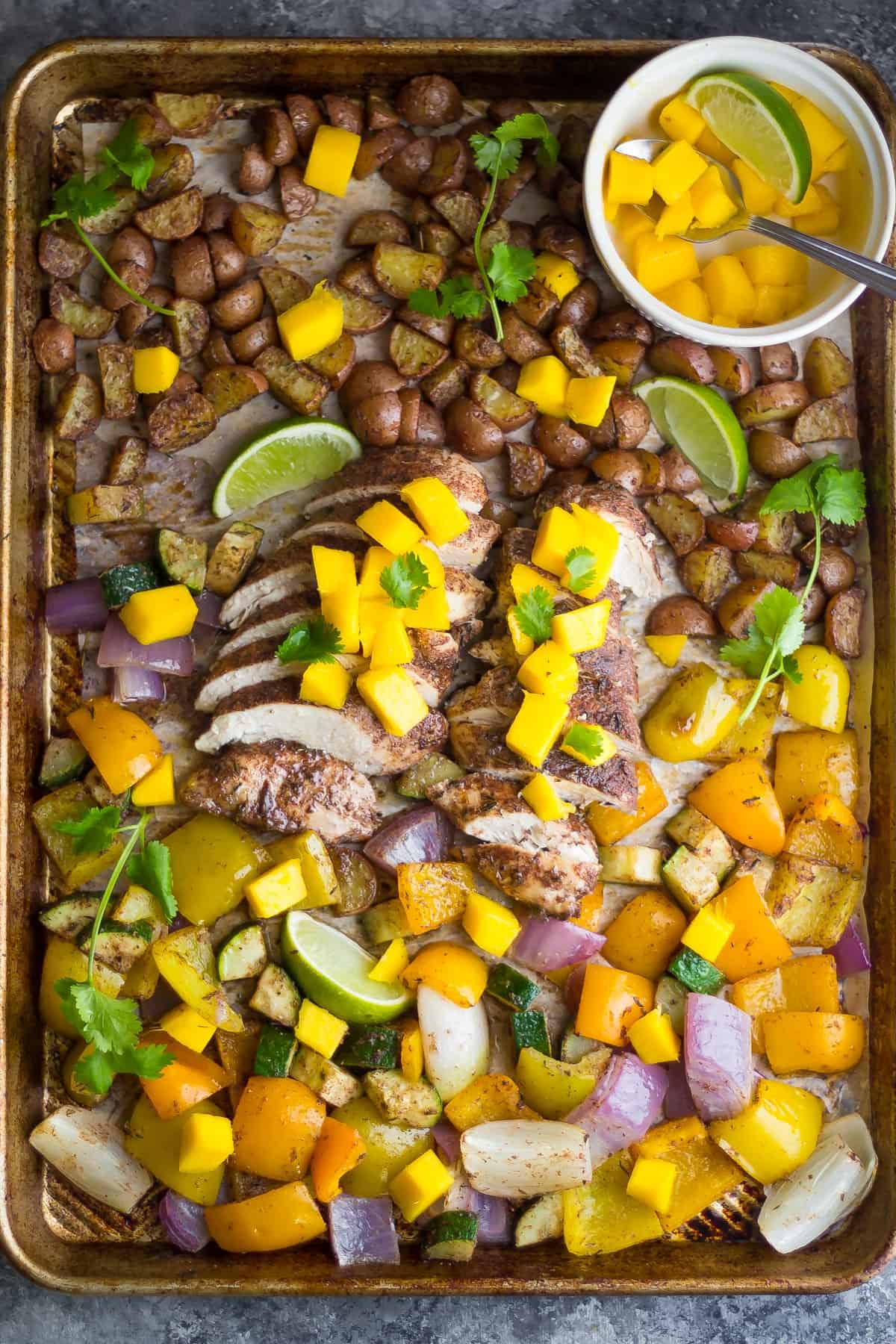 This Jamaican chicken sheet pan dinner is one seriously easy meal.  You toss the chicken in the rub, toss the potatoes in the rub, bake for 10 minutes.
Then you toss the veggies in the rub and return to the oven for 15 more minutes.  Serve with lime wedges and fresh mango.  DON'T SKIP THE MANGO, you hear?!
Mango = magic in this recipe.  Just not the same without it!
Are you ready for a whole lotta delicious 30 minute dinners?  Cause it's 30 Minute Thursday and there are 5 more recipes coming your way:
Creamy Tomato Tortellini Soup from Pumpkin 'N Spice
Gnocchi and Winter Vegetables with Sage Cream Sauce from Floating Kitchen
Easy Falafel Soup with Tamari Croutons & Tahini from She Likes Food
Creamy Pesto Gnocchi with White Beans and Sausage from My Sequined Life
Creamy One Pot Turkey and Rice from Bake.Eat.Repeat.
More sheet pan dinners for us!
Jamaican Chicken Sheet Pan Dinner
4
adjust servings
Ingredients
Jamaican Rub
1

tablespoon dried thyme leaves

1

tablespoon ground allspice

2

tablespoon brown sugar

1

teaspoon salt

1

teaspoon pepper

1

tablespoon garlic powder

1

teaspoon cinnamon

1/8

teaspoon cayenne (for mild spice) or 1/4 teaspoon (for spice-ay!)
Sheet Pan
2

large chicken breasts

4

cups baby potatoes cut SMALL (in 4-6 depending on size of potato)

2

bell peppers, cut into chunks

1

red onion, cut into chunks

1

zucchini, cut into small pieces
To Serve
2

mangoes, cut into cubes
Instructions
Heat oven to 425°F. Line two baking sheets with parchment and set aside.
Stir together all rub ingredients.
In a medium sized bowl, toss the chicken with 1 tablespoon of olive oil and 1.5 tablespoons of the rub. Make sure they are evenly coated, then arrange on one of the baking sheets.
In a separate medium sized bowl, toss the potatoes with 1 tablespoon of olive oil and 2 tablespoons of rub. Arrange on the baking sheet around the chicken.
Bake for 10 minutes. Flip the chicken and return the pan to the oven for 15 minutes.
Toss the peppers, onion and zucchini in 1 tablespoon of olive oil and 2 tablespoons of the rub. Arrange on the second sheet pan and bake for 15 minutes.
While sheet pans are cooking, prepare the mango.
Allow the chicken to rest for 5 minutes before serving with the mango.
Recipe Notes
Nutritional Information:
Calories 463 // Fat 2 g // Saturated Fat 0 g // Cholesterol 66 mg // Sodium 652 mg // Carbohydrate 79 g // Fiber 11 g // Sugars 33 g // Protein 35 g
Leftovers make for an excellent lunch.