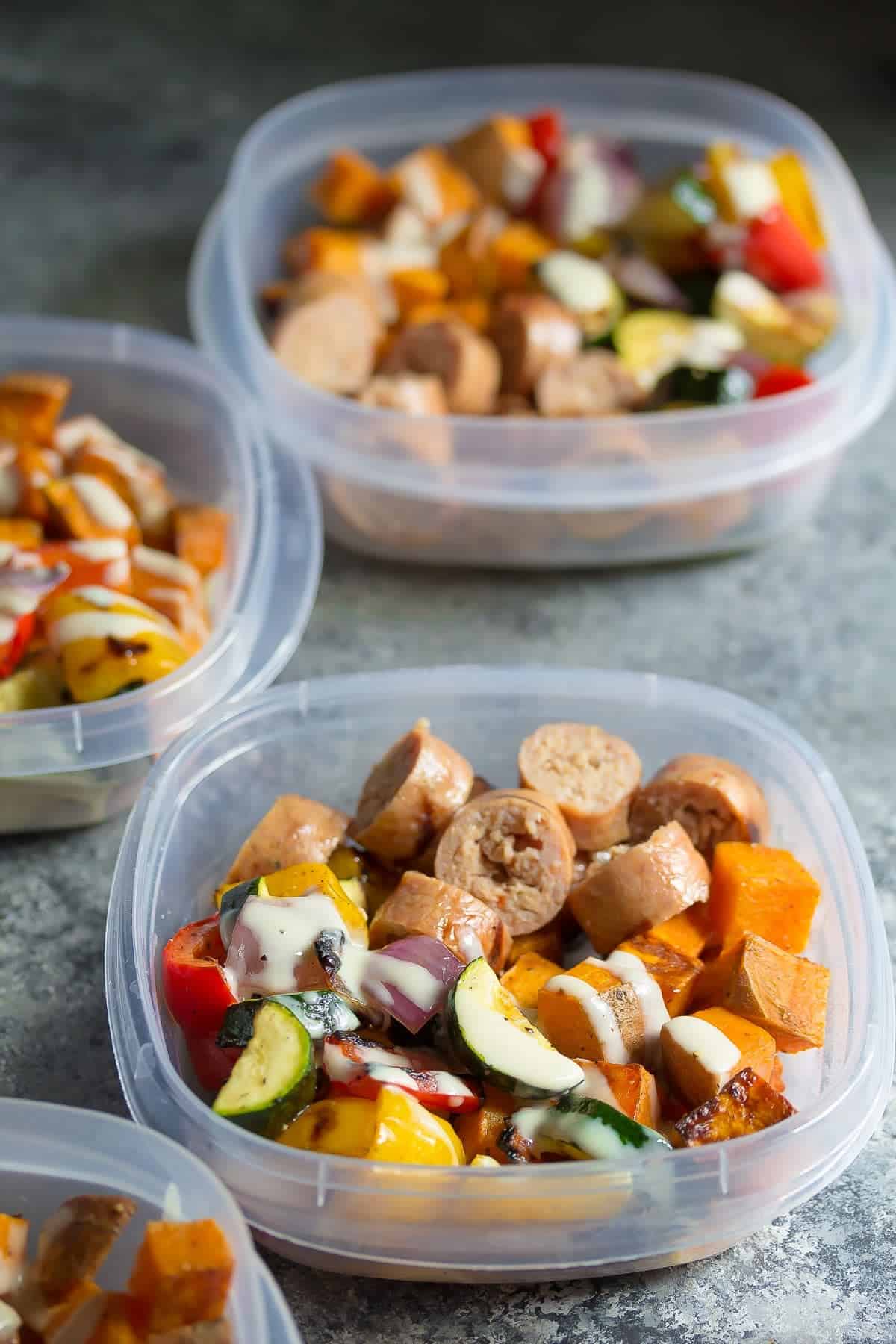 Make these turkey sausage and sweet potato lunch bowls on Sunday and you'll have your work lunches ready for the week!
HI!  Hope you're having an awesome Monday!  For real.
We are getting ready to go away on holidays.  So exciting!  I went to the store to find a new swim shirt for Kai, and guess what?  They have already replaced all the swim stuff with fall stuff.  SERIOUSLY.
Because we don't need swim stuff year round?  And it's mid-July.  I don't need to see any back-to-school stuff until the last week of August, please and thank-you!
But we do need healthy and delicious work lunches year round (unless you are a teacher!), so I thought these bowls might perk up your Monday a bit?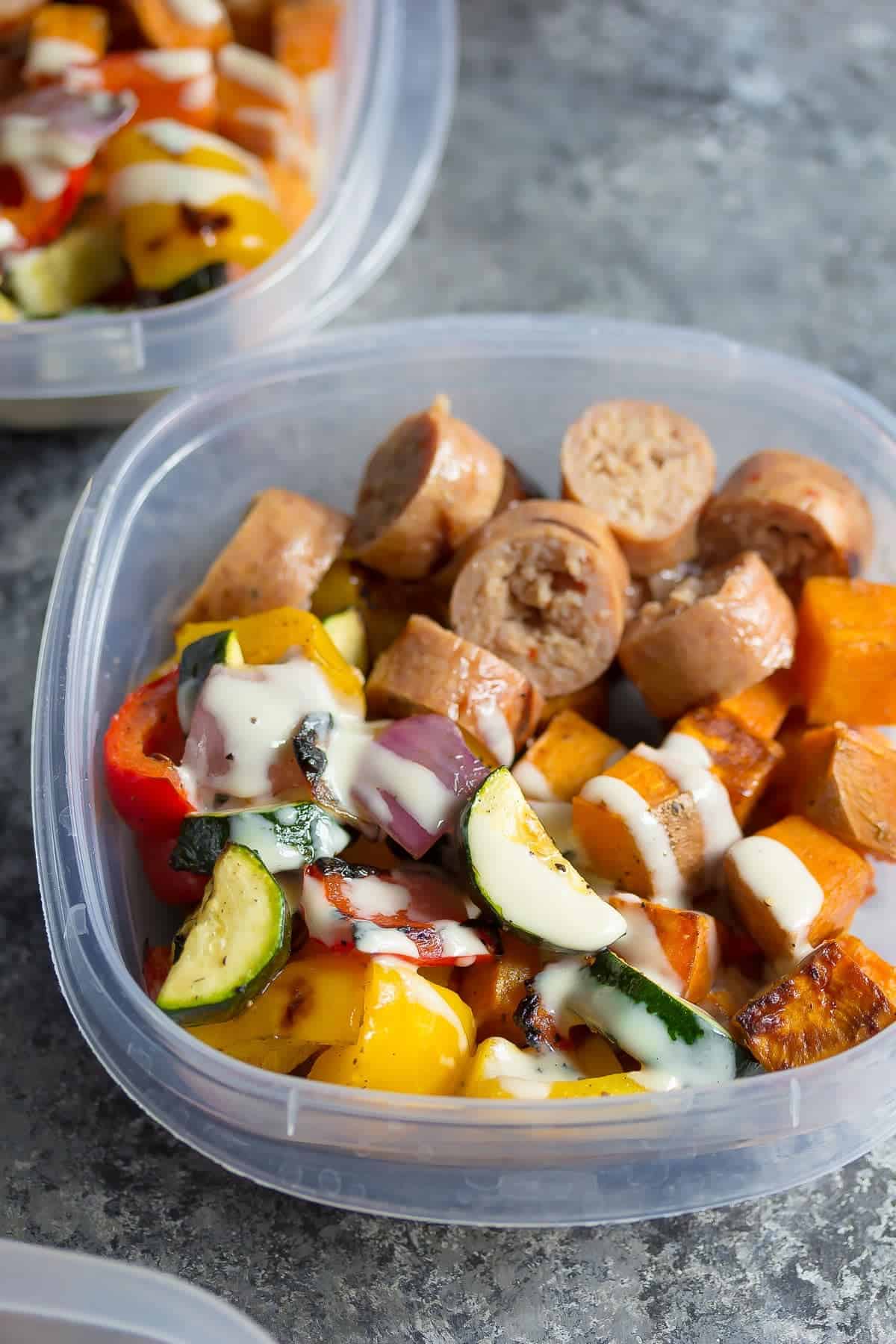 I guess they're not the prettiest things in the world to look at, but these sausage and sweet potato lunch bowls are seriously easy to make and seriously delicious to eat.
Like my Chicken Fajita Lunch Bowls and my Thai Chicken Lunch Bowls, these guys make four portions.  As much as I'd love to make five, I don't think anyone wants to eat a lunch that was made five days earlier…plus I'd start to question the food safety aspect as well.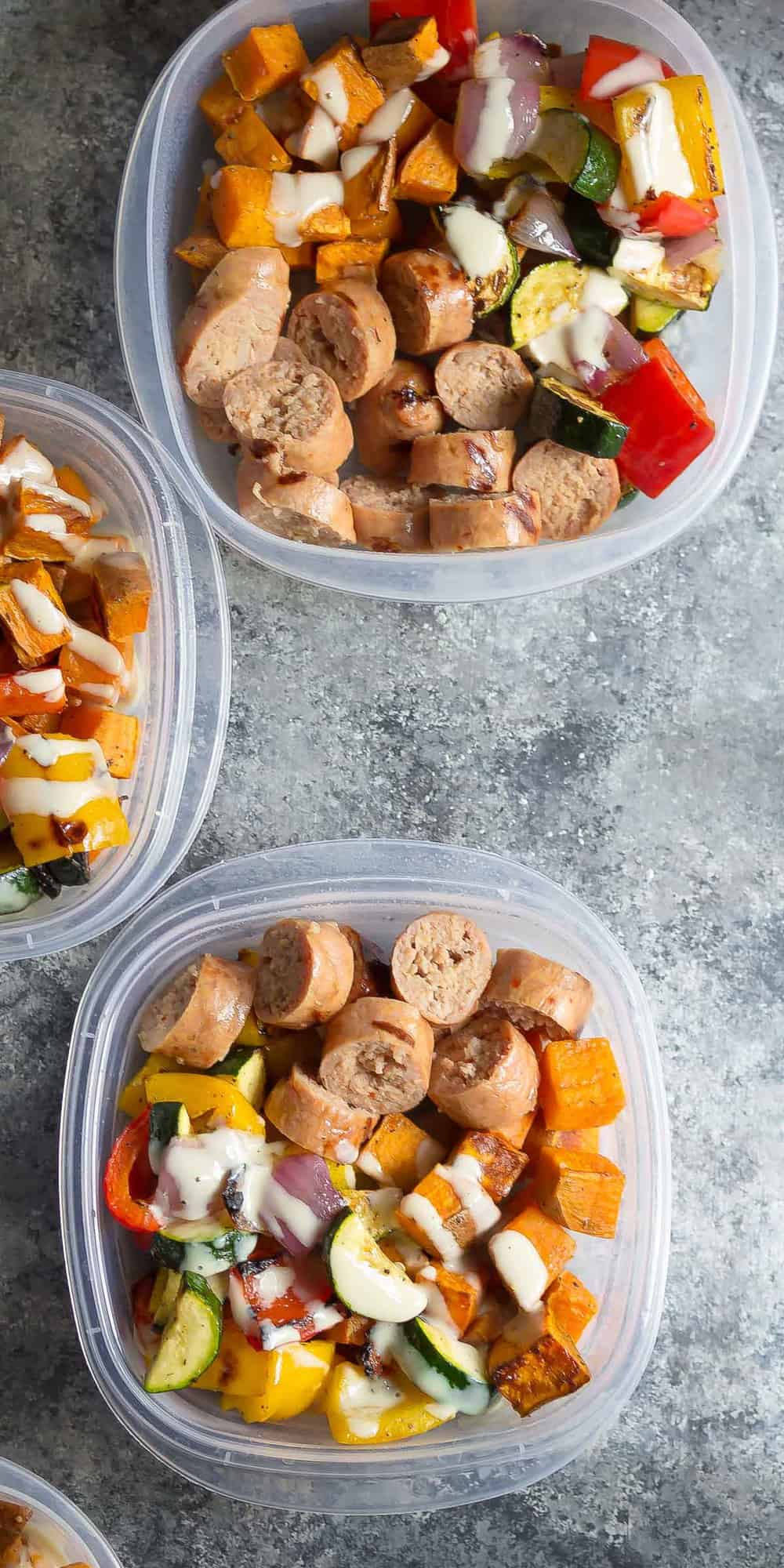 Here's the dealio with these sausage and sweet potato lunch bowls.  (Do people say dealio anymore?  That used to be a thing, right?)
Grill up your sweet potatoes, as well as some other veggies: I used zucchini, red onion and bell peppers.  Grill up your sausages.  If it's winter and you're not feeling the grilling situation, by all means use your stove and oven!
Cool everything down, portion it out and drizzle it with a creamy tahini dressing.  You can pre-dress these guys and they keep just fine.  How awesome is that?!
Just a note: I did try freezing them, and while they were…edible…the texture was significantly mushier for the veggies (the sausage was fine!).  If you're OK with that then go forth and freeze.

Turkey Sausage & Sweet Potato Lunch Bowls
4
adjust servings
Ingredients
Sweet Potatoes
4-5

cups sweet potato cubes

1

tablespoon olive oil

salt & pepper (generous)
Sausage
1

lb/500g Italian turkey sausage
Mixed Vegetables
4-5

cups bell peppers, red onion and zucchini slices

1

tablespoon olive oil

salt & pepper
Tahini
2

tablespoons tahini

1.5

tablespoons water (or more to thin out)

1.5

teaspoons maple syrup

1.5

teaspoons lemon juice

1/8

teaspoon salt
Instructions
Sweet Potatoes
Depending on how much space you have on your grill, you may want to make these in the oven. Toss the sweet potatoes with olive oil, salt and pepper.
Oven directions:
Pre-heat oven to 425°F. Line a baking sheet with parchment and set aside.
Arrange sweet potato cubes on the baking sheet, and bake for 15 minutes.
Give them a stir and return to the oven for another 10 or so minutes, until they are easily pierced with a fork.
Grilling directions:
Heat barbecue to medium-high.
Using a vegetable grilling basket or plate, cook the sweet potatoes, stirring often, for 15-20 minutes, or until cooked through.
Sausage:
Pierce with a knife and grill for 10-15 minutes, turning every 2-3 minutes, until cooked through.
Mixed veggies:
Toss veggies with olive oil and salt and pepper.
Grill on a vegetable grilling basket or plate, stirring every 2-3 minutes, until cooked through (10 or so minutes).
Tahini dressing:
Shake together all ingredients. Add additional water until thinned to your desired consistency.
Recipe Notes
Nutritional Information:
Calories 463 // Fat 24 g // Saturated Fat 4 g // Cholesterol 72 mg // Sodium 931 mg // Carbohydrate 79 g // Fiber 18 g // Sugars 39 g // Protein 30 g
These lunch bowls can be dressed ahead!
Products used in this recipe:
More sausage & sweet potato recipes for us!