Make-ahead breakfast quesadillas filled with scrambled eggs, feta cheese, spinach and red peppers. An easy, healthy week-day breakfast!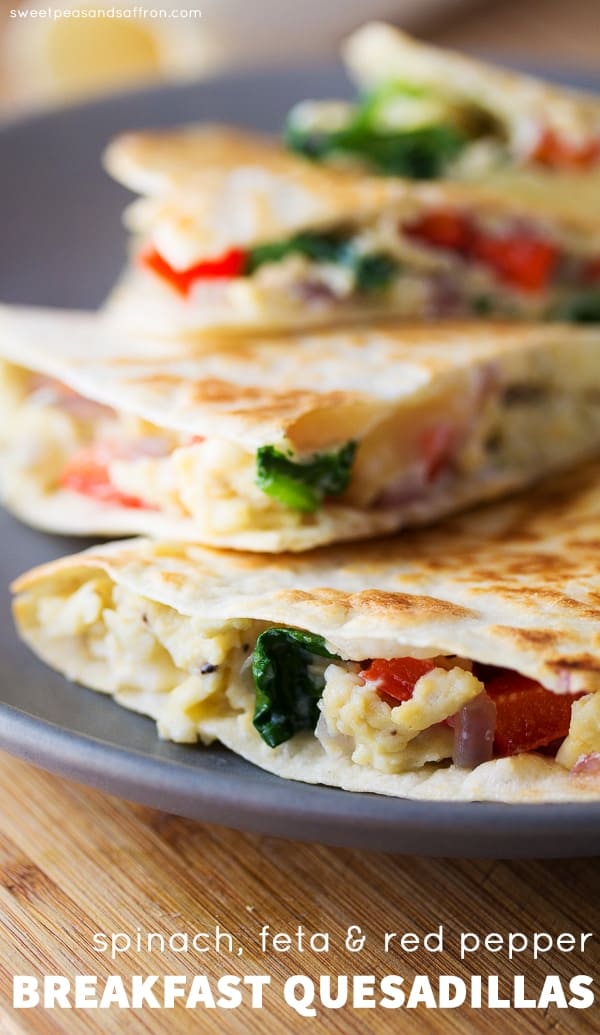 Even though my kiddo isn't school age, seeing anything that has anything to do with back-to-school makes my heart sink.
The only thing about back to school that I ever looked forward to was the fun new school supplies…fresh paper, new pens, new binders and pencil cases… To this day, going to the stationary section kind of makes my heart race in a weird nerdy way, especially those post-its…I just can never have too many post-its. And highlighters! Ahhh!
Well. I suppose back to school is eventually going to be here. And I know how hard it is to get myself and Kai out the door in the morning, I can't even imagine how challenging it will eventually be to get multiple kids dressed, fed, and out the door. Props to all you parents who do so!
And here are these egg breakfast quesadillas that can be made ahead and frozen for an easy breakfast…perfect for school (or work) mornings!
Ok if I'm being 100% truthful here, I am the worst at breakfasts. Kai gets a nice nutritious breakfast with fresh fruit, yogurt, cheerios, and a bit of honey (the kid is obsessed with honey 😉 ).
But Denise: PB toast and coffee. Without fail. Every single morning.
I have no excuse other than I am just not a morning person. I am so lazy it's kind of embarrassing!
In addition to me being a total lazy bum in the morning, poor Ben has to get up for work at 5am. And he certainly doesn't have time to make himself much more than cereal, so I set out (for both of our benefits) to find some make-ahead breakfast ideas.
And here is number one! Breakfast quesadillas, filled with scrambled eggs, red pepper, feta cheese and spinach. These guys are deeelish. And they can be made ahead, stored in the fridge for 3-4 days, or frozen and thawed as needed.
Storage & Preparation: I stored these wrapped in plastic wrap in the fridge or freezer in a sealable container. Reheating the refrigerated quesadillas was a breeze: I recommend using the frying pan, if possible, but we had the crispiest and quickest reheats on our George Foreman grill.
For freezer-stored quesadillas, defrost in the fridge, or in the microwave (on a paper towel) for 30-60 seconds, then if possible, on the frying pan/grill. They won't be quite as crispy as the freshly made or refrigerated quesadillas, but they are still super tasty!
So. Hope you guys want some easy, make-ahead breakfast recipes. Because I'm getting awfully tired of PB toast!
Spinach, Feta and Egg Breakfast Quesadillas (Freezer-Friendly)
A make ahead breakfast quesadilla filled with scrambled eggs, spinach, feta cheese and red peppers.
Ingredients
2

teaspoons

olive oil

1

red bell pepper

1/2

red onion

8

eggs

1/4

cup

milk

1/4

tsp

salt

1/4

tsp

pepper

4

handfuls of spinach leaves

1/2

cup

feta

1 1/2

cup

mozzarella cheese

5 to

rtillas

spray oil
Instructions
In a large non-stick pan, heat the olive oil over medium heat.

Cook the bell pepper and red onion until soft, around 4-5 minutes.

While cooking, whisk together the eggs, milk, salt and pepper.

Add the egg/milk mixture to the peppers/onions, stirring frequently, until eggs are nearly cooked through.

Add the spinach and feta and fold into the eggs, stirring until spinach is wilted and eggs are cooked through.

Remove eggs from heat.

Spray a separate large non-stick pan with spray oil, and heat over medium. Add the tortilla, then one half of the tortilla, spread about ½ cup of the egg mixture. Top with around ⅓ cup of shredded mozzarella cheese. Fold the second half of the tortilla over, then cook for 2 minutes, or until golden brown.

Flip and cook for another minute or so (until golden brown).

To serve fresh: serve immediately

To store for refrigerator or freezer: cool completely on a wire rack, then wrap in plastic wrap and store in a resealable container.

To reheat from refrigerator: fry up on medium in a frying pan, or heat on grill for 2-3 minutes.

To reheat from freezer: heat in the microwave on top of a paper towel for 30-60 seconds, then crisp up in the frying pan or grill for 2-3 minutes.
Notes
1/2 quesadilla = 1 serving
Nutrition
Serving:
1
/2 quesadilla
|
Calories:
213
kcal
|
Carbohydrates:
15
g
|
Protein:
15
g
|
Fat:
11
g
|
Saturated Fat:
4
g
|
Cholesterol:
165
mg
|
Sodium:
585
mg
|
Fiber:
1
g
|
Sugar:
2
g
Products used in this recipe:
More healthy make-ahead breakfasts: