These crispy buttermilk waffles have just 6 ingredients and are so easy to prepare! With crispy edges and soft, fluffy insides, these waffles are the best of both worlds.
Are you on team crispy waffle, or team fluffy waffle? Well…with these crispy buttermilk waffles, you do not have to pick, because you get a little bit of both!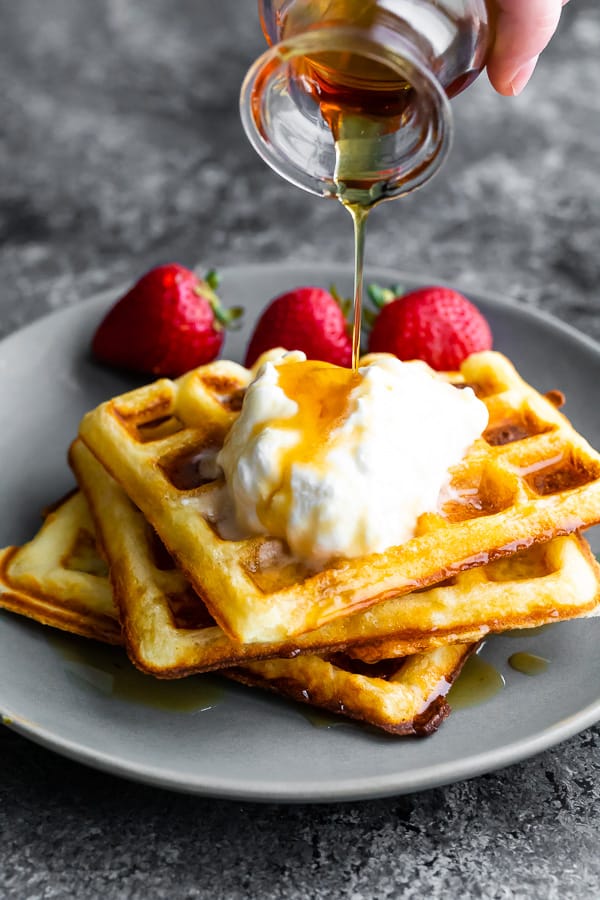 My go-to buttermilk waffle recipe is simple to prepare- no need to separate your eggs and you can mix everything up in one bowl!
They are soft, crispy, and the perfect vessel for your favorite waffle toppings.
You can also make these waffles ahead and reheat through the week for easy breakfasts. Let's discuss!
Reasons you'll ♡ these buttermilk waffles
they have just 6 ingredients and the batter can be mixed up in under 10 minutes
they have crispy edges and fluffy insides
you can make them ahead and reheat in the toaster!
Don't forget to pin this post to save it for later!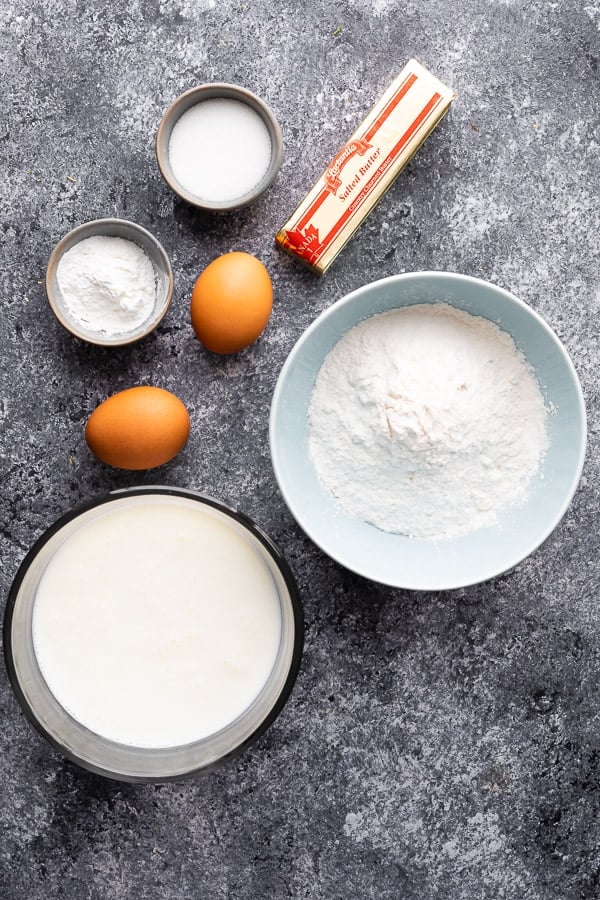 How to make this buttermilk waffle recipe
First, we will gather our ingredients.
Eggs– go for large eggs
Flour– you can use all purpose, white whole wheat, or a mix of 50% all purpose, 50% whole wheat flour. Even the whole wheat versions of this recipe got crispy!
Buttermilk– I do recommend real buttermilk as it gives so much delicious flavor to these waffles, however you can use regular whole milk, or almond milk in a pinch. See how to make buttermilk from whole milk here!
Sugar– yes, sugar, it's only 2 tablespoons, but if you'd prefer you can use coconut sugar
Baking powder– make sure it's not out of date!
Salted butter– if you have unsalted butter, add 1/4 teaspoon salt. I haven't tested with coconut oil but I bet it would work great as a butter alternative!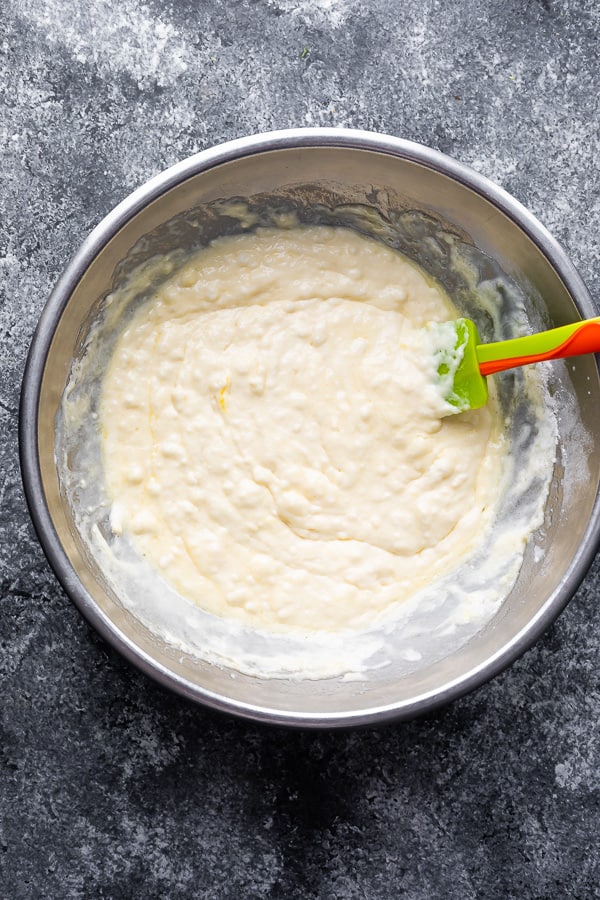 Mix up that batter!
This buttermilk waffle recipe only requires one bowl- YAY!  Make sure that you mix your batter in the correct order:
Mix together the dry ingredients (flour, baking powder and sugar).
Add in the buttermilk and eggs and fold into the dry mixture.
Add the melted butter and then mix until completely combined.
We add the melted butter last so that the buttermilk doesn't chill it and make it re-solidify. This also helps protect the eggs from cooking upon contact with hot/warm melted butter.
Cook your waffles according to your waffle maker's instructions! I am still using my Nana's ollllld Philips waffle maker. This Waffle Maker looks like a great one to try!
Watch the video below to see exactly how I prepped these best buttermilk waffles. It's so easy! You can find more of my recipe videos on my YouTube channel, or on Facebook.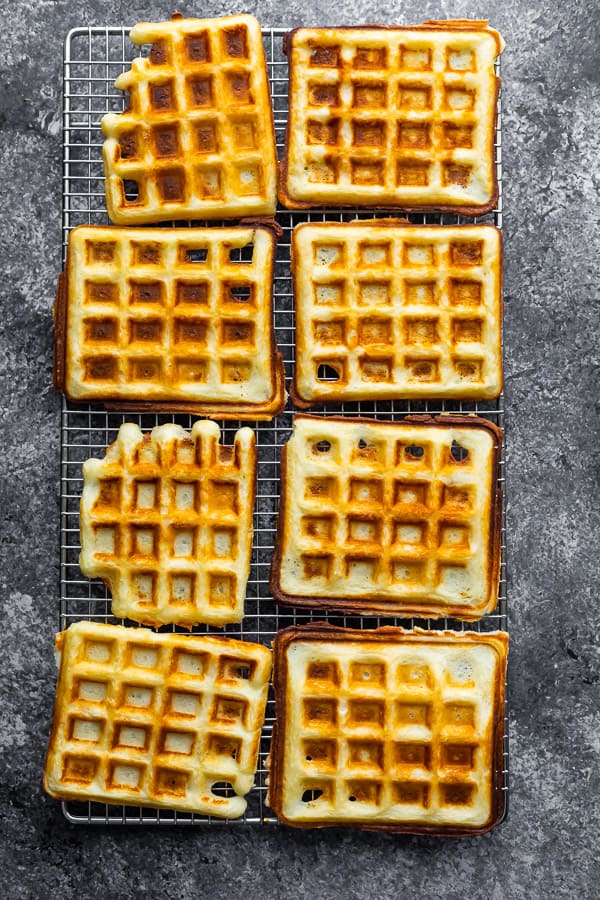 Can I use almond flour in these crispy waffles? NO. Almond flour is completely different than regular flours and you will need a completely different recipe. These Keto Paleo Almond Flour Waffles look delish!
Are buttermilk waffles healthy? I would consider these waffles a once a week kind of treat (hi, half a cup of melted butter!). You can certainly up the health factor by choosing white whole wheat flour, and topping with healthy ingredients. I like using fresh berries, a little drizzle of peanut butter, and sprinkling of hemp hearts.
Can I make this recipe into pancakes? I haven't actually tried this, but if you are looking for pancake recipes, I have 7 Delicious Homemade Pancakes flavors on the blog!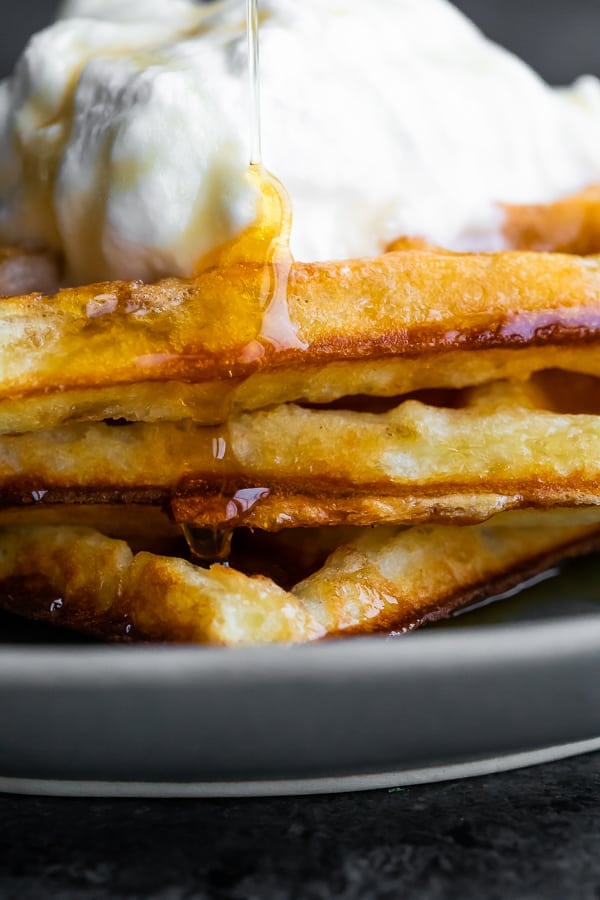 Tips for crispy waffles
When it comes to crispy waffles, a few small details can make a big difference:
do not over-mix your batter- this will cause your waffles to be dense and chewy. Fold your batter until *just* combined.
preheat your waffle maker- though it's tempting to just get them cooking already, the waffle maker must be heated to the right temp if you want those crispy edges
spray your waffle maker- this really depends on the model. I tested this on a newer teflon waffle maker (which I promptly returned and won't recommend to you 😉 ) and it benefitted from an extra spray of oil. Old school waffle makers like my Nana's really do require a spritz.
check on them near the end of the cook time- especially for the first couple of waffles…it can be a fine line between crispy and burnt.
store them on a wire rack– do not stack your waffles! They will loose their crisp if you stack them. I recommend serving immediately, but if you can't, store in a single layer on a wire rack while you cook the rest. You can keep them warm in the oven at 200°F
use a thinner waffle maker– thicker waffles, like a Belgian-style waffle maker will produce, may not be as crispy as thinner waffles. It's just the way it is 🙁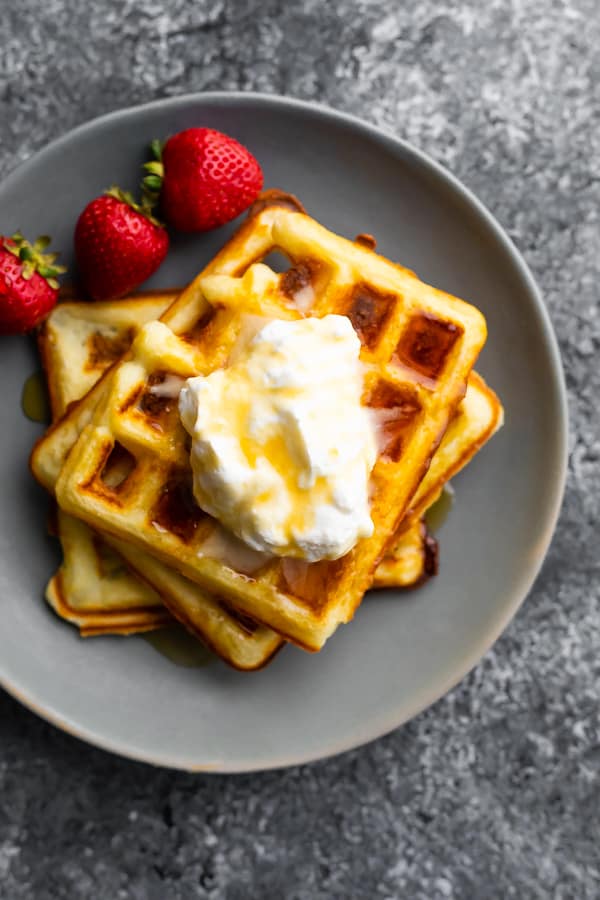 Tips & equipment for the BEST buttermilk waffles
Crispy Buttermilk Waffles
These crispy buttermilk waffles have just 6 ingredients and are so easy to prepare! With crispy edges and soft, fluffy insides, these waffles are the best of both worlds.
Ingredients
1 1/2

cups

all purpose flour

(188 g; fluffed, spooned & levelled; see *notes)

2

tablespoons

sugar

(coconut sugar may be swapped)

4

teaspoons

baking powder

2

large

eggs

1 1/2

cups

buttermilk

(whole milk or almond milk may be swapped)

1/2

cup

salted butter

(melted; see ** note)
Instructions
In a large bowl, stir together the flour, sugar and baking powder.

Add in the eggs and buttermilk. Break the eggs and mix into the buttermilk, then fold the mixture up slightly.

Add in the melted butter and mix until *just* combined. Do not over mix.

Heat waffle maker on medium-high heat. Spray with oil if necessary.

Spoon mixture into waffle maker...amount depends on the size of the waffle maker. Mine required 1/2 cup per waffle. Check waffle maker for directions.

Cook until edges are crispy and waffle is cooked through (around 4 minutes).

Store on a wire rack until you are ready to serve.
Storage
Waffles may be cooked ahead, cooled, and stored in the fridge for up to 4 days or the freezer for up to 3 months.

To re-heat, pop waffles into a toaster and toast until crispy and warmed through.
Notes
* white whole wheat flour or 3/4 cup all purpose + 3/4 cup whole wheat flours may be used
** if using unsalted butter, add 1/4 teaspoon of salt to the batter
Nutrition
Serving:
1
waffle
|
Calories:
199
kcal
|
Carbohydrates:
19
g
|
Protein:
5
g
|
Fat:
12
g
|
Saturated Fat:
7
g
|
Cholesterol:
71
mg
|
Sodium:
137
mg
|
Potassium:
246
mg
|
Fiber:
1
g
|
Sugar:
4
g
|
Vitamin A:
404
IU
|
Calcium:
123
mg
|
Iron:
1
mg