These freezer-friendly healthy breakfast burritos are packed with kale, mushrooms and feta.  The perfect easy grab and go breakfast that will actually keep you full!
Are you a sweet or savory breakfast person?
I always thought I was a sweet breakfast person…I love smoothies, or yogurt with fruit and granola, and I used to always start my day with a glass of cranberry juice (not anymore though).
That was until these healthy breakfast burritos with kale, mushrooms and feta came into my life.  Oh my goodness, I am 100% most definitely on team savory breakfast now!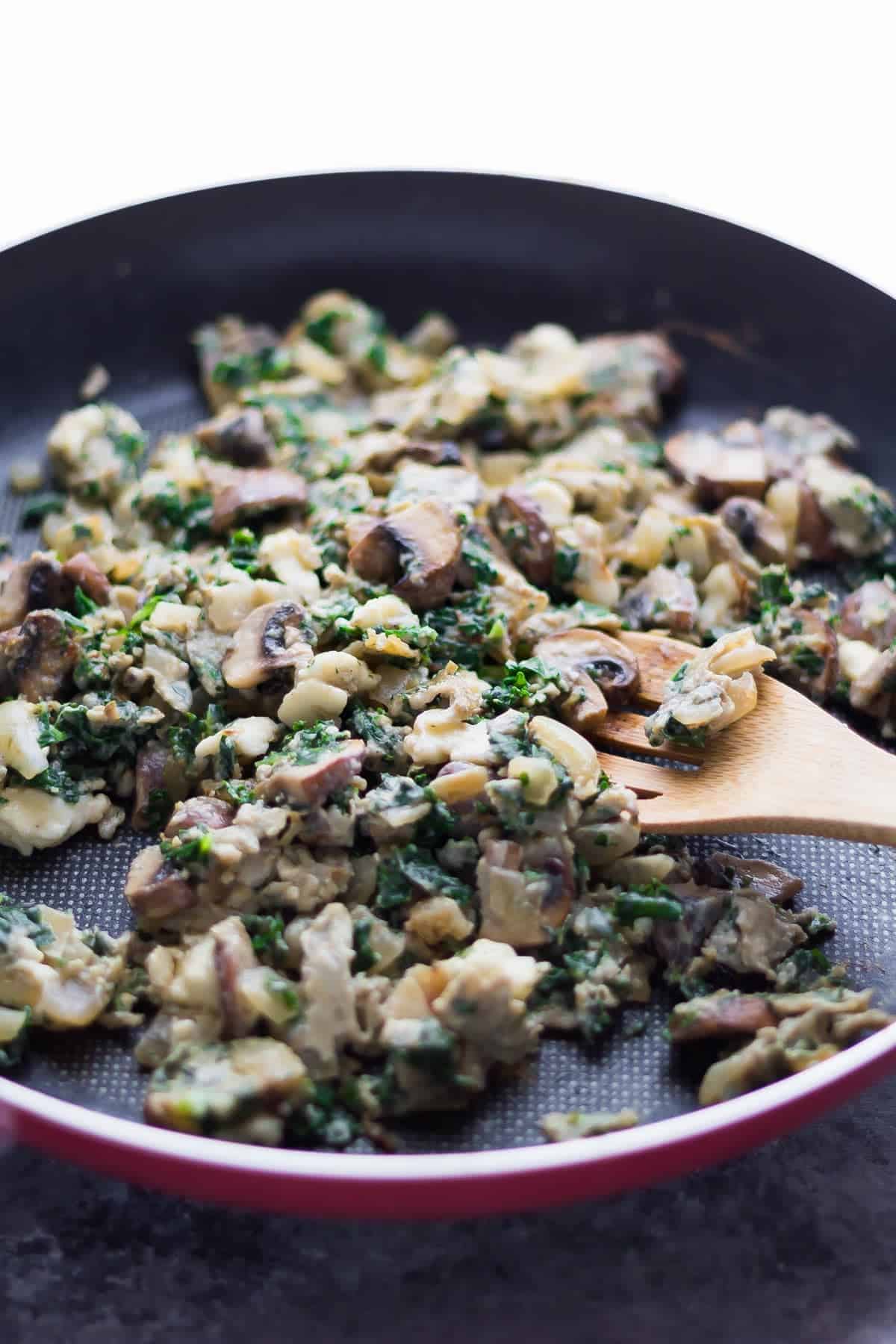 These breakfast burritos were voted the most popular recipe from our September Breakfast Prep Challenge, and it has taken me this long to share the recipe with you.  Sorry!
Since then I've made these 3-4 more times, and I even shot a video to show you how easy they are to make, and just how many healthy ingredients they contain (scroll to the bottom of the post).
These breakfast burritos are the perfect blend of savory flavors: eggs + feta cheese + sauteed mushrooms, oh my goodness YES.  The kale is there but not overpowering.  You might even forget it's in there!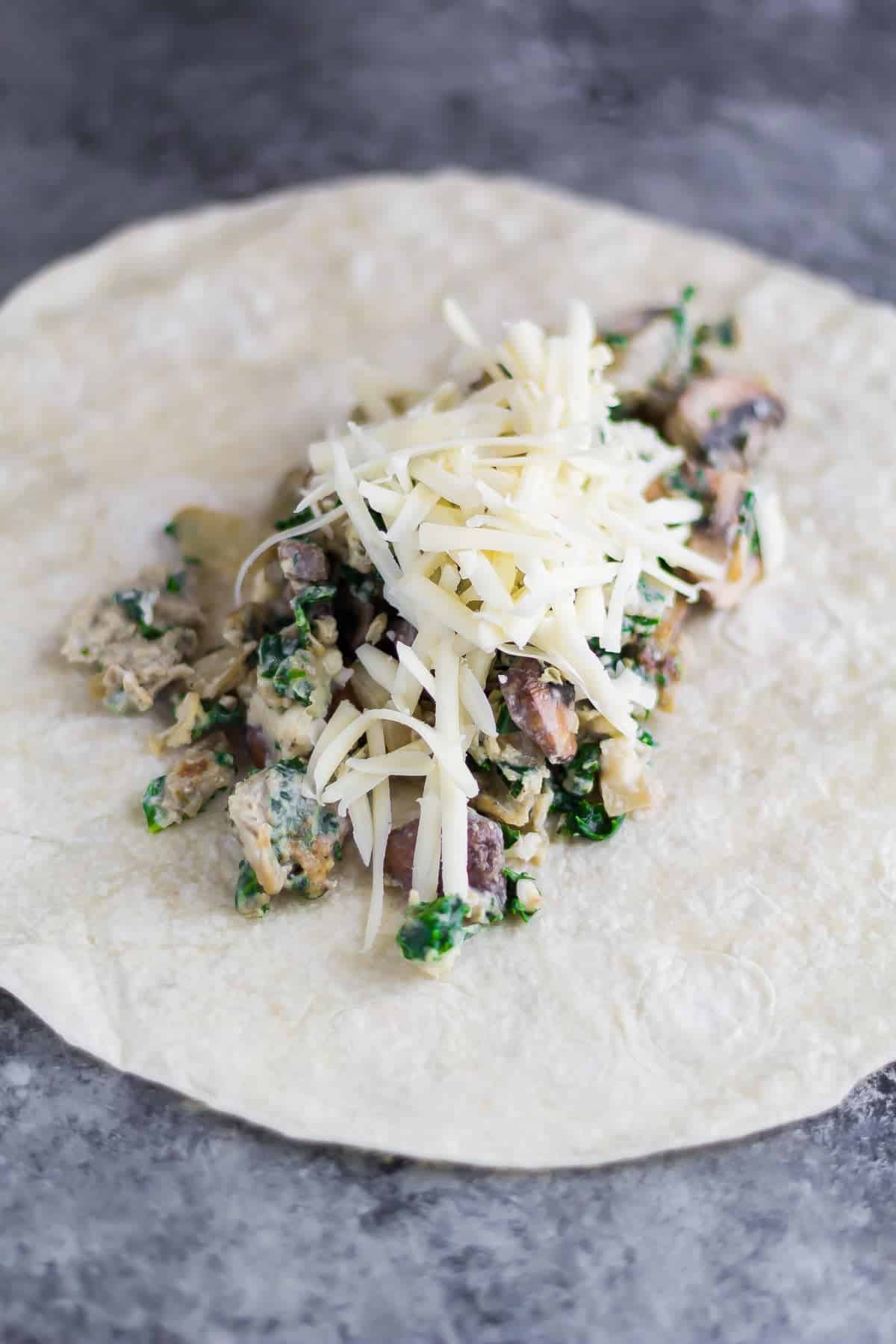 Other than the delicious savory flavors in these healthy breakfast burritos, I love the texture.  I use my old school George Foreman grill to get them nice and crispy.  If you don't have one, you can use a frying pan or even a toaster oven.
Not only are they delicious, but easily frozen so that you can always have a stash of healthy breakfast burritos at your fingertips.  I like to pull mine out the night before to thaw in the fridge, but if you forget you can also thaw in the microwave in 30 second increments.
If making healthier food choices is one of your goals for 2017, you are gonna love these guys!
More healthy make ahead breakfasts for us:
Healthy Breakfast Burritos with Kale, Mushrooms and Feta
5
adjust servings
Ingredients
2

teaspoons olive oil

1

small onion, diced

2

cups firmly packed kale, shredded into bite-sized pieces

2

cups mushrooms, sliced

5

eggs

1/4

teaspoon pepper

1/2

teaspoon oregano

1/2

cup feta cheese, crumbled

1 1/4

cup cheddar cheese, shredded

five 12 inch flour tortillas
Instructions
Heat oil over medium heat. Add the onion to the pan and cook for 5 or so minutes, until soft and translucent.
Add the mushrooms to the pan, and cook for 3 more minutes, until soft and cooked through. Add the kale and cook for 2 more minutes, until soft and the kale is wilted.
While the veggies are cooking, beat the eggs with the salt, pepper, and oregano.
Add the eggs to the pan and cook for 3-4 more minutes, until the eggs are cooked through.
Fold in the feta cheese and remove from heat and cool completely.
Assemble the burritos
Spread out ¾ cup of the *cooled* egg/veggie filling onto a 12-inch flour tortilla.
Sprinkle with ¼ cup of shredded cheese.
Roll up, sealing both ends, and wrap firmly in plastic wrap.
Storage Instructions
Wrap tightly in plastic wrap, then place in a storage container.
Freeze for up to 3 months.
To re-heat
BEST: thaw in the fridge overnight. ALTERNATIVE: microwave on a paper towel in 30 second increments.
TO CRISP UP: fry in a frying pan for 3-4 minutes/side, or on a George Foreman Grill for 2-3 minutes total.
Recipe Notes
Nutritional Information: 1 breakfast burrito
Calories 411 // Fat 25 g // Saturated Fat 11 g // Cholesterol 233 mg // Sodium 803 mg // Carbohydrate 27 g // Fiber 2 g // Sugars 3 g // Protein 21 g
Variations:
swap the kale for spinach
swap the kale, mushrooms and feta for 1 cup corn kernels and 1 small bell pepper. Add ½ teaspoon ground cumin and ½ teaspoon salt
add ½ cup cooked lentils for extra protein