This avocado caprese chicken quesadilla recipe is a fresh and delicious quesadilla remix! Ready in 30 minutes, this is the perfect weeknight dinner or lunch.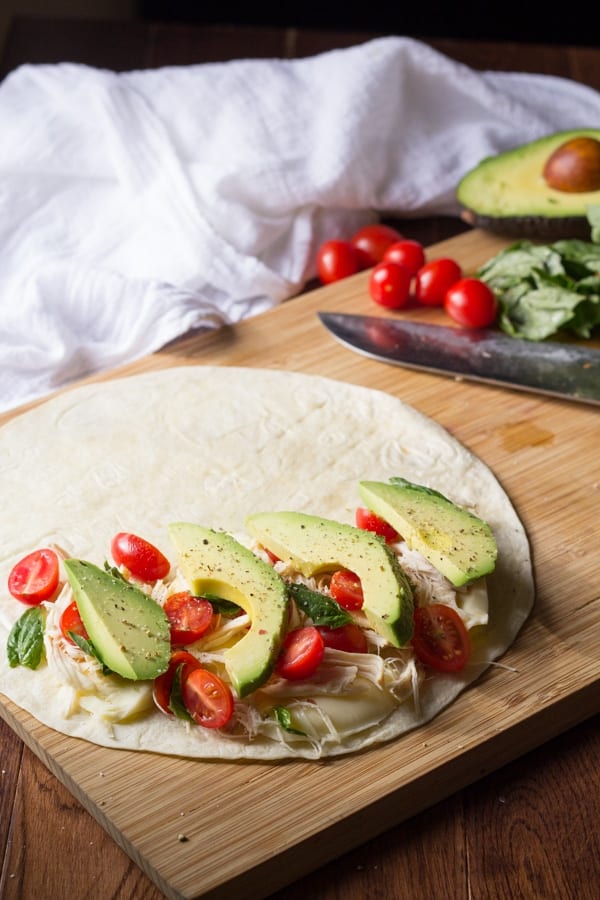 Life has been going at a very fast pace lately…because I swear just yesterday it was January…and now it's mid-March!
This week I was side-tracked from my breakneck pace to a complete standstill thanks to a very bad case of the flu.
So in the fog of post-flu recovery, today's post is going to be very short and sweet! Which is fitting because this avocado caprese chicken quesadilla recipe is ready in a flash.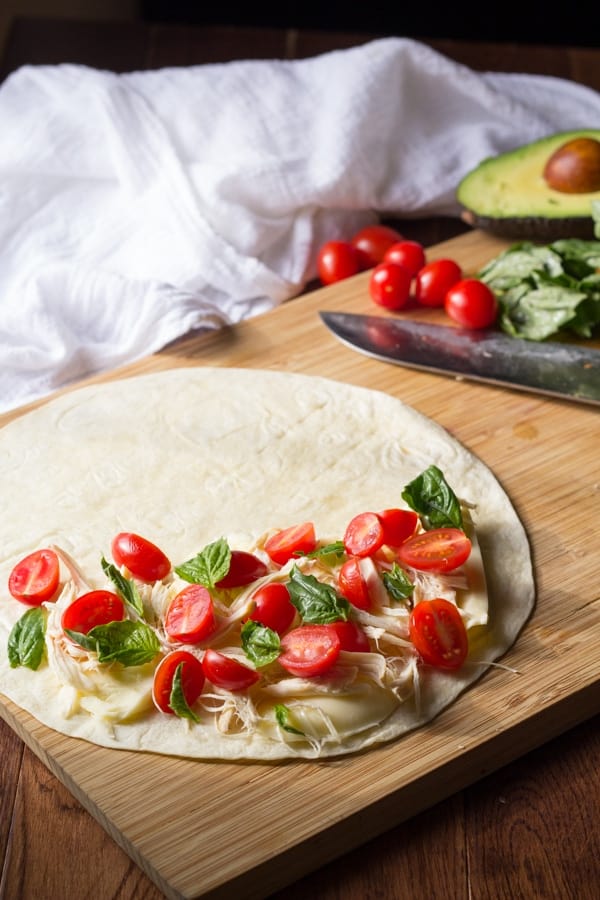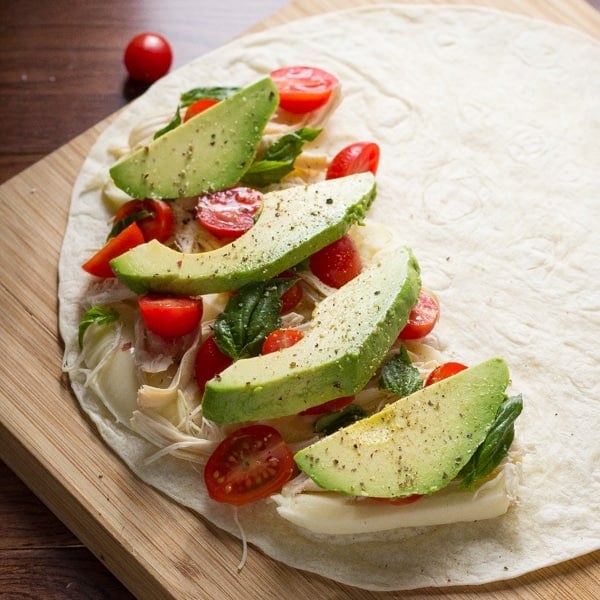 This chicken quesadilla recipe combines all the flavors of caprese salad: basil, mozza, fresh tomatoes. Then I decided to add shredded rotisserie chicken (as I've said before, I live with a man who is constantly asking "where's the meat?!" when I cook vegetarian- these quesadillas would be equally good without the chicken). And it felt natural to add avocado slices to the mix…maybe I was still dreaming of my Avocado Caesar Salad from a few weeks back?
This avocado caprese chicken quesadilla recipe was good on their own, but a tiny bit bland, so I whipped up a basalmic reduction to drizzle over the quesadillas. It's not the prettiest, but it sure is delicious!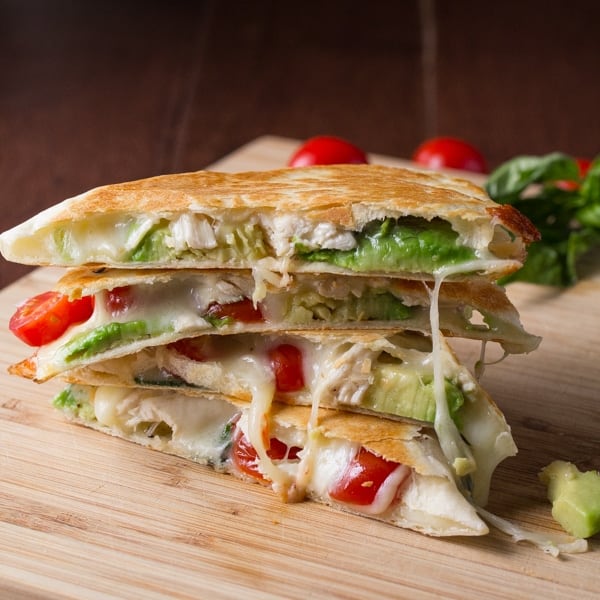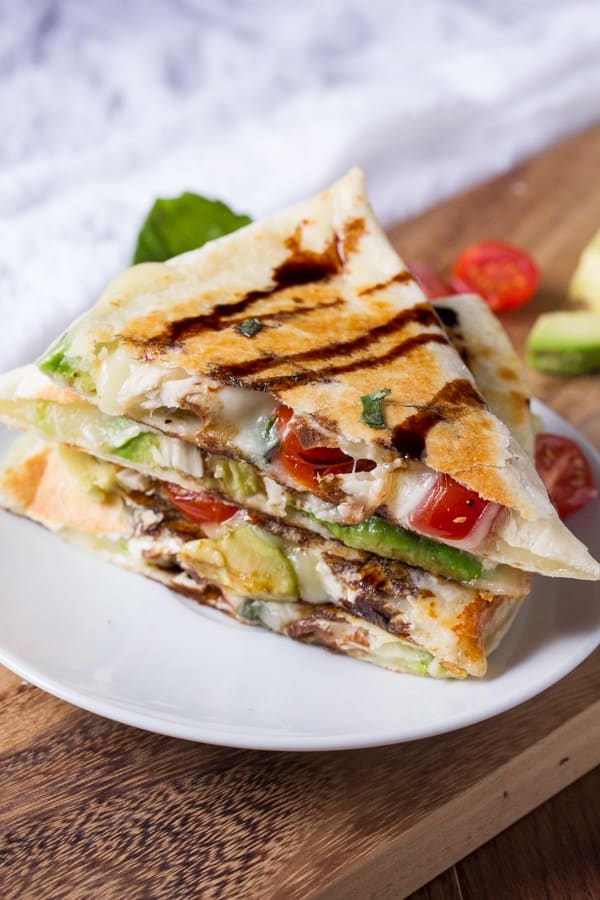 These guys make for a great lunch or dinner! They are fast to throw together, although you will need to set aside 20 minutes or so to prep your balsamic reduction.
Don't skip the reduction! It is well worth the extra time. I found that prepping it the day before and letting it sit in the fridge overnight helped it get that syrupy kind of consistency that was just perfect for drizzling. If you don't have the time to do that, though, don't worry! The reduction may be a bit more liquidy, but it will still taste great!
So there you have it. Avocado caprese chicken quesadillas…now, can you say that three times fast?
Avocado Caprese Chicken Quesadilla Recipe
This avocado caprese chicken quesadilla recipe is a fresh and delicious quesadilla remix! Ready in 30 minutes, this is the perfect weeknight dinner or lunch.
Ingredients
Balsamic Reduction
1/2

cup

balsamic vinegar

1

tablespoons

brown sugar
Quesadillas
4 12-

inch

tortillas

16

slices

of mozzarella cheese

1

bunch of fresh basil

approx 10 leaves per quesadilla

1

pint

of cherry tomatoes

halved (approx 8-10 tomatoes per quesadilla)

1 1/2

cups

shredded rotisserie chicken

salt and pepper

2

avocados

sliced (half avocado per quesadilla)
Instructions
Balsamic reduction:
In a small pot, combine the vinegar and brown sugar, stirring until sugar is dissolved.

Bring to a boil, reduce heat, and simmer (uncovered), stirring occasionally, for 10-15 minutes, until reduced by half.

Cool as much as possible before serving (place in fridge if possible).

Best chilled overnight, but may be used once cooled to room temperature.
Quesadillas:
Spray a large non-stick frying pan with oil and heat over medium heat.

While pan is heating, assemble quesadillas as shown in photos above, by scattering mozarella, basil leaves, tomato halves, chicken and avocado slices over half of the tortilla. Season with salt and pepper.

Transfer to frying pan, flip the empty side over the filled side. Place a dinner plate over the quesadilla, cover with a pot lid, and cook until golden brown, 2-4 minutes.

Gently flip the quesadilla, re-apply the dinner plate and pot lid, and cook until the other side is golden brown, another 2 or so minutes.

Serve immediately, and don't forget to drizzle generously with the balsamic drizzle!
Balsamic reduction from Rachel Ray
Products used in this recipe: