Cheesy yet crispy, this cauliflower gratin is the best of both worlds! With a delicious cheese sauce made with gruyere, butter, garlic and milk, it's a delicious side dish worthy of your holiday table!
Au gratin has always been the first thing I reach for on the holiday dinner table. While traditionally made with potatoes, I love doing a little remix with other vegetables: we love this brussels sprouts gratin, and this cauliflower gratin is another family fave!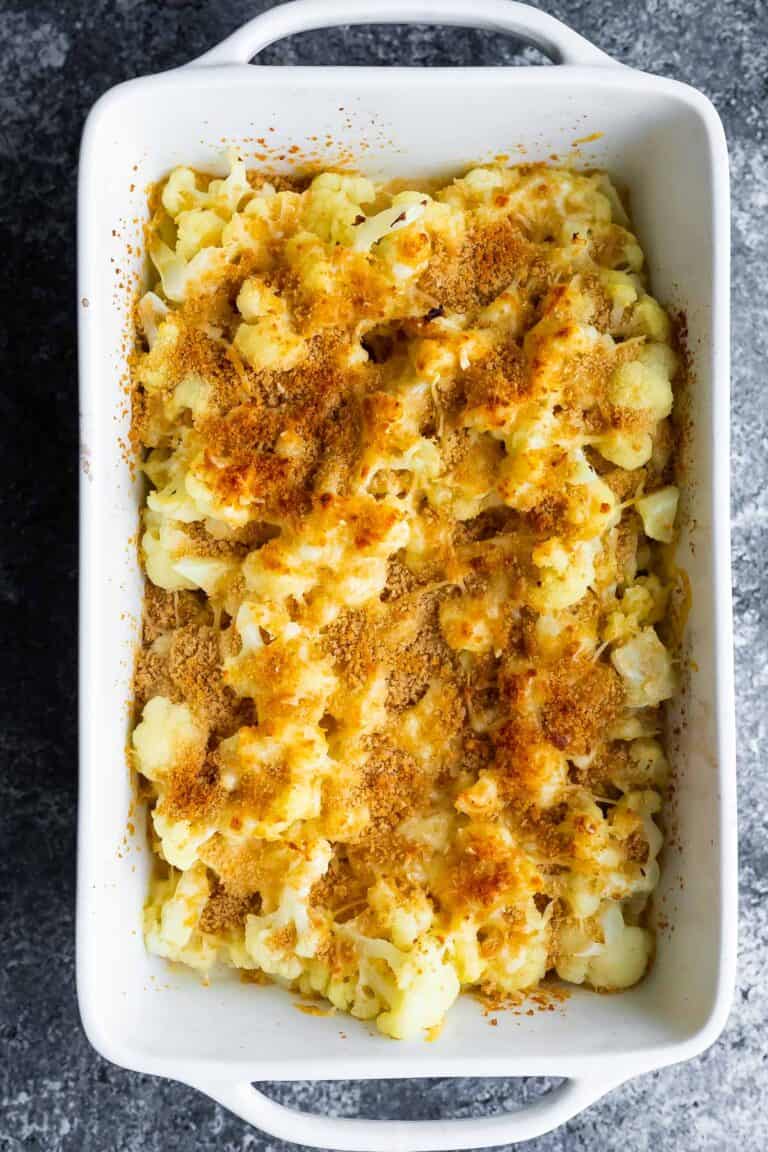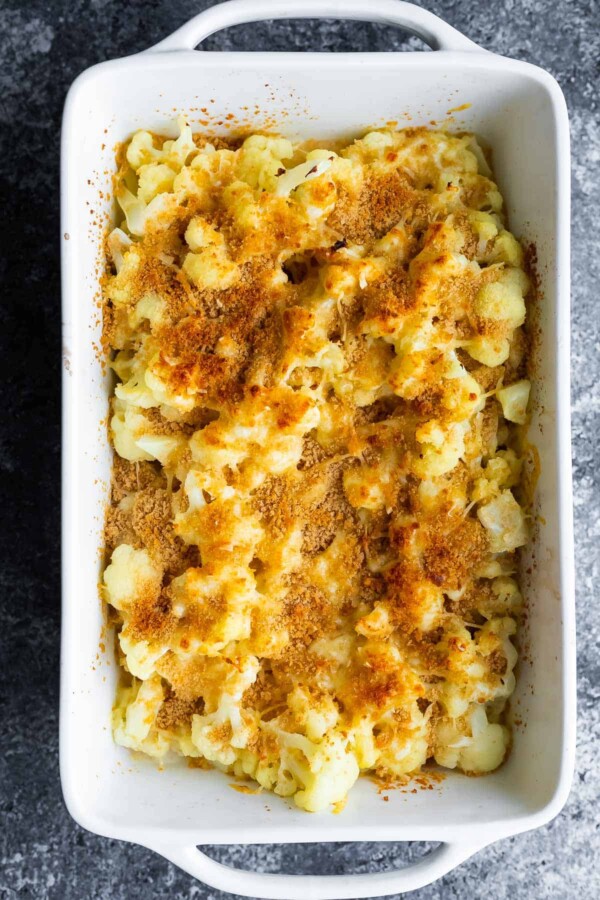 Who can possible argue with cauliflower gratin: tender cauliflower is tossed in a luscious gruyere cheese sauce, smothered with more cheese, and topped with crispy breadcrumbs. It's decadent and holiday-worthy, yet at the same time, lighter and lower in carbs than a traditional au gratin.
Reasons you'll ♡ cauliflower gratin
it's decadent and cheesy, yet lighter than a traditional au gratin
it's surprisingly easy to make, and you can prep it ahead
it's the star of the table at every holiday feast!
Recipe video
Watch the video below to see how simple it is to make cauliflower gratin. It's so easy! You can find more of my recipe videos on my YouTube channel.
Don't forget topin this post to save it for later!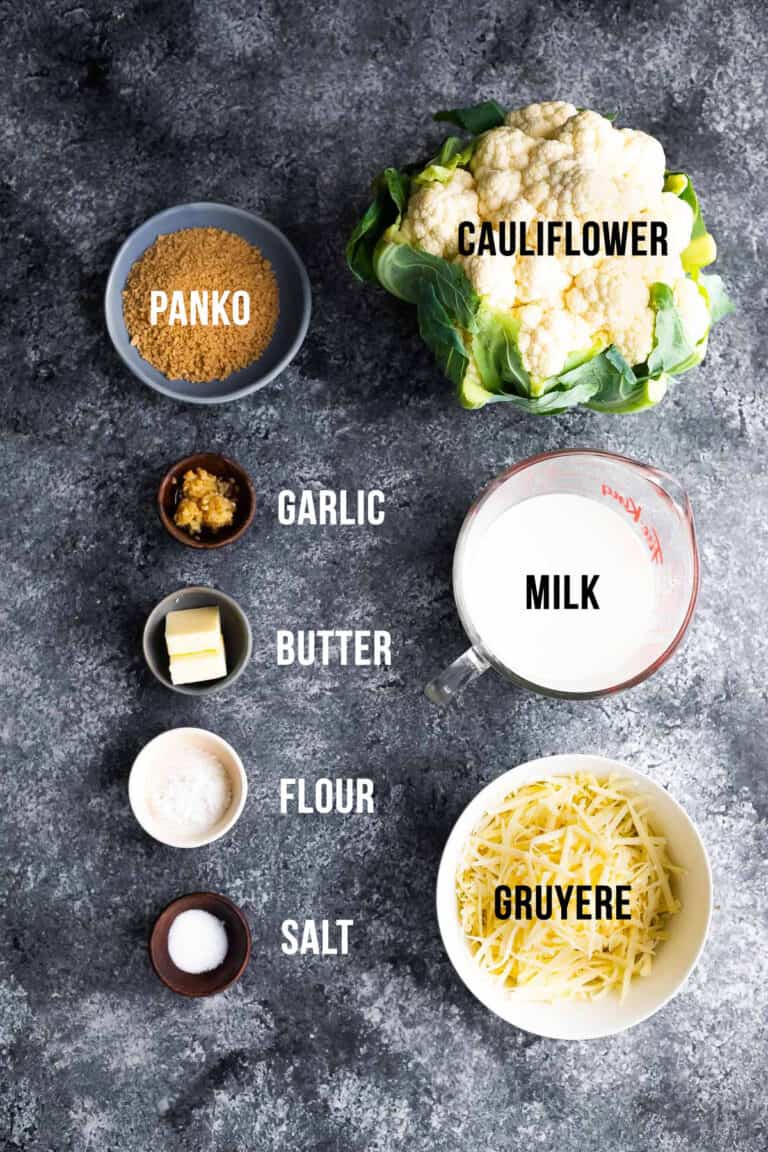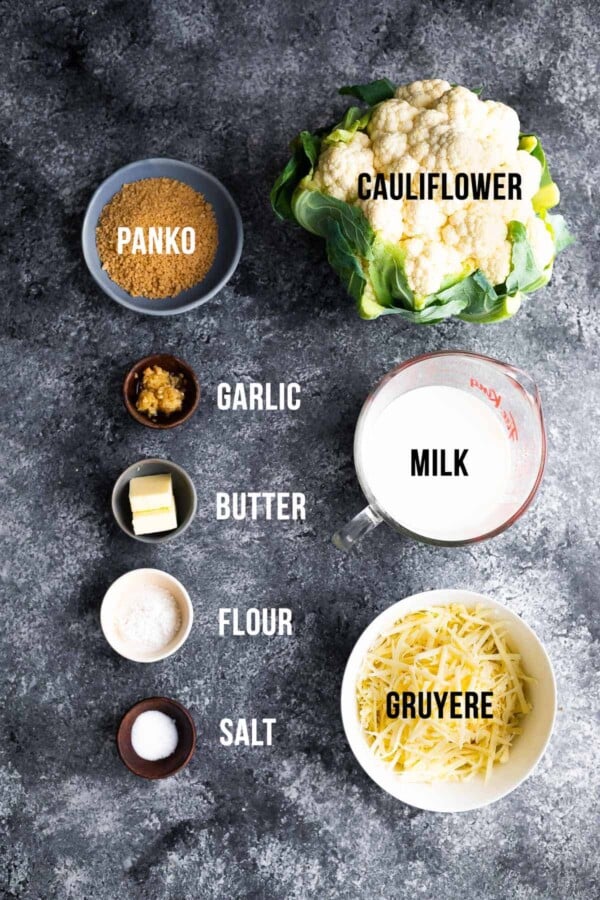 Ingredient notes
Cauliflower- this recipe calls for a large head of cauliflower to produce 12-16 cups of florets. Be sure to cut them into even-sized florets of around 1.5- 2 inches in size.
Milk- I've used 2% milk in this recipe, but you can use any % including whipping cream for an ultra rich sauce.
Gruyere- this cheese is described as nutty and creamy, but as ages, it can become strong and pungent in flavor (in a good way!).
Panko- these are seasoned Japanese breadcrumbs, and should be located near the regular breadcrumbs at the grocery store. Because of their larger size, they really give the cauliflower gratin a crispy texture on top.
Butter- I've used salted butter in this recipe; if you use unsalted, you may need to increase the salt a touch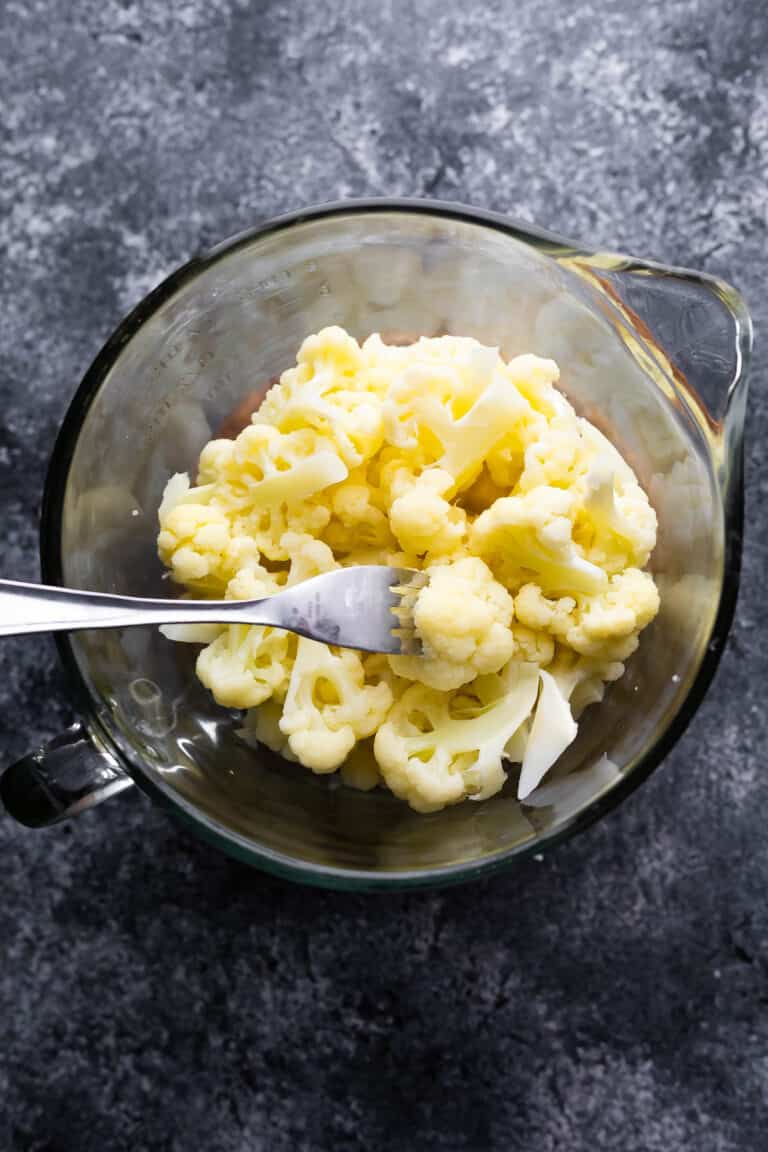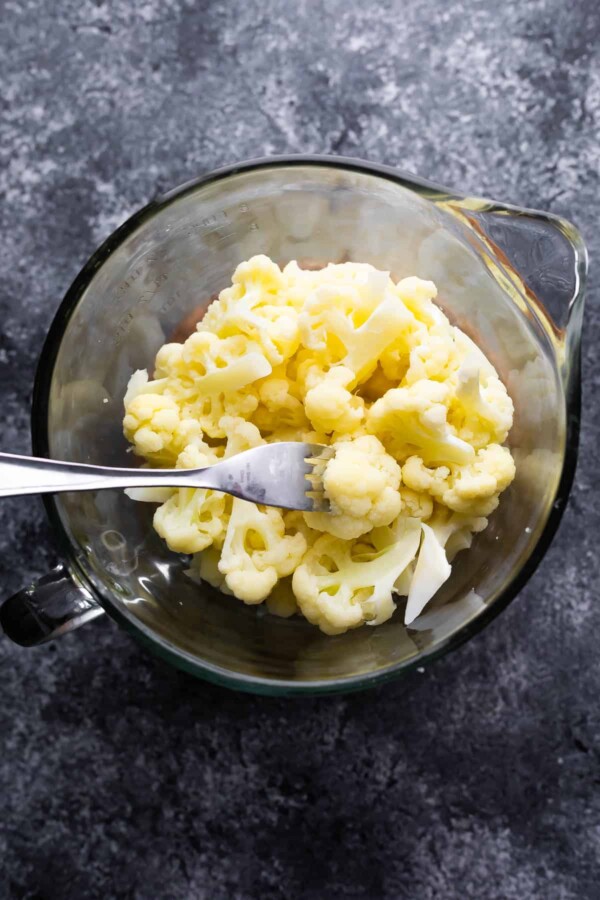 Step by step directions
Start by steaming the cauliflower
The first step in making cauliflower gratin is to steam the cauliflower until a fork inserts easily into a cauliflower floret. You can do this in a few different ways:
Microwave for 5-10 minutes.
Simmer on the stove top for 10-12 minutes.
Steam in the Instant Pot for 0 minutes with a quick pressure release.
Regardless of which method you choose, make sure you drain the cauliflower really well as we don't want to water down our cheese sauce.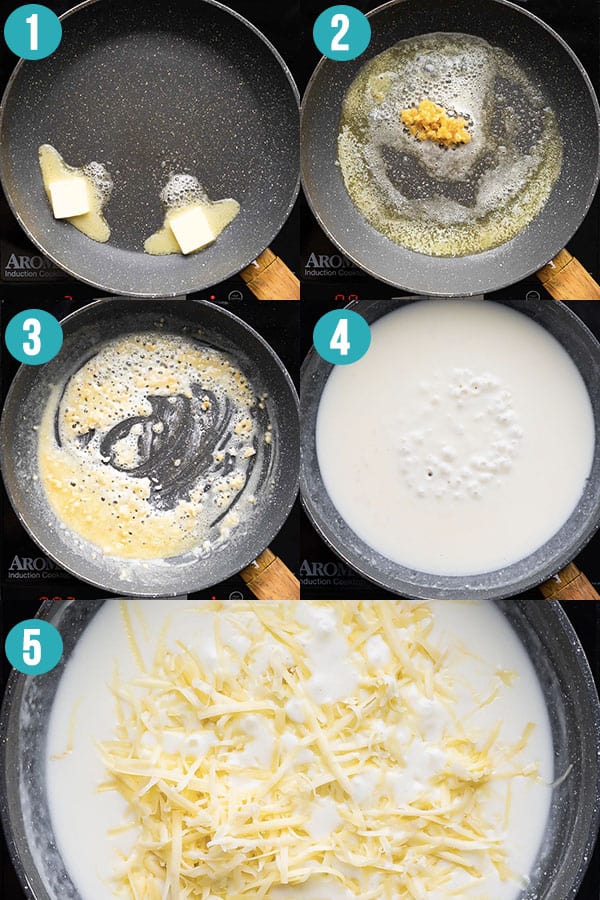 Prepare the cheese sauce
When cooking the cheese sauce, you'll need to stir it constantly to avoid it burning or clumping, so I advise that you have all of your ingredients measured out and sitting near your pan.
Start by melting the butter.
Add the garlic and simmer for 1 minute.
Add the flour and salt, stir until the flour is completely 'wet'.
Add the milk gradually- add in ¼ cup increments at a time, whisking and stirring to help the sauce reduce down and thicken. This can take up to 10 minutes.
Once sauce is thickened, stir in the cheese until melted.
When cheese sauce is done, remove from the heat and pour over the cauliflower immediately.
*if you leave your cheese sauce and it starts to get a skin, put it back on the heat, add ½ cup or so of milk, and stir until reduced and thickened to your liking.
The finishing touches
Once you've smothered the cauliflower in the cheese sauce, top it with additional gruyere cheese as well as the Panko breadcrumbs.
At this point, you can bake it right away, or refrigerate the casserole for up to 24 hours in the fridge. *if you plan to wait to bake it, leave the Panko off.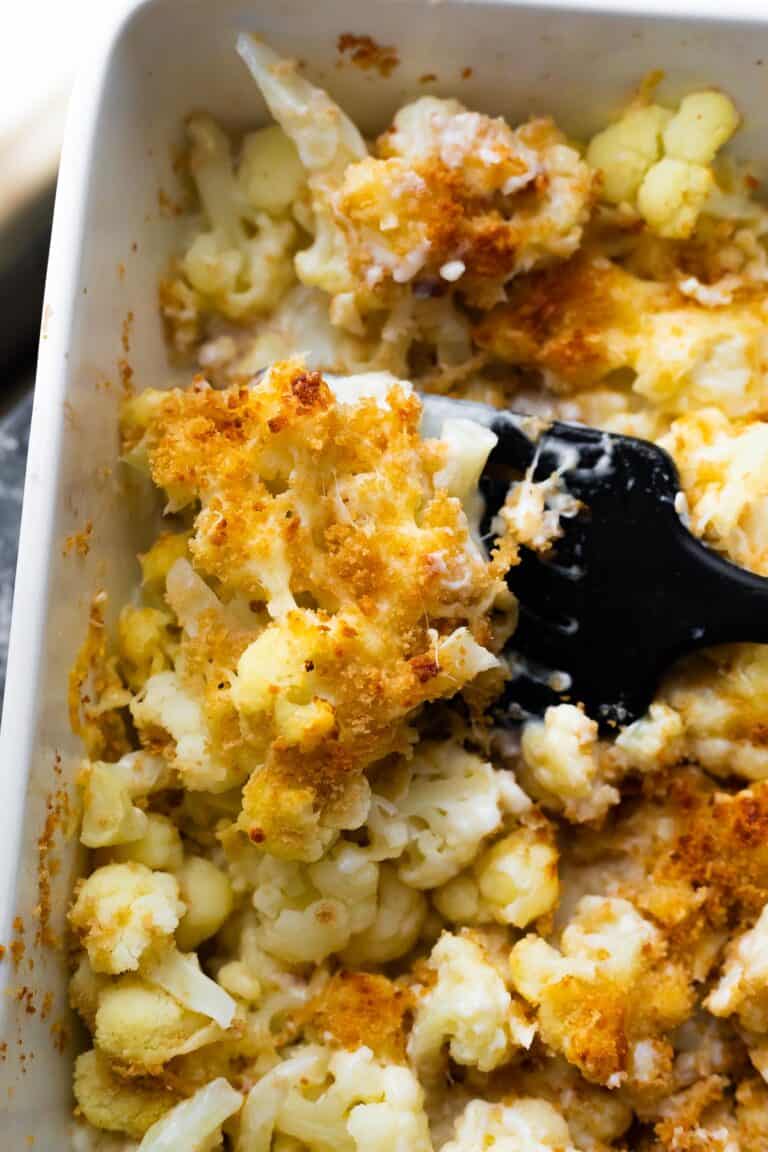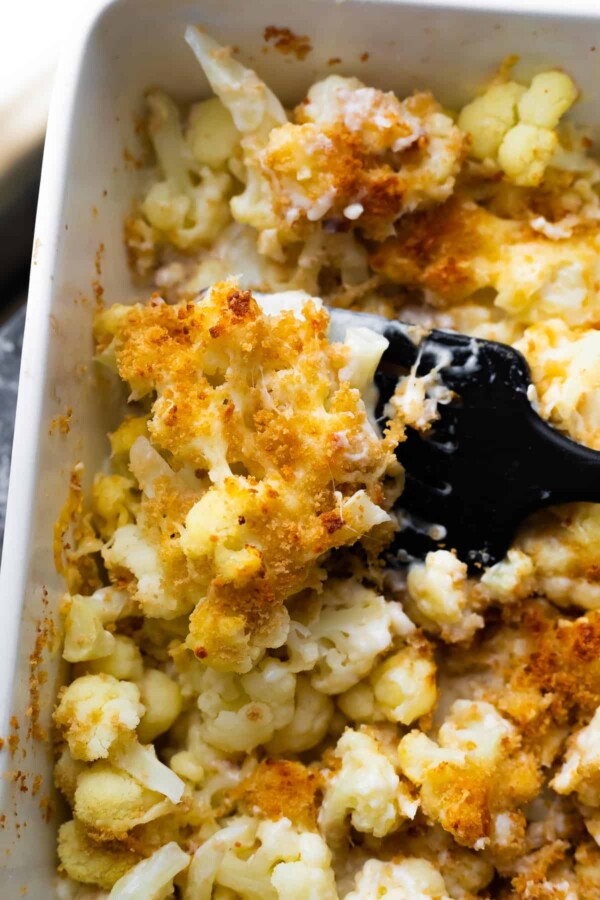 Recipe modifications
Making a half batch
This recipe works well as a half batch baked up in a square 9 x 9 inch baking pan rather than a 9 x 13 inch baking pan. Note that your cheese sauce will come together quicker if making a half batch.
Making it keto
After many trials and tribulations perfecting a keto-friendly cheese sauce for this chicken and cauliflower casserole, I have some tips to make this cauliflower gratin keto as well!
Omit the breadcrumbs- I've heard that pork rinds can make a great alternative, but I can't personally say whether it will work for this recipe
Swap the milk for cream- I tested with 35% whipping cream
Swap the flour for almond flour- for some reason the cream + almond flour combo is essential; using almond milk and almond flour did not thicken.
Making it ahead
The great news is that you can do most of the work ahead of time for this recipe! Here's how to do it:
Steam the cauliflower, make the cheese sauce and add the shredded cheese (omit the Panko breadcrumbs).
Cover and refrigerate for up to 24 hours.
Remove from the fridge, uncover and let it stand at room temperature as the oven heats.
Add the Panko and bake as directed in the recipe card; you may need to add a few extra minutes if placing in the oven from cold.
Ingredient modifications
I personally love the simplicity of cheese + garlic + cauliflower, however if you want to add in some other flavors to the cheese sauce, here are some options:
nutmeg- gives it a slightly nutty flavor but be careful as a little goes a really long way and you don't want to overpower the other flavors; do not exceed ⅛ of a teaspoon
thyme leaves- add 2 teaspoons fresh or 1 teaspoon dried
sage- add some fresh sage leaves to the cheese sauce to infuse with flavor, pull them out before pouring over the cauliflower
parmesan cheese- swap the gruyere sprinkled on top of the gratin for an equal volume of parmesan cheese
broccoli- consider using a mix of broccoli and cauliflower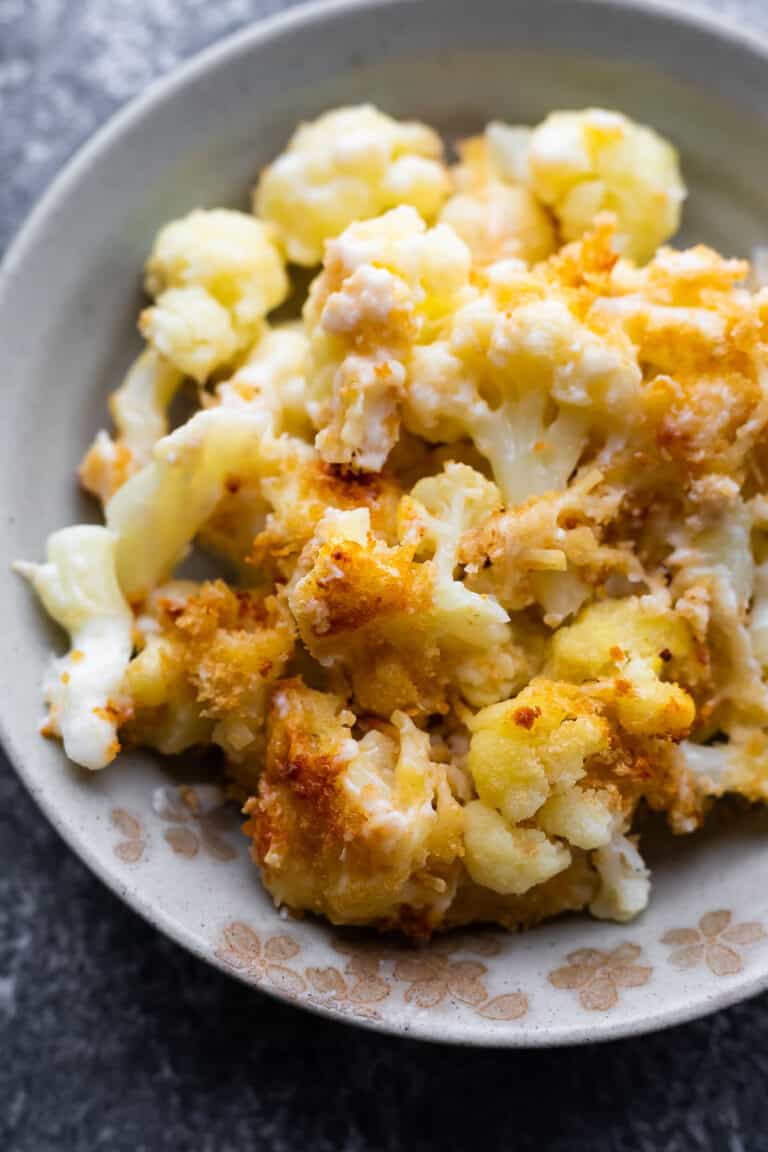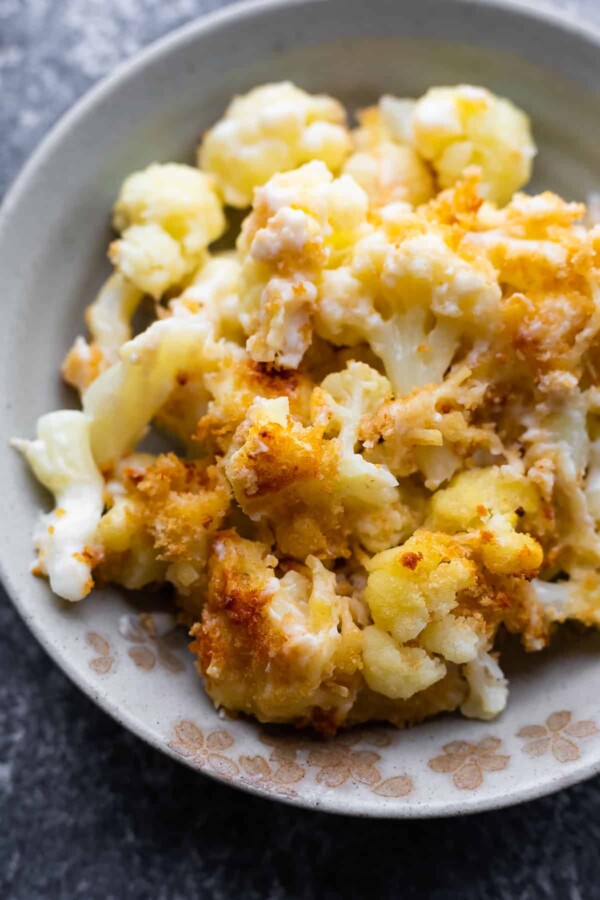 Serve it with
More Casserole Recipes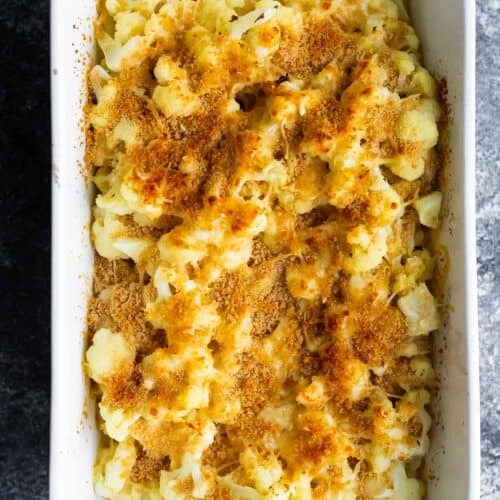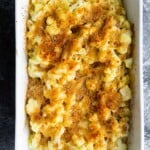 Print Recipe
Cauliflower Gratin
Cheesy yet crispy, this cauliflower gratin is the best of both worlds! With a delicious cheese sauce made with gruyere, butter, garlic and milk, it's a delicious side dish worthy of your holiday table!
Ingredients
1

head

cauliflower

cut into 1 ½ to 2 inch florets

2

tablespoon

salted butter

6

cloves

garlic

minced

1 ¼

teaspoon

salt

2

tablespoons

all purpose flour

1.5

cups

2% milk

see note 1

2 ½

cups

shredded gruyere cheese

divided

½

cup

Panko breadcrumbs

see note 2
Instructions
Steam cauliflower using your favorite method:

a) Microwave in a covered dish with ¼ cup water for 5-10 minutes

b) Simmer on the stove top for 10-12 minutes

c) Steam in the Instant Pot for 0 minutes with a quick pressure release

Drain well and allow to cool slightly.
Cheese sauce
To a medium frying pan heated to medium heat, melt the butter.

Add garlic and allow to simmer for 1 minute.

Add the salt and flour. Use a spatula or wooden spoon to stir it into the butter until all flour is wet.

Add milk to the pan in ¼ cup increments, whisking to combine. This can take between 5-10 minutes. Allow sauce to bubble and thicken.

Add 1 ½ cups of the gruyere, folding it into the sauce until fully melted. Remove the pan from the heat.
Assembly and baking the gratin
Grease a 9 x 13 inch baking pan well with spray oil or butter. Add the cauliflower florets and spread out evenly.

Pour the cheese sauce evenly over the cauliflower.

Sprinkle the reserved 1 cup of gruyere cheese over the cauliflower.

Scatter the Panko breadcrumbs evenly over the cauliflower.

Bake uncovered for 15 minutes.
Notes
Storage
Cool the gratin completely, and portion out into an air tight container.
Store in the fridge; gratin is best consumed within 48 hours of cooking
Prepping ahead
If you'd like to get a head start on the gratin, you may prep through step 4 of 'assembly'.
Cover and store in the fridge for up to 24 hours.
Let the casserole sit at room temperature while you bring the oven to 425°F. S
catter Panko breadcrumbs over top and bake for 15 minutes, adding extra time if needed (since the dish will still be cold)
Half batch
You can cut this recipe in half and cook in a square 9 inch pan; the cheese sauce will thicken much faster so keep an eye on it!
Bake for the same amount of time.
Modifications
nutmeg– add ⅛ of a teaspoon to the cheese sauce (do not exceed)
thyme leaves– add 2 teaspoons fresh or 1 teaspoon dried
sage– add 8-10 fresh sage leaves to the cheese sauce to infuse with flavor, pull them out before pouring over the cauliflower
parmesan cheese– swap the gruyere sprinkled on top of the gratin for an equal volume of parmesan cheese
broccoli– consider using a mix of broccoli and cauliflower
Nutrition
Serving:
0.75
cup
|
Calories:
261
kcal
|
Carbohydrates:
11
g
|
Protein:
16
g
|
Fat:
17
g
|
Saturated Fat:
10
g
|
Cholesterol:
56
mg
|
Sodium:
597
mg
|
Potassium:
327
mg
|
Fiber:
2
g
|
Sugar:
4
g
|
Vitamin A:
524
IU
|
Vitamin C:
35
mg
|
Calcium:
497
mg
|
Iron:
1
mg