38 no cook meal prep recipes- no cooking required! These meal prep ideas are perfect when you need to get it done quickly.
When I need to get my meal prep done quickly, no cook is the way to go! These recipes will help you get your prep done quickly so you don't spend your whole weekend in the kitchen.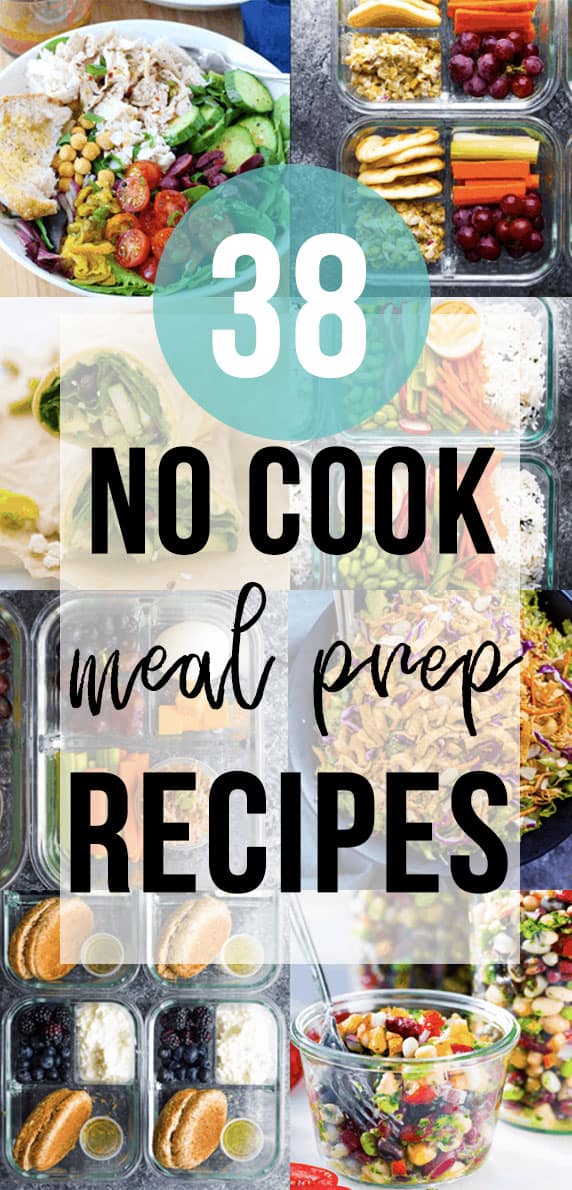 I think sometimes we can 'overthink' meal prep. It doesn't have to involve cooking up anything complicated, in fact meal prep doesn't have to even involve turning the oven on!
Really all you need to do is be strategic in picking meals or components that will make meals through the week easier.
No cook recipes are actually my favorites because they can make your life so easy, but often require very little effort up front!
No cook meal prep ideas
portion out trail mix, yogurt parfaits, smoothie packs
washing fruit, chopping vegetables
assemble freezer crockpot meals, freezer chicken marinades
make a batch of no cook bento boxes
overnight oats or chia puddings are great breakfast options
chopped salads can be filling and a great way to get your veggies in
Recipe video
Want to see my favorite no cook recipes? Watch the video below to check them out!
Don't forget to pin this post to save it for later!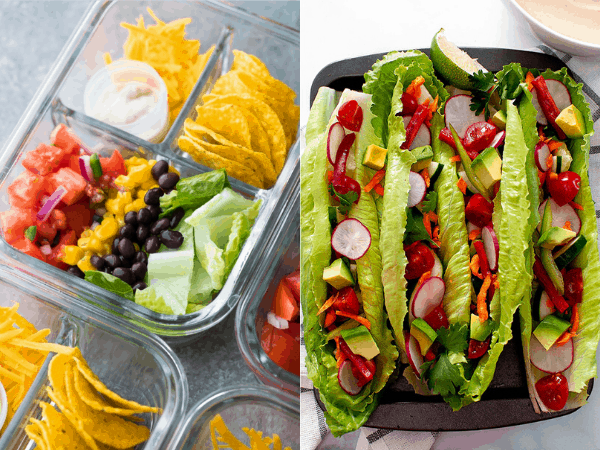 1. No Cook Taco Salad Bento Box from Sweet Peas and Saffron // 2. Raw Vegan Rainbow Tacos from Key to my Lime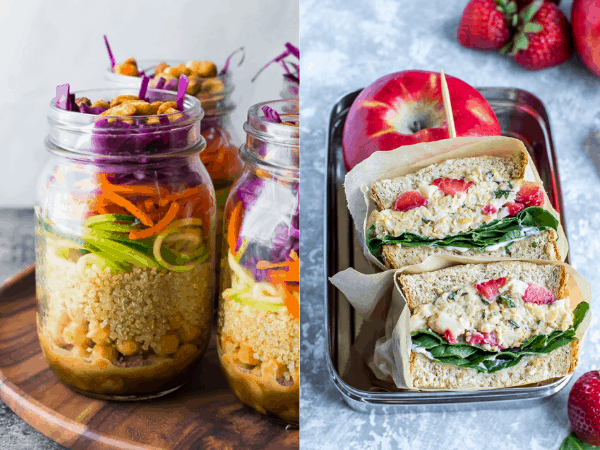 3. Thai Chickpea Mason Jar Salad from Sweet Peas and Saffron // 4. Strawberry Basil Chickpea Salad Sandwich from Peas and Crayons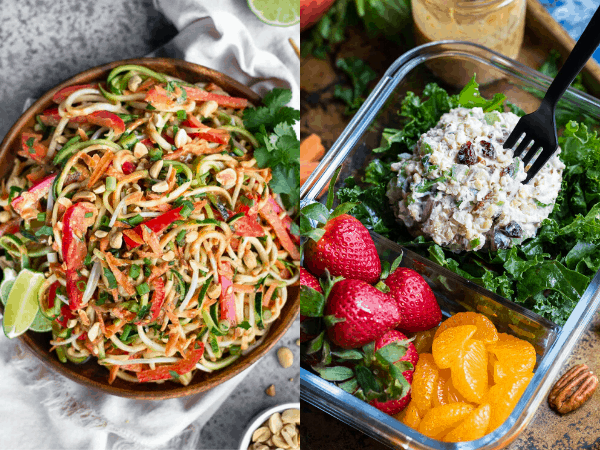 5. Raw Pad Thai Salad from Eat the Gains // 6. Cranberry Pecan Chickpea Salad from Peas and Crayons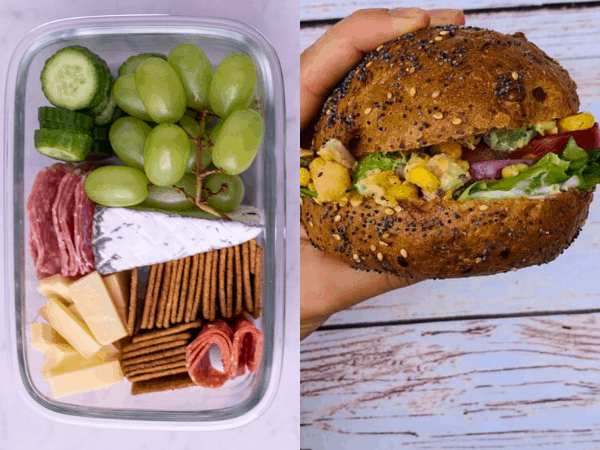 7. DIY Adult Lunchables from Smack of Flavor // 8. Vegan Tuna Sandwich from Yum Vegan Lunch Ideas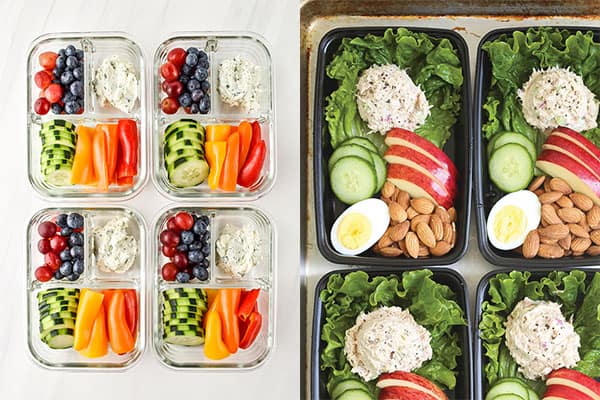 9. Herbed Goat Cheese Rainbow Snack Boxes from Project Meal Plan // 10. Tuna Salad Meal Prep from Damn Delicious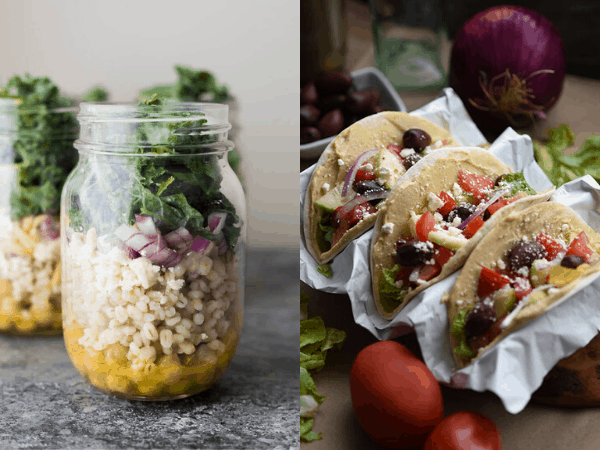 11. Kale Barley Salad with Feta and a Honey-Lemon Vinaigrette from Sweet Peas and Saffron // 12. Mediterranean Veggie Tacos from Mighty Mrs.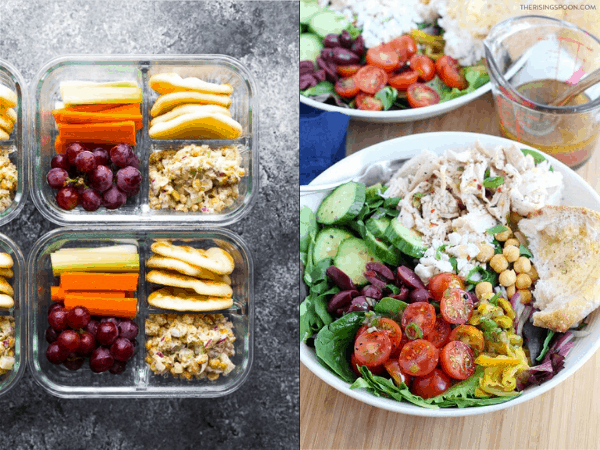 13. Chickpea Salad Bento Box (Vegan) from Sweet Peas and Saffron // 14. Mediterranean Salad with Chicken from The Rising Spoon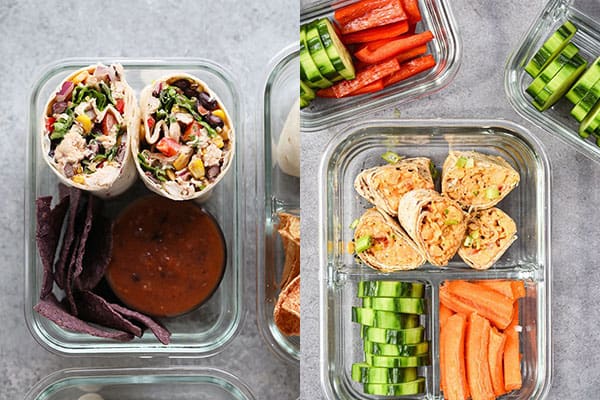 15. Southwest Chicken Salad Wrap Bento Box from Fit Foodie Finds // Buffalo Chickpea Pinwheel Meal Prep from Meal Plan Addict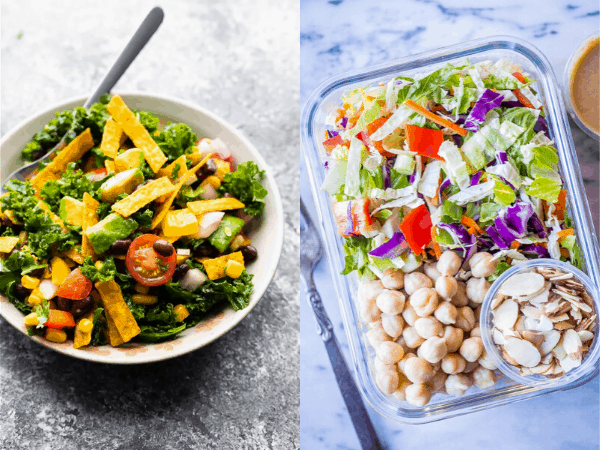 17. Loaded Mexican Kale Salad with Honey Lime Dressing from Sweet Peas and Saffron // 18. Chopped Asian Salad with Chickpeas from She Likes Food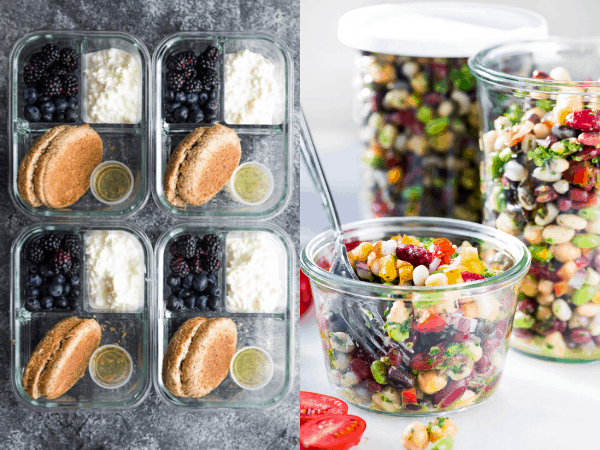 19. English Muffin Breakfast Box from Sweet Peas and Saffron // 20. 7 Bean Salad with Chimichurri Dressing from The View from Great Island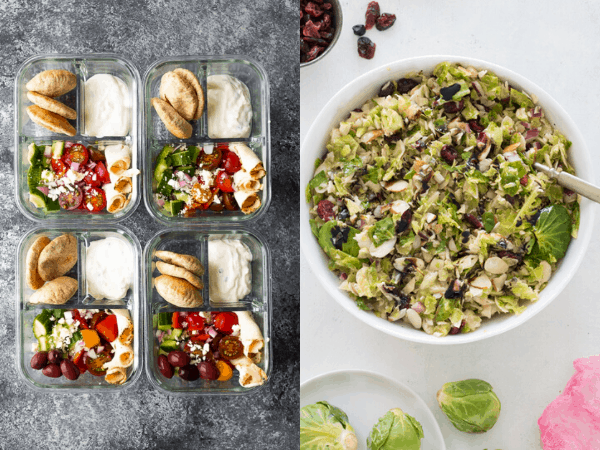 21. Greek Pita Bento Box from Sweet Peas and Saffron // 22. Raw Shredded Brussels Sprouts Salad from Eating by Elaine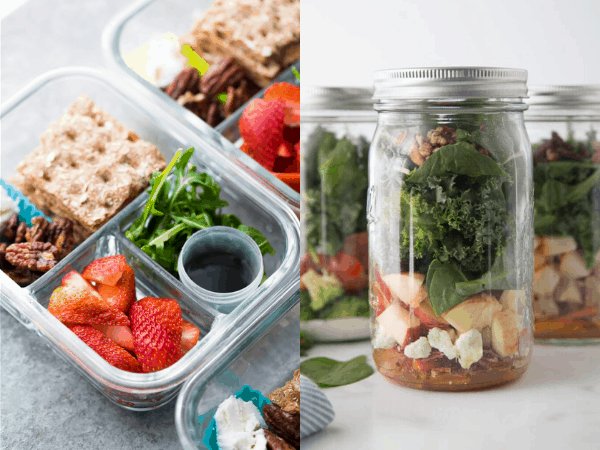 23. Spring Strawberry Bento Lunch Boxes from Sweet Peas and Saffron // 24. Mason Jar Salad with Maple Cider Vinaigrette from Confessions of a Fit Foodie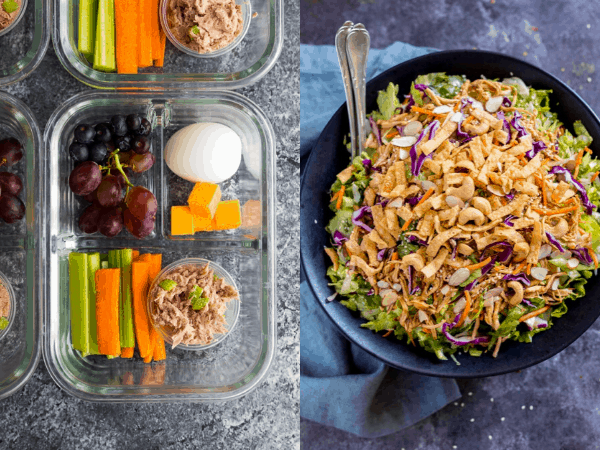 25. Tuna Protein Box from Sweet Peas and Saffron // 26. Chinease Chicken Salad from Confetti & Bliss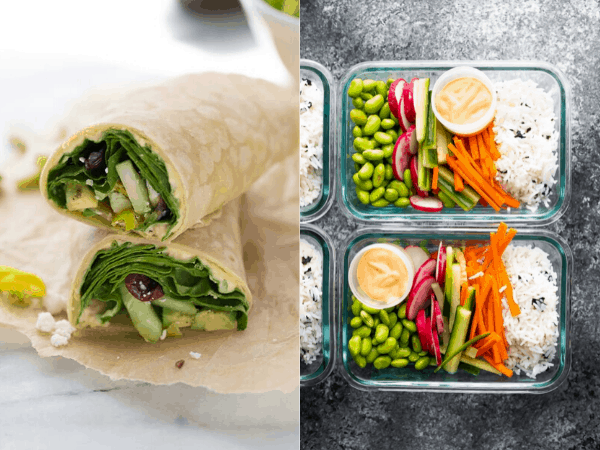 27. 10-Minute Hummus Lunch Wraps from Meaningful Eats // 28. Vegan Sushi Bowl Meal Prep from Sweet Peas and Saffron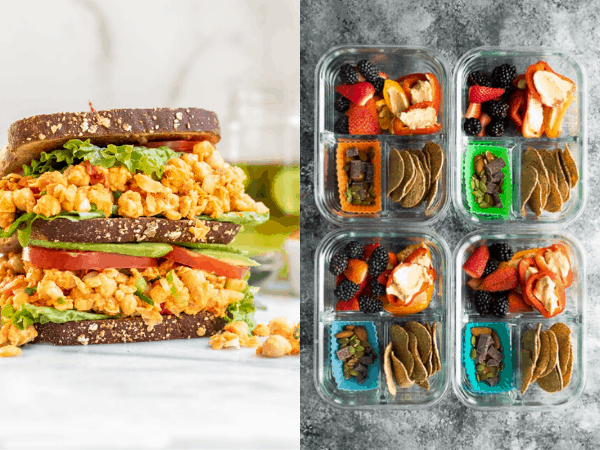 29. Spicy Mashed Buffalo Chickpea Salad from Eat with Clarity // 30. Vegan Bento Lunch Box from Sweet Peas and Saffron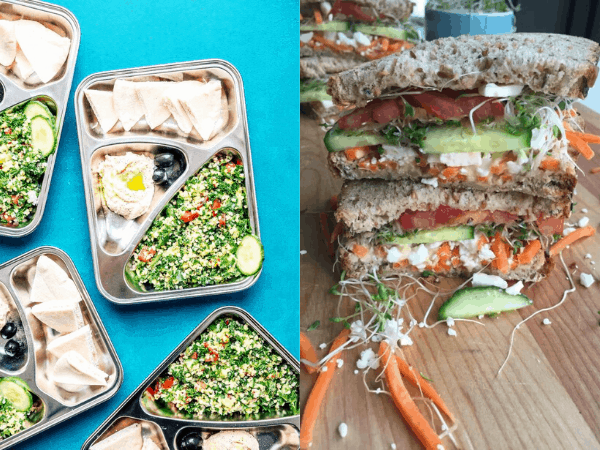 31. Mediterranean Meal Prep from Live Eat Learn // 32. Mediterranean Veggie Sandwich from A Cedar Spoon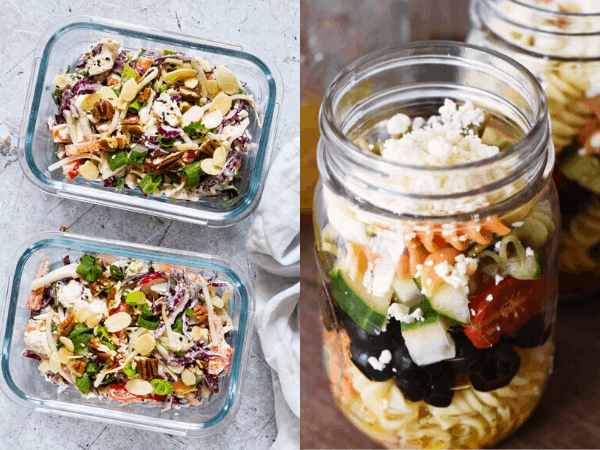 33. Crunchy Healthy Turkey Salad from Recipes from a Pantry // 34. Mason Jar Salads: 3 Ways from Elke Living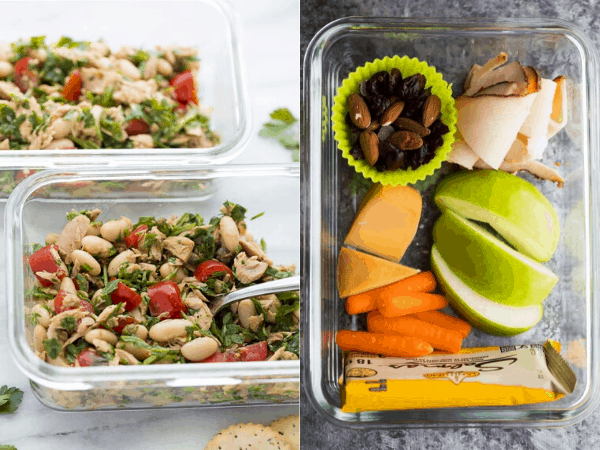 35. Greek Three Bean Salad from Flavor the Moments // 36. Apple, Smoked Gouda and Turkey Bistro Lunch Boxes from Sweet Peas and Saffron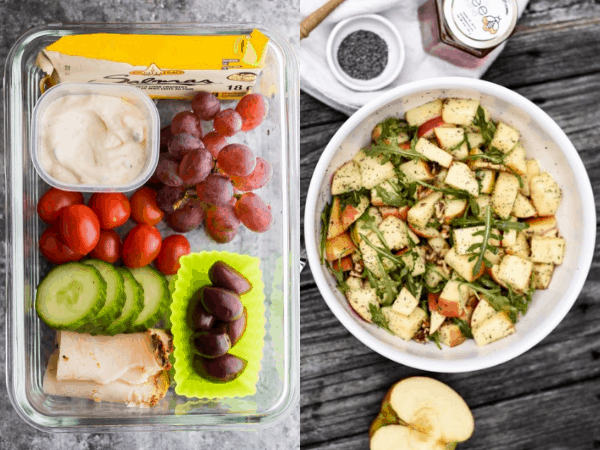 37. Deconstructed Greek Salad Bistro Lunch Boxes from Sweet Peas and Safforn // 38. Apple & Walnut Salad with Honey Poppyseed Vinaigrette from Elke Living