A fresh and delicious cherry bourbon cocktail that muddles fresh cherries with vanilla extract and bourbon, topped with bubbly soda water. Perfect for a lazy summer afternoon!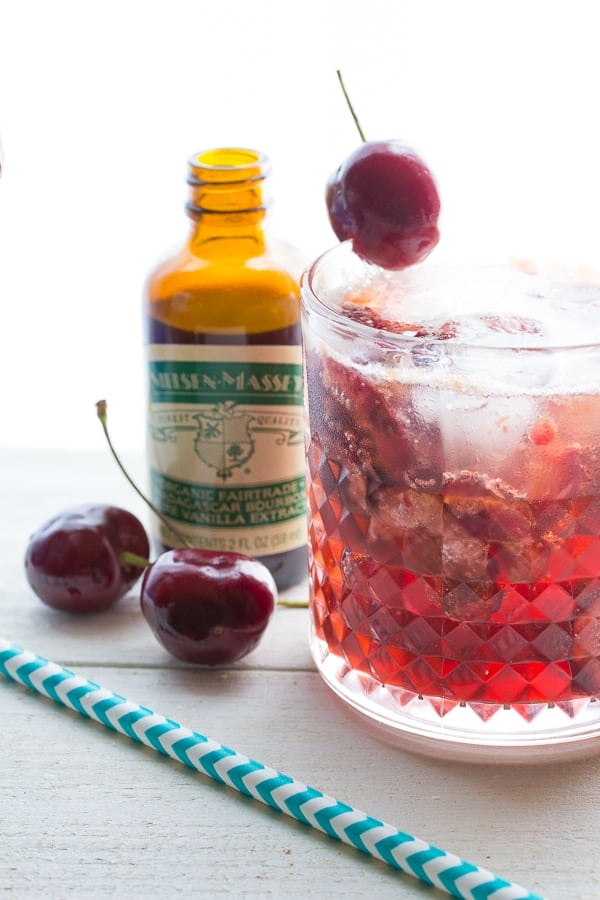 Disclaimer: Thank-you, Nielsen-Massey for sponsoring this post. I love sharing the products that I love with my readers!

For the first time in a loooong time, the song stuck in my head is not sung by The Wiggles. No more ooples and banoonoos. Instead Mungo Jerry:
"Chh chh-chh, Chh chh-chh, in the summertime when the weather is hot, you can stretch right up and touch the sky!" And lucky for you, this blog has no audio 😉
I love that song, it always makes me happy, and is the perfect song to get me out of my basement-thesis-writing-funk. The sun is shining…the weather is hot…and it's Friday!
It's time to go get my deck lounger positioned, and make a happy hour cocktail to sip on. And I have just the cocktail…this cherry bourbon cocktail!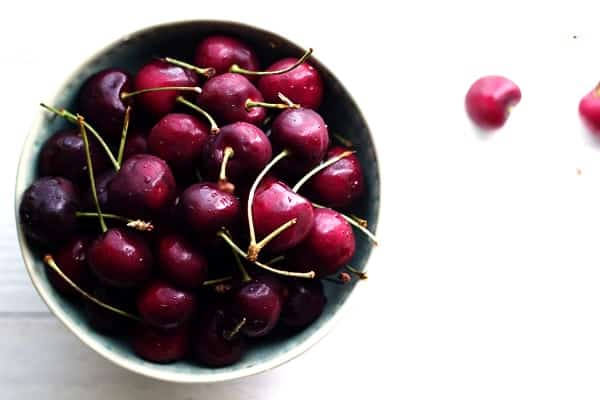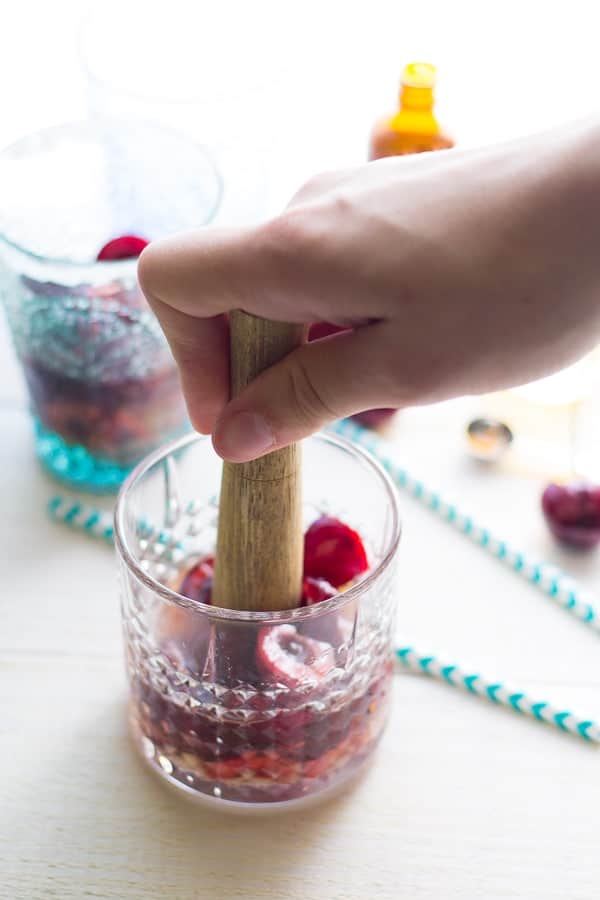 Now I know I like bourbon in my blondies, and my pumpkin pie and on my turnovers and donuts. But when it comes to actually drinking bourbon, I'm a total wuss. To me, I find it a bit harsh and overpowering.
But I think I've found the perfect solution: add a dash of vanilla!
This cherry bourbon cocktail has the perfect blend of vanilla, fresh cherries, and bourbon. You can definitely taste the bourbon, but the vanilla, a touch of sugar and a squeeze of lemon juice mellows it out just enough for me to actually enjoy the flavor!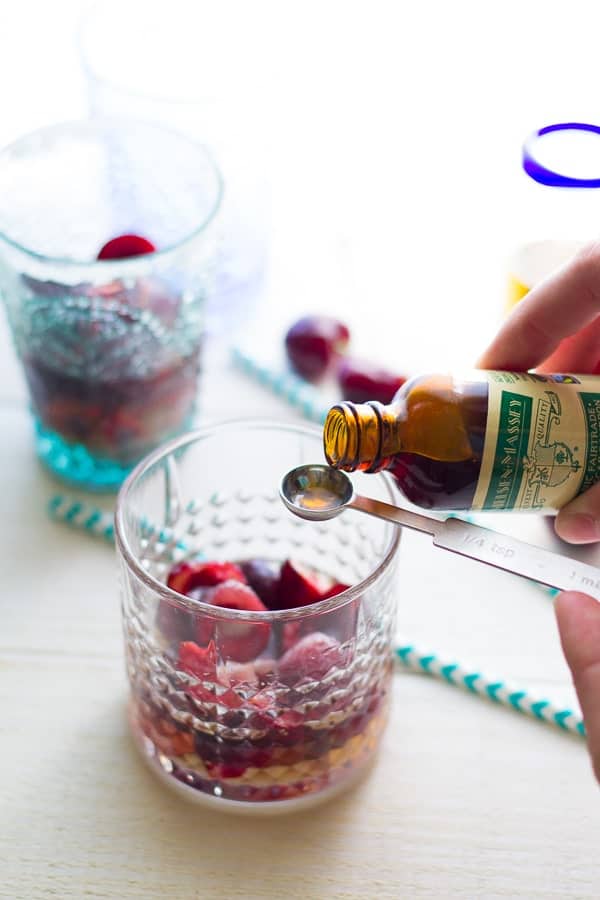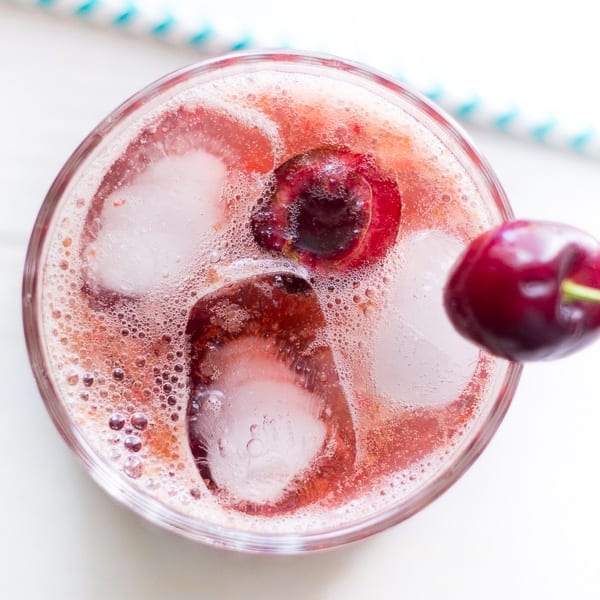 This cocktail was inspired by Nielsen-Massey Vanilla. Nielsen-Massey has been in the vanilla business since 1907, so you can be sure that they know their stuff when it comes to vanilla, and have some pretty high standards. In fact, each vanilla bean is examined by hand to ensure the highest of quality.
One little sniff of the Organic Fairtrade Madagascar Bourbon Pure Vanilla Extract, and this cocktail immediately came to me. The vanilla flavor is a wonderfully subtle creamy and slightly sweet after-taste, which goes just perfectly with bourbon and cherries.
And the best part about these cherry bourbon cocktails is the fact that there is NO simple syrup to make, which means that this cocktail can be in your hand in approximately 5 minutes, and you can park yourself in a deck lounger (or wherever your little slice of heaven may be). Easy and delicious.
Because Fridays are for easy, not slaving in the kitchen.
TGIF! Have a wonderful week-end!
Stay up to date with the latest Nielsen-Massey products on their Facebook, Pinterest, Twitter, and YouTube!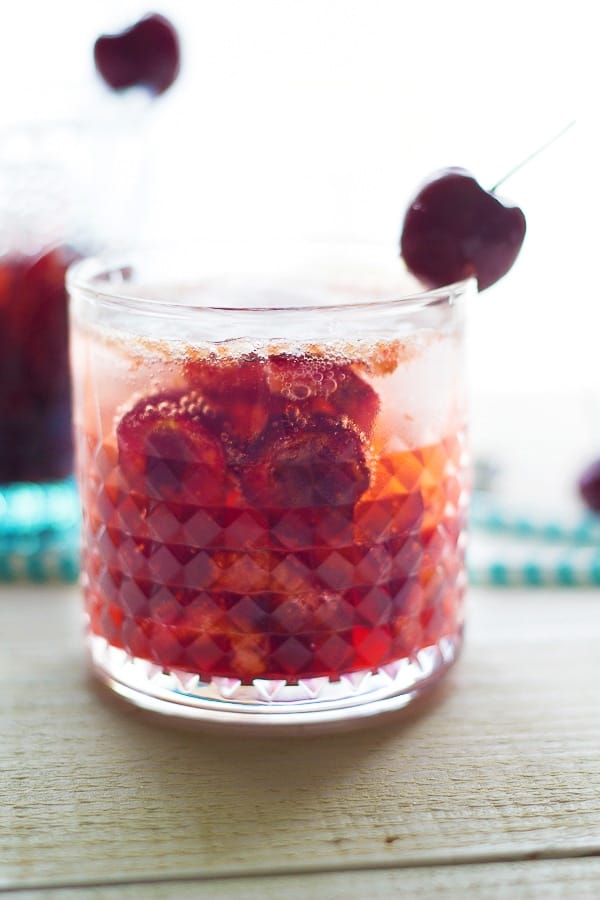 Vanilla and Fresh Cherry Bourbon Cocktail
Fresh cherries are muddled with vanilla extract, a touch of sugar and bourbon, then topped with bubbly club soda for this easy, fresh, delicious cocktail!
Ingredients
For one drink
1/2

cup

fresh cherries

pitted

1/4

teaspoon

Nielsen-MasseyOrganic Fairtrade Madagascar Bourbon Pure Vanilla Extract

1.5

oz

one shot bourbon

3

teaspoons

superfine sugar

called 'Berry' sugar in Canada

1

teaspoon

lemon juice

ice cubes

club soda

1/4 cup or so
Instructions
In the bottom of a glass, combine the cherries, vanilla extract, bourbon, sugar and lemon juice. Muddle together until cherries are broken and juices are released (you can use the back of a wooden spoon if you don't have a muddler).

Top with ice cubes and a small splash of club soda.