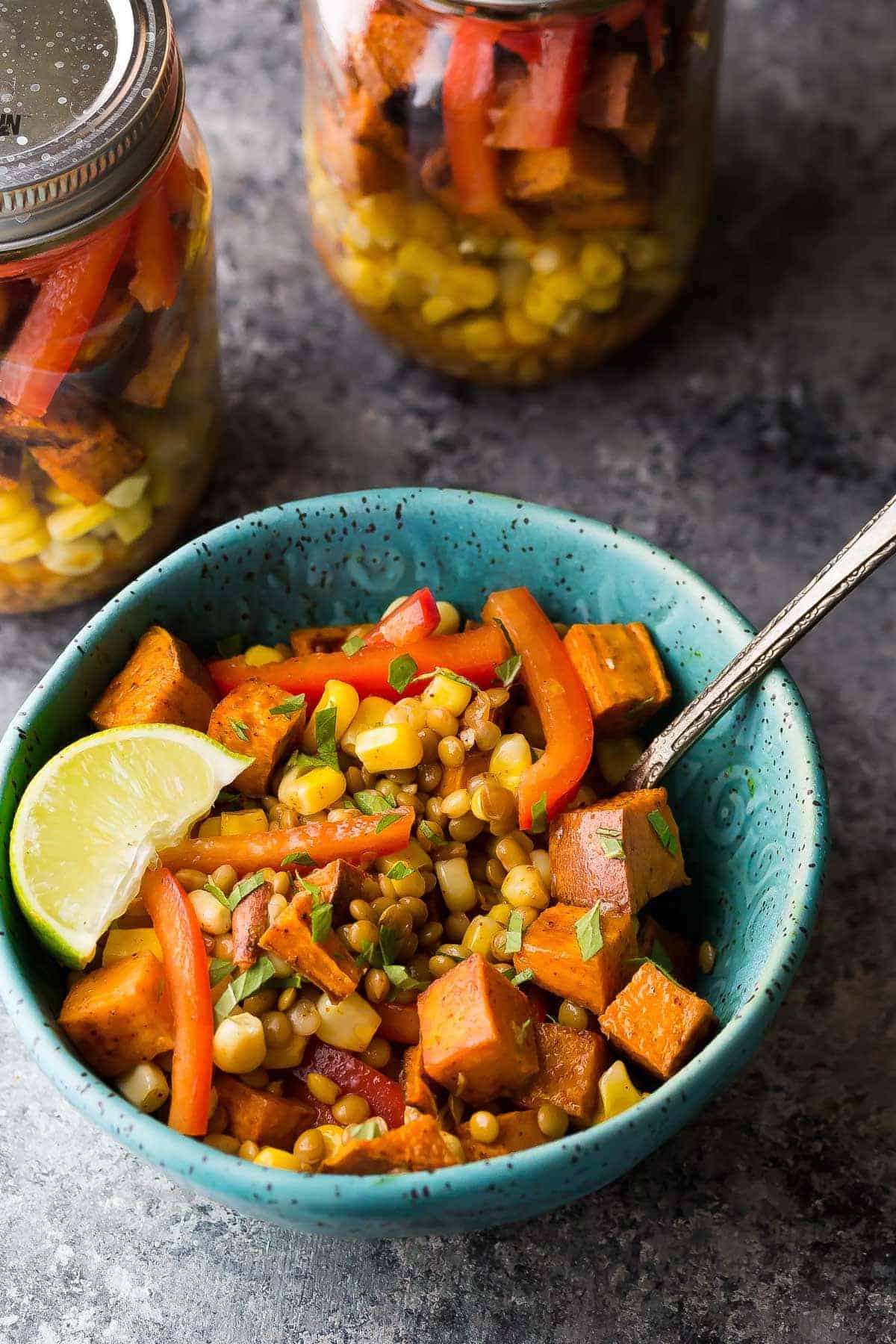 These sweet potato & lentil jar salads can be made ahead and eaten throughout the week for an easy, healthy on-the-go lunch!
Now that summer is over and we're back to the old routine, it's time for some more make-ahead lunch recipes.
Sorry PB&J, as easy as you are, you were so often tossed out in favor of the delicious-looking stuff for sale in the food court.  Which honestly, was never as tasty as the picture made out.  And left me feeling regret, and hunger just a few hours later.
This is why I've been on a bit of a mission this past year.  Let's make some easy, healthy lunch recipes that you will actually look forward to, and will never be forgotten in the bottom of your bag, or (gasp) tossed in the trash.
Today's southwestern sweet potato and lentil jar salads are SUPER easy, delicious and they will actually keep you feeling full a lot longer into the afternoon.  Woo hoo!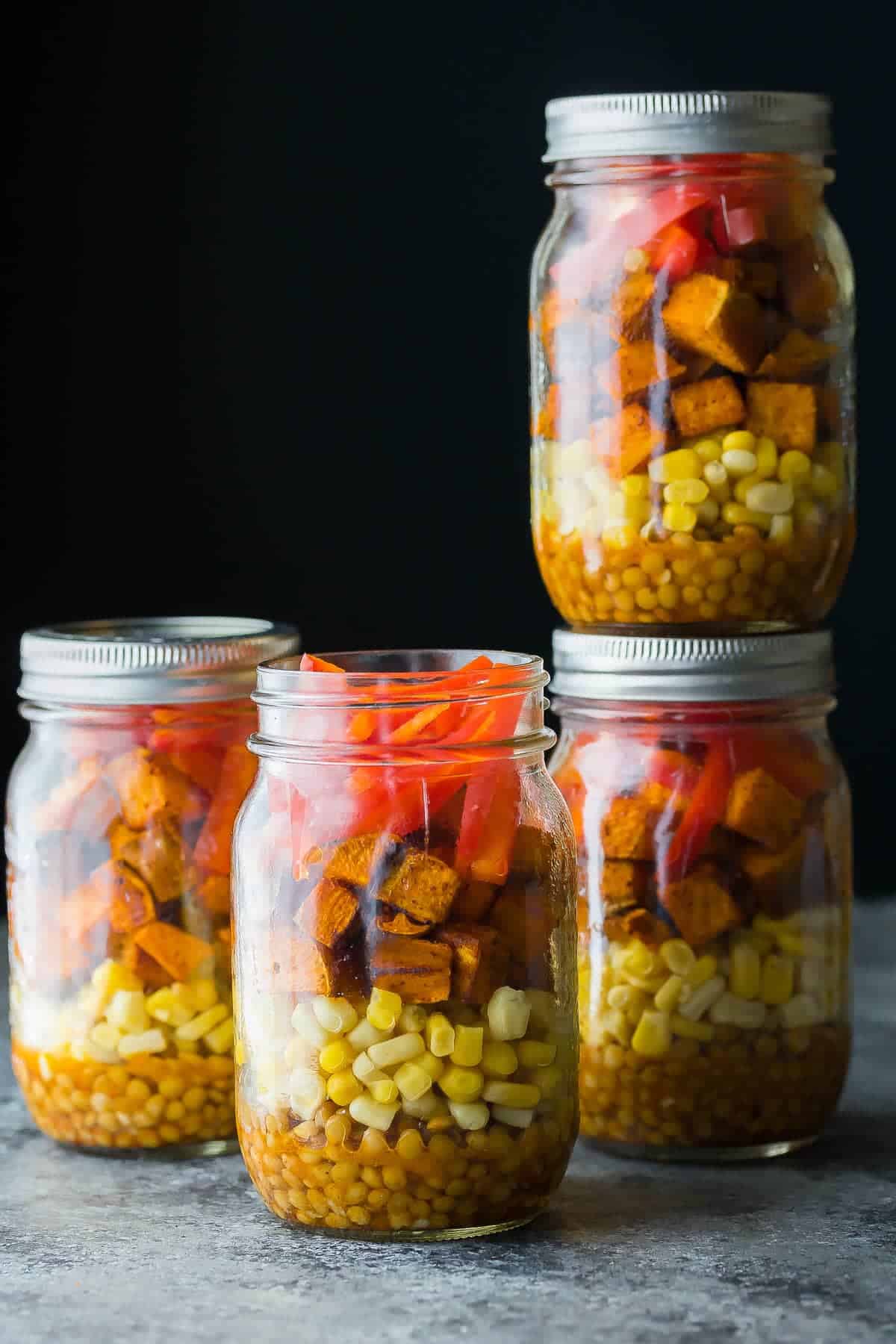 Plus, on the totally superficial side of things, you get to look like a super cool person when you stroll into the lunch room with your rainbow JAR SALAD!
And: your super cool jar salad might lead to some stimulating lunch conversations!
Them: 'Why is your lunch in a jar?'
You:  'Because, look: layering!  The dressing is kept far away from the peppers and sweet potatoes, keeping them from turning into mush'
Them: 'You are a genius!  Teach me your ways'.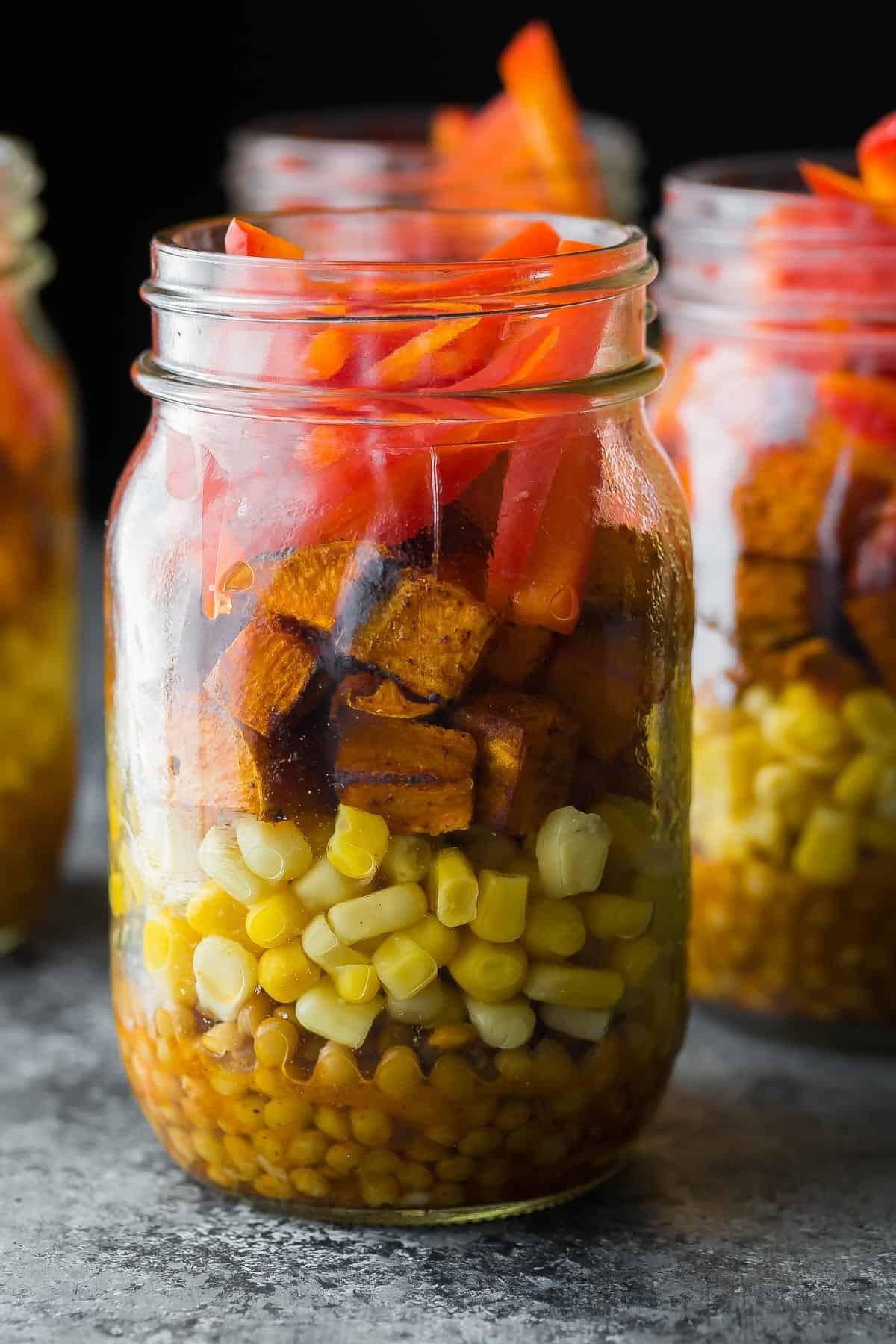 At least…that's how it all goes down in my mind.
Either way, you are going to enjoy your delicious, FILLING sweet potato and lentil jar salad.
It all starts with a simple chili lime vinaigrette, which goes in the bottom of the jars.  Next: lentils, then corn, then roasted sweet potato cubes, and finally bell pepper.
This lunch is the perfect way to ease back into your routine.  I hope you love it as much as I do!
More make-ahead lunch recipes for us!
Southwestern Sweet Potato & Lentil Jar Salads
4
adjust servings
Ingredients
Chili Lime Vinaigrette
2

tablespoons olive oil

2

tablespoons white wine vinegar

2

teaspoons lime juice

1/4

teaspoon salt

1/2

teaspoon chili powder

1

clove garlic, minced

2

teaspoons honey
Salad
6

cups sweet potato cubes

1

tablespoon olive oil

1/2

teaspoon chili powder

One 19 oz (540mL) can of brown lentils, drained

One 11.5 oz (340mL) can of corn kernels, drained

1

red bell pepper, sliced thinly
Instructions
Shake together all vinaigrette ingredients and set aside.
Heat the oven to 425°F. Toss the sweet potato cubes in the olive oil and chili powder and roast in the oven for 10 minutes, turn, the bake for another 15 minutes or until cooked through.
Assemble the mason jars in the following order:
- 1 tablespoon of vinaigrette
- ½ cup lentils
- ½ cup corn kernels
- 1 cup sweet potato cubes
- bell pepper slices
Recipe Notes
Nutritional Information:
Calories 416 // Fat 12 g // Saturated Fat 1 g // Cholesterol 0 mg // Sodium 710 mg // Carbohydrate 66 g // Fiber 13 g // Sugars 17 g // Protein 13 g
These salads keep for 4 days.
Products used in this recipe: