Leftover turkey bone broth is the perfect way to use up your turkey leftovers! Nutrient-dense, immune-boosting, and the best way to use every part of the turkey.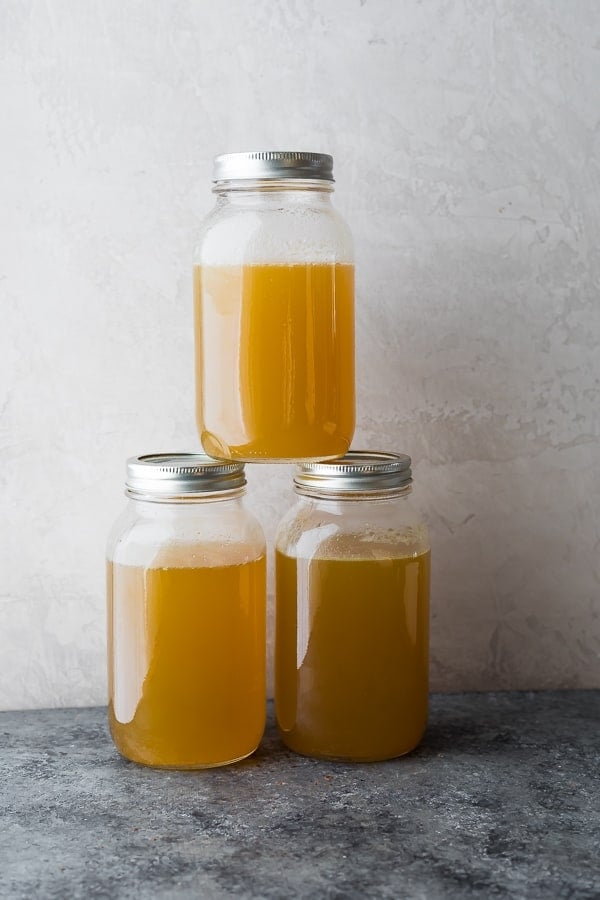 I don't know about you, but the day after a turkey dinner, I am lethargic and feeling a bit depleted. It could possibly because of the energy involved in cooking and hosting a turkey dinner, but also from over-indulging in too much rich, heavy food.
I am craving a little 'detox', and this turkey bone broth recipe is just what the doctor ordered!
Not only is bone broth nutrient-dense, full of natural collagen, and hydrating, but it's the best way to use every part of the turkey. I hate seeing those bones and the bits of meat stuck to them go straight into the compost.
PST! Check out this post for a great Turkey Stock Recipe!
Reasons to love this recipe
you can use up the whole turkey carcass
it is nutrient-dense, hydrating and full of collagen
it's the perfect post-turkey-dinner detox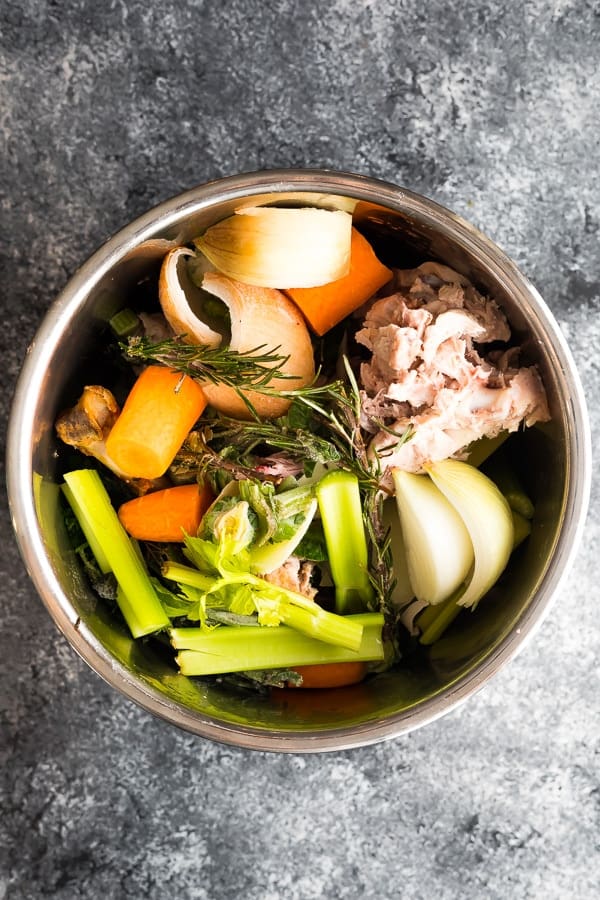 How to make turkey bone broth
Thanks to the Instant Pot, it's super simple to make it!
Add 1.5 - 2 lbs of turkey carcass to an Instant Pot. Add all different parts especially ones containing cartilage. I recommend adding the wings as they are great sources of collagen!
Add veggie scraps & leftover herbs that you collected while prepping turkey dinner. You can stash them in the freezer until you're ready to make your bone broth.
Add apple cider vinegar and water. The ACV helps pull the minerals out of the bones.
Pressure cook for 2 hours. Let it naturally release for 10-20 minutes.
Strain off the bones & veggie scraps.
That's it!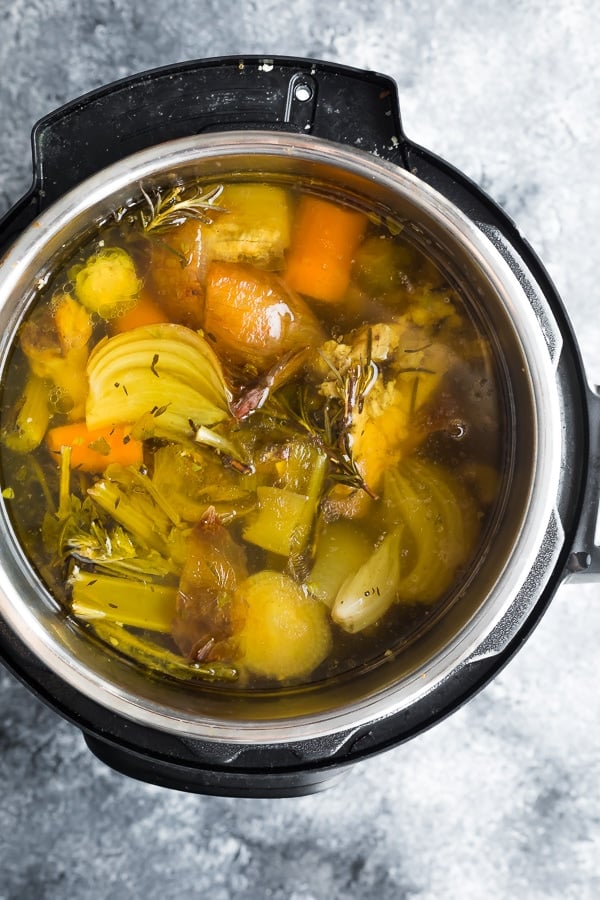 What's the difference between turkey stock and turkey bone broth?
They are very similar, however bone broth is either simmered for much longer or pressure cooked in a way that extracts the collagen from the bones and joints. Bone broth will gel when cooled, whereas turkey stock will remain liquid and is thinner in consitency.
Why should I drink homemade bone broth?
Bone broth is FULL of nutrients, collagen and gelatin, which is great for your hair, nails and skin (hello, fountain of youth!). Not only that but it's great for healing your gut, supporting your immune system, and protecting your joints. See more details here.
Whoa. My bone broth gelled when I cooled it! What's up with that?
That's actually a great sign that your bone broth is rich in gelatin! Just like jello, which gels thanks to gelatin. If your bone broth doesn't gel, don't worry, it probably just means that you didn't have quite enough gelatin-rich bones in your stock, or maybe you had a lower bone : water ratio. You will still have plenty of nutrition in your bone broth!
How long does turkey bone broth last for?
I would keep your broth in the refrigerator for no longer than 5 days. You can freeze it for up to 3 months.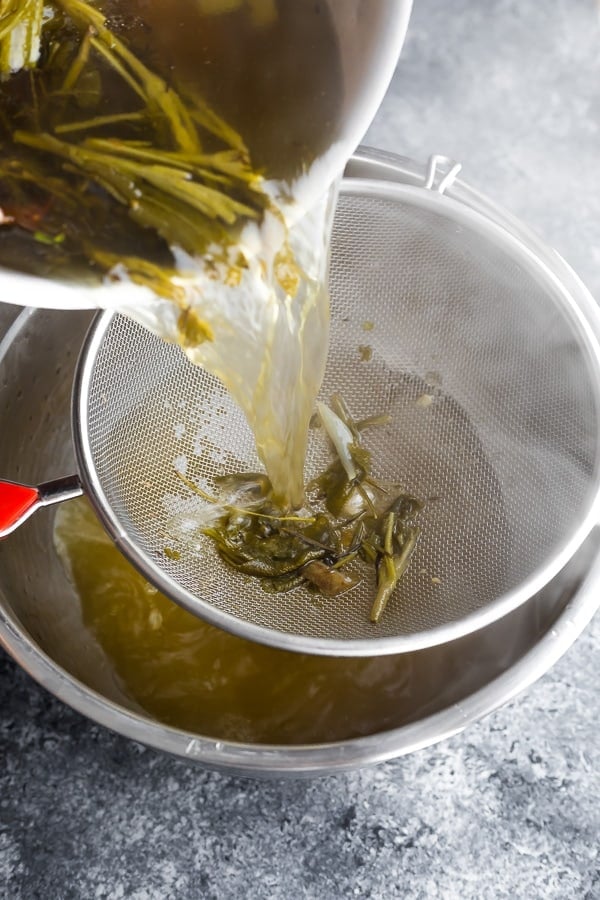 Use it up
sip it
make it into soup (stay tuned for my leftover turkey detox soup recipe!)
to cook your rice or grains
use it in a casserole
to any pureed foods for baby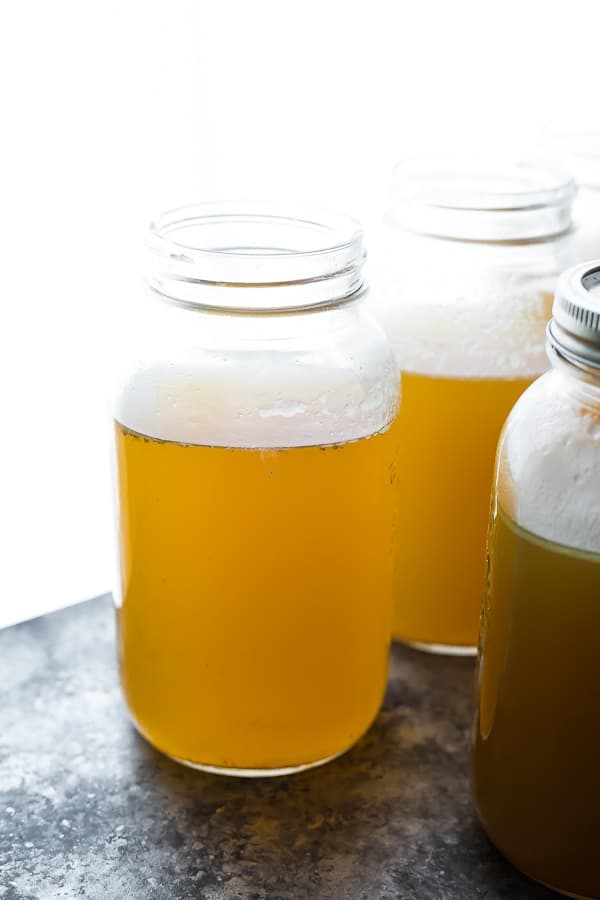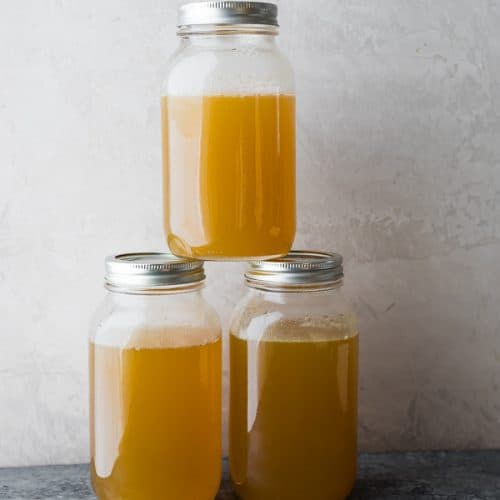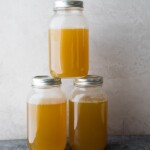 Print Recipe
Leftover Turkey Bone Broth
Leftover turkey bone broth is the perfect way to use up your turkey leftovers! Nutrient-dense, immune-boosting, and the best way to use every part of the turkey.
Ingredients
2

lbs

turkey bones

½

teaspoon

sea salt

1

tablespoon

apple cider vinegar

1

celery rib

(chopped coarsely)

1

carrot

(chopped coarsely)

½

onion

(quartered)

scraps from turkey dinner prep: carrot peels, celery leaves, etc.

leftover herbs from turkey dinner prep

10

cups

water

(or fill to 2 inches below the top of the Instant Pot)
Instructions
Combine all ingredients in a 6 quart Instant Pot.

Select manual (high pressure) for 120 minutes.

Allow pressure to naturally release until the pin drops (roughly 60 minutes; you can *carefully* manually release after 20 minutes if you are in a time crunch).

Pour through a colander, collecting the bone broth in a large bowl or a jar. Toss all solids in the compost.
Storage
Store in the fridge for up to 5 days or in the freezer for up to 3 months.
Nutrition
Serving:
1
cup
|
Calories:
5
kcal
|
Carbohydrates:
1
g
|
Protein:
0
g
|
Fat:
0
g
|
Saturated Fat:
0
g
|
Cholesterol:
0
mg
|
Sodium:
136
mg
|
Potassium:
37
mg
|
Fiber:
0
g
|
Sugar:
0
g
|
Vitamin A:
1035
IU
|
Vitamin C:
0.9
mg
|
Calcium:
12
mg
|
Iron:
0
mg