Make ahead sage apple stuffing- do the bulk of the prep work the day before you serve this delicious Thanksgiving stuffing recipe.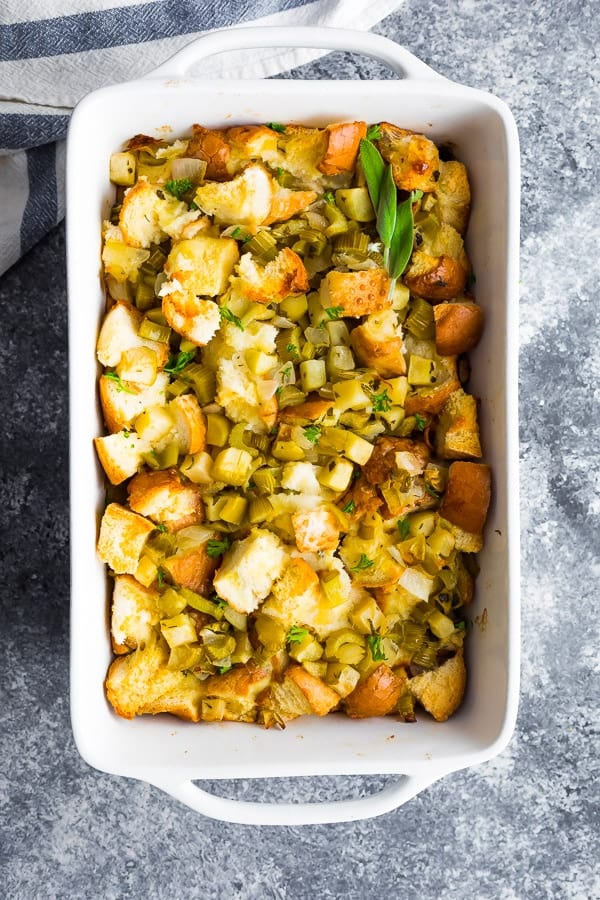 As a kid, I wanted absolutely nothing to do with Thanksgiving stuffing...oh how wrong I was! Stuffing is officially one of my favorite parts of Thanksgiving or Christmas dinner these days.
Sweet, savory, with herb flavors, crunchy bits, soft bits, it's really one of the highlights of the meal.
I am sharing this easy make ahead stuffing recipe because it is so easy to do the majority of the prep work the day before. This recipe bakes, cools, then sits in the fridge overnight, and this step helps all the flavors sink into the bread and gives it so much extra flavor. It also helps take a load of the work off on turkey day.
Reasons you'll love this make ahead sage apple stuffing
you do the bulk of the prep work the day before you serve it
the bread absorbs so much extra flavor by sitting in the fridge overnight
apple + sage is a match made in heaven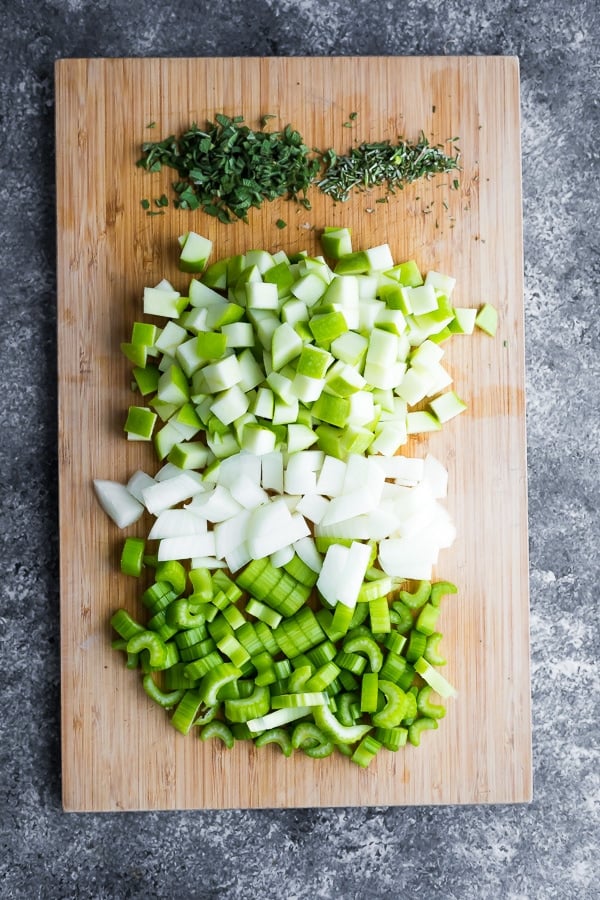 How to make stuffing ahead
First things first, I do not recommend cooking your sage apple stuffing inside the turkey because 1. food safety issues can arise but also 2. IT TAKES SO DANG LONG TO COOK!
Using the twice-baked method for this stuffing recipe, your stuffing is going to taste so good your guests will assume it was baked in the turkey, anyway, I promise!
dry your bread out! Either cut into cubes and leave on the counter overnight, or toast in the oven at 250°F for 45 minutes <--this is very important to do, promise me you won't skip it!
cook apples, celery, onions, sage & rosemary in some butter
toss with dry bread cubes in a large baking dish
pour a mixture of chicken stock, eggs & salt over top
bake, cool, refrigerate overnight <--this is where things get different from traditional stuffing recipes!
bake a second time, uncovered, just before serving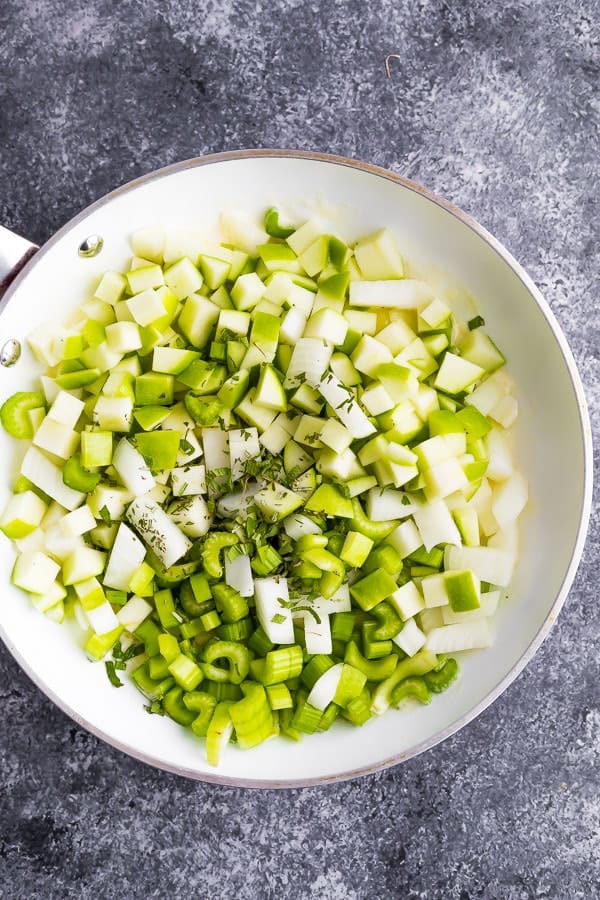 Can I skip the overnight refrigeration step and just bake up the day I serve my turkey?
Sure, you can totally do this, just bake your stuffing until it reaches a safe internal temperature of 160°F. HOWEVER be warned the flavors won't even compare to how it tastes after sitting overnight in the fridge.
What kind of bread works best for stuffing?
You can actually use almost any type of bread for stuffing (check out this hilarious taste test on Serious Eats). I pick up a good quality loaf of white bread from the grocery store bakery department. Make sure you give it time to dry out before you make your stuffing, or toast the cubes in the oven.
Can I add XYZ to this stuffing? You could add a ton of different things:
crumbled sausage
cubed parsnips (sautee with the celery/apples),
fresh cranberries (add them during the last 10 minutes cook time),
dried cranberries (add before baking or scatter over top before serving)
slivered almonds, or pecans (add before baking or scatter over top before serving)
you could caramelize your onions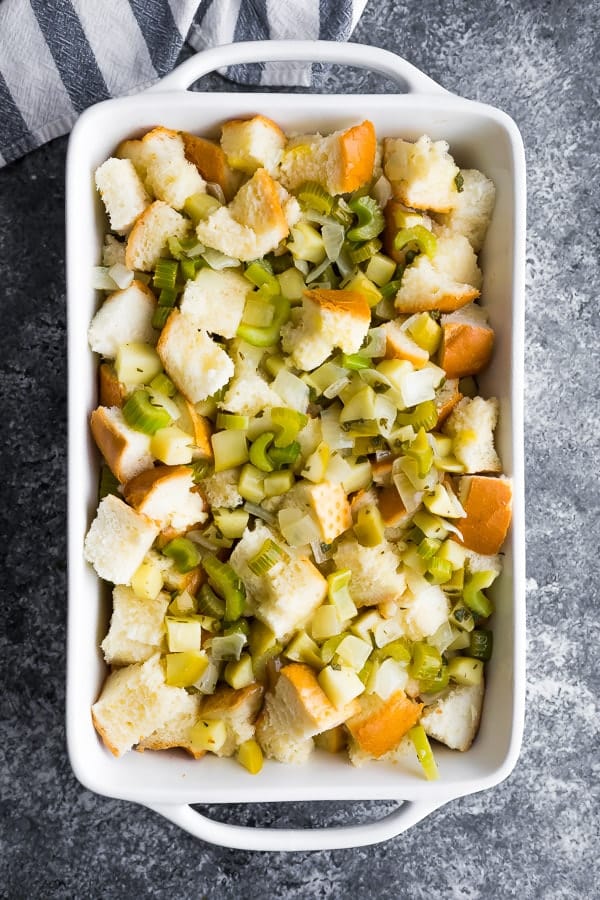 How much stuffing should I serve per guest?
I aim for about 1 cup per guest, but it's always good to have a bit extra! I know we love leftover stuffing. This recipe serves 8-10.
Is this recipe vegetarian? Vegan?
Almost! You can swap the chicken stock for veggie stock and the butter for vegan butter, and simply leave out the eggs to make this recipe vegan.
How long does this recipe last for?
After baking, stuffing can keep in a sealed container in the fridge for up to 4 days. You could probably freeze it, although I haven't tried.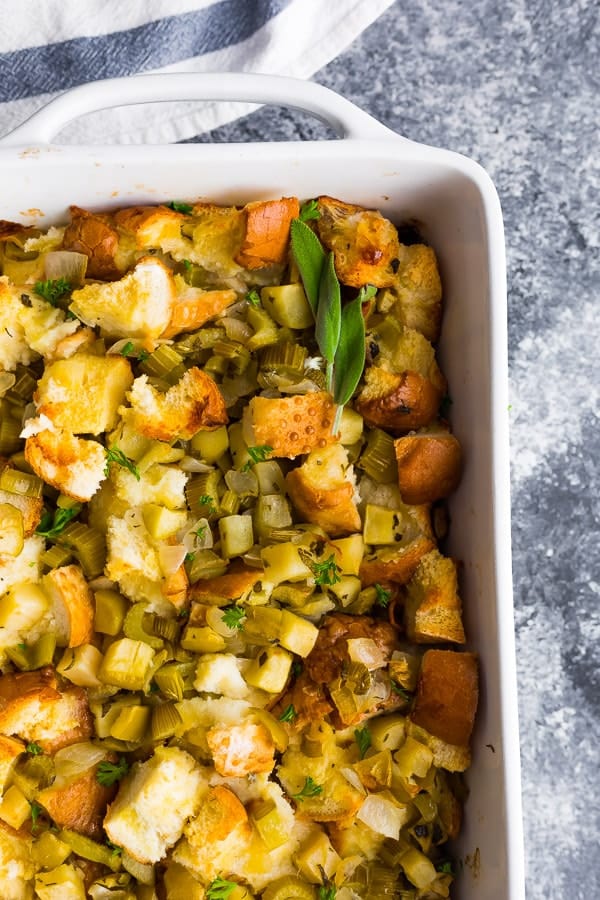 Recipe tips
make sure you dry out your bread before making this recipe! (If you can't tell already, I made the mistake of skipping this step once and it was not good at all)
use a deep casserole dish (I use this one from Crate & Barrel)
looking for more Thanksgiving recipes? Check out this Instant Pot Cranberry Sauce, these Herb & Garlic Instant Pot Mashed Potatoes and check back soon for my favorite Dry Brined Turkey Recipe!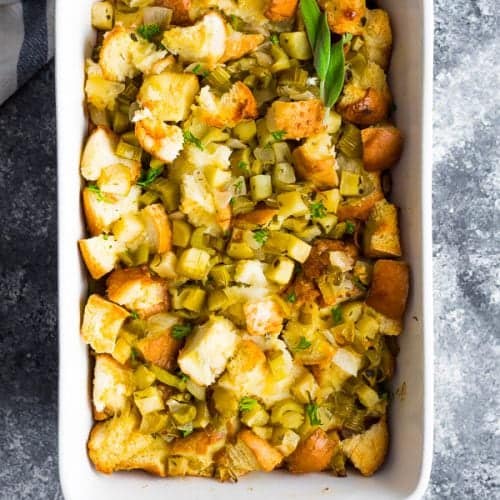 Print Recipe
Make Ahead Sage Apple Stuffing
Make ahead sage apple stuffing- do the bulk of the prep work the day before you serve this delicious Thanksgiving stuffing recipe.
Ingredients
10

cups

good quality white bread

(cut into 1 inch pieces; see *)

¼

cup

unsalted butter

2

cups

celery

(sliced)

2

cups

onion

(chopped)

2

granny smith apples

(chopped; skin on)

¼

cup

sage leaves

(chopped; loosely packed)

1

tablespoon

fresh rosemary

chopped

2 ½

cups

chicken stock

(I use reduced sodium)

2

eggs

1 ½

teaspoons

salt
Instructions
The day before you serve
Dry out the bread: Either cut it up and let it sit out the day before you assemble your stuffing, or toast in the oven at 250°F for 40 minutes.

Melt butter in a large pan. Add the celery, onion, apples, sage and rosemary, and cook for 10-15 minutes, until softened. Remove from heat and allow to cool.

Grease a large, deep casserole or baking dish (at least 9 x 13 and 2 inches deep).

Beat together the eggs, then mix in the chicken stock and salt in the bottom of a large bowl. Toss the bread cubes and apple/celery mixture in the egg mixture. Scoop everything into the casserole/baking dish.

Cover with foil or a reusable silicone cover, and bake at 350°F for 45 minutes.

Remove from oven and allow to cool uncovered.

Cover and store in the fridge overnight.
The day you serve
Bake uncovered in the oven at 350°F for 45 minutes- 1 hour, until stuffing is crispy and golden on the top.
Notes
Recipe adapted from Epicurious
* Use a good quality loaf of bread from the bakery department of your grocery store. French bread works well!
Nutrition
Serving:
1
/10 of batch
|
Calories:
229
kcal
|
Carbohydrates:
32
g
|
Protein:
7
g
|
Fat:
7
g
|
Saturated Fat:
3
g
|
Cholesterol:
46
mg
|
Sodium:
686
mg
|
Potassium:
265
mg
|
Fiber:
2
g
|
Sugar:
8
g
|
Vitamin A:
305
IU
|
Vitamin C:
4.8
mg
|
Calcium:
143
mg
|
Iron:
2.1
mg