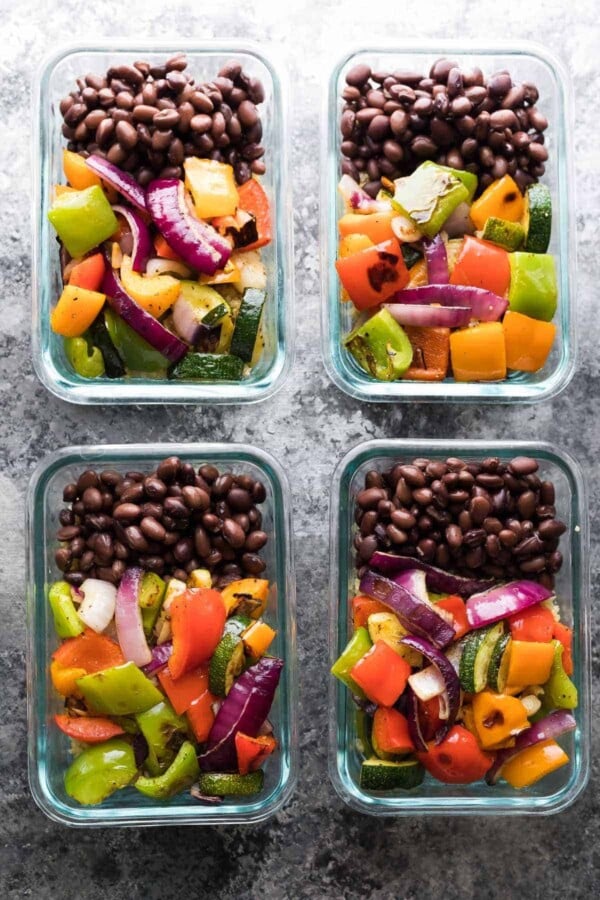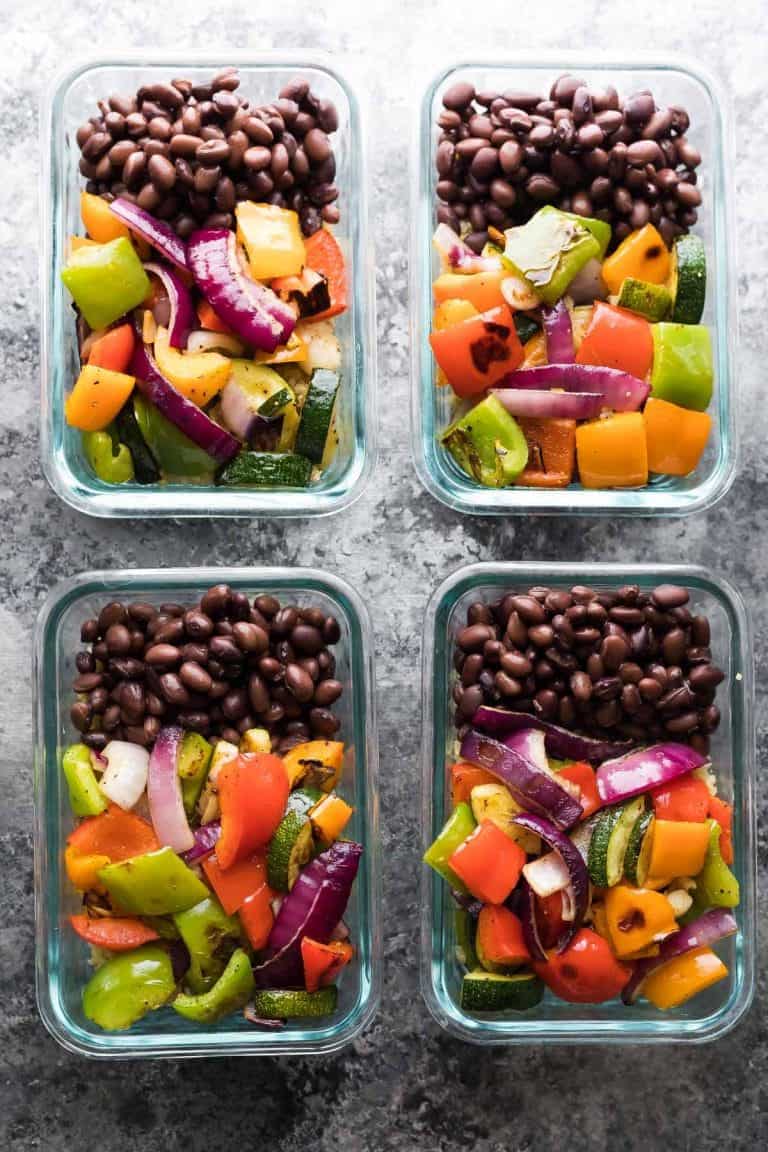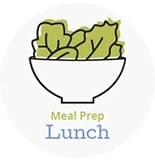 Make these Grilled Veggie & Black Bean Meal Prep Bowls on the weekend and you will have four work lunches waiting for you.  A great vegetarian meal prep option that will keep your oven off this summer.
As we get closer to our moving date, I get a little nostalgic looking around the house.
This was the house where I studied my butt off and earned my PhD.  The house where I started this blog, (completely unaware of what it would turn into).  The house where we brought teeny tiny newborn Kai home from the hospital.
We have amazing neighbors, and it does take some time to get to know your neighbors.  So I'm a little nervous to move to a completely new neighborhood and can only hope that Kai will have some little buddies his own age that live nearby.
But it is time for us to move on…baby #2 pretty much was the push we needed to get a bigger house with more space.  I'm sure I'll be teary eyed as we lock up and move out, but I can't wait to start fresh in our new house and start making memories there!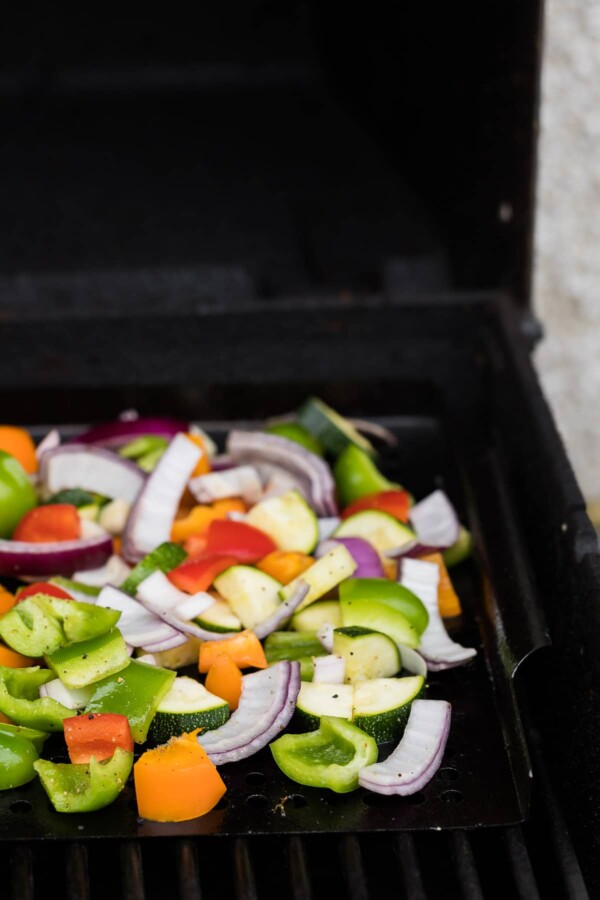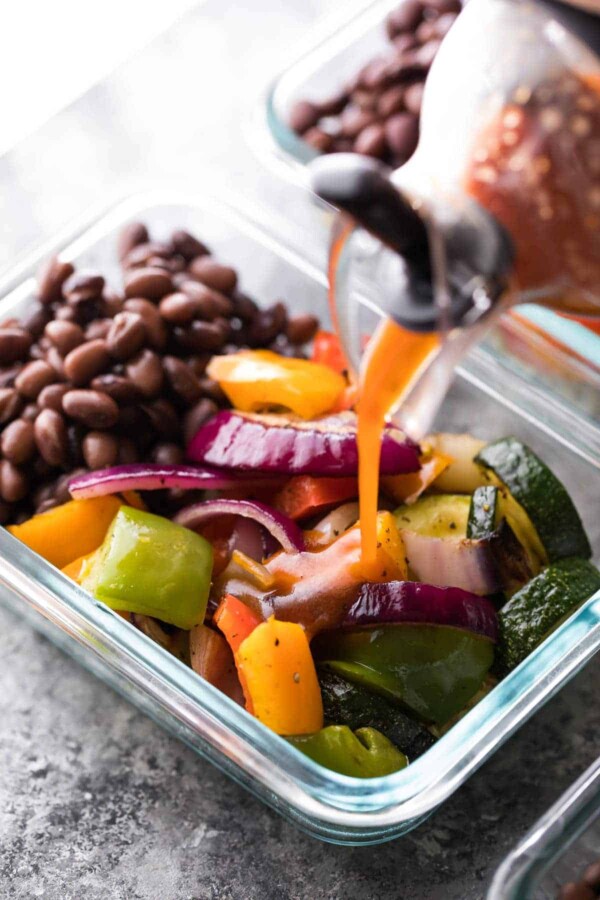 Meal prep has absolutely been a savior during the house hunting/house selling/house moving process.  Having healthy prepped meals waiting for us in the fridge has been one less thing for us to worry about, and keeps us eating healthier.
Today's grilled veggie & black bean meal prep bowls are yet another vegetarian meal prep recipe (after this meal prep chopped chickpea salad), and one that doesn't require your oven!
Instead of roasting, I grilled up the veggies, which makes for an easier clean up and keeps your oven off (and your house a little cooler).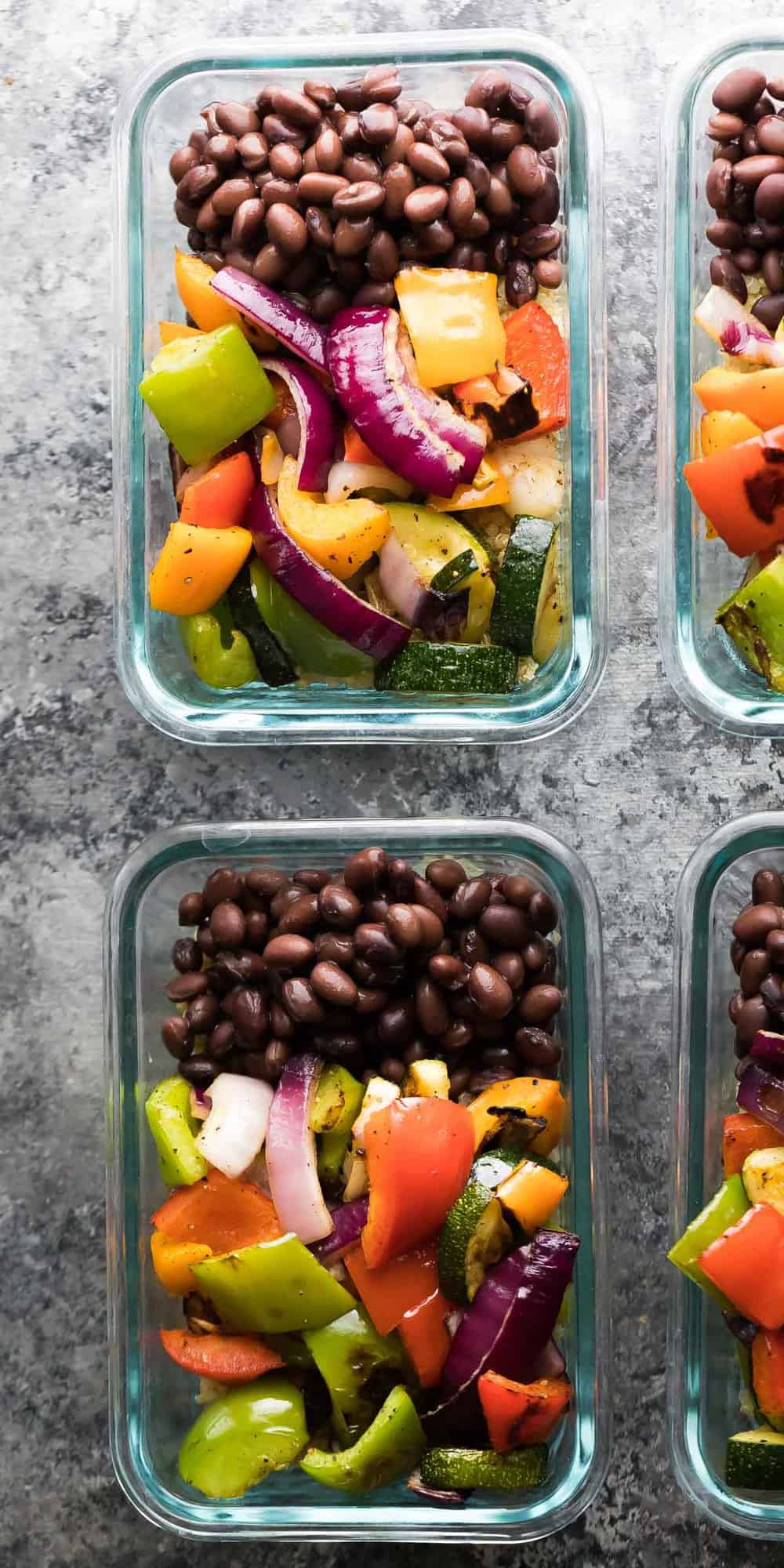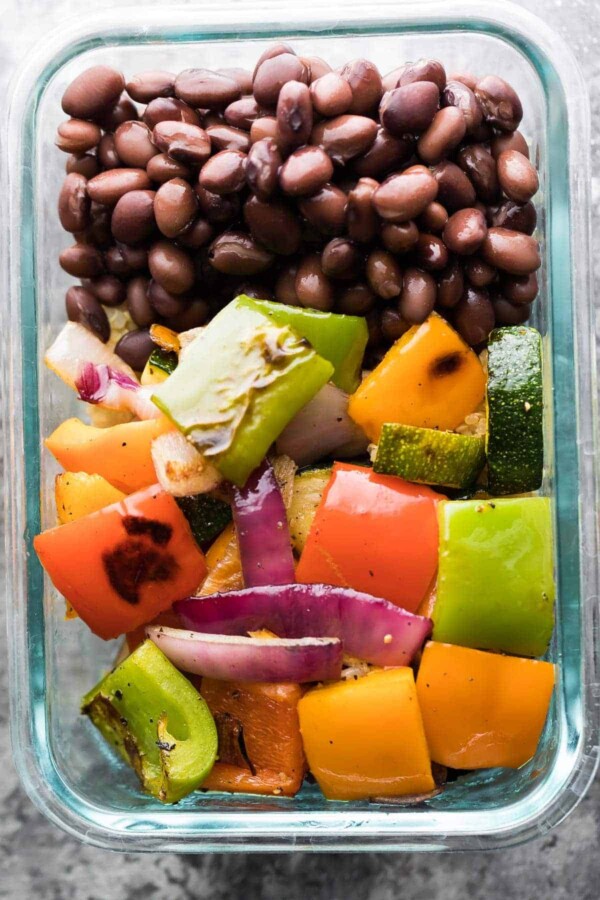 These grilled veggie & black bean meal prep bowls were kinda sorta inspired by a salad at this pub we used to eat lunch at when I was a grad student.  It was called a Santa Fe Salad, with lots of Southwestern flavors including BBQ sauce.
I thought it had a BBQ sauce dressing but when I had the chance to go back there recently I realized it had BBQ chicken and ranch dressing.  So even though it was my inspiration, my version ended up so verrrrry different.  Ha!
Well.  This is one of those salads that is going to make you feel so good.  Satisfied but not stuffed.  And your tummy is going to be happy with all the healthy proteins you just ate (thank you black beans and quinoa) and the veggies galore.
This is one of my new favorite summer meals!
Tips for your perfect grilled veggie & black bean meal prep bowls
Grilled Veggie & Black Bean Meal Prep Bowls
4
adjust servings
Ingredients
BBQ Vinaigrette
2

tablespoons white wine vinegar

3

tablespoons bbq sauce

2

teaspoons honey

1

teaspoon lime

1/4

teaspoon chili powder

1/4

tsp salt
Meal Prep Bowls
3/4

cup uncooked quinoa

1

tablespoon olive oil

salt & pepper
cups veggies
1

medium zucchini, chopped

2

bell peppers, chopped

1/2

red onion, chopped

19

oz can of black beans, drained and rinsed
Instructions
Shake together all vinaigrette ingredients and set aside.
Cook quinoa according to package directions and allow to cool.
Heat barbecue over medium-high heat.
Toss the veggies with olive oil and salt and pepper in a large bowl. Arrange on a vegetable grilling pan and grill for 10-15 minutes, flipping every 5 minutes.
Divide into each of four 2 cup storage containers the quinoa, grilled veggies and black beans.
Drizzle with vinaigrette.
Store in the fridge for up to 4 days, and serve cold.
Recipe Notes
Nutritional Information: 1 lunch bowl
Calories 329 // Fat 6 g // Saturated Fat 1 g // Cholesterol 0 mg // Sodium 683 mg // Carbohydrate 56 g // Fiber 11 g // Sugars 10 g // Protein 14 g