How to shop at zero waste bulk food stores- what to expect, what to bring, and what things you can stock up on!
Hi friends, I'm really excited about today's post because it's a topic I'm passionate about: reducing our dependency on single use plastics. Today we are chatting bulk food stores!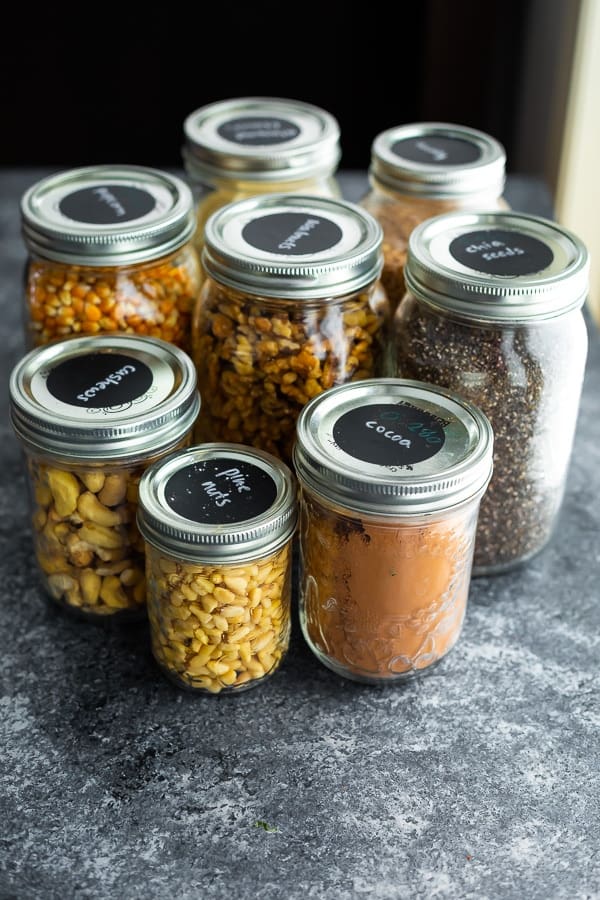 While most grocery stores still do not allow you to bring your own reusable containers (can we please change this?!), there are a few specialty bulk stores that do.
Now I am writing purely from my experience shopping at Bulk Barn here in Calgary. Other bulk stores likely have their own systems, and I'd love to hear in the comments if things work differently where you are.
Don't forget to pin this post to save it for later!
Why shop at bulk stores?
you can bring your own container and avoid disposable packaging
you can save money
you can buy exactly how much you need for a recipe

What to expect when bulk shopping
The first time I brought my own containers to Bulk Barn I was a little intimidated, so let me walk you through how it works!
Bring your clean (completely free from dust or any residue) containers to the cash register.
The cashier will examine your container for cleanliness, weight it, and write the weight on the container.
Go and fill up your containers with what you need.
The cashier will re-weigh your containers when you go to pay, and charge you for what you are purchasing.
That's it! The most important thing is to make sure your containers are completely washed out and dried before going to the store, because it's disappointing to be turned away due to unclean containers (it has happened to me!)

What to bring to the bulk foods store
I completely converted my pantry staple storage to glass containers (you can read about it here!), so I bring whatever container I am storing the ingredient in, wash it out, dry it, and bring it right with me.
I also highly recommend bringing a few extra containers or reusable silicone bags with you in case you find an unplanned ingredient you just must have!
Tip- if you are nearly out of an ingredient, you may want to transfer the leftovers to a smaller jar, or just have a few extra jars you can refill for situations like this. You can also bring a reusable silicone bag!
To summarize:
bring clean, washed out jars (or storage containers) labeled with the ingredient you are picking up
bring some extra jars or reusable bags in case you find some fun extras
bring a big reusable grocery bag to carry everything in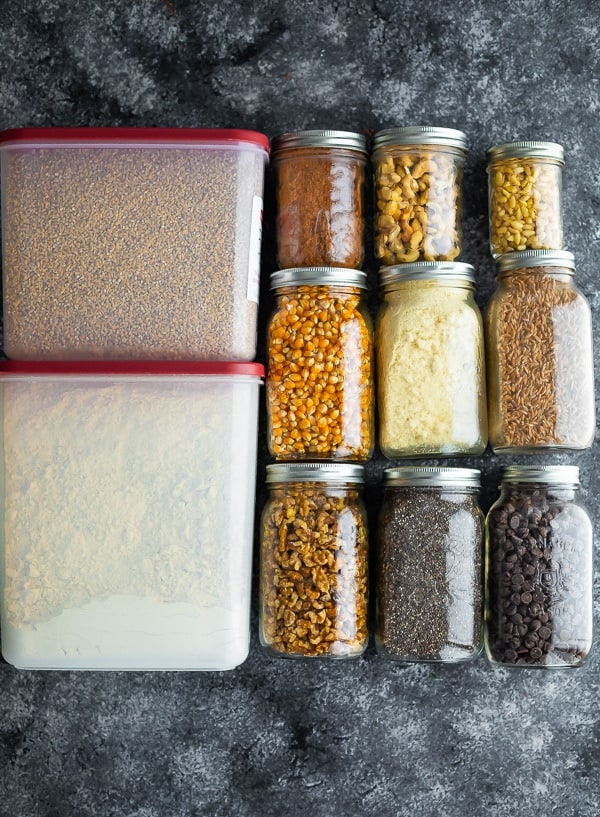 My favorite bulk foods to stock up on
The first time I went to Bulk Barn, I was blown away by their selection! They had so many items I didn't expect. I haven't tried them all out, but now that I know, I will plan to try some things out once I run out of my grocery store buys.
My favorites
steel cut oats (so much more affordable at Bulk Barn!)
rolled oats
farro
white whole wheat flour (can't find it at any grocery store in Canada anyway)
cocoa powder
cashews, walnuts, peanuts
chia seeds, sunflower seeds, pumpkin seeds
popcorn
chocolate chips & other baking ingredients
almond flour (they have a TON of specialty flours!)
Things I plan to try but haven't yet
dried beans & legumes
rice (basmati, wild rice, brown rice)
puffed brown rice
nut butter
chamomile herbal tea bags
quinoa
Cheerios, All Bran Buds, granola
pasta
collagen powder
conditioner
Things that have been a miss for me 
medjool dates (were very dried out)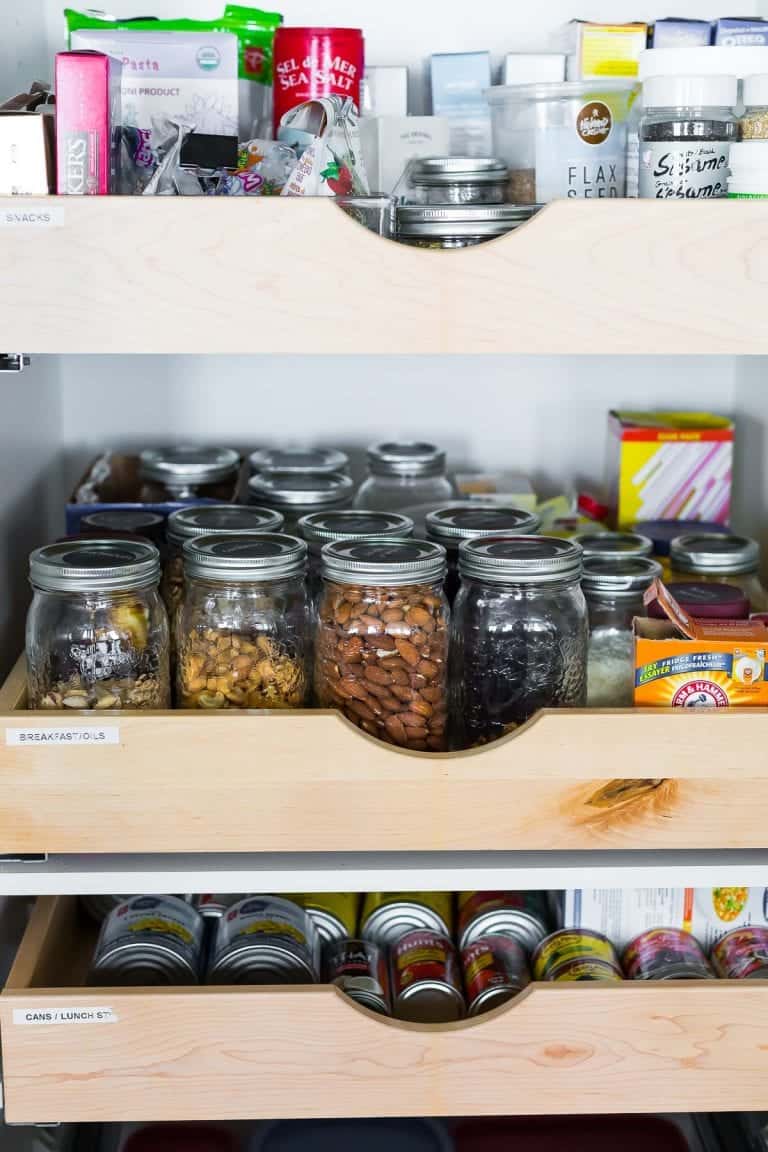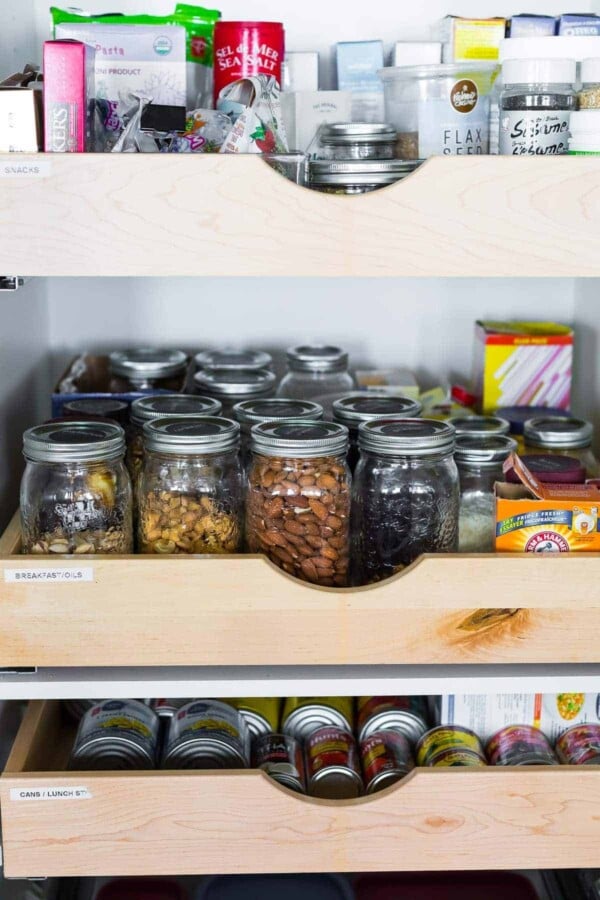 My equipment
See full details in my Pantry Organization Ideas post!


I hope this is helpful! Leave any questions you might have in the comments below.


You might also be interested in: