5 ways to make greener choices at the grocery store- let's help reduce our footprint on this planet by making smarter decisions when we're grocery shopping!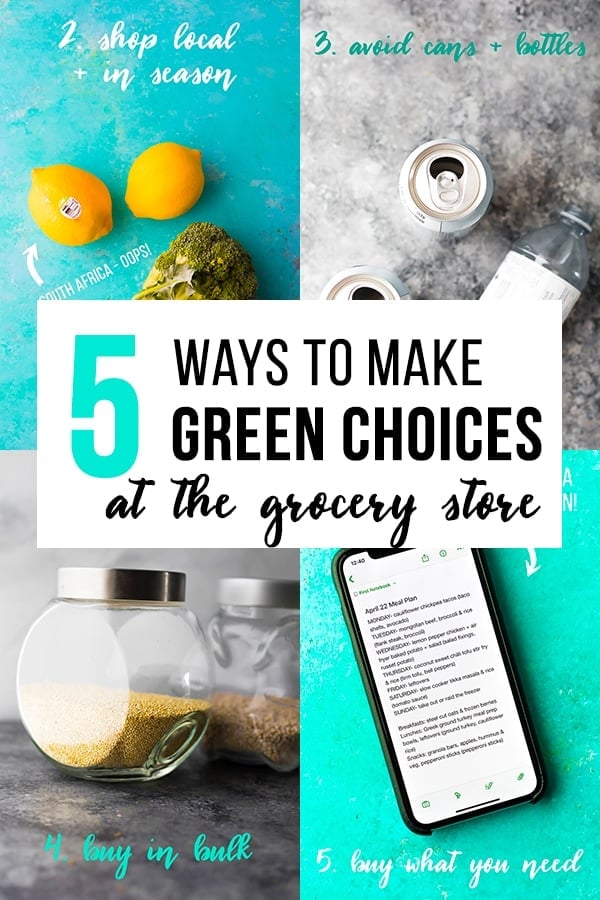 Hi friends, we're back with the sequel to 5 Ways to Reduce Plastic Waste in the Kitchen...and this time? We're talking about the choices we make at the grocery store!
I've felt compelled to share these tips because I'm sick of feeling helpless about the way our planet is being treated. Sometimes it feels like all you hear is bad news, but that's not very helpful. My goal is to give us a few simple, actionable tips so that we can actually do something helpful for the planet. Let's fight back!
Don't forget to pin this post to save it for later!
Honestly I've been really nervous to publish this post for a couple of reasons.
Number 1, I don't ever want to come across as preachy. I don't look down on anyone who picks convenience over a green choice...heck I do this sometimes too. You gotta survive in this crazy world.
Number 2, I'm not 100% there all the time with making green choices. Sometimes making the greenest choice is not straight forward, and sometimes I make mistakes, I don't read the labels or end up with something with a lot of packaging. I am trying every day to be more conscious, and that's all we can really do, right? Each day try our best to make the right decisions with what we have on hand.
Today we're talking eco-friendly decisions at the grocery store!
I hope that you can get at least one tip from this post that won't drastically affect your grocery bill, but may alter the decisions you make about certain products.
Let's get into it!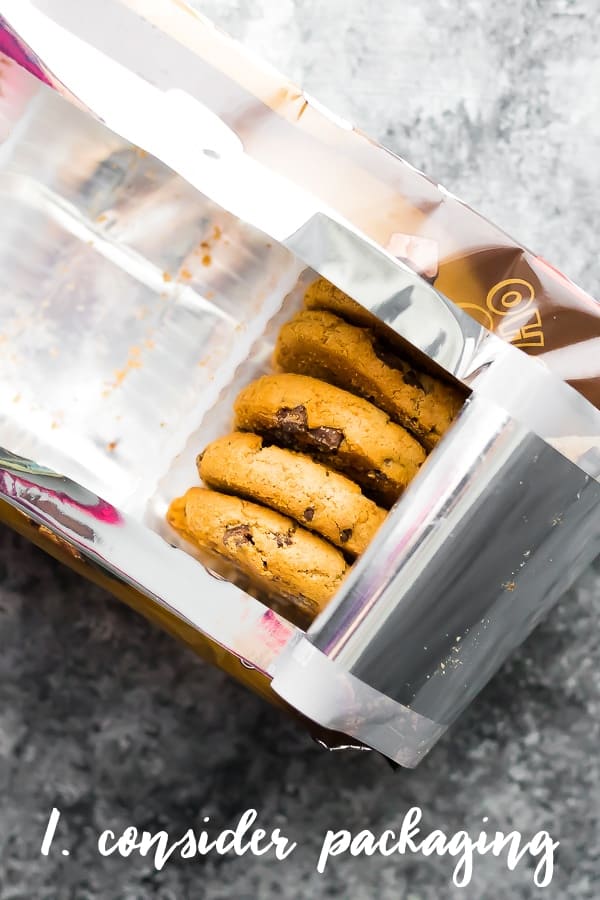 1. Avoid excessive packaging
When picking your groceries, consider the packaging. Does it have three layers of packaging? (Like a box of cookies with a sleeve wrapped in plastic inside). What are the alternatives? Is there an option with less packaging?
Here are some of my guidelines for choosing products at the store:
avoid produce in plastic trays- (like tomatoes, spinach etc), I will pick a bag or even better, use my own reusable produce bags!
avoid single use packages- ie: individual snack portions: cheese strings, yogurt cups, bags of cookies or crackers, etc. Often you can buy a larger portion or container and divide them out yourself when you get home and save some money.
avoid produce on styrofoam trays- I see jalapeno peppers, corn, pre-chopped veggies and more packaged on trays. I try to avoid styrofoam at all costs and if there is an alternative I will always pick that.
pick paper or cardboard over plastic- I'm on the fence about this choice now, as I just found out that the paper vs plastic debate is actually quite controversial! What do you think about this?
bring your own produce bags to the grocery store
bring your own shopping bags or bins to the grocery store
place produce in the cart without a bag (I would probably only do this for things I will peel)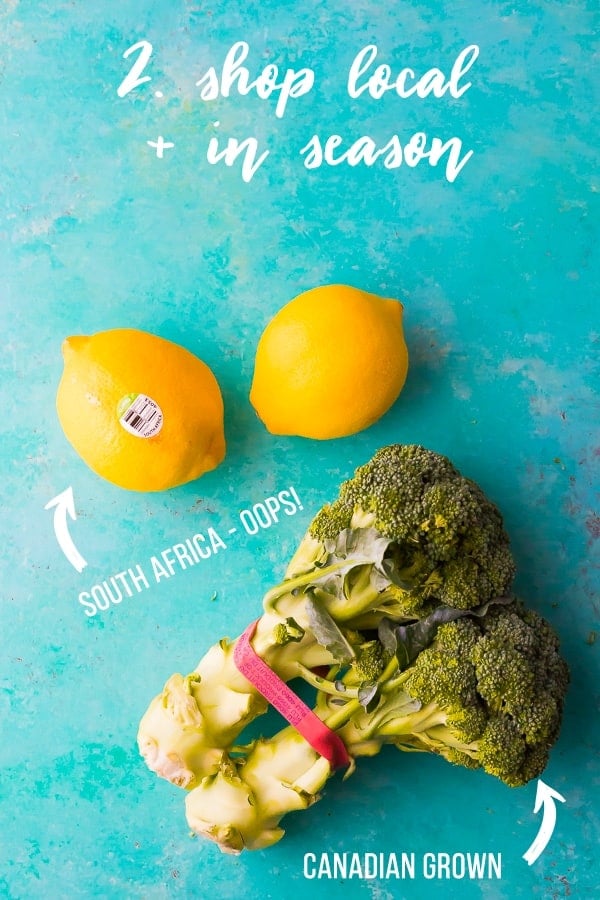 2. Shop local and in season
This one can be hard sometimes, especially here in Canada in the winter. I've been making an effort to spend a bit of time reading labels more often, and gauge which item has traveled the least amount of distance.
The better option? I should be shopping at farmers markets, or using a local produce box. It's something I am aiming to get better at!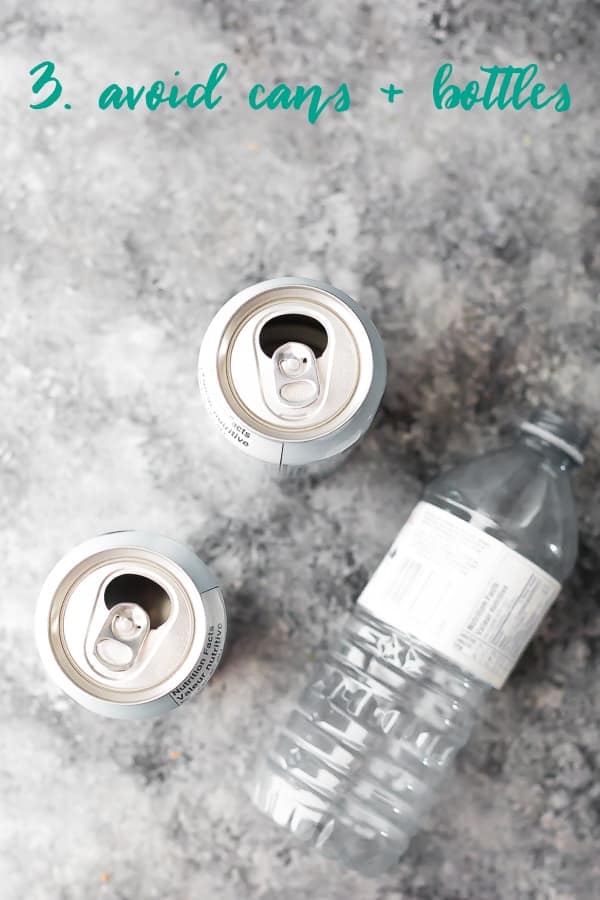 3. Avoid cans and bottles
Wait, cans? Yes. Cans are recyclable, but consider the energy cost associated with recycling. Wouldn't it be better to avoid them completely? We've swapped our soda water habit for a SodaStream
and I can't recommend it enough! You can make your own flavored sodas with it as well.
And bottled water is another easy swap. Get a Brita water filter
, or simply use a re-usable water bottle.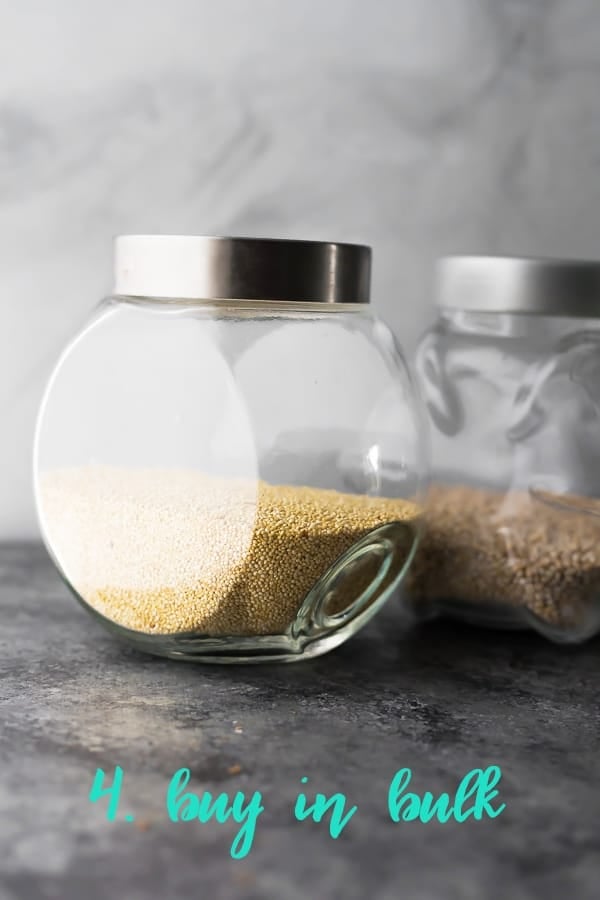 4. Buy in bulk
Admittedly, I need to work on this one. Buying in bulk is a really simple way to reduce your plastic waste without having to increase your grocery bill.
buy a larger-sized package if available- I recently purchased a 5 kg bag of quinoa (which we'll absolutely go through!) and was thrilled because it's going to require fewer trips to the grocery store to replenish, and will replace the FIVE 1 kg bags I would have had to purchase otherwise.
visit a zero-waste store and bring your own containers- again I need to be better at this. I plan on stocking up on steel cut oats, nuts and seeds in a big mama jamma container. Look for a post on my adventures in zero waste shopping in the future!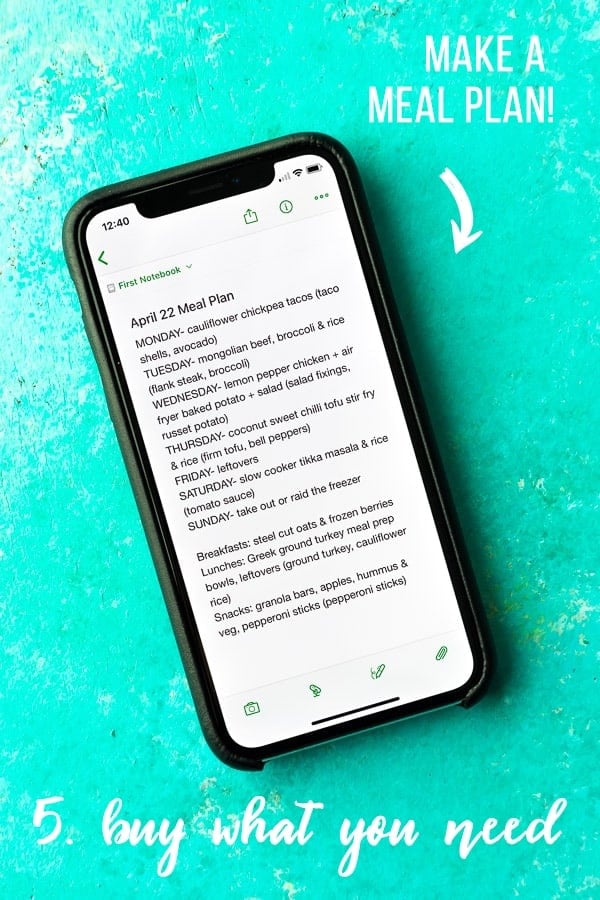 5. Buy what you need
Food wastage is a serious issue, and I have been guilty of it myself in the past. These days I write out a weekly meal plan, which means I know exactly what we need for the week and don't get distracted with things we don't need when shopping. Not only is it a more efficient shop, but we don't end up throwing a bunch of things out!
Another way to ensure you eat the food you purchase is to meal prep. You are far less likely to throw your ingredients out once you've put the effort in to cook them!
You can read all about my weekly meal prep routine, and how to meal prep. Stay tuned for a detailed post on how to write a meal plan!


Those are my five tips to make greener choices at the grocery store! I didn't even tackle buying organic and don't get me started on GMOs (you might be surprised to hear my stance on GMOs but I'm not sure I want to open that can of worms).
I'd love to hear  how you make greener decisions at the grocery store! Let me know in the comments below 🙂