Five ways to reduce plastic waste in your kitchen- including my favorite eco-friendly kitchen products, easy swaps, and strategies to avoid single use plastics.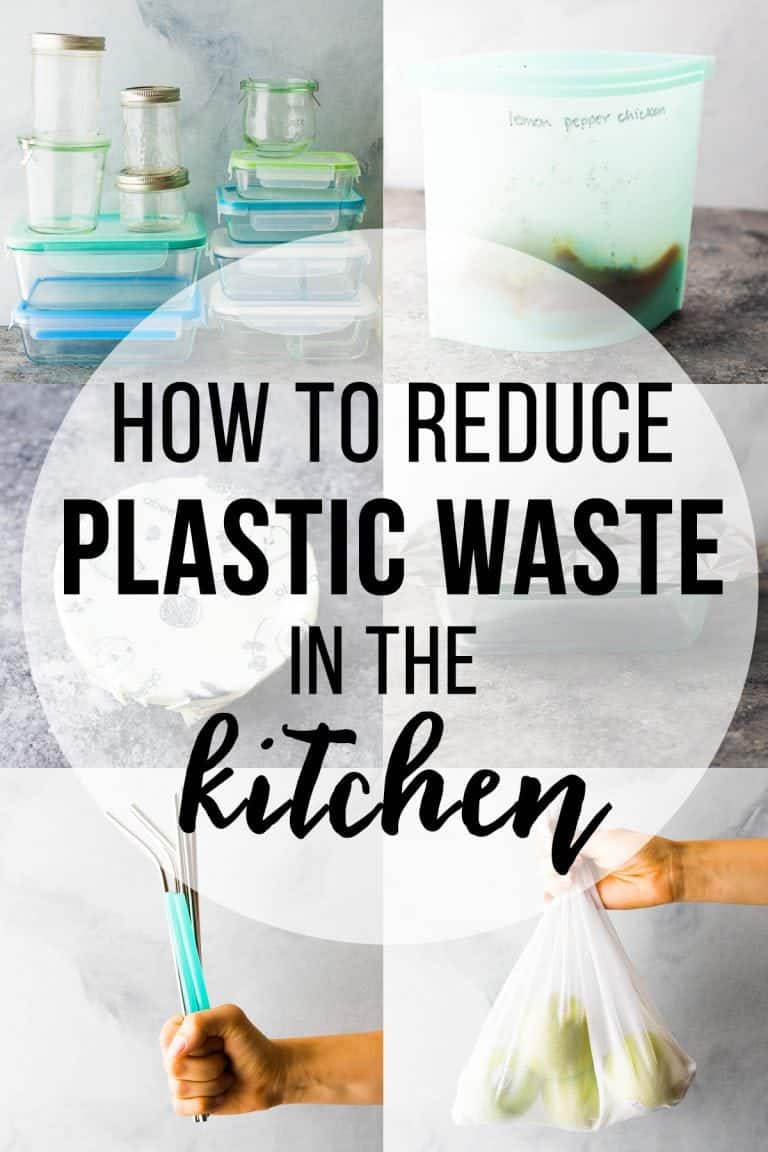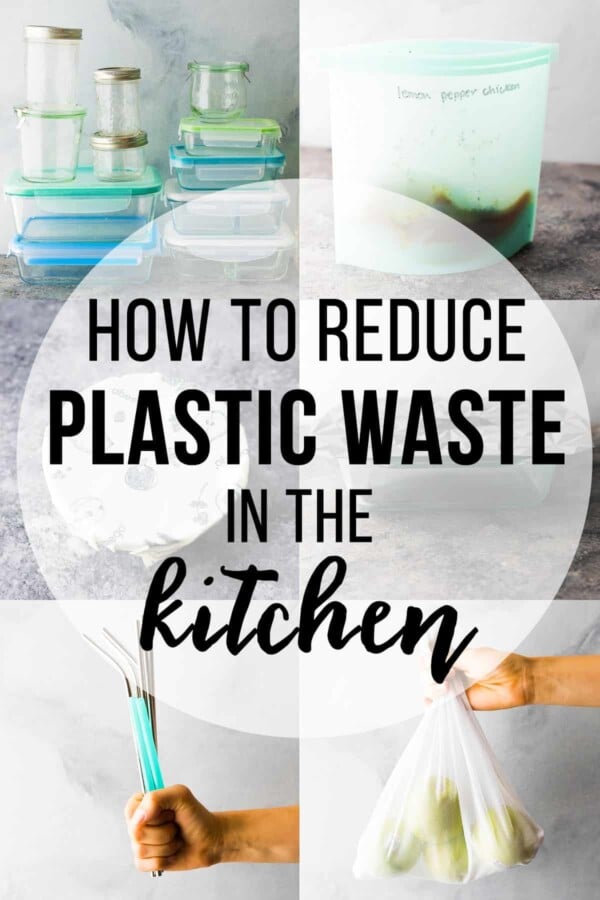 This post was originally written in 06/2018. It has been re-written with new tips and products in 2019!
Reduce, reuse, recycle...let's be honest here, reduce and reuse are the MOST important of the three, since 91% of plastic never gets recycled.
SO MUCH of the plastic waste we generate as a household comes from food and kitchen products. But with a few simple swaps, you will be amazed at how much plastic waste you can prevent!
How to get started
My goal for this post is to provide you with some ideas that you can implement in the kitchen to reduce your own plastic consumption.
This post contains tips and eco-friendly products that have helped me reduce my plastic intake. You don't need to run out and buy these products in order to reduce your footprint! There are tons of cheap (and free) options listed for you!
My hope for you is that you find one tip from this post that will help you get started. Just picking one thing and eventually adding on more is a great way to get started!
If you have a tip not mentioned in this post, leave it below in the comments. I'm always learning new things from you guys!
Don't forget to pin this post to save it for later!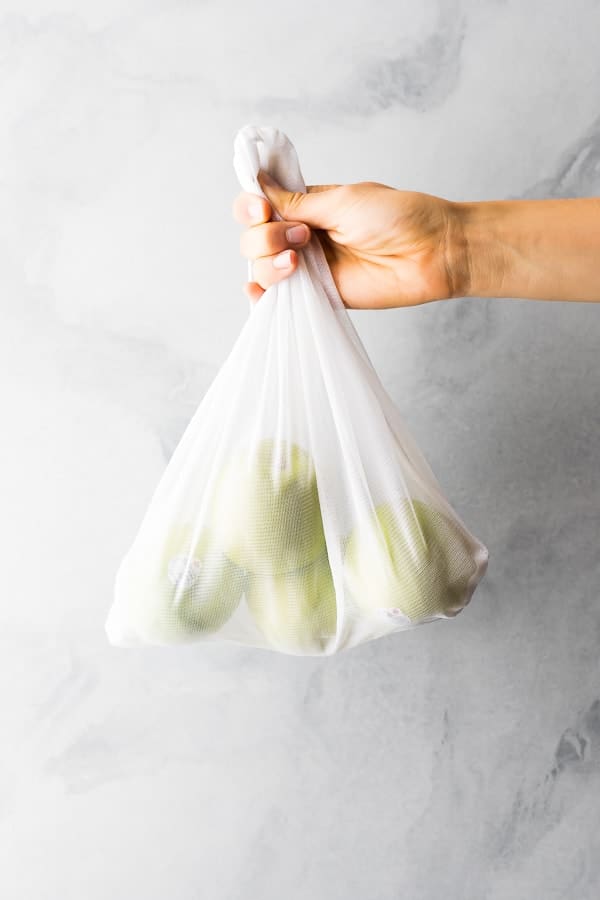 (pictured above: Flip & Tumble re-usable produce bags)
1. Shopping bags
There is no doubt, plastic bags are convenient. But you use them once and then they are in a landfill forever! Here are three alternatives to plastic bags:
re-usable shopping bags for carrying your groceries. Bet you have about 20 of these stuffed in your closet already! If you always forget to bring them, here's an idea: punish yourself for forgetting them by loading up your car without bags. When you get home, go get the bags, load them, and carry your groceries into your house. Bet you won't forget them next time!
re-usable produce bags. I LOVE my Flip & Tumble re-usable produce bags. They are easy to clean, stronger than plastic, and last forever. Store them with your re-usable shopping bags so you remember to bring them to the store!
plastic bins- OK I know, this is plastic too, but stay with me! I purchased large plastic bins at the Superstore over 8 years ago, and these bins are going to last me probably 20 more years. They fit in your shopping cart and you put your groceries right in them. They are easy to load up, carry super heavy loads, and save you probably 20+ plastic bags per shopping trip. I'd love to hear if other grocery stores have a system like this? It's genius!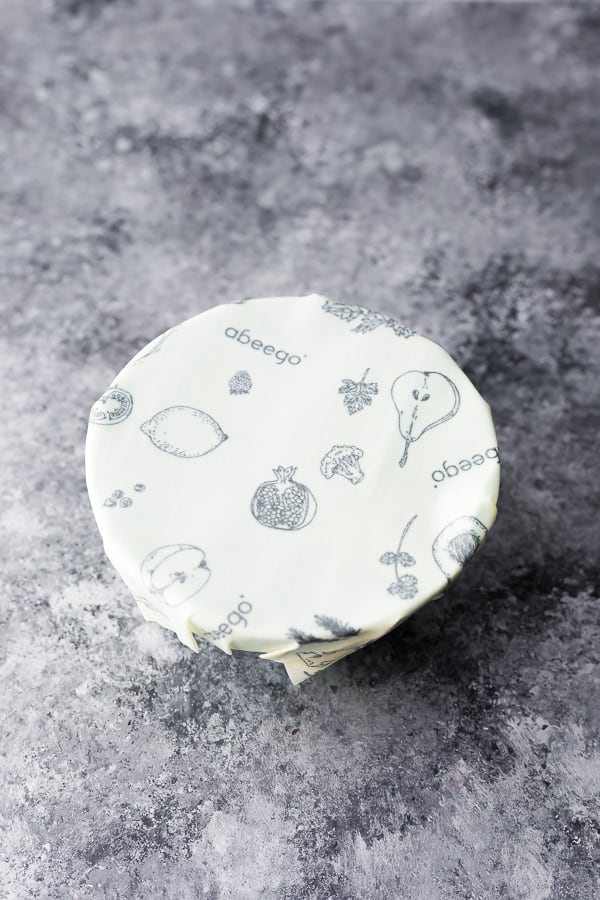 2. Plastic wrap
I used to reach for my plastic wrap each and every time I needed to store half an onion, cover a container, etc. These days I've found some handy tricks and gadgets that eliminate the need for that:
use a container- I've re-trained my brain to reach for a glass storage container when I need to store half-used onions, peppers etc.
cover with beeswax wrap- I am absolutely LOVING these Abeego beeswax sheets. They can be moulded by the heat from your hands to fit over your produce, cover containers, etc, and can be washed under cold water to be used over and over again. And guys I SWEAR this stuff makes your produce last longer than plastic wrap.
use a silicone cover- I purchased this GIR silicone lid and it works great when you have something marinating in a dish and you want to cover it. They are also an amazing alternative to aluminum foil when it comes to baking lasagnas, casseroles, resting meat, etc etc.
use a reusable bag- if you wrap sandwiches in plastic, why not swap for a reusable bag. I love these LunchSkins re-usable sandwich bags! Easy to wash and super cute!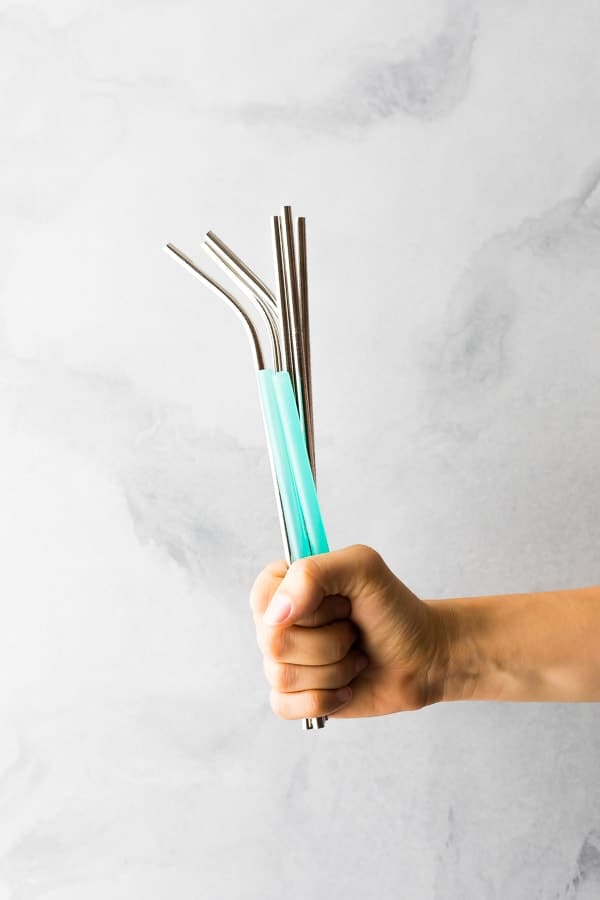 3. Straws
I didn't 'get' why straws were such an issue until I saw a disturbing video of a straw being removed from a turtle's nose. Absolutely horrifying and so heartbreaking. The shape of straws carries them far in the ocean and allows them to be swallowed by sea animals. And they are used for 5 minutes or less. Really. What's the point!!??
re-usable straws- if you are a die-hard straw user, consider re-usable straws. We have these stainless steel ones and they come with a small brush so you can clean them really well. We also purchased some silicone straws (similar to these) for my kiddo since the metal ones seem likely to chip a tooth or injure him (4 year old boys are kind of clumsy!)
just don't use them! Do I really need a straw for my smoothie? NO. Soda drink? NO. I just don't find that I need them now that I'm aware of how dangerous they are.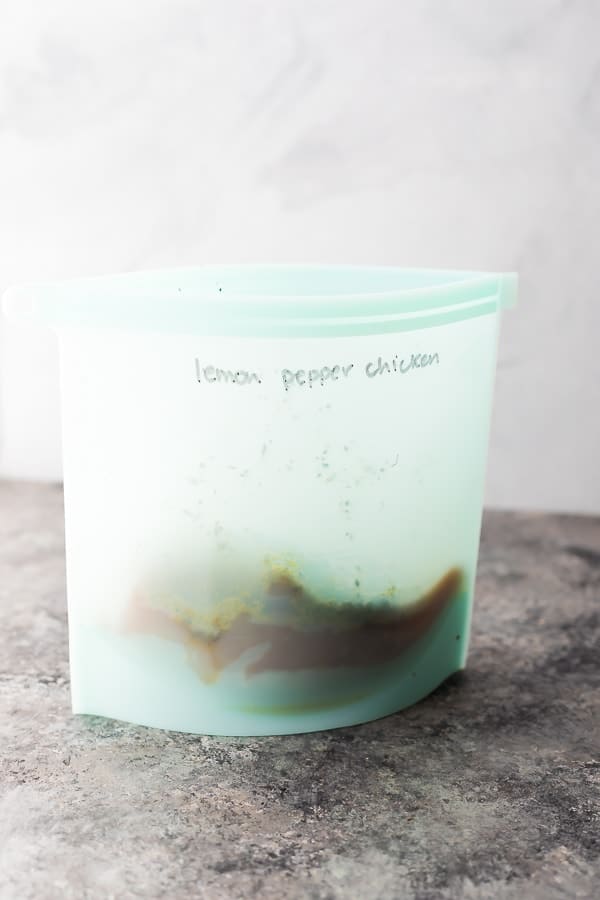 4. Freezer bags
Between silicone bags, jars, and meal prep containers I have *almost* completely eliminated plastic freezer bags!
Here are my alternatives to freezer bags:
These affordable silicone bags for meat, marinades, and more
These sandwich stasher bags are great for chicken marinades, energy bites, veggies and more
These ½ gallon Stasher bags work well for smaller freezer crock pot meals
for short term storage (up to one month), you can store in meal prep containers. I do this for energy bites, muffins etc. without wrapping in any plastic.
for larger freezer crockpot meals I use 3 quart Ikea glass containers (not available on the internet)
Check out my Plastic-Free Freezer Storage Ideas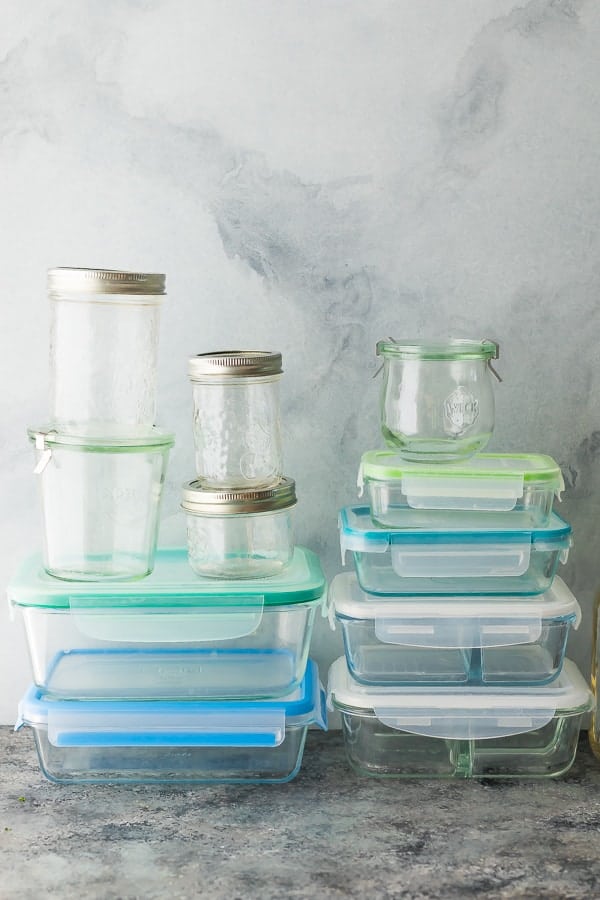 5. Plastic containers and water bottles
You know I'm a huge advocate for re-usable glass containers (you can read about my 5 favorite glass meal prep containers here!). Plastic storage containers don't last for as long, may leach chemicals into your food, and are more likely to be treated as disposable. Switching to glass containers is a simple swap you can make to reduce plastic waste in your kitchen!
Strategies to remember your dang coffee cup
For me, remembering to bring my reusables is 99% of the battle.  Recently, I have started really taking my reusable coffee cup and water bottle seriously. Whenever I go out, they come with me. *Just* in case.
A. Pack yourself a 'to go' kit with your essentials to eating, drinking and shopping on the go, so that you will be prepared if you get a coffee craving or need to pick something up at the grocery store when you're on the go!
My 'to go' kit essentials:
reusable coffee cup
water bottle
produce & shopping bags
B. Celebrate when you use your reusables- We have also started celebrating each time take our reusable coffee cups to Starbucks. We keep track of how many paper cups we avoid with a little tally sheet on our bulletin board! It sounds silly but it helps us remember to bring the cups and take the effort to use them.
More ideas for reducing plastic waste?
I hope you found some ideas that can help you take simple steps to reduce your dependency on single use plastics in the kitchen. If I have missed one, please leave your tips in the comments section!
XO




You may also like: