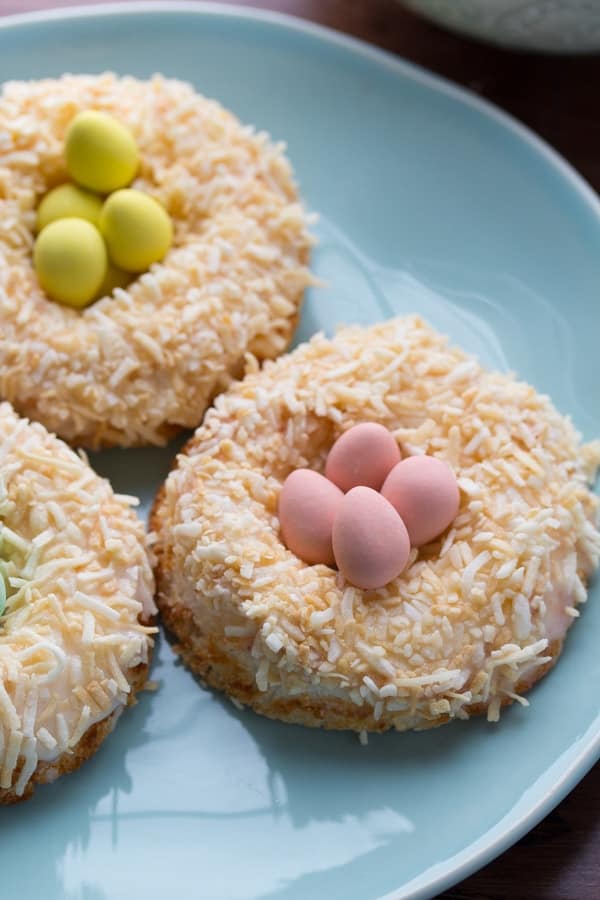 Light and airy angel food cake donuts are flavored with lemon, and topped with toasted coconut.  They are the perfect way to celebrate spring, and make adorable Easter 'donut nests'.
What are your Easter traditions?  I can't say I've had any traditions for a long time now, not since I was a little kid.
Unless you count eating chocolate eggs straight from the bag…that's definitely a tradition I uphold each year 😉
Now that we have a kid of our own, Ben and I get to decide what kind of Easter traditions we will have!  We're going to go ultra-simple this year: find the egg.  I have a feeling Kai is going to love this game!  We have some plastic, and some chocolate eggs…and yes, mom has already gotten into the chocolate eggs.  Guilty as charged!
And I made angel food cake donuts…similar to these angel food cupcakes I made last spring.  I'm thinking one of our new traditions should be angel food cake.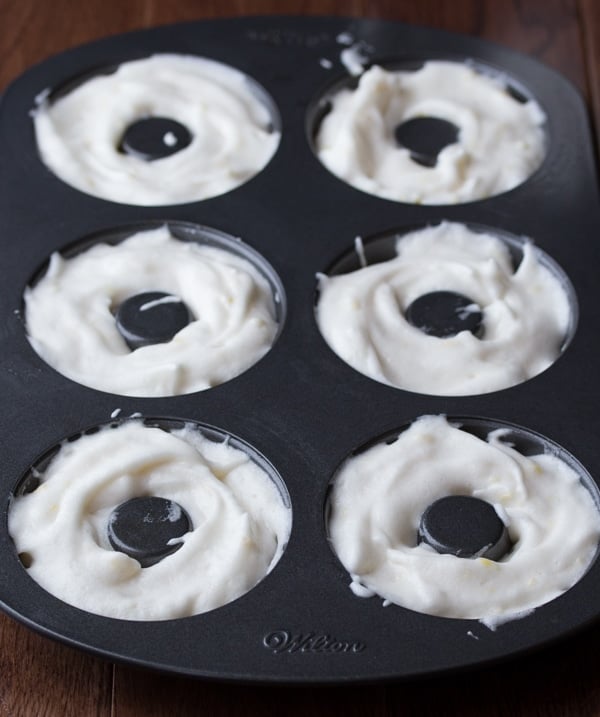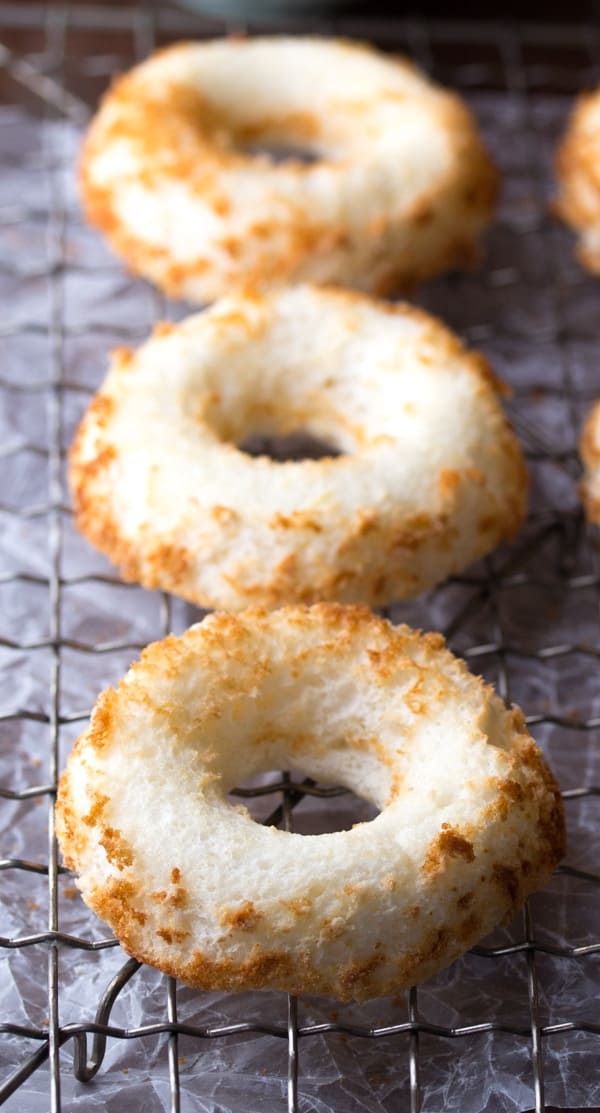 If you've never tried home made angel food cake, you are seriously missing out!
It is light, airy, delicate and sweet.  For some reason it kind of reminds me of cotton candy…but a little more substantial!
I wondered what would happen if I baked my angel food cake in a donut pan.  I was quite certain they wouldn't come out of the donut pan intact.  But they did!
These angel food cake donuts are definitely more delicate to handle than your normal cake donuts.  They aren't difficult to get out of the pan, but you will need to work slowly with a bit of caution.  They also need to be handled gently when dipping into the glaze and toasted coconut.
But I promise you: the moment you take that first bite of your donut, you will realize that all of your caution was worth it.  These donuts are delicious little bites of heaven…I'm pretty sure that's how angel food cake was named.  Light, airy, and heavenly 😉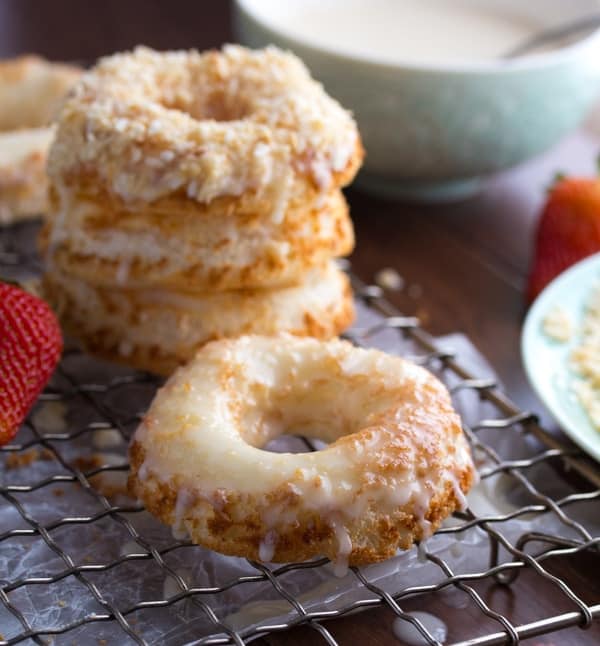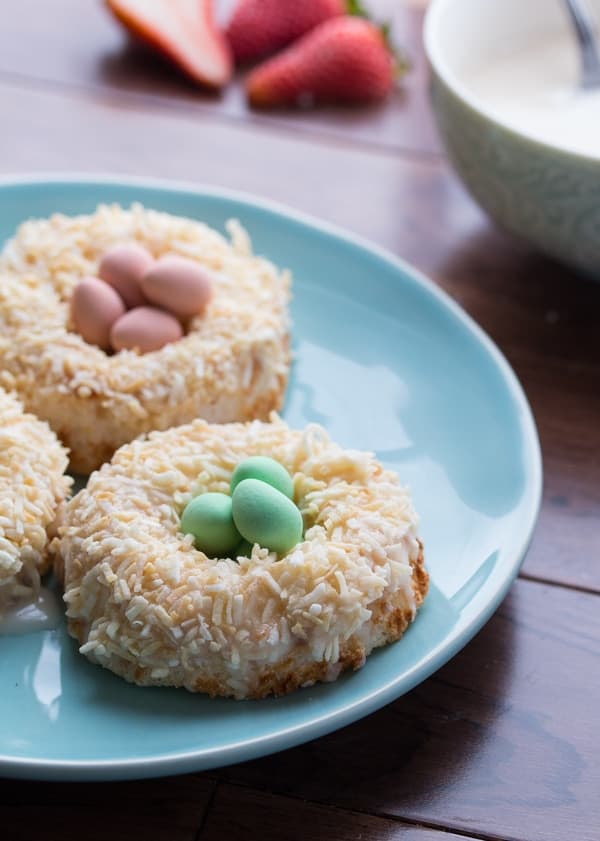 And because these angel food cake donuts were so obviously nest-shaped, and Easter will soon be upon us, I decided to make the ever-popular Easter egg nest.  In donut form!
I'm pretty sure kids and adults alike would be excited to see one of these on Easter.
So.  What are your fun Easter traditions?  Tell me in the comments below!
Lemon and Coconut Angel Food Cake Donuts
15
adjust servings
Light and airy angel food cake donuts are flavored with lemon, and topped with toasted coconut. They are the perfect way to celebrate spring, and make adorable Easter 'donut nests'.
Ingredients
Lemon Angel Food Donuts
5

egg whites (from medium eggs; at room temperature)

pinch salt (large pinch)

3/4

teaspoons cream of tartar

1/3

cup granulated sugar (67g)

1

teaspoon vanilla extract

1/2

cup cake flour (50g, *fluffed, spooned & leveled*)

1/2

cup granulated sugar (100g)

Zest of 1 lemon (roughly 1 tablespoon)
Glaze
2

cups powdered sugar (250g)

4-6

tablespoons milk

2

tsp vanilla extract
To Serve
Instructions
Donuts
Pre heat oven to 350 F. Spray donut pan with spray oil, and rub to distribute oil thoroughly.
In a small bowl, combine flour, ½ cup sugar and lemon zest. Set aside.
In a stand mixer fitted with a whisk, beat egg whites on medium high for around 2 minutes, until they are frothy and have loose peaks (will stand for a second and then sink back into the eggs).
Add a pinch of salt and cream of tartar, continue to beat on medium-high for 3-5 more minutes until stiff peaks form (won't sink back into eggs).
At this point, continue beating on medium speed and gradually add the ⅓ cup portion of granulated sugar *by the tablespoon* over a period of 3-5 more minutes. Stop and scrape the sugar/eggs down from the bowl every few minutes.
Once sugar has dissolved completely (check by running meringue between your fingers, if no grains remain, you are done), fold in the vanilla extract followed by the flour/sugar/lemon zest mixture (best to do this in several batches, and *be gentle*)
Spoon mixture into donut pans, filling right to the top.
Bake at 350 F for 11-13 minutes, until tops become lightly golden brown.
Allow to cool for 5 minutes, before gently loosening edges with a knife. Invert pan over a wire rack and give the donut pan a firm smack to get the donuts out.
Glaze
Add the powdered sugar to a medium-sized bowl. Add the milk and vanilla, and beat until smooth. Add more milk as needed to thin out the glaze.
Handling gently, dip the donuts in the glaze, shaking off excess.
Immediately dip the glazed donut into the toasted coconut, moving it around gently to coat.
Serving
Best served the same day they are baked.
Recipe Notes
Be sure to handle the baked donuts extremely carefully, they are so soft and delicate!
With the glaze and coconut, these donuts are on the sweet side. If you want something less sweet, I recommend serving with homemade whipped cream.
Products used in this recipe:
You may also like: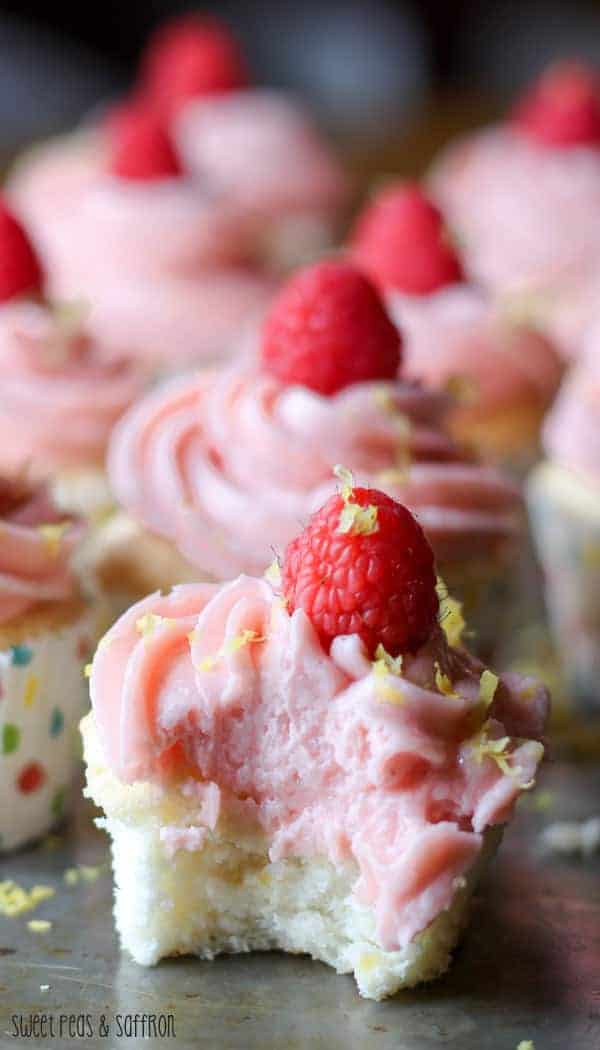 Lemon Angel Food Cupcakes with Raspberry Buttercream
Key Lime and White Chocolate Coconut Macaroons