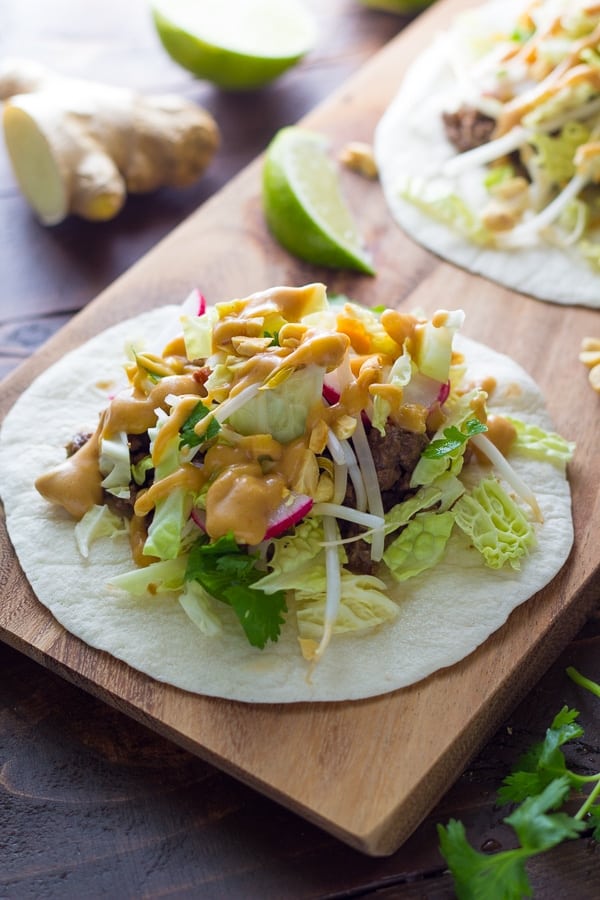 These Asian tacos are filled with ginger ground beef and crunchy cabbage slaw and drizzled with creamy peanut sauce.  Ready in 30 minutes!
I think by now we've established that I am not a meal planner.  I want to be!  Maybe some day I'll get it together.  For now, I'm kind of winging it with dinner.
I think there are a lot of us super-busy, not-so-organized and winging-it-people out there, and guess what?  I want to make our last minute 'what's for dinner' freak-outs a little easier to deal with.  Also: a lot more exciting!
So guess what you're going to be seeing around here?  Lots and lots of 30-minute dinners.  Definitely some more one-pot dinners.  And more slow cooker recipes (which admittedly do take a bit more organization but make dinners SO much easier).  Easy dinners with little effort and lots of flavor.
And guess what you're not going to see around here: crazy ingredients you need to Google, or that will send you across the city to seek out ingredients.  Also: the same old fall-back last-minute dinner foods.  Let's mix it up!  What do you think?  Should we start with some Asian tacos?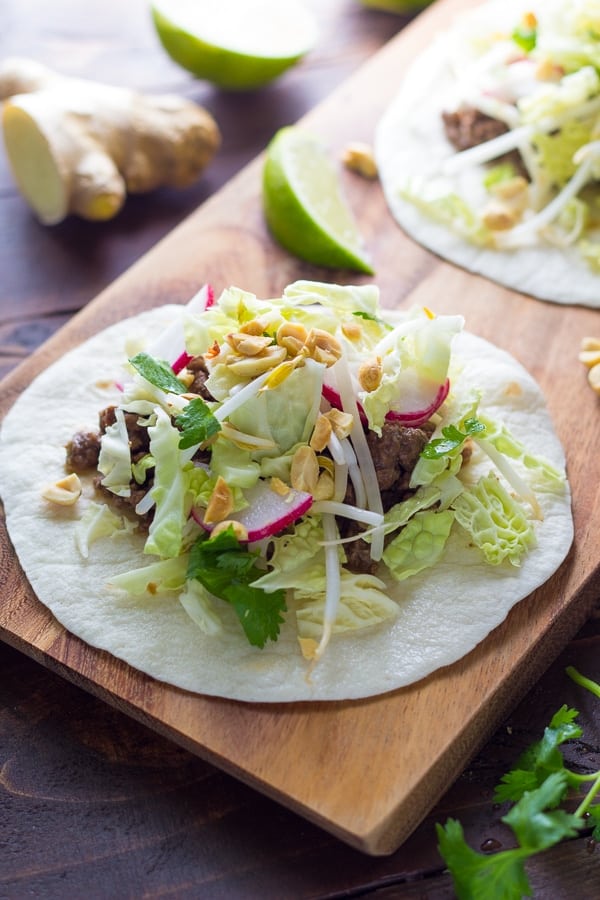 I don't know about you, but ground beef is always in our freezer, and is pretty straightforward to thaw in a hurry.  And think about ground beef: so many last-minute fall-back recipes…meat balls, hamburgers, a quick pasta sauce, and tacos!
Somehow, despite ground beef's role as Mr. Fall-Back in our house, I've created zero ground beef recipes for the blog.
So here we go!  And what did I make?  Tacos.  So cliche!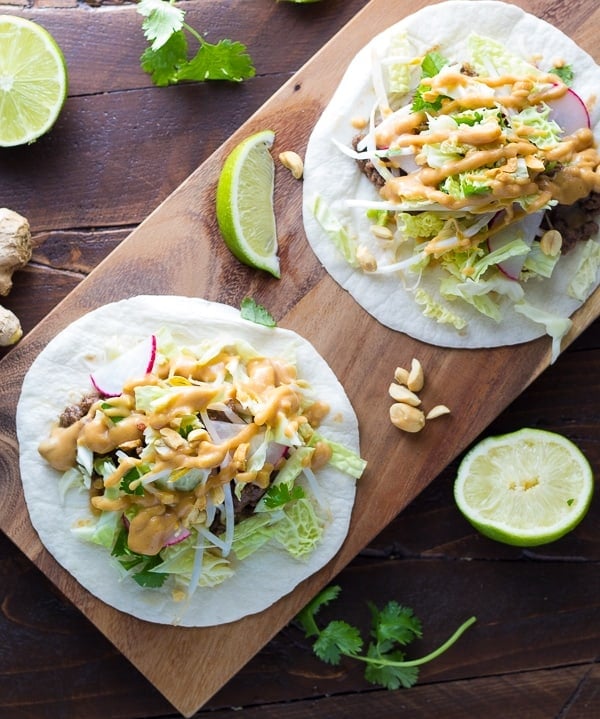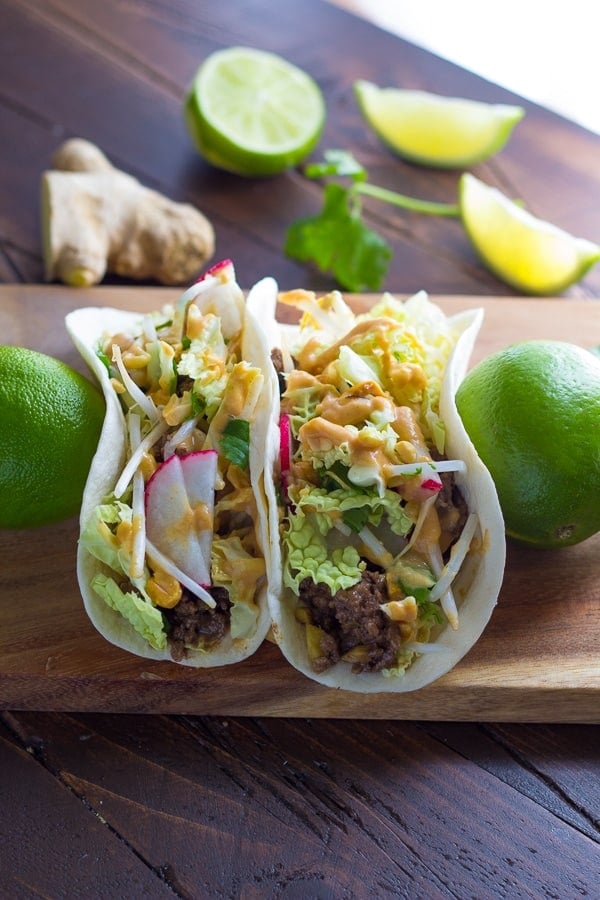 Well if you were expecting the 'usual' tacos, then clearly you don't know me 😉
I decided to make Asian tacos.  The beef is cooked up with ginger and some lime, topped with crunchy veggies: cabbage, radishes and bean sprouts.
Then the magic: ginger-lime peanut sauce.  Sigh.  It is heavenly, and it absolutely makes these tacos.  DO NOT SKIP THE PEANUT SAUCE!!  <– you heard it from me!
The best part?  These Asian tacos are full of ingredients you probably have in your fridge (Don't have bean sprouts? Sub carrots.  Don't have cabbage? Sub lettuce.  Feel free to make it a clean-out the fridge taco).  All of these ingredients are easily found at pretty much any grocery store.  Win!
So.  Taco Tuesday and I am making tacos…Asian Tacos with Ginger Beef and Creamy Peanut Sauce!  How does that keep on happening?
Asian Tacos with Ginger Beef and Peanut Sauce (30 minutes)
4-6
adjust servings
A fun Asian twist on tacos that tops ginger beef with crunchy vegetables and a heavenly peanut sauce.
Ingredients
Ginger Beef
450g/1

pound lean ground beef

2

tablespoons finely chopped ginger

juice of half a lime (roughly 1 tablespoon)

1/2

cup water

1/2

teaspoon worcestershire sauce

1

tablespoon soy sauce

1

tablespoon sugar

1/2

teaspoon ground ginger

1

teaspoon lime zest
Peanut Sauce
1/2

cup smooth peanut butter *see note

2

tablespoons rice vinegar

2

teaspoons finely minced ginger

juice of 1/2 a lime (roughly 1 tablespoon)

1/4

cup of water (or more to thin out sauce)
To Serve
6-inch

flour tortillas

3

cups savoy cabbage, thinly sliced

1

cup radishes, thinly sliced

1

cup cup bean sprouts

1/4

cup cilantro leaves, torn
Instructions
Ginger Beef
Heat a large non-stick pan over medium heat, and cook ground beef until no pink remains (roughly 8 minutes).
Remove beef from pan and drain excess fat. Return beef to the pan with ginger, lime juice, water, soy sauce, sugar and ground ginger. Stir to mix, and cook, uncovered for another 10 minutes, or until liquid is nearly gone.
Peanut Sauce
Combine all ingredients in a seal-able container or jar, and shake until completely combined. Add more water as needed to thin out sauce.
Recipe Notes
Nutritional Information:
2 small tacos
Calories: 492 • Fat: 21g • Sat Fat: 5g Cholesterol: 60mg Sodium: 60mg • Carb: 48g Fiber: 5g • Sugar: 10g • Protein: 33g
*I used Kraft creamy peanut butter, if you use natural peanut butter, you may need to add more sugar to the sauce.
Products used in this recipe: