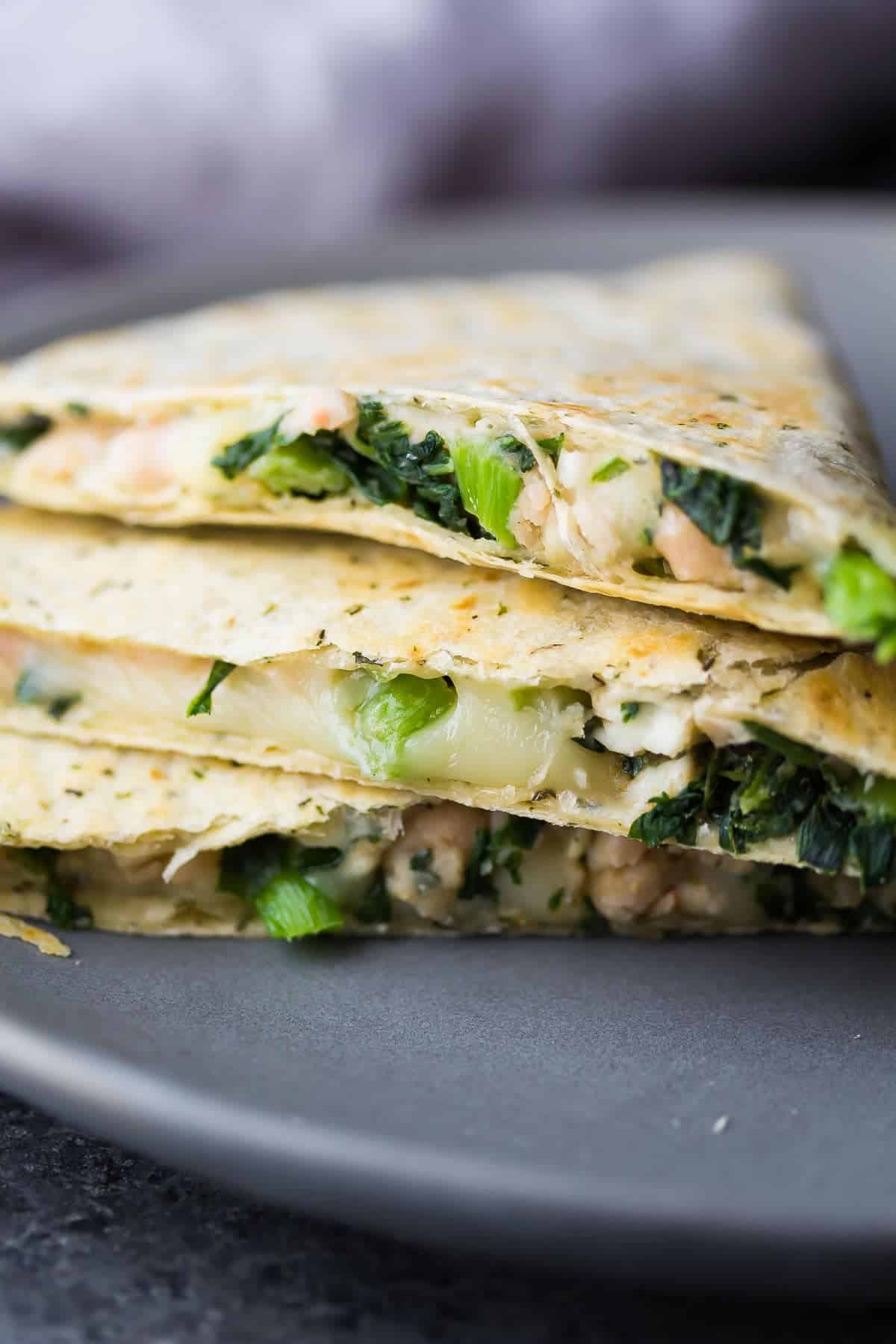 Make these smashed white bean and spinach quesadillas ahead of time and stash them in the freezer for an easy and healthy lunch that actually fills you up!
For some reason I keep putting up quesadilla recipes on this site, despite the fact that they are the WORLD'S HARDEST FOOD TO PHOTOGRAPH.
Gah.  Well, photography frustrations aside, even if these smashed white bean and spinach quesadillas aren't the prettiest things to look at, they are surprisingly tasty to eat!
In fact, many participants in our January Lunch Prep Challenge were skeptical and ended up completely surprised by how much they loved these guys.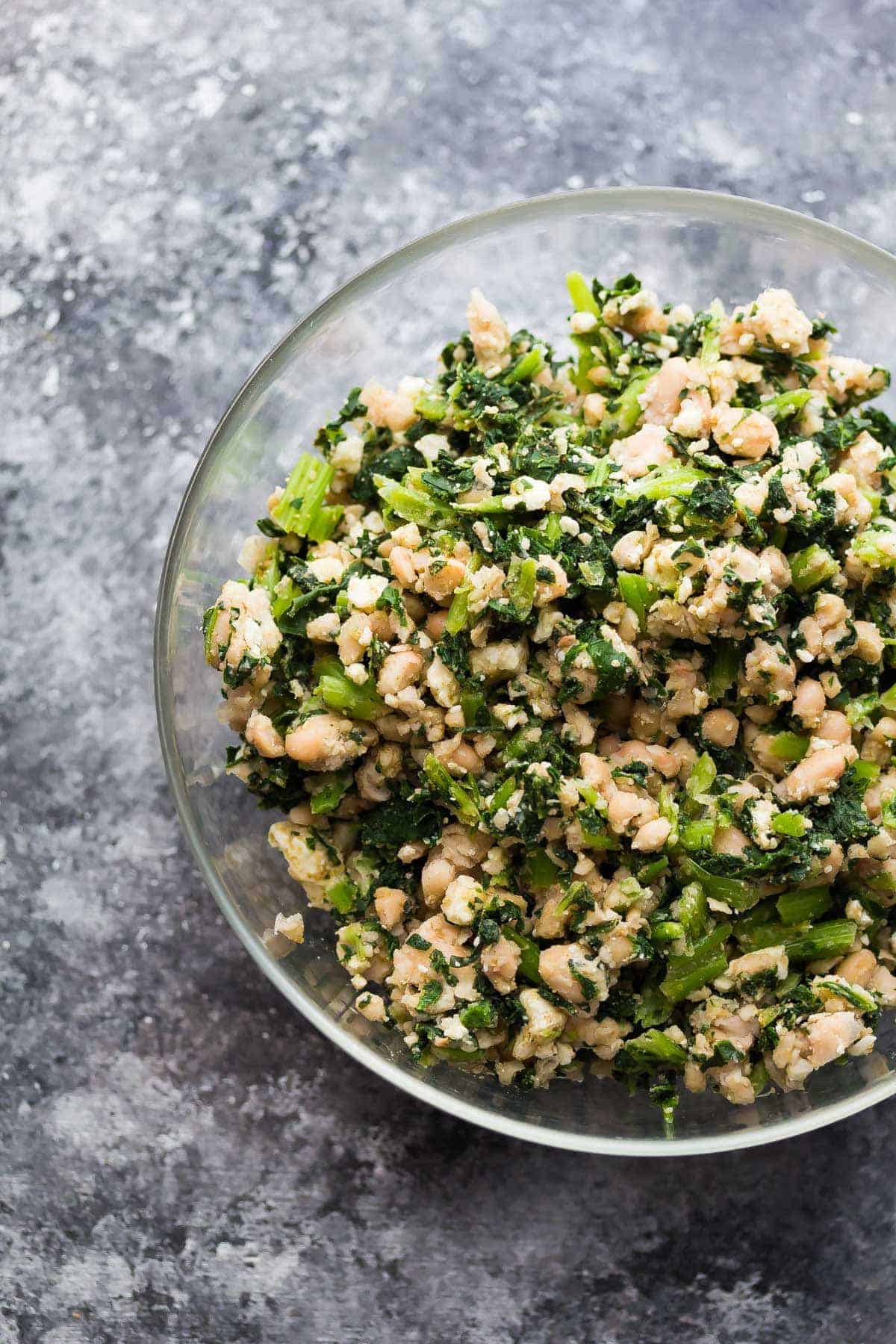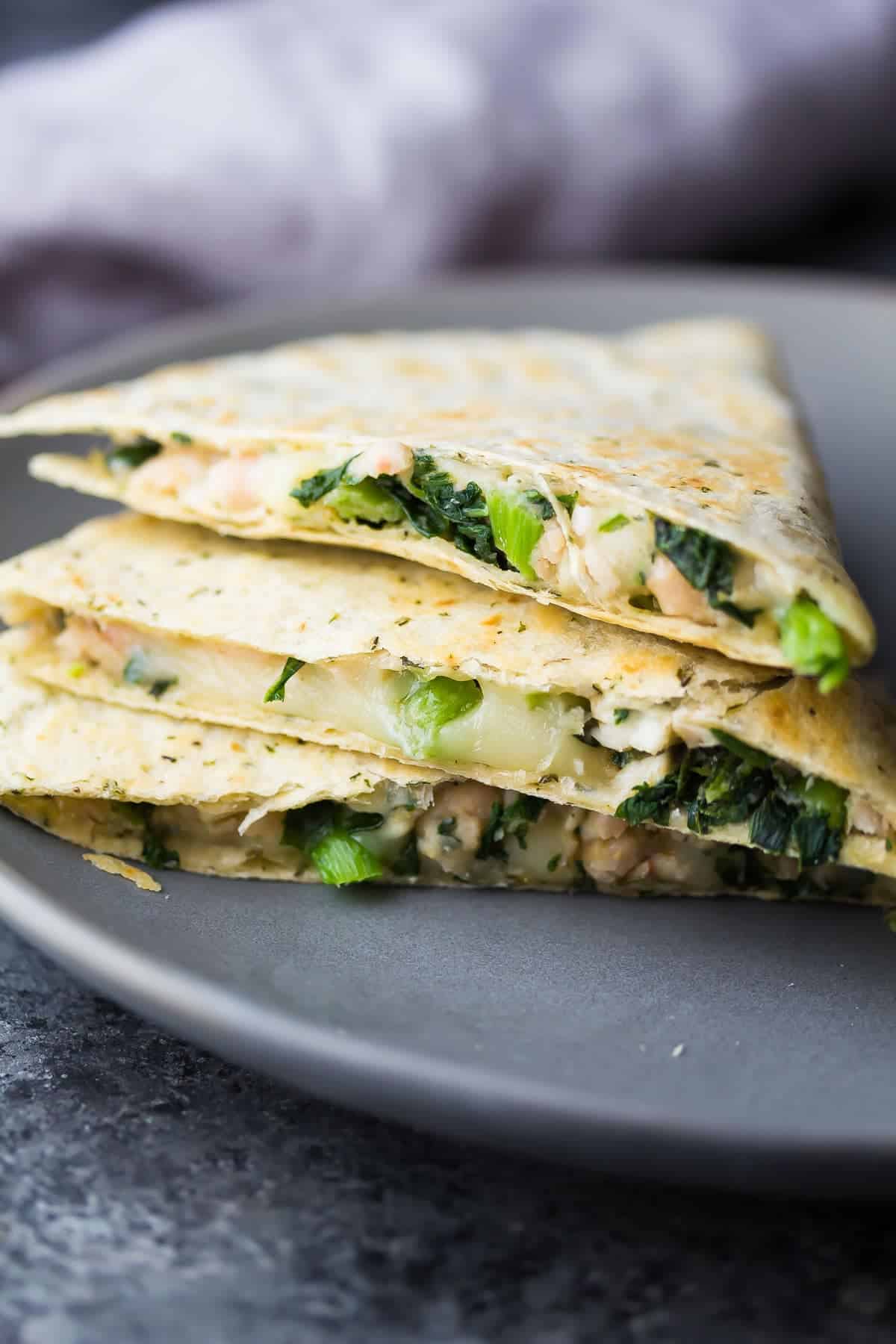 There are so many things I love about these smashed white bean and spinach quesadillas, I almost don't know where to start!
1.  They are freezer friendly!  What's the big deal?  Lunch bowls are not so freezer-friendly.  In fact, freezer-friendly lunches altogether are pretty hard to find.  These quesadillas are perfect to stock your freezer so you can just grab them in the morning to add a little variety to your lunch routine.
2. You don't need to cook the filling!  When you make chicken quesadillas, or even sweet potato quesadillas, you need to pre-cook the filling.  That means more dishes, more time and more effort on your part.  These white bean quesadillas?  Open a can.  Mash it up.  Ta da!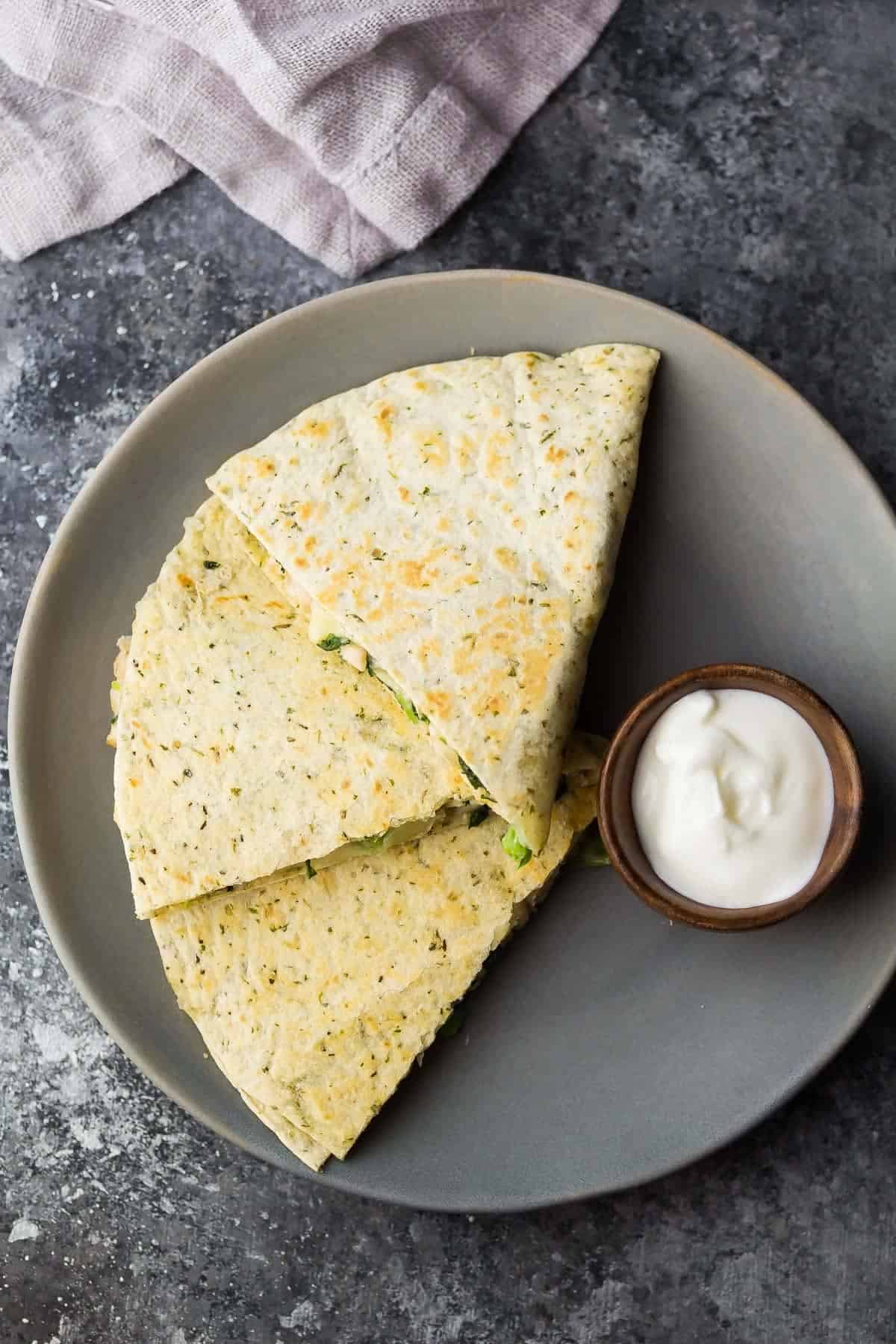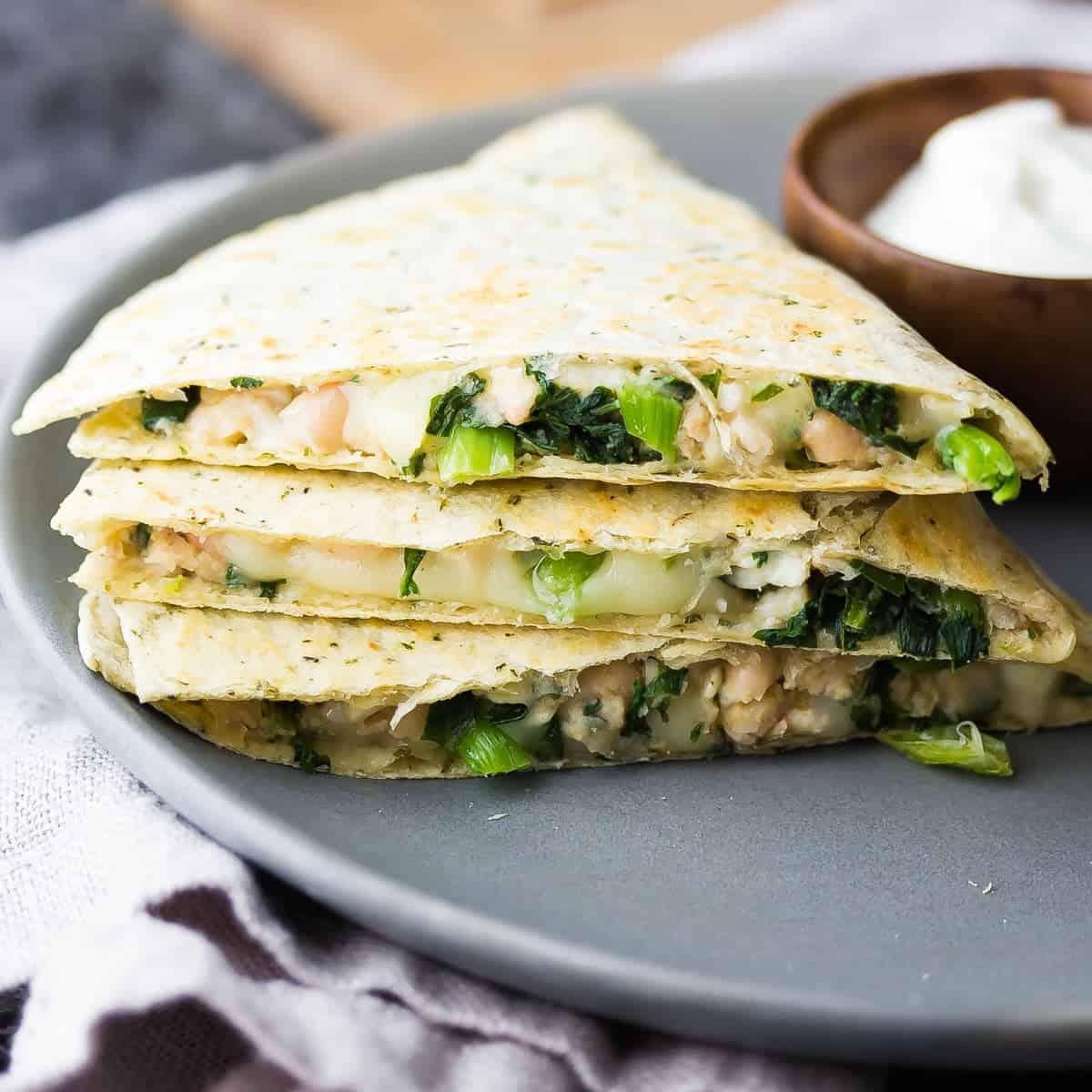 3. They actually fill you up!  For real.  I HATE it when I'm hungry an hour after eating.  These quesadillas are packed with protein and will leave you feeling satisfied (but not overly full) after lunch.  Woo hoo!
4. They taste good.  Obviously this has to factor in here.  I had to play around a LOT to get the right spinach: white bean and spice ratios.  They are flavorful but still kind of mellow.  I like serving mine with a bit of yogurt or even tzatziki.
PS- these smashed white bean and spinach quesadillas make a great breakfast too!
More make ahead breakfast recipes for us!
White Bean & Spinach Quesadillas (Freezer Friendly)
5
adjust servings
Ingredients
19

oz can of white beans (navy, cannellini or white kidney beans are all fine), drained and rinsed

3

oz spinach, chopped (roughly 3 cups chopped fresh spinach or 1 1/2cups frozen spinach)

1

teaspoon ground cumin

1

teaspoon ground coriander

1/8

teaspoon salt

3/4

cup feta cheese, crumbled

1 1/4

cups shredded cheese

5

large (12 inch) tortillas
Instructions
If spinach is frozen, thaw and press out extra moisture.
In a large bowl, mash the white beans with a fork or potato masher.
Stir in the spinach, cumin, coriander and salt. Stir/mash until the spinach is slightly wilted and fold in the feta cheese.
Heat a large pan over medium heat. Spray with oil, then assemble quesadillas in the pan (cooking 2 at a time).
Spoon out ½ cup of white bean/spinach filling, then sprinkle with ¼ cup cheese. Fold the tortilla over, then press down firmly.
Cook for 3 or so minutes per side, until golden and crispy.
Cool completely on a wire rack, then cut in half and wrap in plastic wrap.
Storage
Store in the fridge for 3 days or the freezer for longer (up to 3 months)
To Re-heat
thaw in the fridge overnight (if frozen)
heat in the microwave on a paper towel for 30 seconds, (OPTIONAL): crisp up in a pan or on a George Foreman grill.
Recipe Notes
Nutritional Information:
Calories 396 // Fat 20 g // Saturated Fat 11 g // Cholesterol 54 mg // Sodium 1030 mg // Carbohydrate 37 g // Fiber 5 g // Sugars 2 g // Protein 19 g
Serve with yogurt or tzatziki