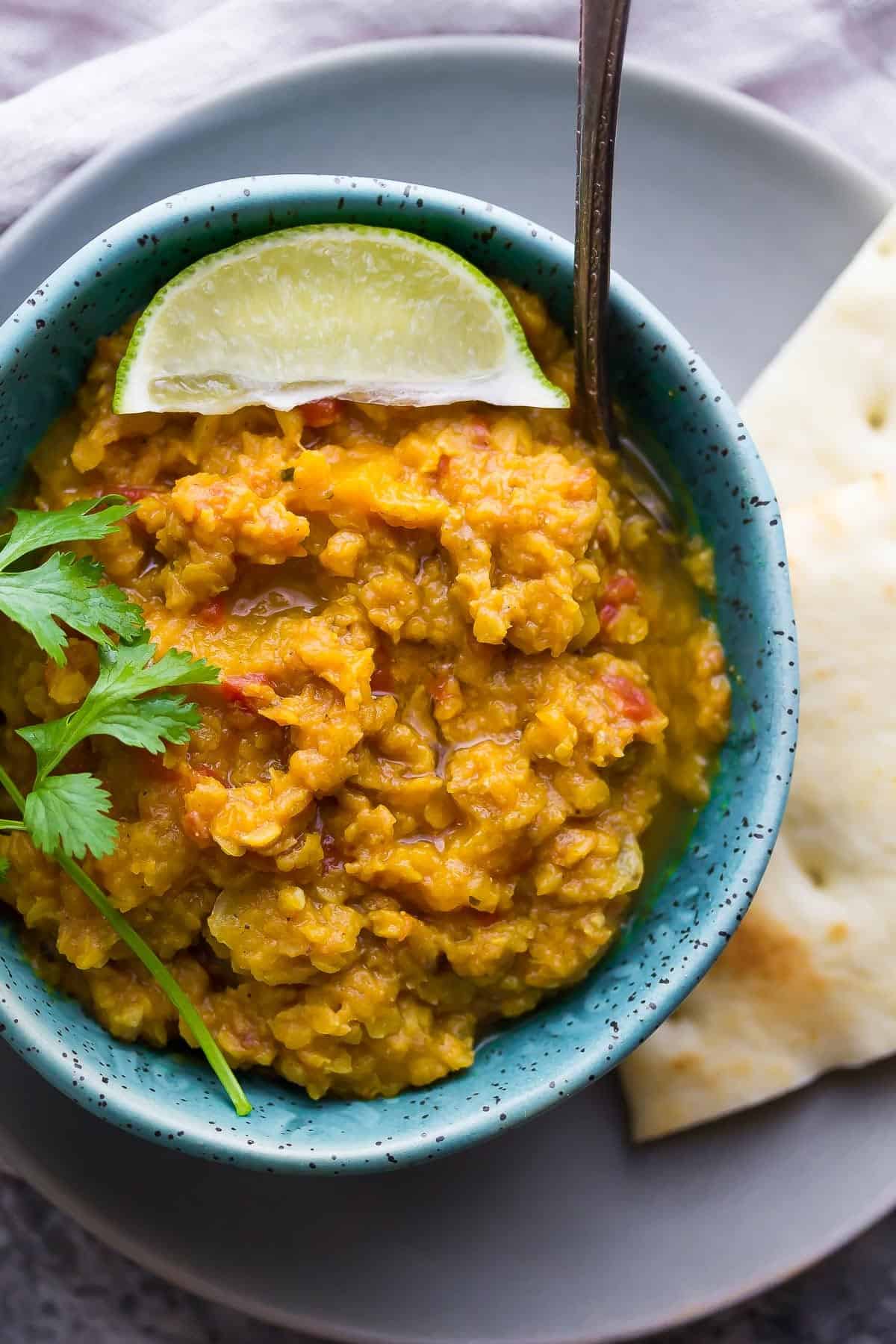 This slow cooker butternut squash lentil curry is the healthiest comfort food you can find.  Plus it's packed full of protein to keep you full!
Did I ever tell you guys that I went on a once of a lifetime trip when I was just 15 years old?  As part of a school trip, 20 or so of us visited Nepal for a month, visiting Kathmandu and trekking through Annapurna.  We fundraised for over 2 years to contribute money to a charity that builds schools and water systems in rural parts of Nepal, and then got to go visit and meet the people who live there.
Now that I think back on it, I can't imagine sending a 15-year old to Nepal, let alone a whole bunch of us with a few adults.  It seems crazy!  This was back when Nepal was much more politically stable, but still.  That's a very different environment than Canada.
Well visiting Nepal taught me to never take what I have for granted, because I had never seen what poverty really looked like until that trip.  I definitely had a new perspective on how fortunate I am to grow up in a country like Canada when I returned home from Nepal.
PS- I just had to dig out my photo album and post a couple of photos.  This is from 1999!!  What an awesome trip that was.  I'd love to go back someday!
PPS- I was feeling soooo sick in that second photo but we had to hike that day.  Hence the sad face.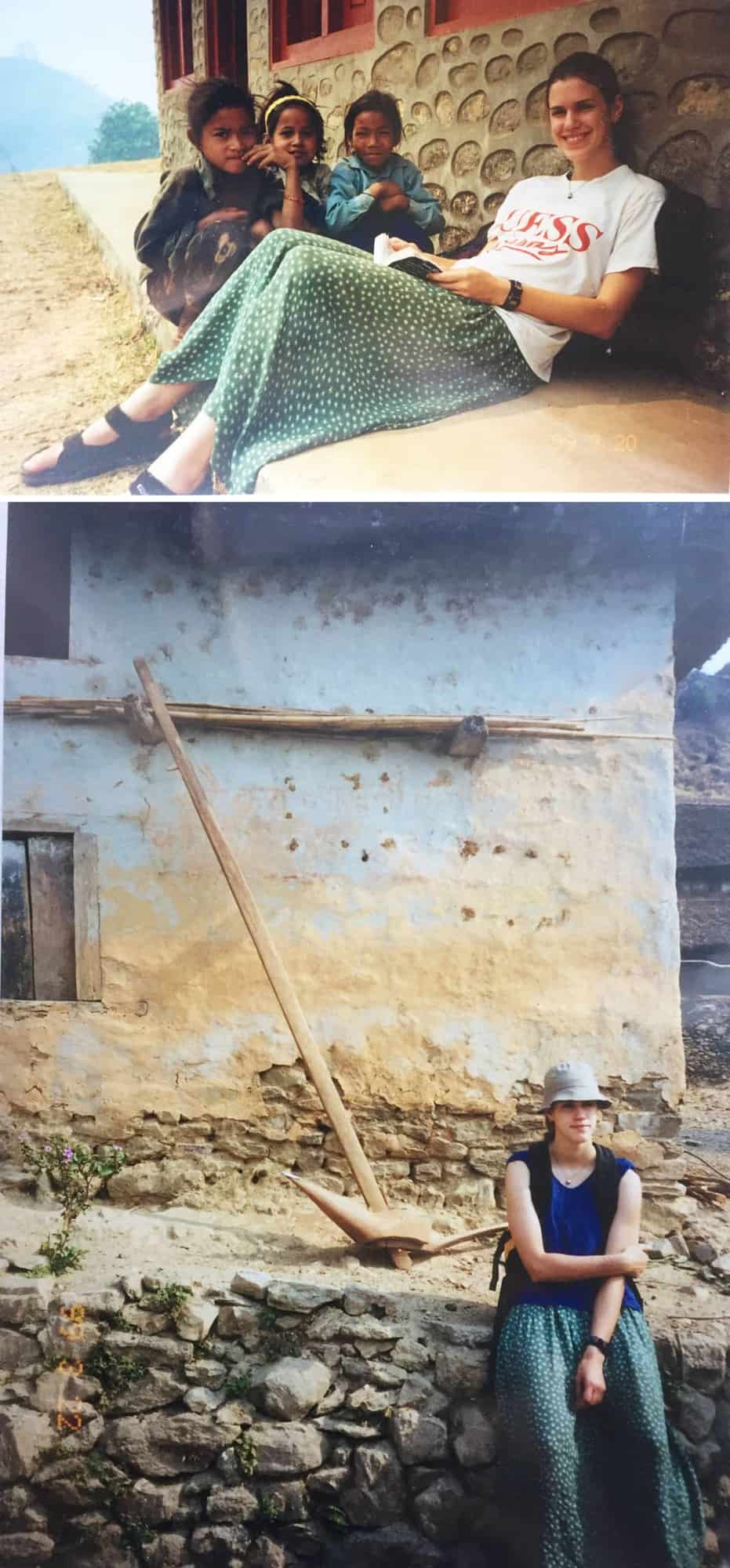 That trip also taught me to be more adventurous with my eating.  And one of my favorite recipes from the whole trip was dal.  Or dahl?  Or daal?  So today I'm paying homage to Nepal with my twist on dal with this slow cooker butternut squash lentil curry.
Of course I couldn't go straight up traditional dal, could I?  I thought the flavors would be awesome with some butternut squash and, I was totally right!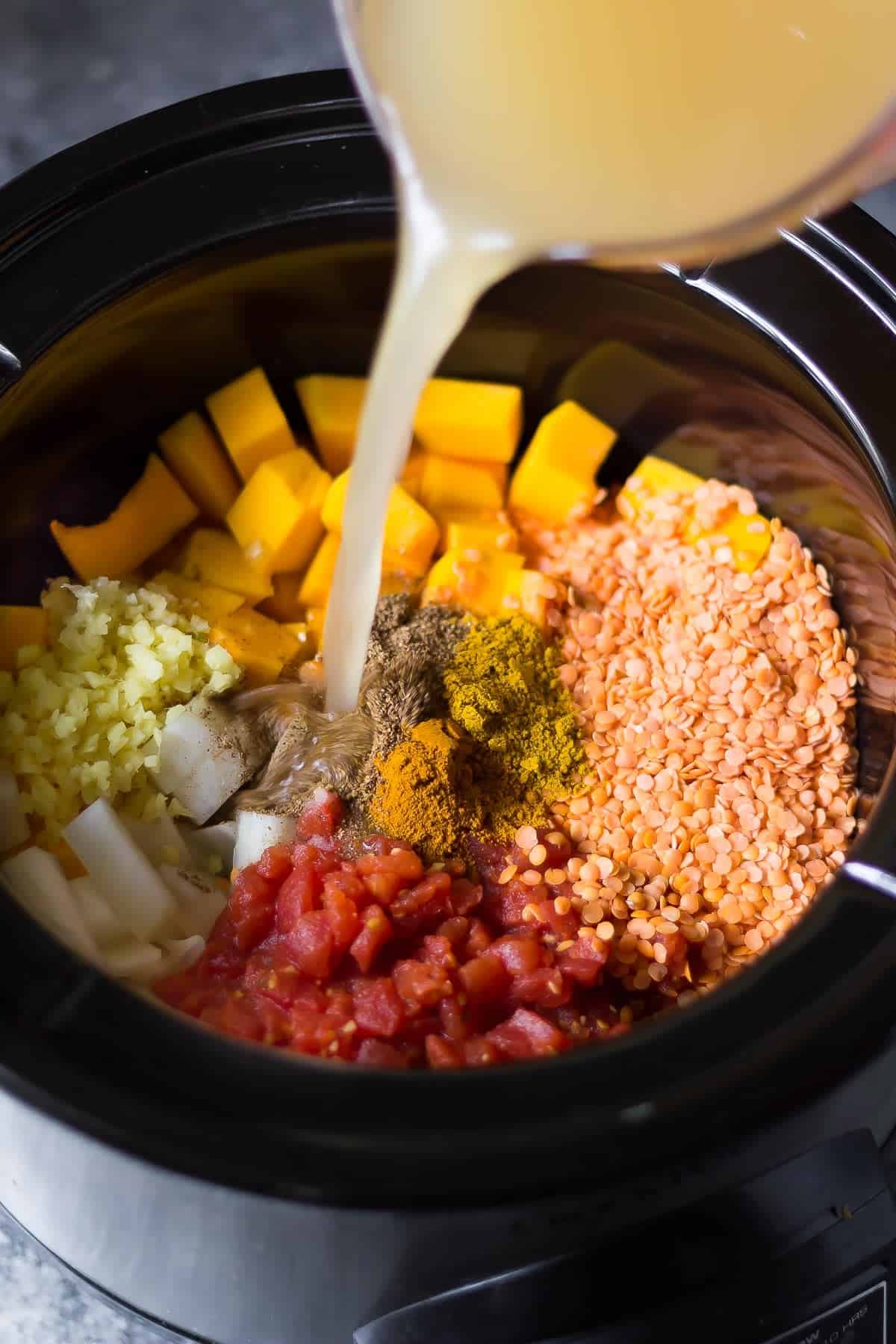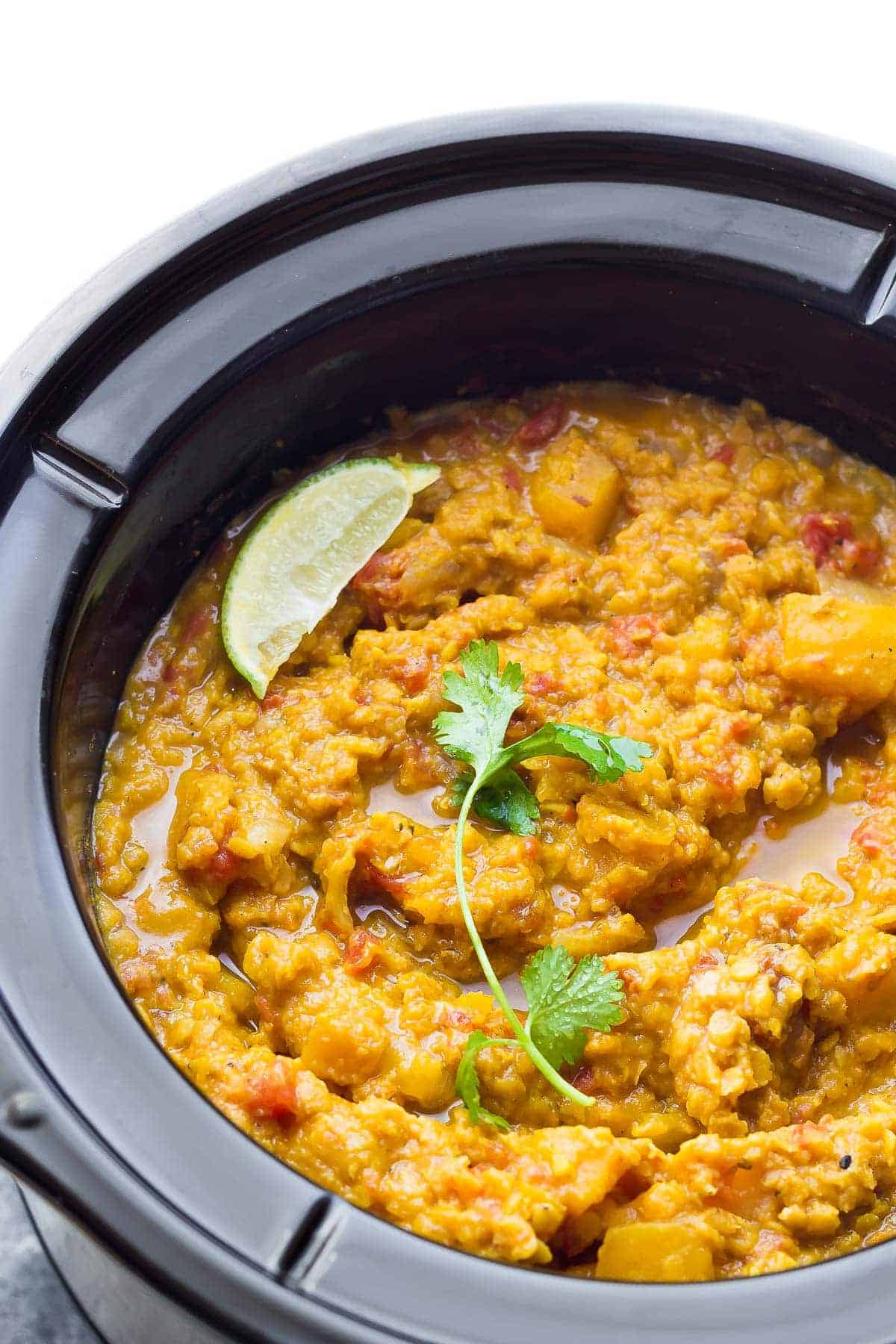 The best part about this slow cooker butternut squash lentil curry is how easy it is to make.  It's another one of my dump and go slow cooker recipes.  You really just dump all the ingredients into the crock pot, give it a stir, and walk away.
And it's also great because you can cook it up to 8 hours (I haven't tried any longer than that), and it will be creamy perfection when you are done your day.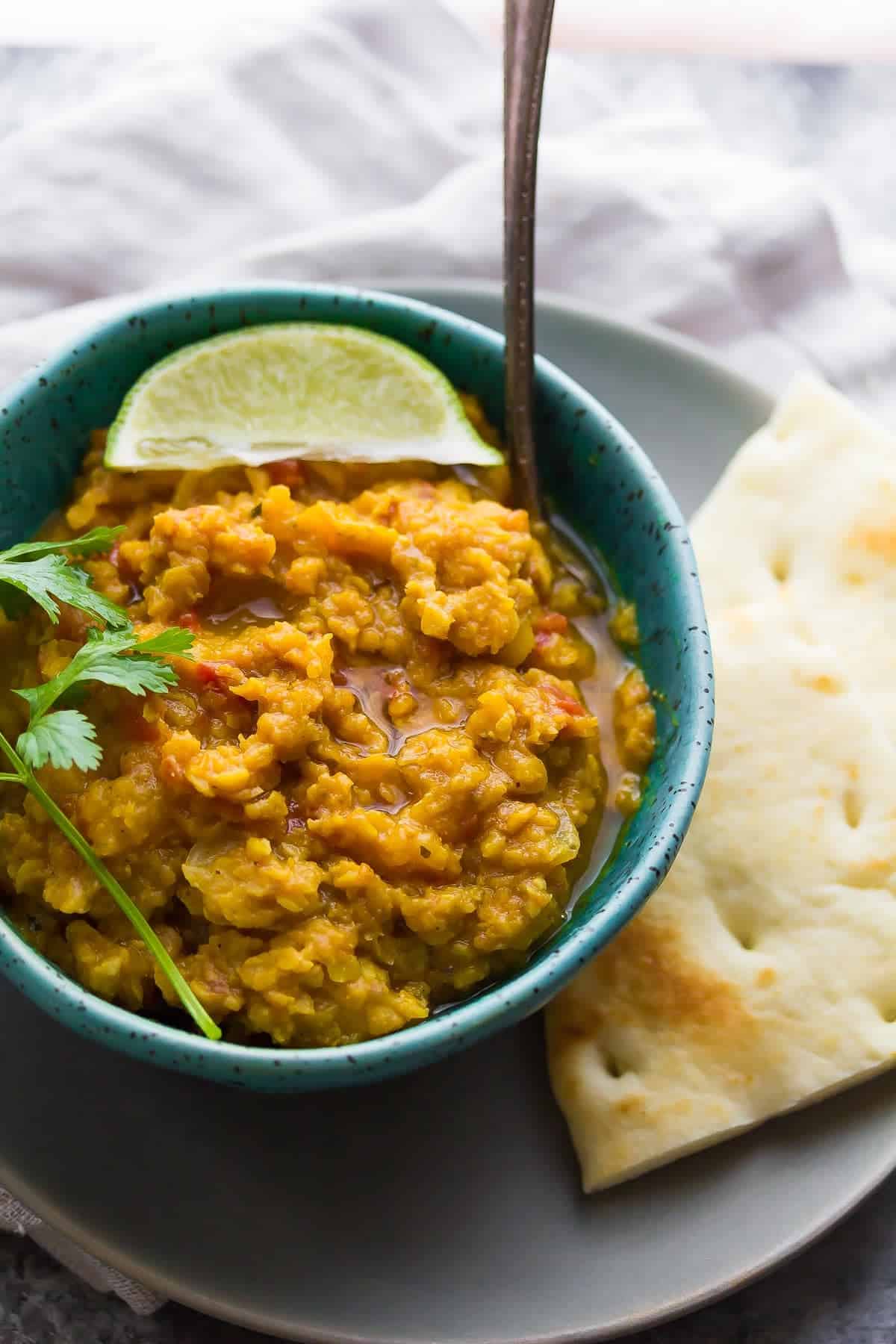 This slow cooker butternut squash lentil curry is vegan but TOTALLY filling.  Ben is slowly coming around to the fact that vegetarian (and even vegan) food can still be completely satisfying.  He loved this one!
I like serving mine with some naan bread wedges and a salad.
This post has made my heart happy.  I feel the older I get, the more I love nostalgia, and one of the best ways to revisit a memory is through food.
I'd love to hear if you have any travel memories that you revisit through food?  Leave me a comment or shoot me an e-mail, I'd love to hear!
More international slow cooker recipes for us:
Slow Cooker Butternut Squash Lentil Curry
8
adjust servings
Ingredients
2

cups red lentils

4

cups butternut squash, cubed

1

onion, minced

2

cloves garlic, minced

2

tablespoons ginger, minced

1 1/2

teaspoons curry powder

1

teaspoon ground coriander

1

teaspoon garam masala

1

teaspoon turmeric

1

teaspoon ground cumin

1/2

tsp salt

13.5

oz/400mL can coconut milk- full fat

19

oz/540mL canned diced tomatoes, including juices

3

cups stock
Instructions
Combine all ingredients in the base of a 5 quart slow cooker and cook low 8 for hours.
To Prep Ahead & Freeze:
Combine all ingredients except for the coconut milk and stock in a gallon-sized freezer bag. Remove as much air as possible.
Freeze for up to 3 months.
Thaw completely, then add to the base of a 5 quart slow cooker with the stock and coconut milk. Cook on low for 8 hours
Products used in this recipe: