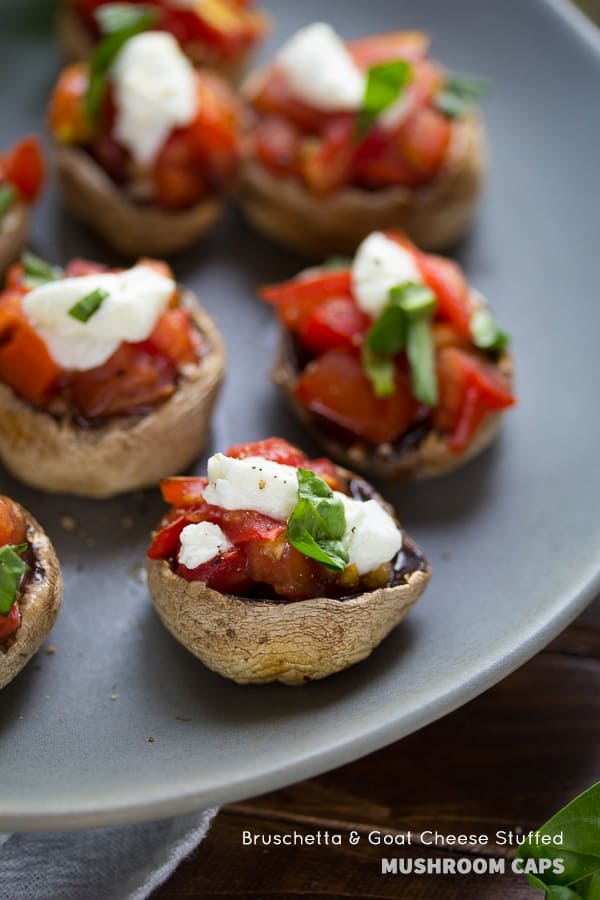 This grilled mushroom appetizer with bruschetta and goat cheese is an easy and healthier appetizer recipe that would be perfect for a barbecue!
It's Friday.  I would normally be all 'it's FRIDAY!!!!', but not this time…Friday means that our stay-cation is coming to an end.
I haven't spent so much quality time with Ben and Kai in a loooong time.  We've had so much fun together!
Out of all of the activities we've done, the free ones are definitely the best.  We spent $40 on zoo admission only to have Kai want to play at the zoo playground…no interest in monkeys or tigers!  One of my favorite things we've done is to get some burgers and eat them on the tailgate of the car while watching airplanes take off and land.  An oddly fun activity!
So.  Our stay-cation might be on it's way out, but at least we still have a few more weeks of summer left.  And I plan on soaking up every minute of it, preferably with something yummy like this grilled mushroom appetizer in one hand!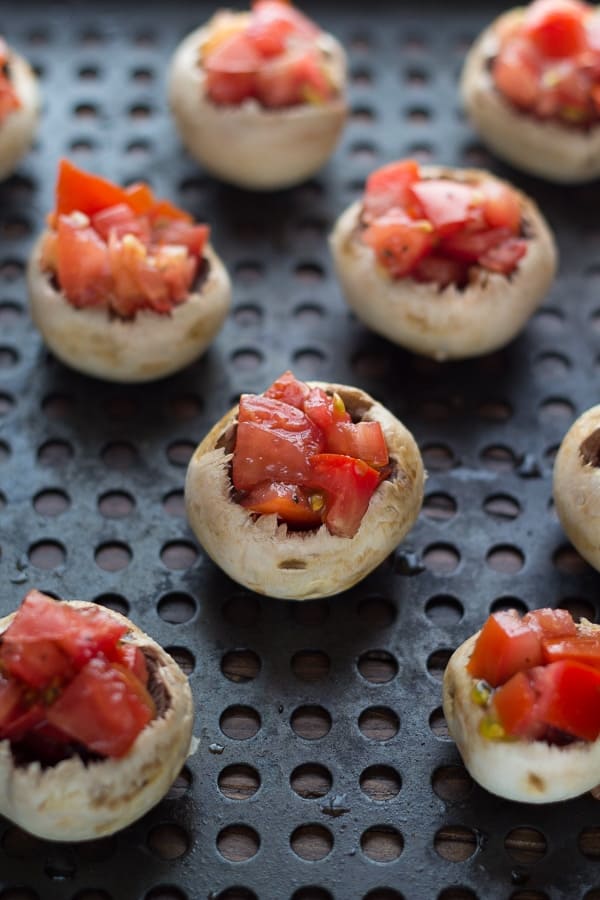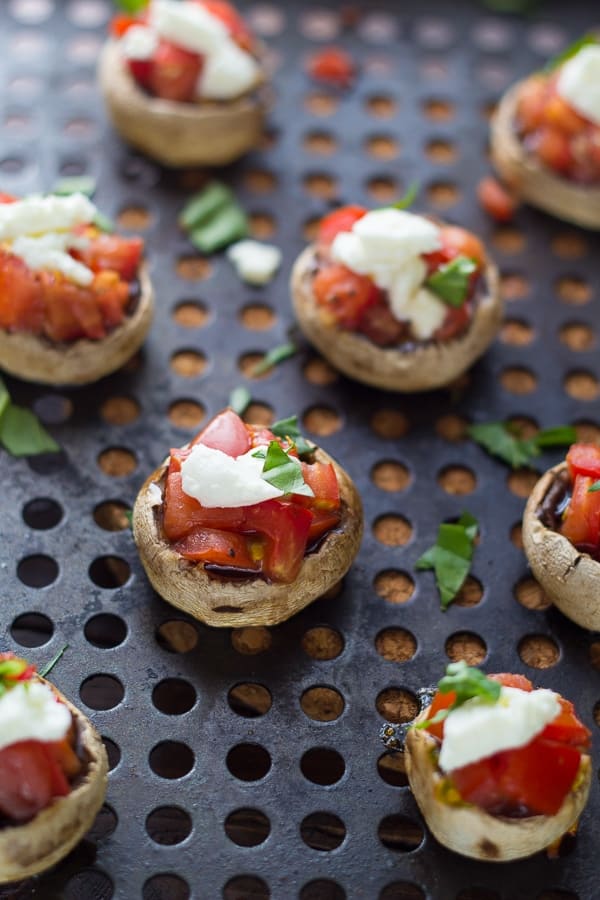 Have you tried these zucchini caprese roll-ups?  They are an easy, healthy appetizer, and my mom is nuts for them!  I think they've been making their way through the Smithers BBQ scene.
She was visiting us a few weeks ago, and mentioned that she has a hard time finding easy, healthy appetizer recipes, so I felt inspired to make this easy grilled mushroom appetizer recipe.
The mushroom caps are stuffed with a super easy bruschetta, grilled up, then topped with goat cheese and basil.  So ridiculously easy.  And tasty!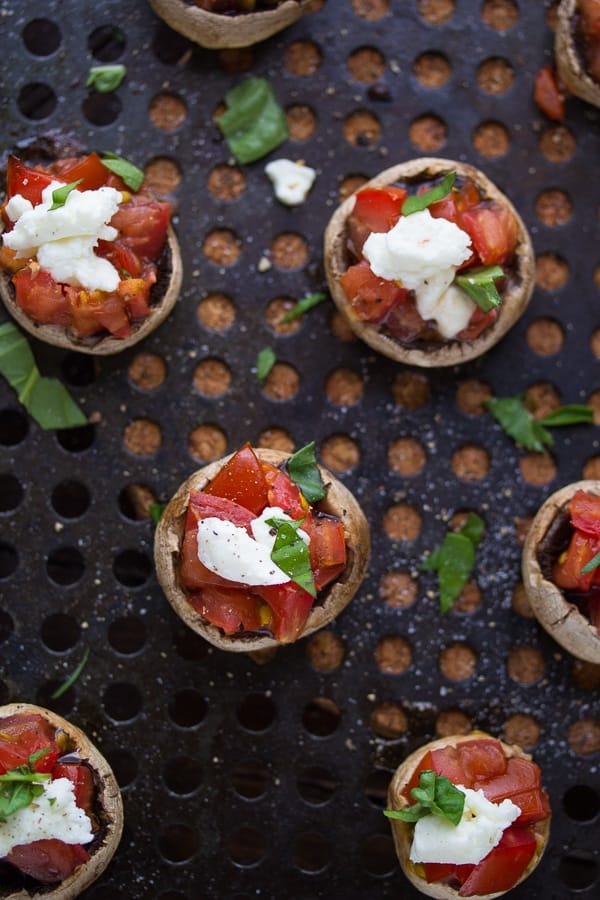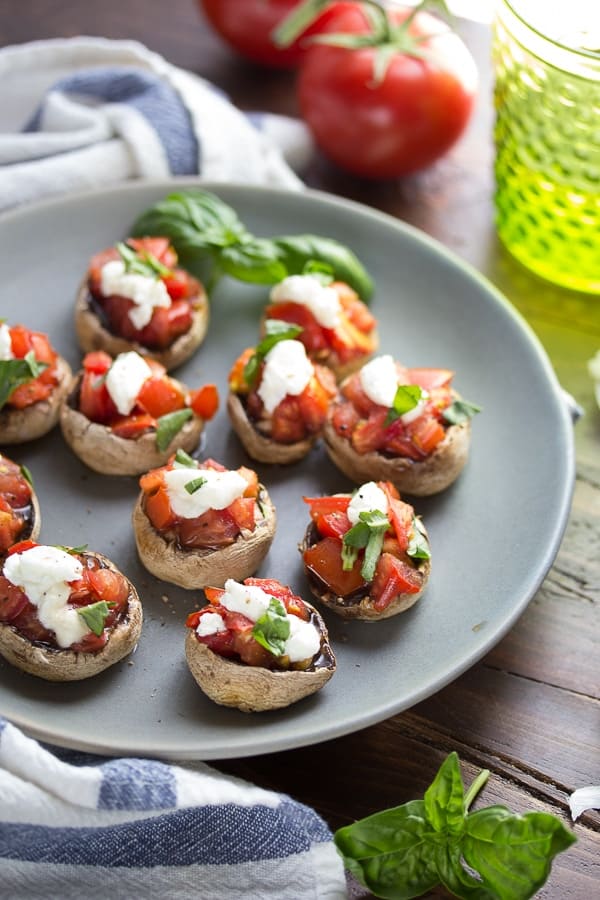 I cooked these guys up on the grill (using my veggie tray), but you could also make them in the oven.
I don't want to admit to you guys how many I ate.  OK, fine…All of them. Poor Ben didn't get a single mushroom cap!  They are just too poppable.  Translation: you're probably going to want to double or triple the recipe.
 So.  Healthy?  Check.  Easy?  Check.  Delicious?  Check.  I think I've got another one for you, Mom!

Grilled Mushroom Appetizer with Bruschetta and Goat Cheese
12
adjust servings
Ingredients
12

fresh whole mushrooms (button or crimini)

2

small plum tomatoes

1

clove garlic, minced

1

teaspoon balsamic vinegar

2-3

tablespoons goat cheese, crumbled

fresh basil

sprinkling of salt & pepper
Instructions
Heat barbecue to medium.
Wash the mushrooms and pull out the stems. Set aside.
In a medium bowl, mix together the tomatoes, garlic and balsamic vinegar.
Spray a BBQ vegetable tray well with oil. Gently spoon the bruschetta into the mushroom caps (you're going to want to discard as much liquid as possible) and arrange on the tray.
Grill for 8-10 minutes, until mushrooms are cooked through.
Immediately place a small spoonful of goat cheese on the warm bruschetta, scatter the basil leaves, and sprinkle with salt & pepper.
Serve immediately.
Recipe Notes
Nutritional Information: 1 mushroom
Calories 15 // Fat 1 g // Saturated Fat 0 g // Cholesterol 1 mg // Sodium 28 mg // Carbohydrate 2 g // Fiber 1 g // Sugars 1 g // Protein 1 g
Products used in this recipe: