Air fryer carrots are roasted and golden, tender on the inside, and ready in under 20 minutes. Make them with any type of carrots including baby or farmer's market!
The air fryer is such a helpful appliance for whipping up a quick veggie side dish...favorites include air fryer roasted potatoes as well as air fryer brussels sprouts.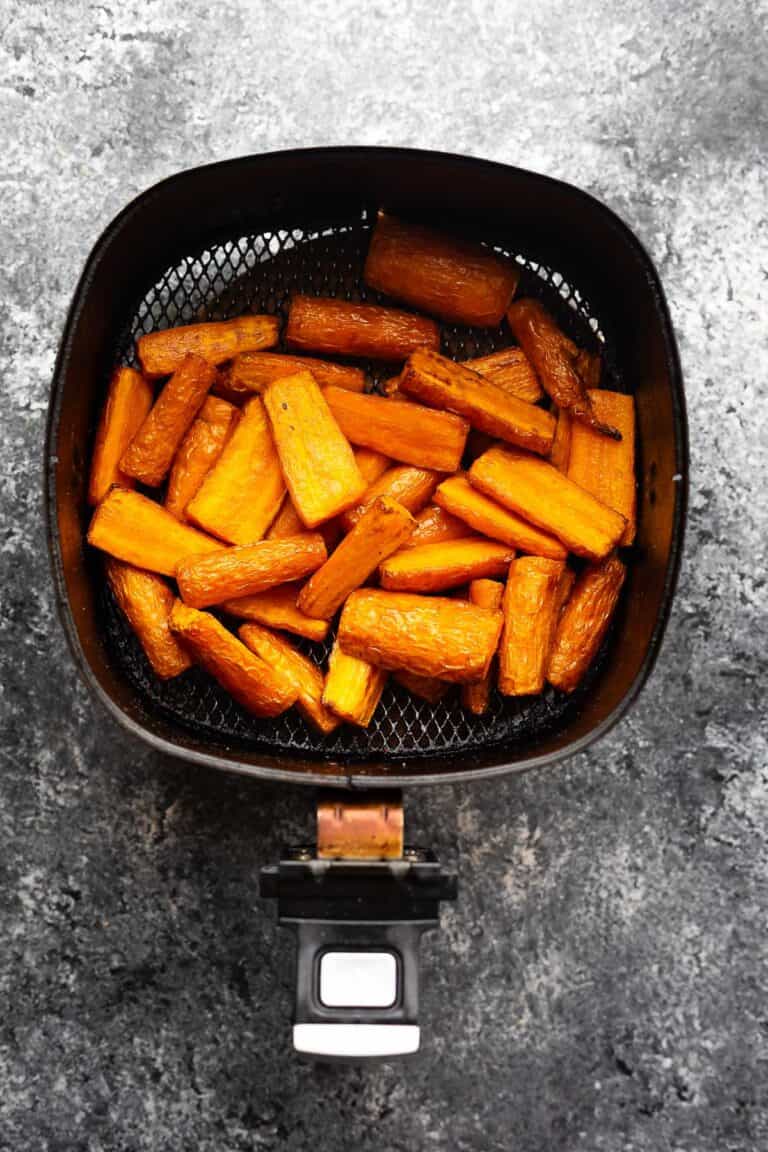 These air fryer carrots are another family favorite: sweet and tender, with golden caramelized bits, they are ready so quickly and always gobbled up!
You'll ♡ air fryer carrots because
you can make them with any carrot: grocery store, farmer's market or baby carrots
they are ready in under 20 minutes
they are sweet, tender, and loved by kids and adults alike
Recipe video
Watch the video below to see exactly how I prepped this recipe. It's so easy! You can find more of my recipe videos on my YouTube channel, or on Facebook.
Don't forget to pin this post to save it for later!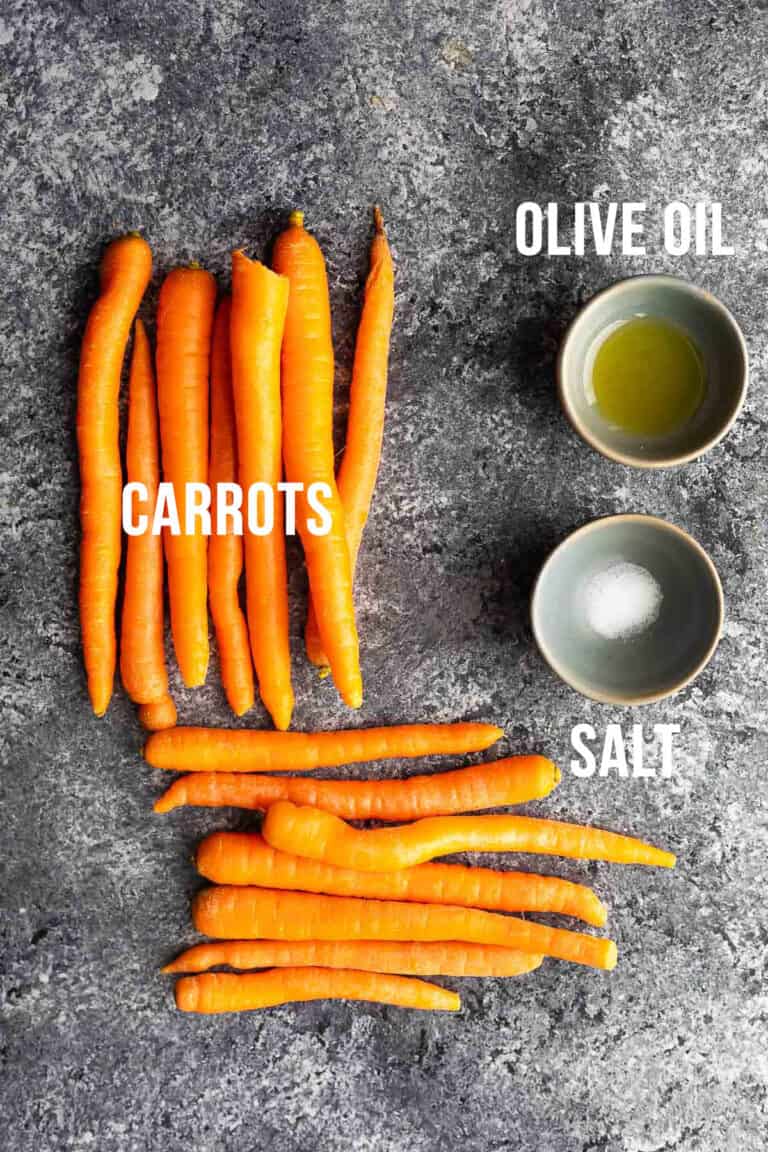 Ingredient notes
We are keeping things really simple and basic for these air fryer carrots, though you are welcome to add some other herbs and seasonings (more on that below!). For this recipe you'll need:
carrots- you can use any carrot, though keep in mind the size of your air fryer basket. Farmer's market carrots, baby carrots and regular grocery store carrots all work for this recipe and cooked in a very similar amount of time.
oil- I've used olive oil, but feel free to swap for avocado oil, which works great in the air fryer as it has a high smoke point.
salt- regular table salt is great as it sticks well to the oil.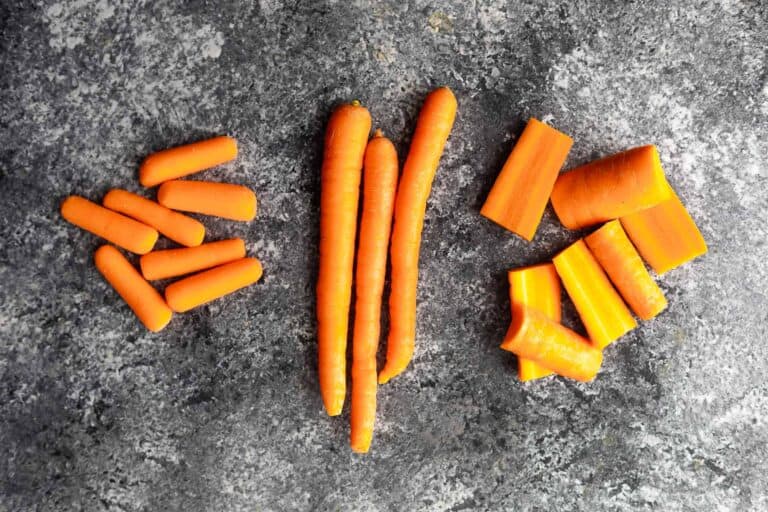 Types of carrots that work
This recipe was tested with baby, farmer's market and grocery store carrots, and all cooked in a relatively similar amount of time. Here's how to prep the carrots:
baby carrots- leave them whole
farmer's market- leave them whole, scrub the skin well and trim carrot tops off if they have leafy greens. Check your basket to make sure they will fit.
grocery store- you'll want to cut them into 2- 2 ½ inch long pieces and in half for the thickest parts of the stems (as pictured above).
Regardless of the type of carrots, they all cooked through at 390°F in 13 minutes (give or take a few minutes).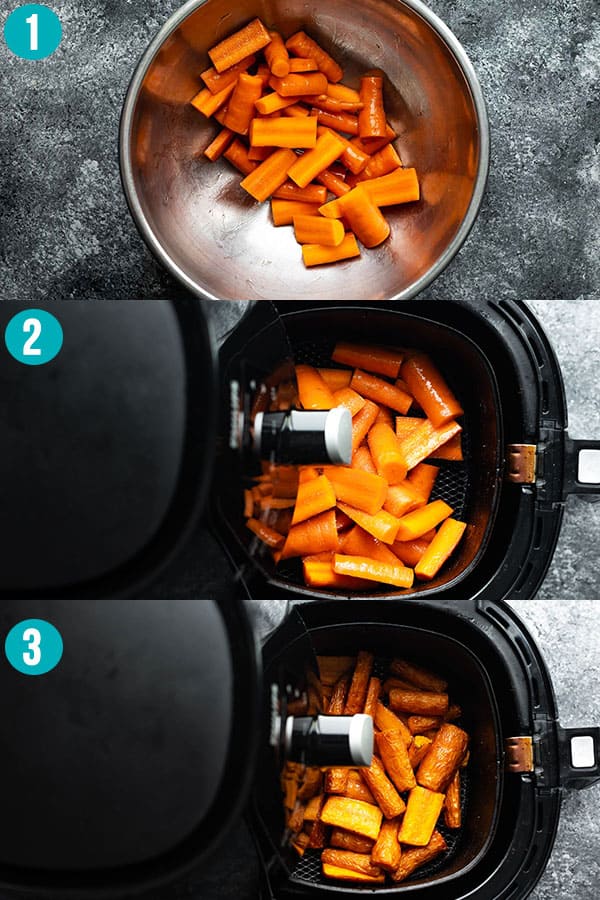 Step by step directions
Scroll to the recipe card for ingredient quantities.
Trim 1 lb carrots as needed and toss in olive oil. Season with salt.
Add carrots to the basket of your air fryer. If you use an oven-style air fryer, spread them out with as much space as you can manage.
Cook for 13 minutes at 390°F, shaking and turning the carrots 2-3 times during the cook time.
Basket vs oven air fryers
This recipe was tested in both a basket-style Phillips air fryer (similar to this one
), and an Instant Pot vortex air fryer oven, and the cook times were very similar in each
basket air fryer- 13 minutes, shaking basket 2-3 times
air fryer oven- 13 minutes, rotating trays half way
Recipe notes
Start with dried carrots
Since oil and water don't mix well together, if you want that golden caramelization on your carrots, it's important that they are thoroughly dry before tossing in oil and salt. After washing (if required), I simply spread them out on a clean kitchen towel, and blot with a second towel to remove surface moisture from the carrots.
Salt the carrots twice
During testing, I noticed that some of the salt applied before cooking fell off the carrots while they cooked. I recommend tossing them in salt before cooking, and giving them a second seasoning after cooking.
The salt sticks to the carrots best if you season them immediately after removing from the air fryer.
Adjust cook time as needed
All air fryers cook slightly differently, so use the cook time as an estimate, and add more time (or remove a few minutes) as needed. To tell if the carrots are done, insert a fork into one of the larger ones. It should be tender but not completely mush.
Storage and reheating
Air fryer carrots reheat surprisingly well! Here is how to safely store and reheat them:
Cool completely, then store in an air tight container in the fridge for up to 4 days.
To reheat, set your air fryer to 350°F. Heat for 5 or so minutes, tossing carrots up as needed, until they are warmed through.
Check out my favorite meal prep containers!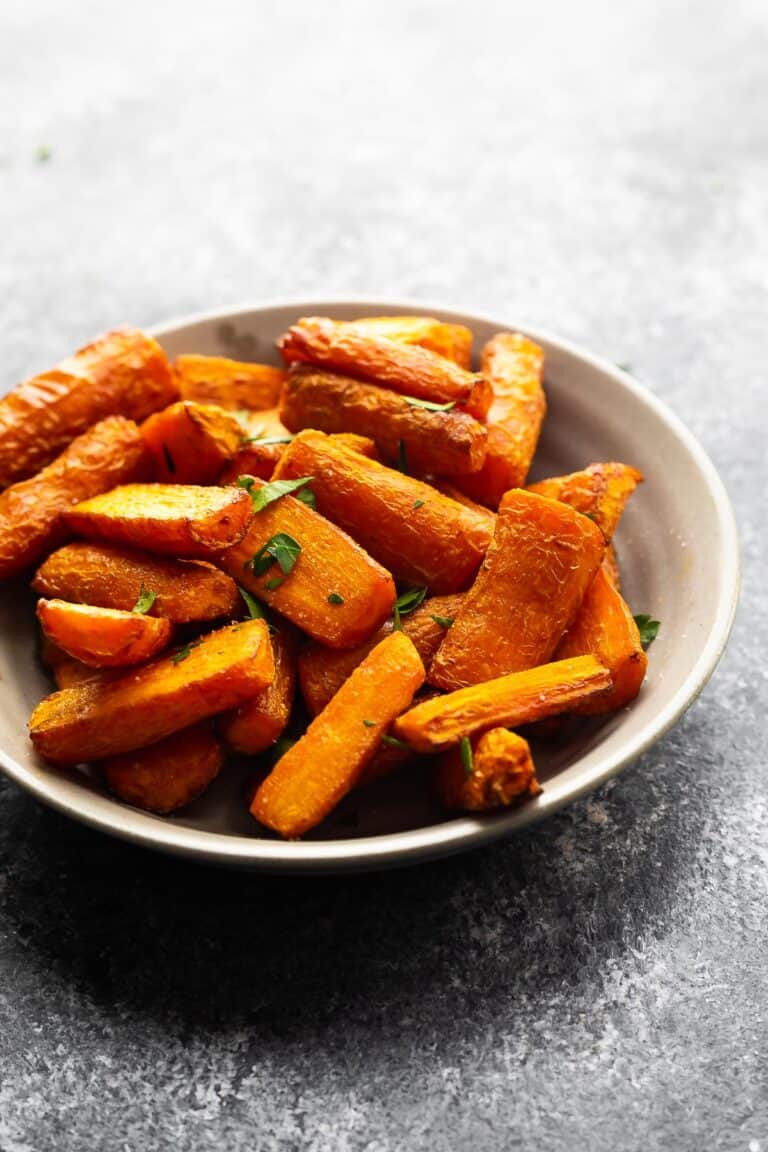 Variations
This is a very basic recipe as written, but you can certainly put your own flare on it!
add ½ teaspoon onion or garlic powder for a little extra savory flavor
add ¼ teaspoon smoked paprika for color and smoky flavor
sprinkle with parmesan cheese to serve
add ½ teaspoon dried thyme leaves (they may fall off)
toss in melted butter or a touch of honey just before serving
More easy air fryer recipes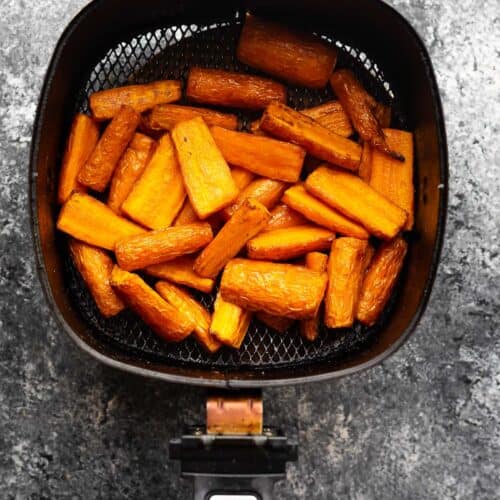 Print Recipe
Air Fryer Carrots (tender + sweet!)
Air fryer carrots are roasted and golden, tender on the inside, and ready in under 20 minutes. Make them with any type of carrots including baby or farmer's market!
Ingredients
1

lb

carrots

see note 1

1

tablespoon

olive oil

¼

teaspoon

salt
Instructions
Heat air fryer to 390°F/200°C.

If carrots have been washed, dry them thoroughly using a clean kitchen towel, then toss in the olive oil with the salt.

Place carrots into the air fryer basket. For oven-style air fryers, arrange the carrots on the tray with as much space as possible between them.

Cook for 13 minutes (give or take a few minutes), shaking 2-3 times. For oven-style air fryers, rotate the trays and give the carrots a stir. Carrots are ready when they are golden and a fork inserts into them easily.

Sprinkle the carrots with salt soon after removing from the air fryer (taste to decide if you want more!), garnish with parsley, and enjoy.
Notes
1- you can use farmer's market carrots (trim to fit the air fryer), baby carrots (leave as is), or regular grocery store carrots (cut into 2.-2.5 inch pieces, and slice thick parts in half).
2- serving size is estimated and represents ¼ of the batch.
Storage and reheating
Cool completely, then store in an air tight container in the fridge for up to 4 days.
To reheat, set your air fryer to 350°F. Heat for 5 or so minutes, tossing carrots up as needed, until they are warmed through
Variations
add ½ teaspoon onion or garlic powder for a little extra savory flavor
add ¼ teaspoon smoked paprika for color and smoky flavor
sprinkle with parmesan cheese to serve
add ½ teaspoon dried thyme leaves (they may fall off)
toss in melted butter or a touch of honey just before serving
Nutrition
Serving:
0.75
cup (note2)
|
Calories:
77
kcal
|
Carbohydrates:
11
g
|
Protein:
1
g
|
Fat:
4
g
|
Saturated Fat:
1
g
|
Sodium:
224
mg
|
Potassium:
363
mg
|
Fiber:
3
g
|
Sugar:
5
g
|
Vitamin A:
18944
IU
|
Vitamin C:
7
mg
|
Calcium:
37
mg
|
Iron:
1
mg