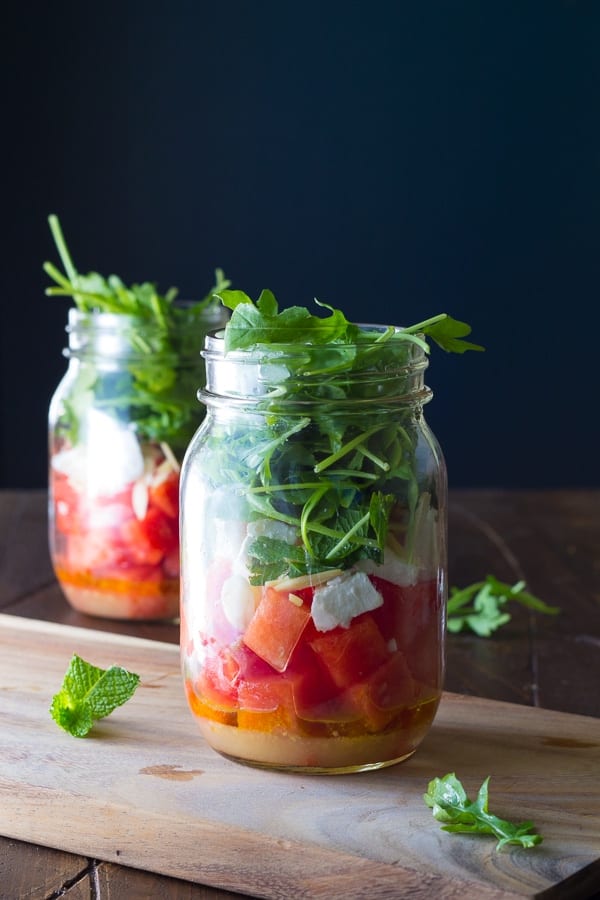 This arugula and watermelon salad in a jar is rilled with feta cheese, mint, almonds and a tangy white wine vinaigrette.  These are so convenient for a work lunch or picnic!
Stuff is happening.
By that I mean I am finally starting to write my thesis.  As of today, I am full-time at home, writing!
Also known as immaculately organizing my pens by size, my papers by author (alphabetical), and my skittles by color (study food!)  And maybe to get the creative juices flowing I will fold some laundry.  Or dust the top of those neglected bookshelves.  Or maybe I'll even go for a run.  HA.  Gotcha!
I feel like this is the first trimester of pregnancy.  I can see my due date but it's miles off.  I'm not really worried about giving birth (aka: defending), because it's waaaay far away (November?  Maybe December?)  But.  I've got a lot of thesis-writing/baby building ahead of me, and I'd better get down to work.  If I was actually pregnant, I would get to eat way more ice cream.  On the other hand, I'm going to get to SLEEP after this thesis-baby is born.  Woo hoo!
Enough of this strange/creepy metaphor?  OK.  How about some salad…salad in a jar?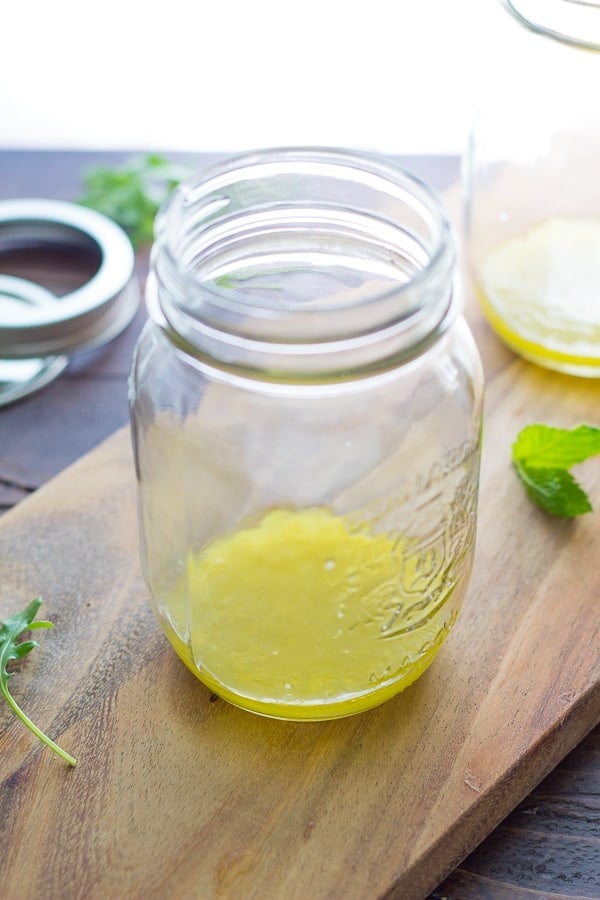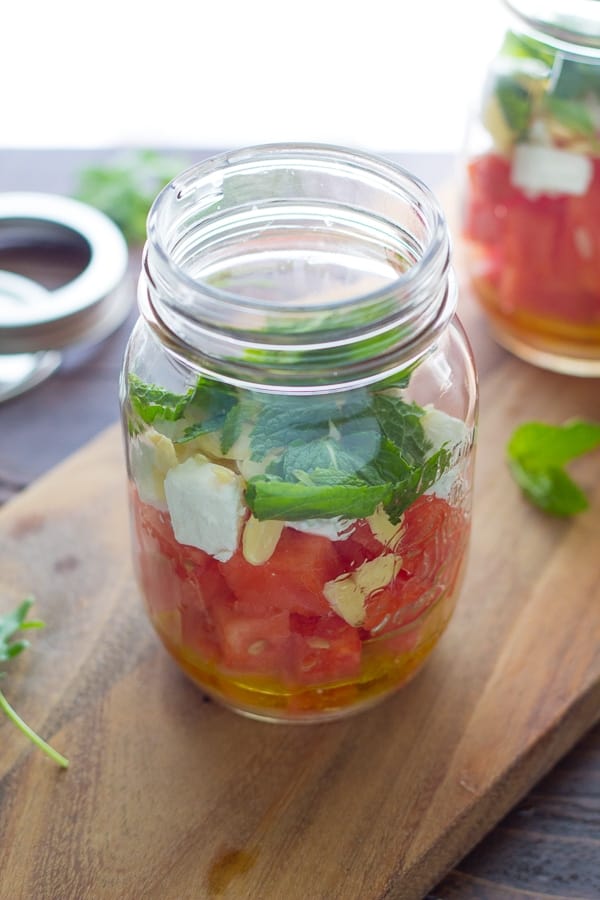 I see these funny food trends and I can't help myself.  I have to find out: what's the deal?!
Why do people go bananas for kale?  What's the deal with dulce de leche?  And why oh why would someone put a salad in a jar?!
In all of these cases, I get it.  I really, really get it (especially with dulce de leche).  And now salad in a jar makes total absolute sense to me.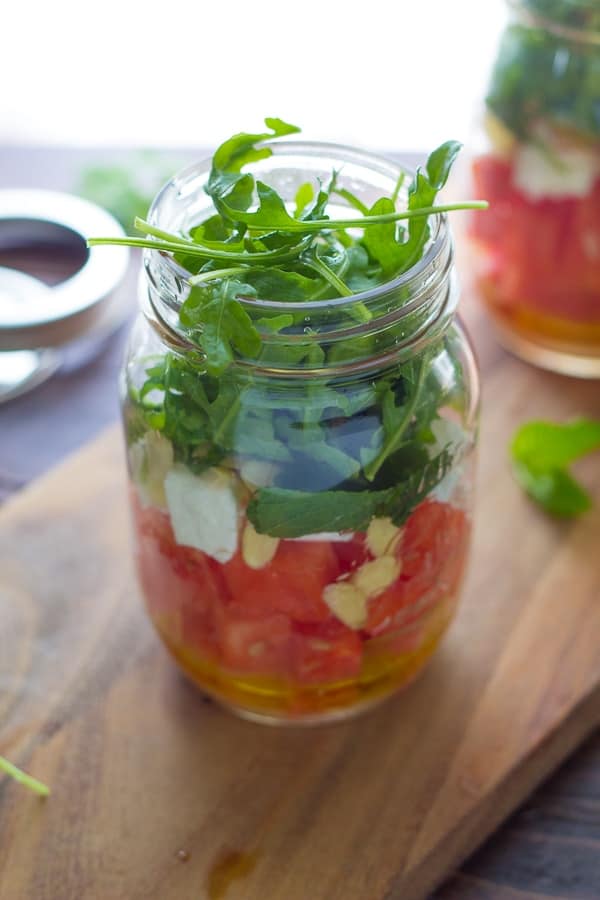 It's all about the layering.  The dressing goes on the bottom, then your softer fruit/vegetables, and your delicate leafy things stay at the top, protected from the dressing.
Then, when you're ready to serve, shake it all out into a bowl, and voila: leafy things on the bottom, salad goodies on top, and dressing everywhere!  Crazy salad lady really likes this one 😉
This is your typical watermelon/feta salad with some almonds, fresh mint, and arugula.  I'm liking the arugula these days!  The dressing is a simple white wine vinaigrette sweetened a touch with some honey.  It is a great summery salad, and by storing your salad in a jar, you are opening a whole new world for this salad.  Work lunches, picnics, thesis writing…
Right.  I should probably get onto that.
Happy Wednesday!  Half-way to the week-end!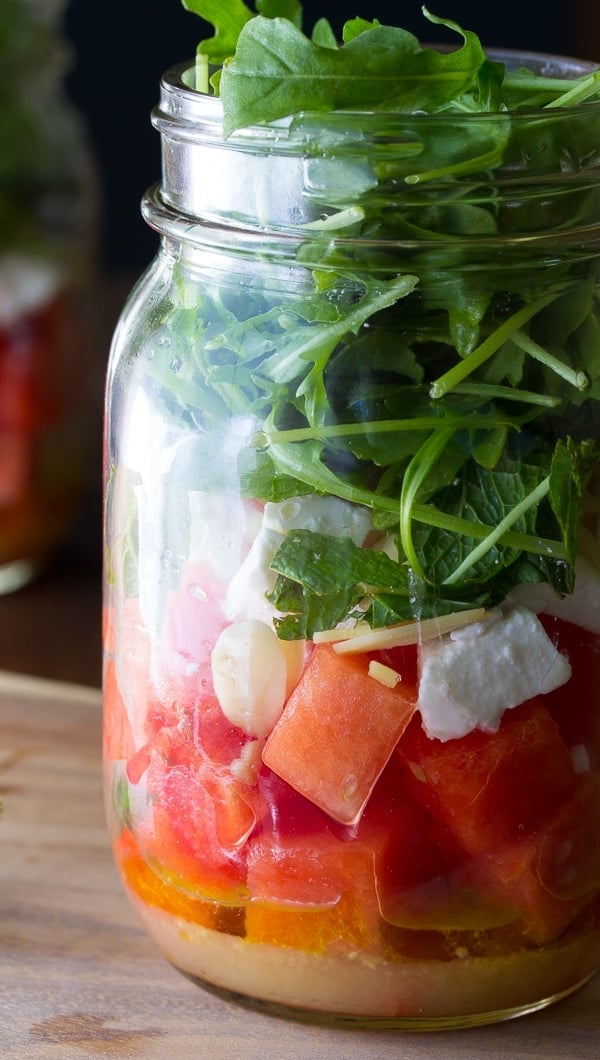 Arugula and Watermelon Salad in a Jar
4
adjust servings
A refreshing watermelon salad that is stored in a mason jar. Perfect for a picnic, or work lunch!
Ingredients
Vinaigrette
1/4

cup white wine vinegar

1/4

cup olive oil

1

teaspoon dijon mustard

4

teaspoons sugar
Salad (per salad)
1

cup seedless watermelon, cut into 1.5 cm cubes

1

tablespoon feta cheese, crumbled

1

tablespoon almonds (slices)

1

teaspoon mint, torn

arugula (as much as will fit)
Instructions
Shake together all vinaigrette ingredients.
Divide dressing up: 2 tablespoon in the bottom of each mason jar.
Add the salad ingredients to the mason jars in the following order: watermelon, feta, almonds, mind, arugula.
To serve: shake all ingredients out into a bowl and enjoy immediately.
Recipe Notes
Nutritional Information:
1 salad
Calories 269 // Saturated Fat 7 g // Cholesterol 8 mg // Sodium 107 mg // Carbohydrate 19 g // Fiber 2 g // Sugars 16 g // Protein 22 g
This salad kept for 24 hours in the fridge, although it was best enjoyed the day it was prepared.
Products used in this recipe: