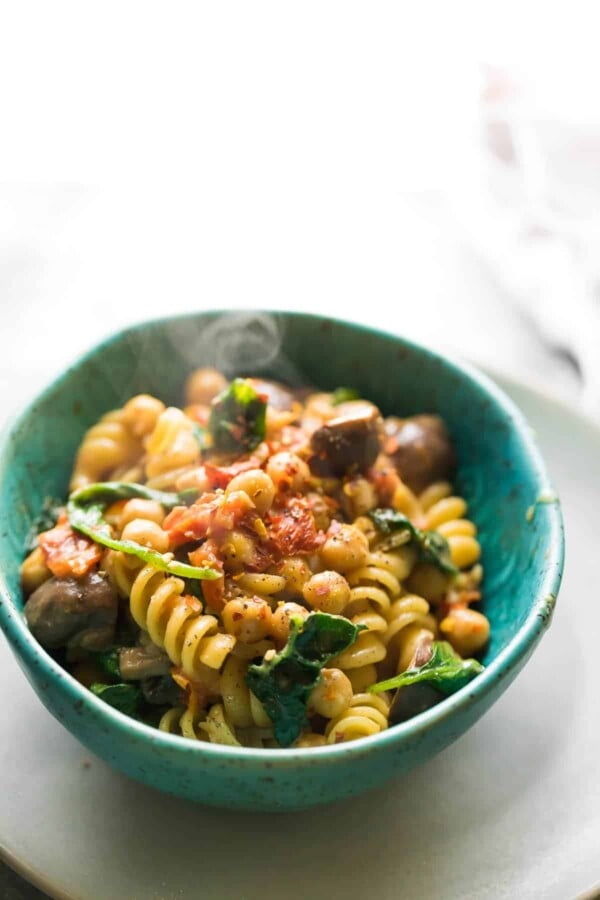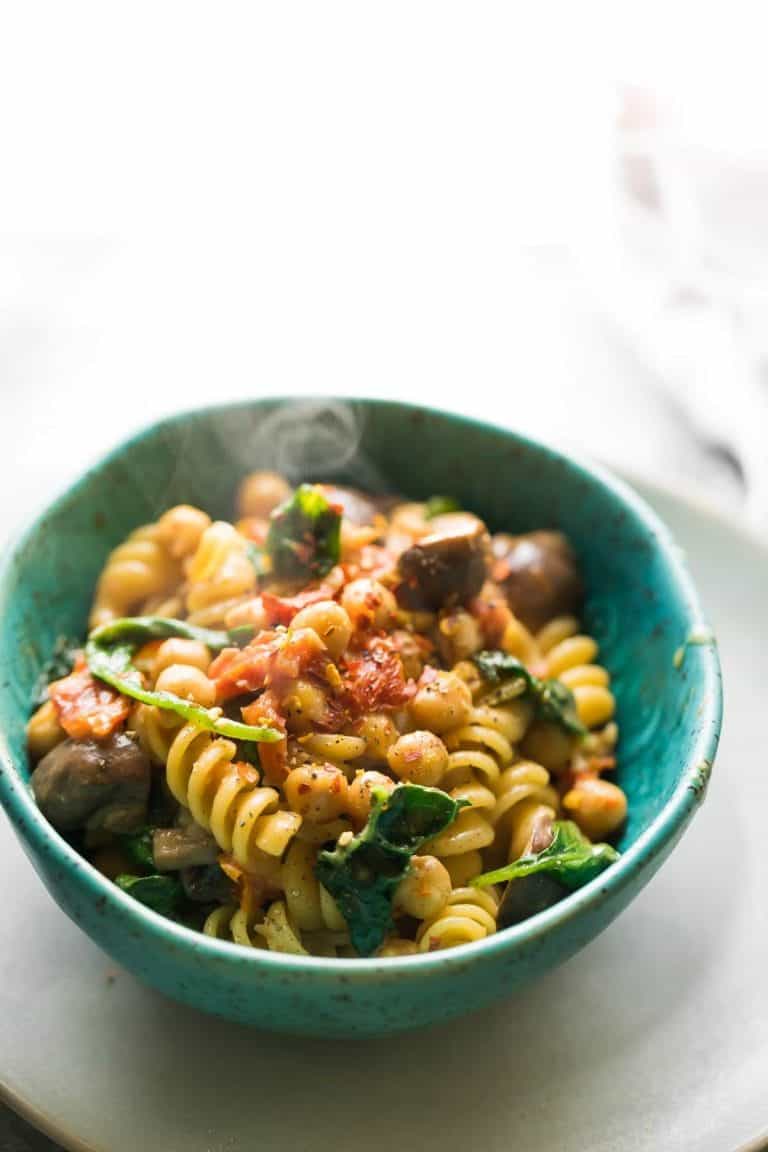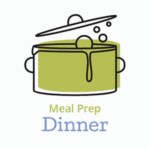 Sun dried tomato chickpea one pot pasta with mushrooms and spinach, which can be assembled up to 3 days ahead for a super easy meal prep dinner recipe!
You know what I love? A fridge full of possibilities.  Even better if those possibilities are already half way to a healthy meal.
Today's sun dried tomato chickpea one pot pasta is inspired by 5-pm, when your brain wants to power down for the day.  You don't want to think of a dinner idea.  You don't want to measure stuff.  You just want to dump something into a pot and be done with it, right?
This recipe takes only ten minutes to toss together in the pot, which seems pretty darn easy.  But doing this step ahead of time?  Even easier.
Barely any measuring, hardly any thinking involved, and you can use your brain for other pressing 5-pm matters…like keeping your toddler from crashing his singing elephant ride-on toy into the wall, and your husband from opening the tortilla chips <– "it's literally TEN MINUTES till dinner!!!"  Those were weirdly specific examples.  Not inspired by my own family, I swear!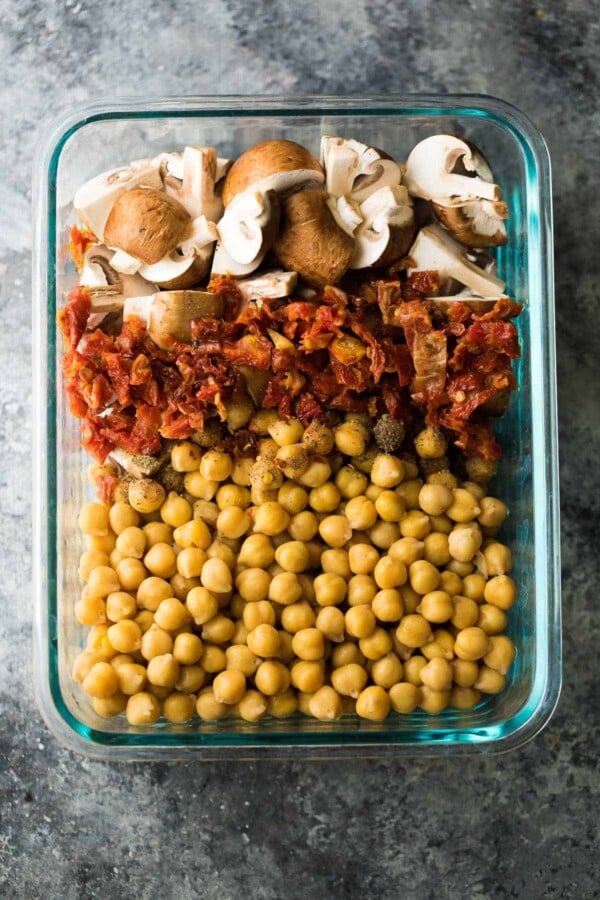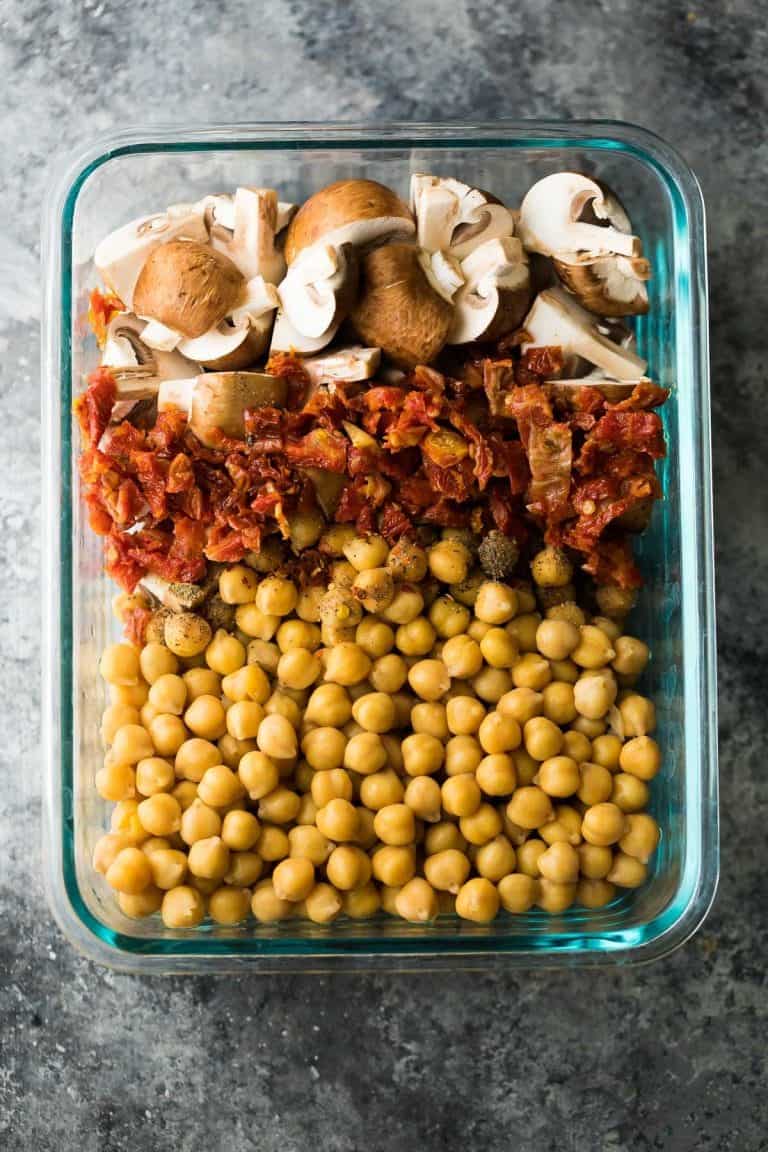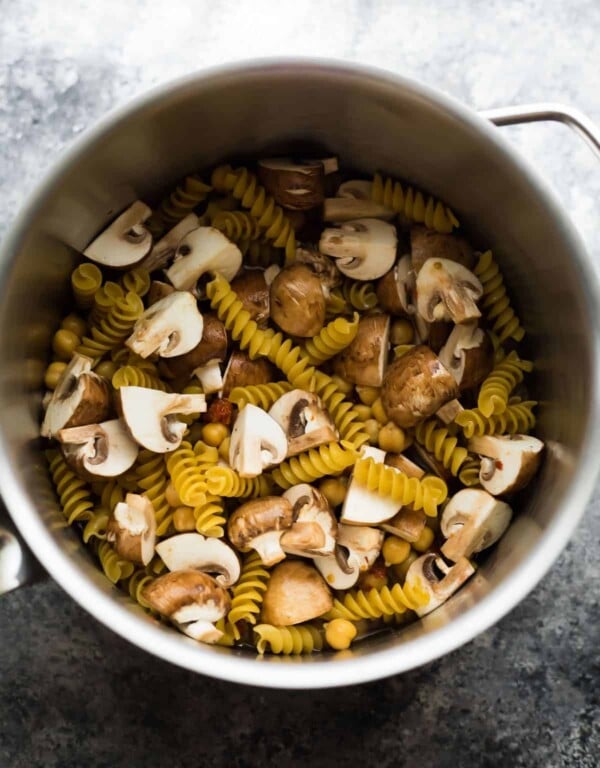 We've been eating more and more vegetarian meals, which is a-OK with me because it's better for the environment, and a lot easier on our grocery bill.
Plus, a lot of you are looking for prep-ahead vegetarian recipes, and I'm 1000% happy to help out with this 😉
It's been awhile since I posted a prep head one pot pasta recipe (this Make Ahead One Pot Black Bean Fajita Pasta was posted waaaay back in February!), and it was time to revisit the concept.
Ben is sometimes of the mindset that vegetarian can't be filling, but both of us agreed: this sundried tomato chickpea pasta is very filling!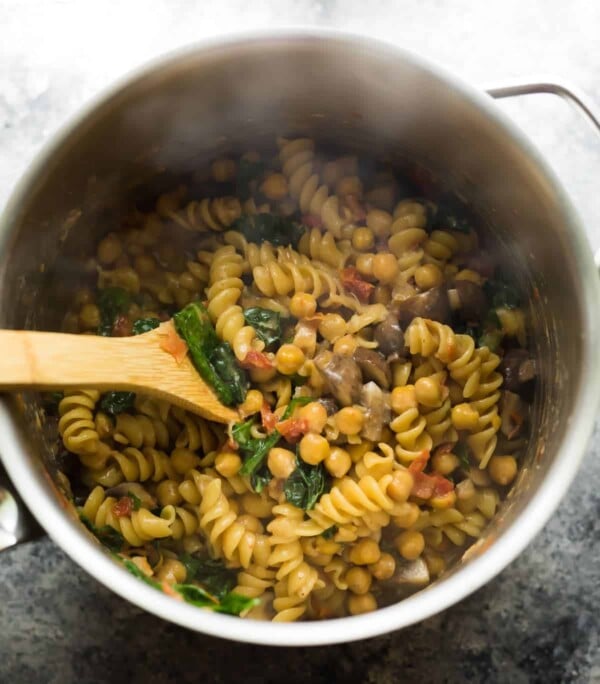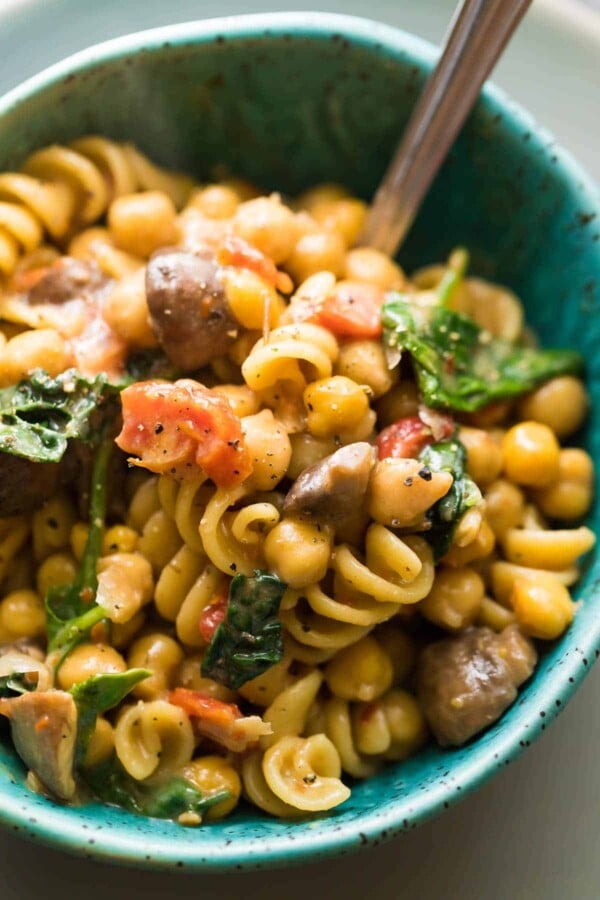 If you haven't tried one pot pasta before, prepare to have your mind blown.  So much flavor absorbs into the pasta as it cooks, and it gets so creamy even without adding cream.
For this sundried tomato chickpea pasta, the flavor comes from the sundried tomatoes and mushrooms, which go together like two peas in a pod.  This pasta was actually inspired by the sundried tomato, mushroom & spinach egg muffins in this post!  Once you find a great flavor combo, you run with it 😉
Tips for your perfect sun dried tomato chickpea one pot pasta
Sun Dried Tomato Chickpea One Pot Pasta (Meal Prep)
4
adjust servings
Ingredients
6

oz mushrooms, quartered

1/4

teaspoon salt

1/4

teaspoon pepper

1/4

teaspoon red pepper flakes

1/2

cup sun dried tomatoes, oil drained off and chopped into small pieces

19

oz can of chickpeas, drained & rinsed

2

cups dried pasta (smaller shapes work well; 6.5 oz)

2

cups vegetable stock
Just before serving
3

cups spinach

1

cup cheese, (mozzarella or swiss cheese) shredded
Instructions
To Cook Right Away
In a medium pot, combine the mushrooms, salt, pepper, red pepper flakes, sun dried tomatoes, chickpeas, pasta and stock.
Cover, bring to a boil, reduce heat, then simmer for 10 minutes, stirring every 2 minutes.
Stir in the spinach and cheese until cheese is melted and spinach is wilted.
Enjoy!
To Assemble Ahead
In a storage container, combine the mushrooms, salt, pepper, red pepper flakes, sun dried tomatoes and chickpeas.
Store in the fridge for up to 3 days (good for 5 days without the chickpeas).
When you're ready to cook, add container contents to a pot along with the pasta and stock and follow the cooking directions above.
Recipe Notes
Nutritional Information: ¼ batch
Calories 454 // Fat 8 g // Saturated Fat 4 g // Cholesterol 15 mg // Sodium 954 mg // Carbohydrate 72 g // Fiber 24 g // Sugars 6 g // Protein 25 g