This slow cooker pork tenderloin is cooked in a tangy balsamic sauce with sweet potatoes, then topped with a fresh strawberry salsa!  An easy week night dinner recipe.
Whoa.  Did I just copy and past the top photo from Thursday's Sweet Chili Salmon & Broccoli Quinoa Bowls or what?
I just couldn't help myself…that drizzly spoon gets me, every single time 😉
Today I have a recipe for us that is just as easy as Thursday's 30 minute recipe.  It might actually be easier, because all you need to do is throw some things in the slow cooker and let it work its magic for the next 6-8 hours!
This slow cooker balsamic pork tenderloin recipe seriously makes dinner a breeze!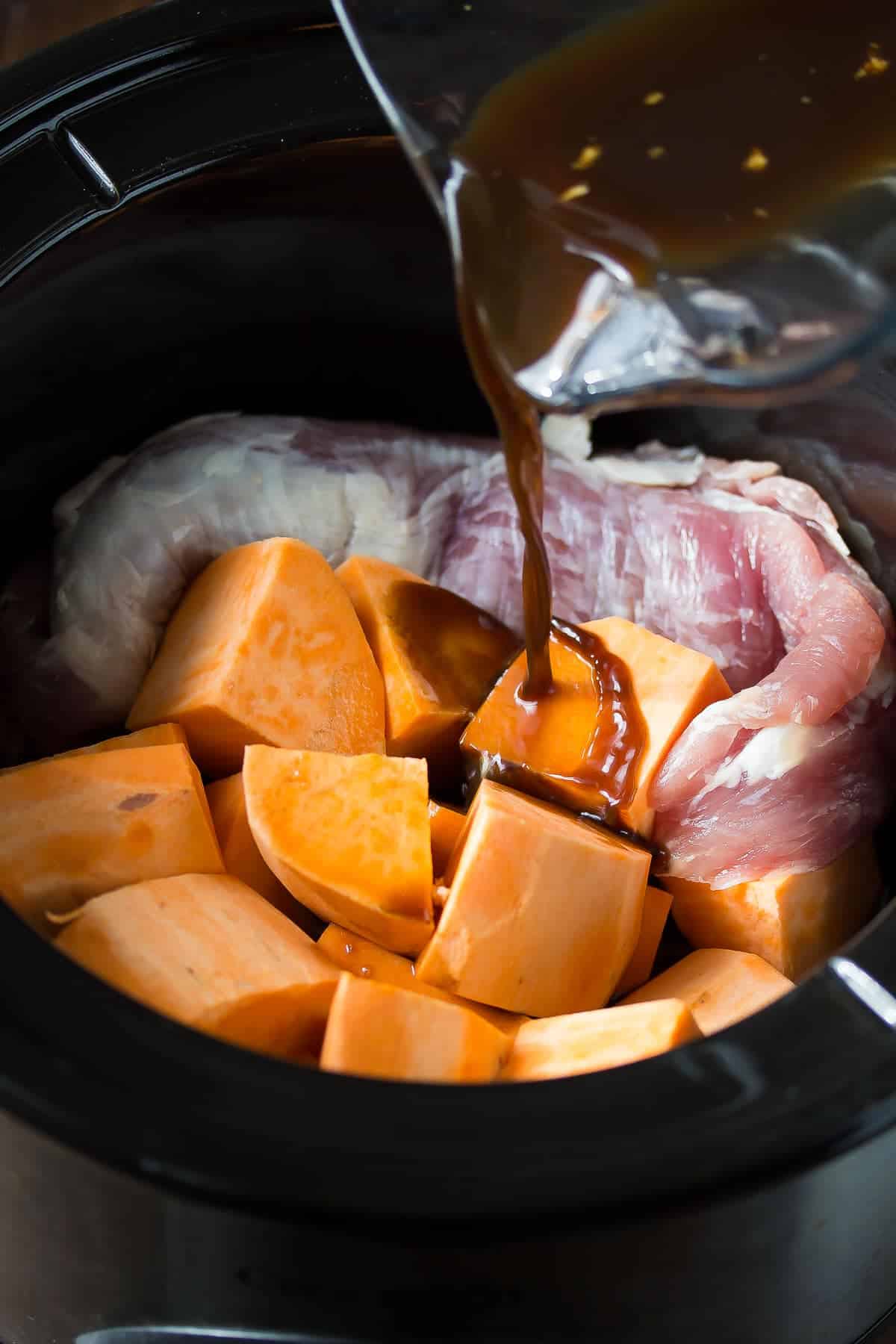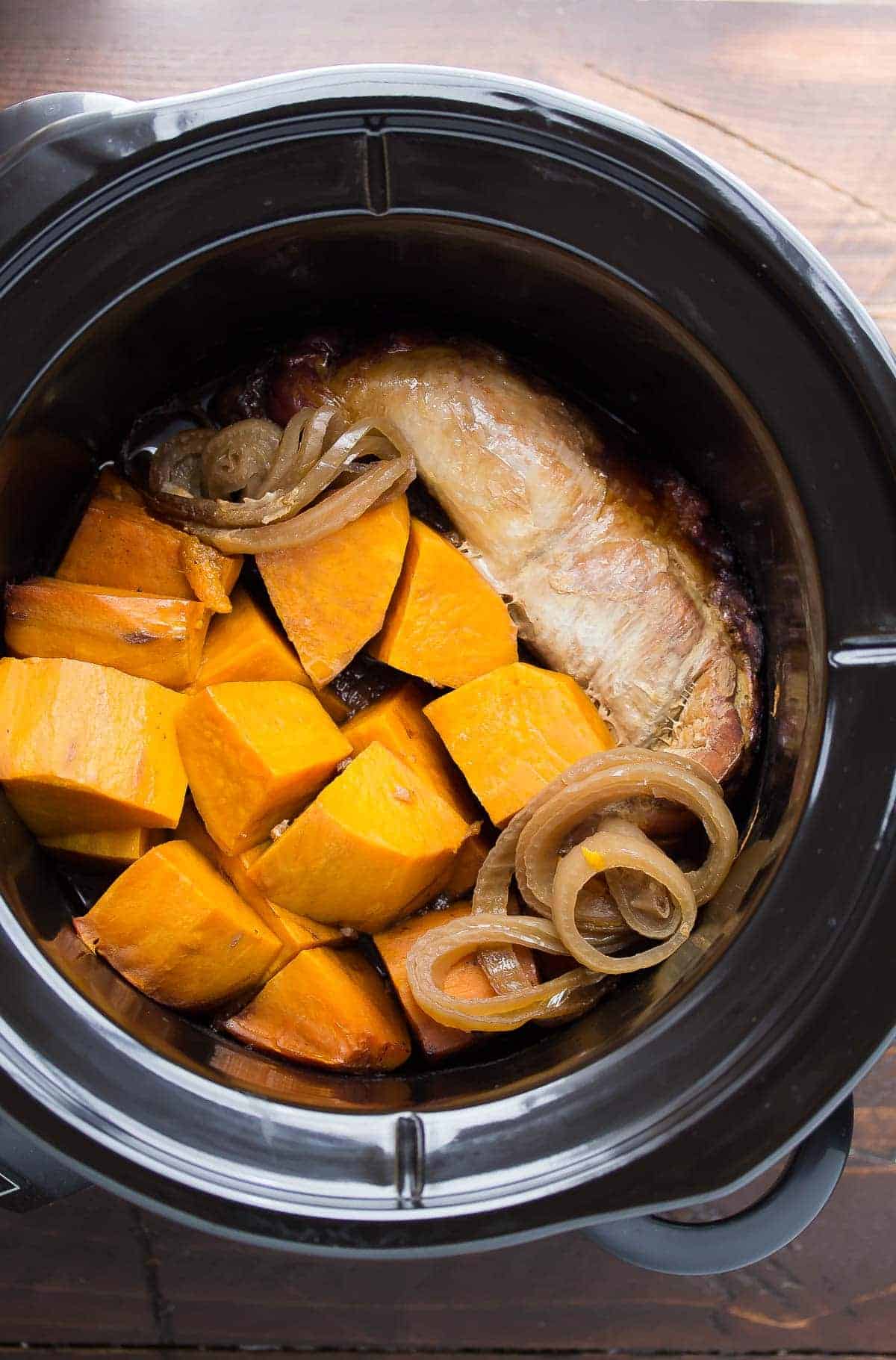 Can I share a little secret with you?  I have been an anti-slow cooker pork tenderloin kind of gal for awhile now.
Why?  Because pork tenderloin is a nice cut of meat that doesn't need the 'low and slow; thing.  Pork shoulder neeeeds the low and slow, but pork tenderloin is great in the oven or even grilled.
Then.  I opened my freezer, only to see two pork tenderloins sitting there, starting to get a little freezer burn happening.  Since pork tenderloin always seems to involve a few extra steps, we haven't actually been eating it.  And that makes me sad.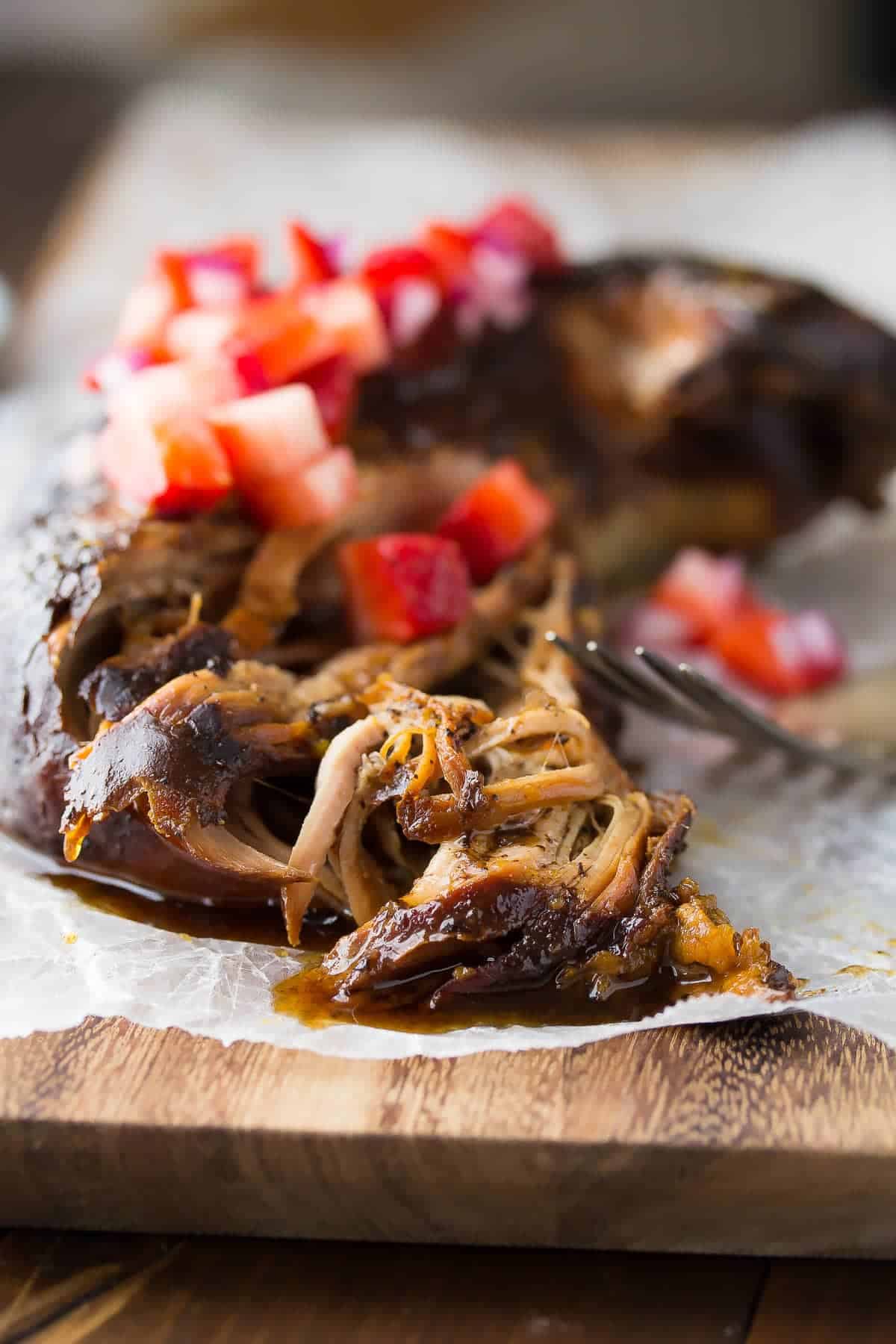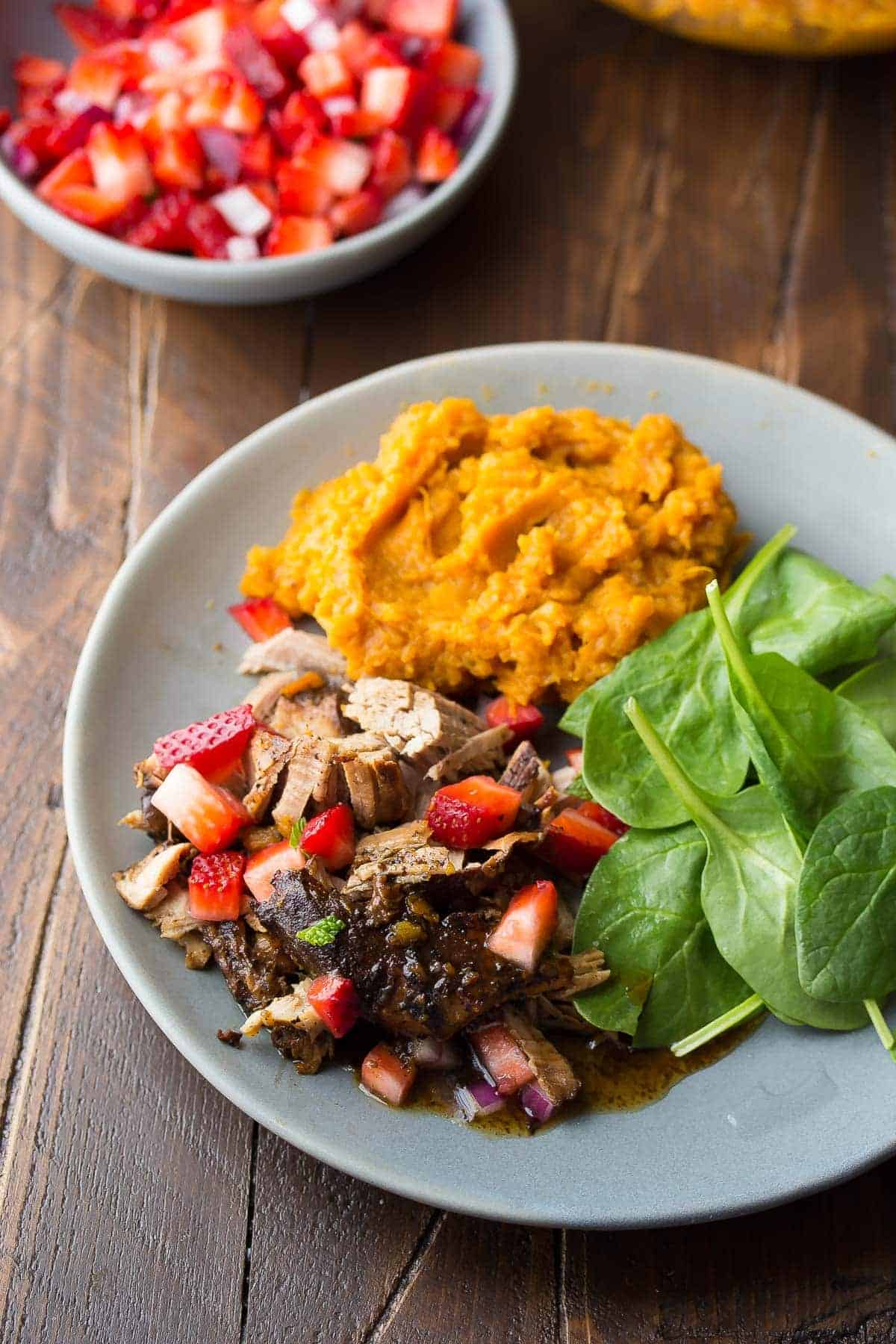 So instead of being a pork tenderloin snob, I decided to break out the slow cooker.
This slow cooker pork tenderloin is cooked up in some stock, balsamic vinegar, brown sugar and garlic.  I threw some sweet potatoes in there to cook at the same time.
After cooking, I pulled out the sweet potatoes and mashed them up, then cut up a quick strawberry salsa for on top of the pork tenderloin.  Strawbs + balsamic vinegar + pork tenderloin are just meant to be together!
This recipe has no marinating, no heating up the oven, no cooking it for 40+ minutes.  Just pop it in the slow cooker and pull it out 6-8 hours later.
Now that is my kind of recipe!

Slow Cooker Balsamic Pork Tenderloin with Strawberry Salsa
4
adjust servings
Ingredients
Balsamic Pork Tenderloin & Sweet Potatoes
1

pork tenderloin (400g/ 14oz)

1/2

cup chicken stock

1/2

cup balsamic vinegar

1/4

cup brown sugar

3

cloves garlic

1/2

red onion, sliced

1

sweet potato cut into large chunks (4-6 cups)
Strawberry Salsa
2

cups diced strawberries

2

tablespoons red onion, finely diced
Instructions
Place the onion slices on the bottom of the slow cooker. Arrange the pork tenderloin and sweet potato chunks over top.
In a small bowl, whisk together the chicken stock, balsamic vinegar, brown sugar and garlic. Pour over the pork and sweet potatoes.
Cook on the lowest setting for 6-8 hours.
Remove the sweet potato from the slow cooker using tongs, and place in a large bowl. Mash with a potato masher and taste. If you find the flavor too intense, try adding ¼ cup of greek yogurt to mellow it out.
Assemble the strawberry salsa and serve over the pork, with extra sauce from the crock pot.
Recipe Notes
Nutritional Information:
pork tenderloin, strawberry salsa and mashed sweet potatoes
Calories 319 // Fat 8 g // Saturated Fat 4 g // Cholesterol 92 mg // Sodium 97 mg // Carbohydrate 29 g // Fiber 2 g // Sugars 19 g // Protein 27 g
Use a large pork tenderloin (400g/14 oz) to get 4 servings. Smaller pork tenderloins may only serve 3 people.
Products used in this recipe:
More delicious slow cooker pork tenderloin recipes: