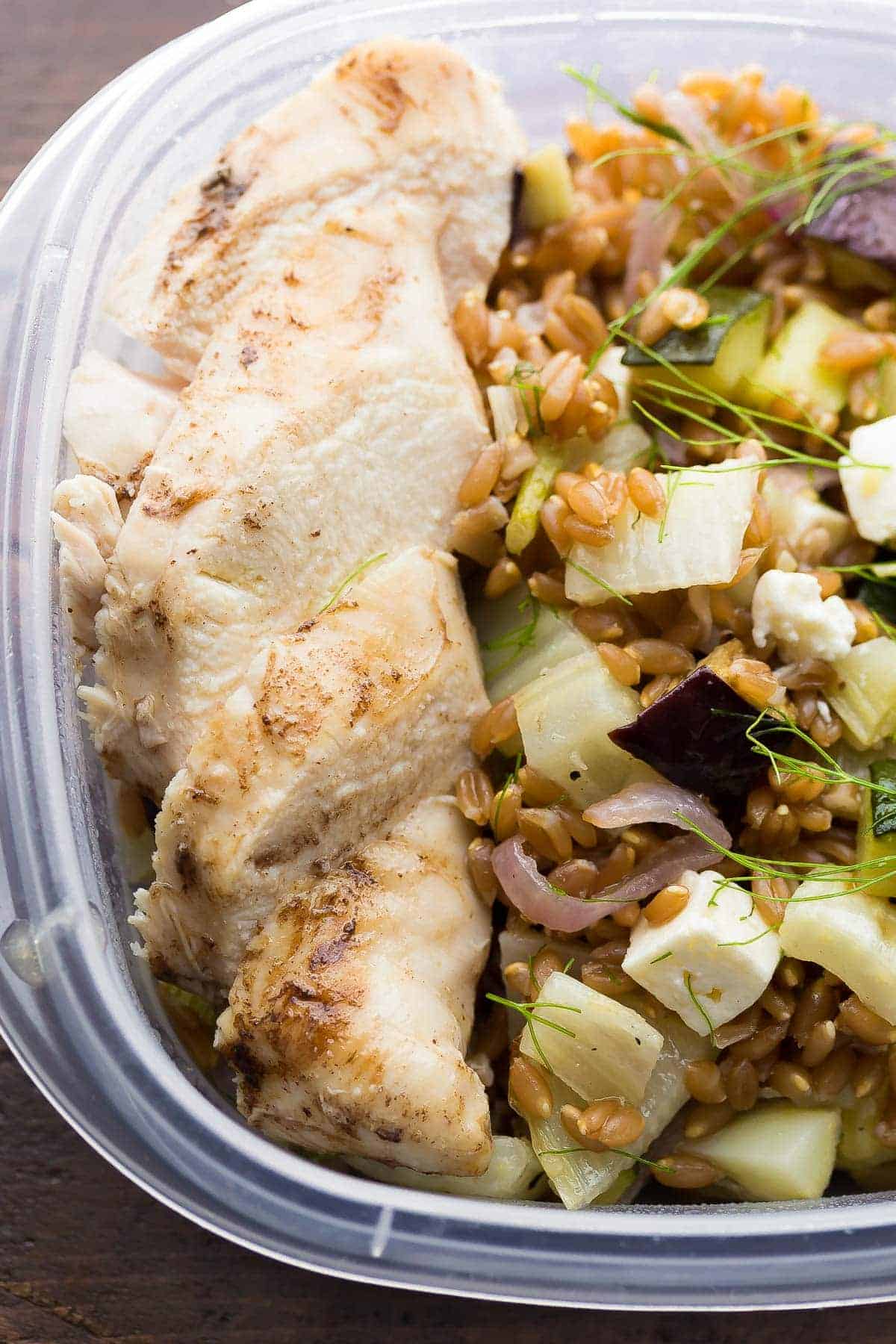 Make this Mediterranean farro chicken lunch bowl recipe on the weekend and you'll have four lunches ready for the week!
I am so grateful for this blog…it has taken me SO much father than I had ever dreamed.
Not only is it my full time job now (pinch me please, is this real life?), but I have learned so much about food, become more adventurous in trying new recipes, and discovered some amazing new ingredients I would never have dared try in my former life.
Last month I was proclaiming my love for steel cut oats, and now here I am proclaiming my newfound love for farro.  It is seriously my new favorite grain to use in make ahead lunch bowls.  And today I have a great new recipe for you to use it in: this Mediterranean chicken farro lunch bowl recipe.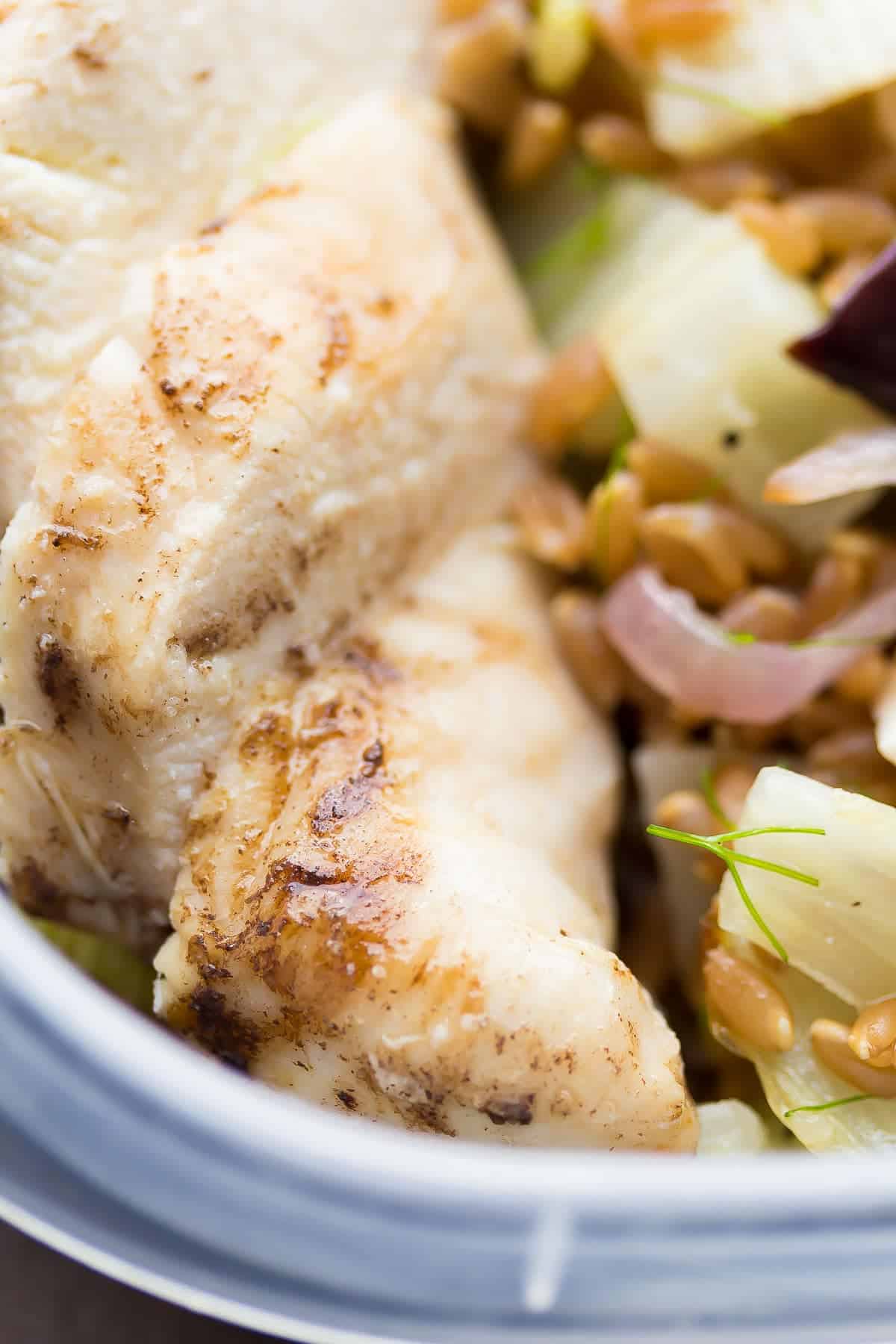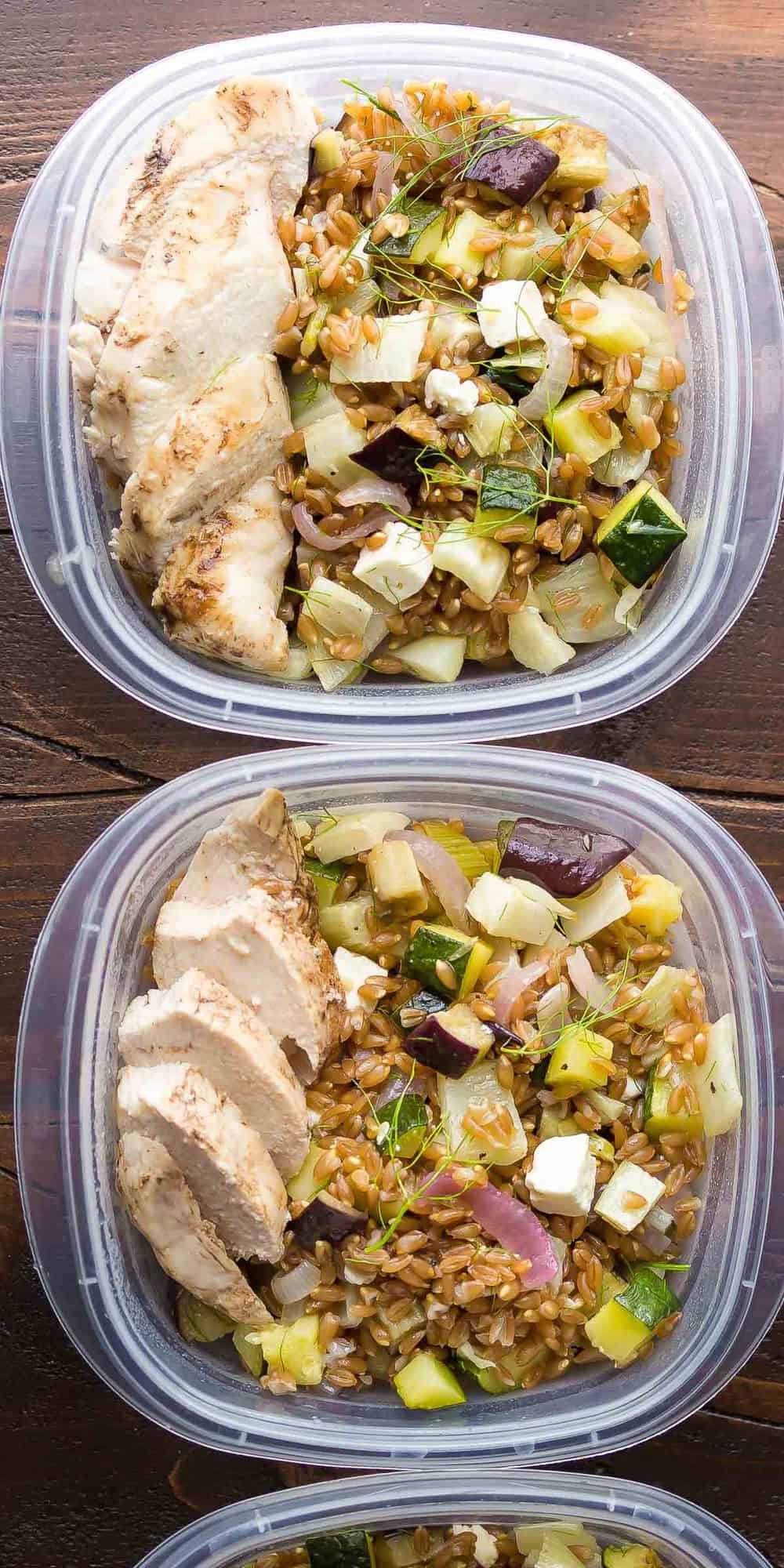 Why do I love farro so?  It's all about the texture.  They chewy, delicious texture.  It doesn't hurt that it is extremely filling.
And because my lunch bowls sit in a vinaigrette for up to 4 days, you need a grain with texture that can stand the test of time.  Farro passed with flying colors 😉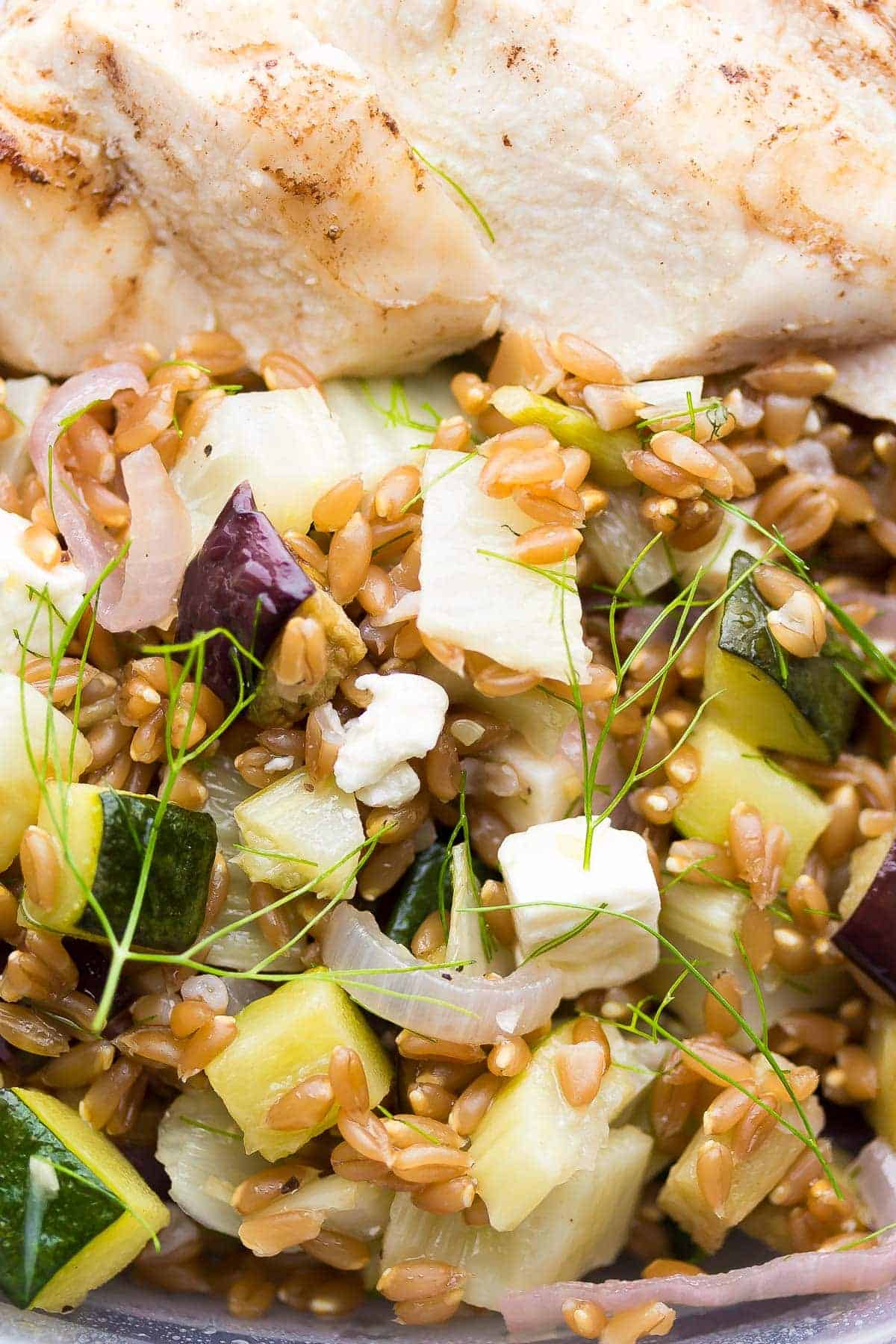 For this chicken lunch bowl recipe, I channeled some Mediterranean flavors by roasting eggplant, zucchini and fennel.  Oh my goodness me, roasted fennel is also going on my list of newfound loves.
It gets slightly sweet, has a great texture and is oh-so-good in this Mediterranean farro chicken lunch bowl recipe.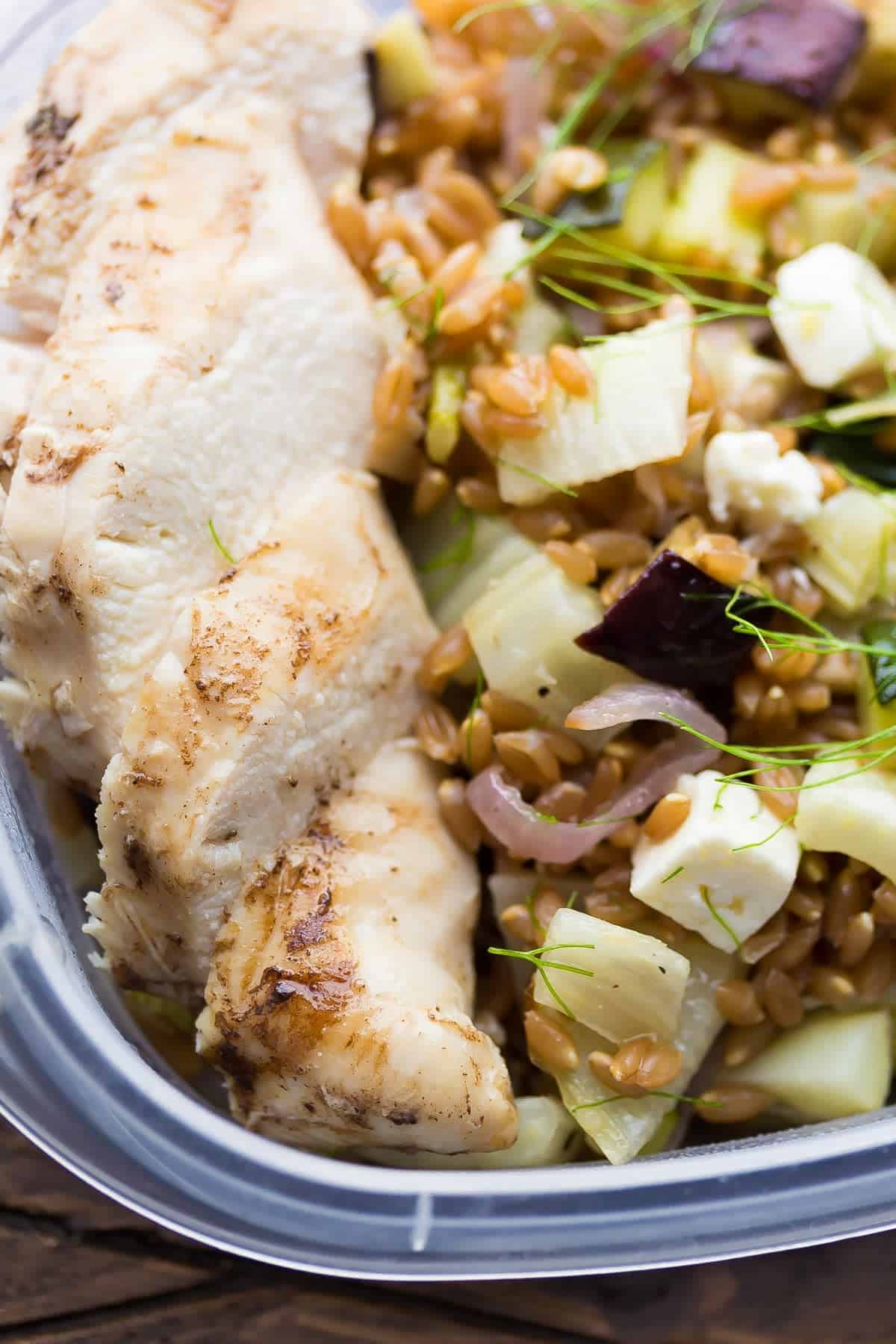 I roasted up the veggies in balsamic vinegar, along with a couple of chicken breasts.  Then everything gets tossed in a tangy balsamic vinaigrette along with feta cheese.  While the cheese is shown cubed in the photos, make sure you crumble it.  Small but important detail for maximum feta cheese dispersal.
The final delicious detail?  Some of the fronds from the fennel, which have the fresh, anisey herb flavor, and the PERFECT compliment to feta and balsamic vinegar.
This Mediterranean farro chicken lunch bowl recipe will DEFINITELY give you something to look forward to at lunch, and they keep you full for longer.  Yay!
More make ahead lunches to look forward to:
Mediterranean Chicken Farro Lunch Bowl Recipe
4
adjust servings
Ingredients
Chicken
2

chicken breasts

1

tablespoon olive oil

1

tablespoon balsamic vinegar
Roasted Veggies
1/2

eggplant, cubed

1

medium zucchini, cubed

1

fennel bulb, cubed (fronds reserved)

1

tablespoon olive oil

1

tablespoon balsamic vinegar

salt and pepper
Vinaigrette
2

tablespoons olive oil

2

tablespoons balsamic vinaigrette

1/2

tablespoon maple syrup

1/4

teaspoon dijon mustard
Other
1/4

cup feta cheese, crumbled

2

tablespoons fennel fronds
Instructions
Cook farro according to package directions. Drain and rinse under cold water.
While farro is cooking, heat the oven to 425°F.
In a small baking dish, combine the oil and balsamic vinegar. Add the chicken and turn to coat. Season with salt and pepper. Bake for 5 minutes.
Toss the eggplant, zucchini and fennel in the olive oil and balsamic vinegar, then spread them out on a large parchment-lined baking sheet. Sprinkle with salt and pepper. Add to the oven with the chicken.
After the chicken has baked for 10 minutes total, turn it over and return to the oven. Bake for another 15 minutes, giving the veggies a stir once. Remove the chicken from the oven, and if the fennel is soft, remove the veggies from the oven as well.
After veggies and farro have cooled, combine them in a large bowl. Add the feta cheese, fennel fronds and vinaigrette, then toss to coat.
Divide the farro/veggie mixture between four portable containers. Top with the chicken.
Refrigerate until served (will keep for 4 days), and serve cold.
Recipe Notes
Nutritional Information:
Calories 411 // Fat 13 g // Saturated Fat 3 g // Cholesterol 78 mg // Sodium 353 mg // Carbohydrate 40 g // Fiber 9 g // Sugars 9 g // Protein 34 g
This recipe was also SUPER delicious with butternut squash!
The fennel is tender but still has some bite to it. If you want the texture to be softer, be sure to slice the fennel thinly.
Products used in this recipe: