How to freeze blueberries- a simple step by step tutorial with photos that shows you how to freeze fresh blueberries and enjoy them all year round!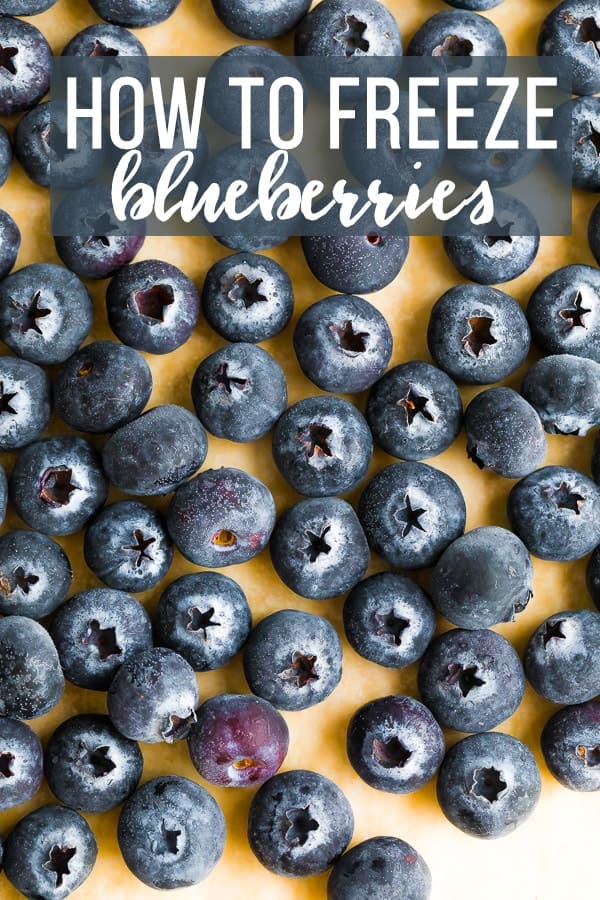 Blueberry season is way too short if you ask me. We love to load up on blueberries when they're in season and on sale and stock up the freezer so we can enjoy them year round.
Blueberries are one of the healthiest fruits out there! They are packed with antioxidants (aka: help prevent cancer and aging), vitamin C and fiber. They are low in calories but are sweet and delicious.
My favorite frozen blueberry recipes:
How to freeze blueberries: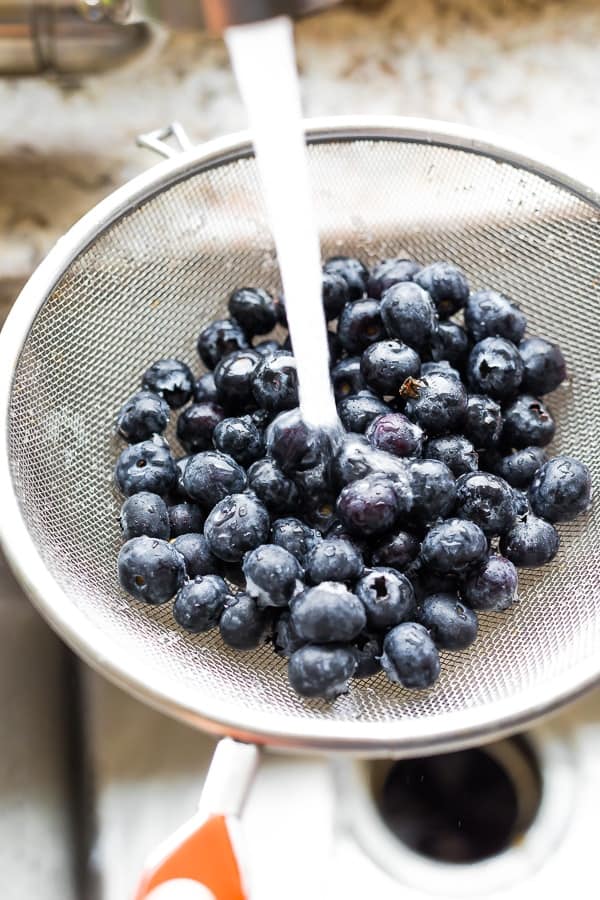 Step one: rinse your blueberries. Rinse gently in a colander under tap water for 20-30 seconds.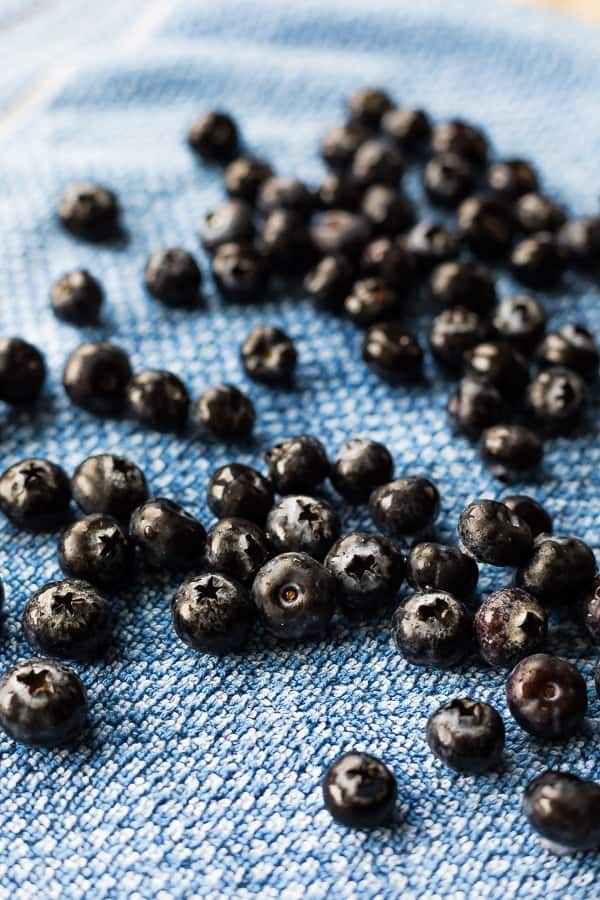 Step two: drain excess water. Allow to air dry on an absorbant towel for a few minutes. You can place another towel on top and gently rub the berries to remove water droplets. When it comes to freezing, water = freezer burn, so we want to dry our blueberries before freezing.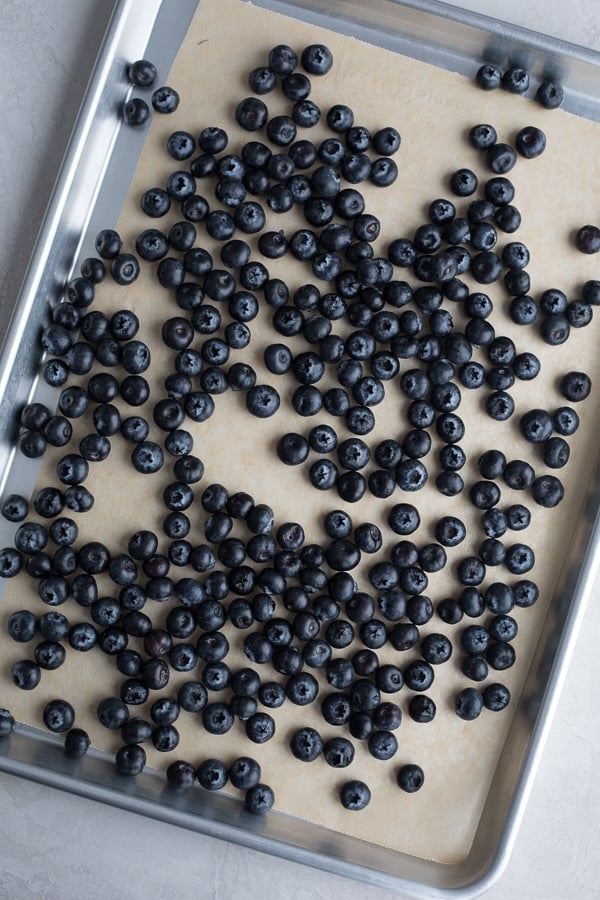 Step three: place on a parchment-lined baking sheet. Don't overcrowd the pan. Pick out any stems or berries with mildew.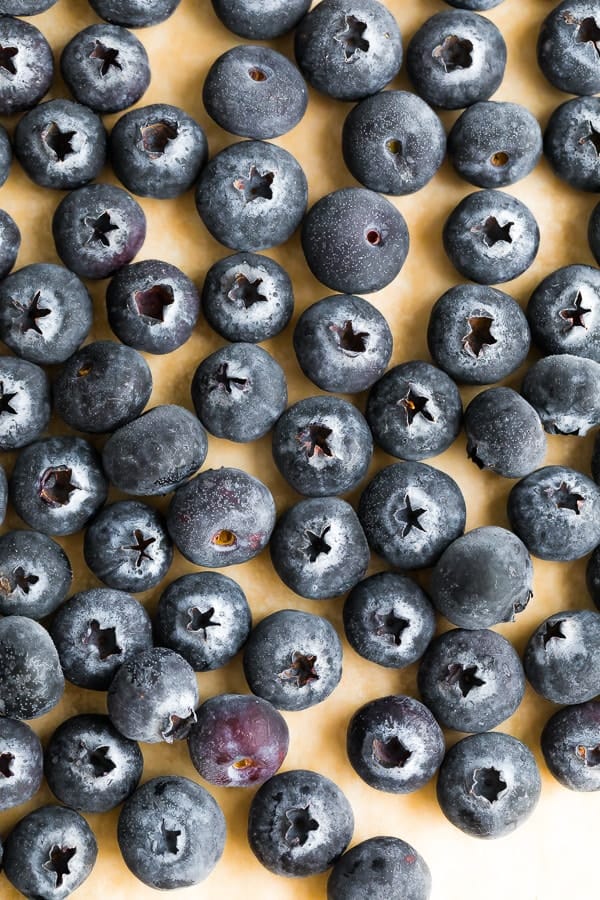 Step four: freeze for 3-4 hours.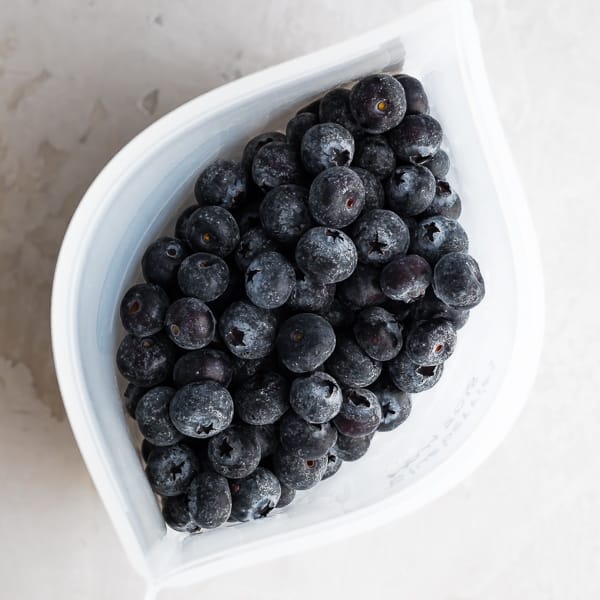 Step five: transfer to a freezer bag, labelled with the contents & date. Always label! You would be surprised how hard it can be to see what's in the bags once frozen. To remove extra air from the bag, you can use a straw to suck it out.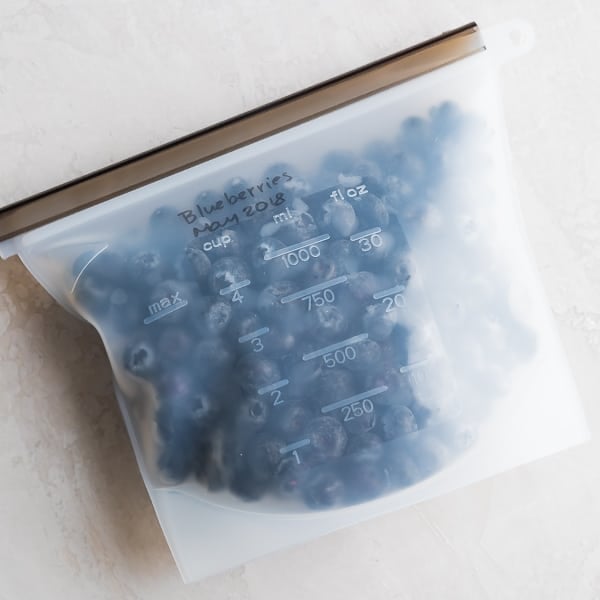 Step six: freeze for up to 1 year.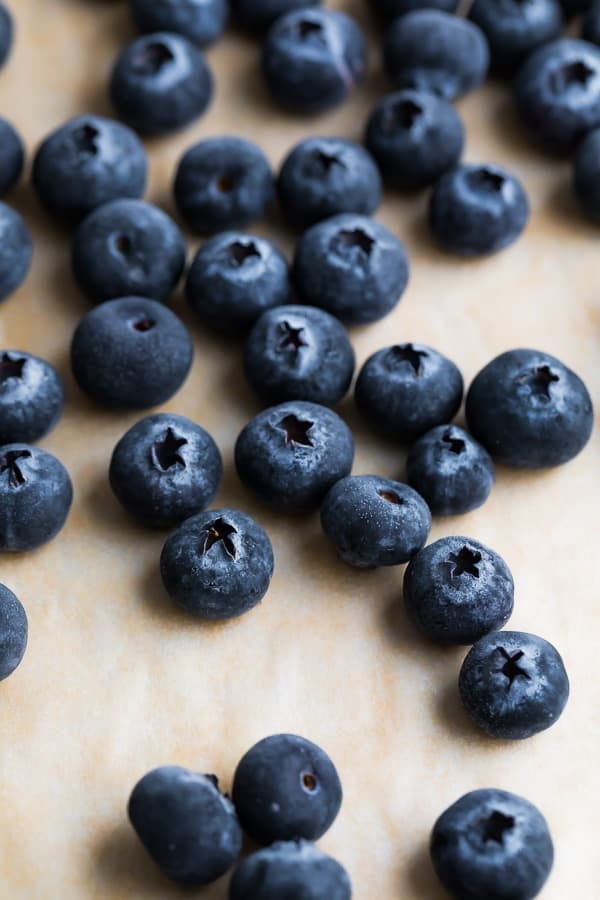 Frozen blueberries 101
Do I need to wash my blueberries before freezing them? Yes, it's highly recommended that you do rinse them down before freezing them.
Do I need to thaw my blueberries before using them?  This really depends on what you're using them for. Smoothies and many baked goods such as muffins and even pancakes do not require blueberries to be thawed, and you can put them straight in frozen.
If you are serving in a meal prep breakfast like over steel cut oats or parfaits you can simply portion them out into the containers with the other ingredients. They will thaw in the fridge overnight.
How do you thaw frozen blueberries?  The best way to thaw frozen blueberries is either to let them sit at room temperature, or to place the entire freezer bag in some cold water. This way, they will thaw gently and release less liquid. You can also thaw them in the microwave, but be warned they will release some liquid and will get juicy. This is not necessarily a bad thing when the blueberries will be used in a sauce or served over ice cream 😉
Do frozen blueberries have antioxidants? YES. New research suggests that freezing your blueberries actually increases the availability of antioxidants from blueberries. How cool is that?
How do I prevent frozen blueberries from sinking to the bottom of my baked goods? Tossing your frozen blueberries in some flour helps to keep them from sinking!
Equipment used for freezing blueberries:
Did you make this? Tag me on social @sweetpeasandsaffron and be sure to leave a comment and rate the recipe!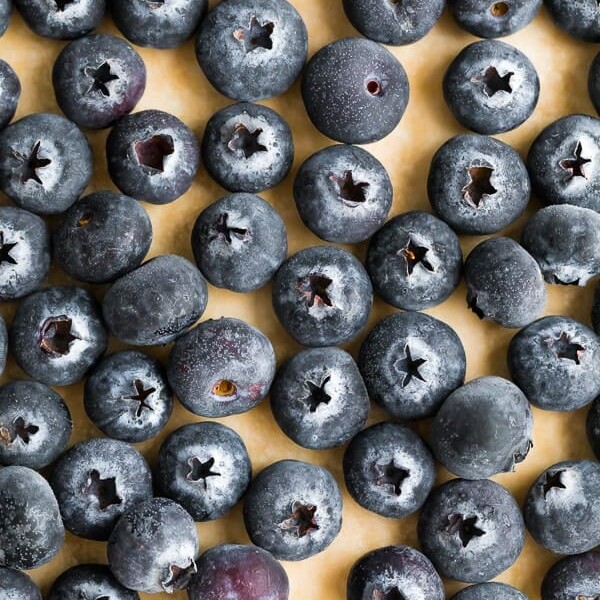 How To Freeze Blueberries
How to freeze blueberries- a simple step by step tutorial with photos that shows you how to freeze fresh blueberries and enjoy them all year round!
Instructions
Gently wash blueberries under tap water. Pick out any squishy or damaged berries.

Spread out on an absorbent towel and allow to air dry. You can gently dry them with a second towel.

Freeze overnight, or until berries are firm.

Freeze for up to 1 year.
Nutrition Information
Serving:
1
/8 of batch
,
Calories:
64
kcal
,
Carbohydrates:
16
g
,
Protein:
0
g
,
Fat:
0
g
,
Saturated Fat:
0
g
,
Cholesterol:
0
mg
,
Sodium:
1
mg
,
Potassium:
87
mg
,
Fiber:
2
g
,
Sugar:
11
g
,
Vitamin A:
60
IU
,
Vitamin C:
11
mg
,
Calcium:
7
mg
,
Iron:
0.3
mg
© Sweet Peas & Saffron - Content and photographs are copyright protected. Sharing of this recipe is both encouraged and appreciated. Copying and/or pasting full recipes to any social media is strictly prohibited.
Related: