Sharing the best lunch containers that will keep your lunch at the right temperature and tasting fresh for hours! Options for kids and adults, divided containers and more.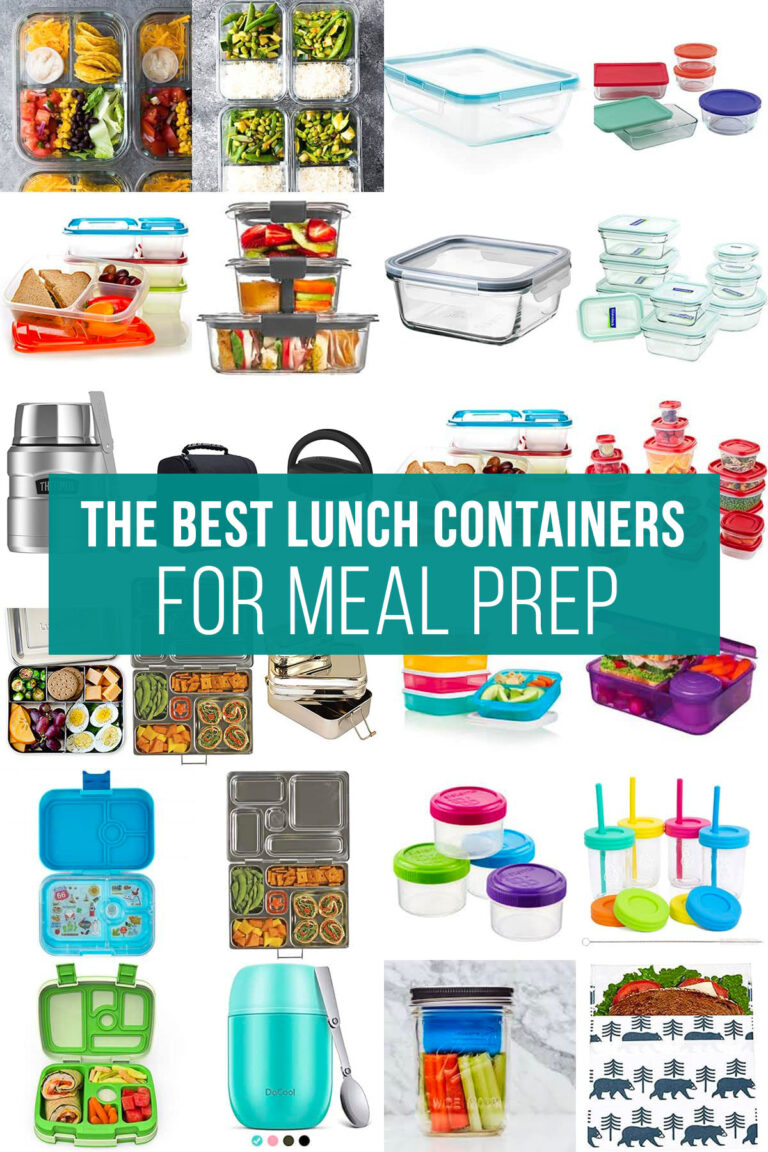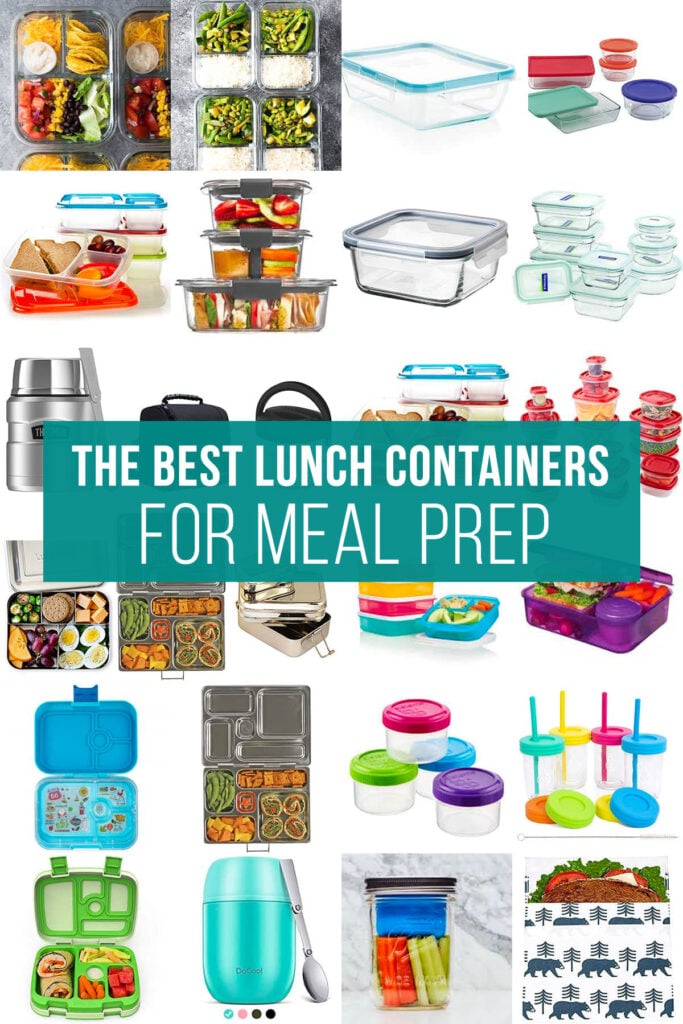 Don't forget to pin this post to save it for later!
Hi friends! My 5 Best Glass Meal Prep Containers post has been a popular post with you guys, so it's about time I posted my picks for best lunch containers.
A good lunch container will
keep your lunch tasting fresh
prevent certain ingredients from coming in contact with each other
keep your food at the right temperature
I asked the Sweet Peas & Saffron community for their favorite containers and have included some of the ones that came up time and time again. Thank you for sharing your favorite products with me!
Pst! Are you looking for packed lunch ideas? Check out this post with 54 Healthy Lunch Ideas for Work!
Don't forget to pin this post to save it for later!
1. Glass
Glass is a really smart choice over plastic for so many reasons including:
it's free from chemicals
it re-heats your food more evenly
it keeps your food fresher
glass is more environmentally friendly as it is much more durable than plastic
If you have the budget for them, they are a great investment. I recommend picking containers with a 2-3 cup capacity. My 2 cup containers fit a good-sized portion exactly, but if it's something you want to stir up you'd want 3 cup.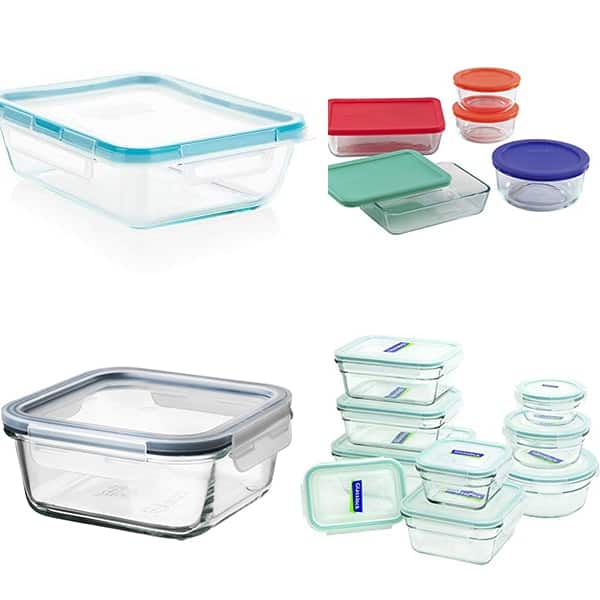 Snapware 2 Cup Glass Meal Prep Containers (my top pick- I kid you not, I own 40+ of these! Find at Target or Real Canadian Superstore)
Ikea Glass Meal Prep Containers (SPS community favorite; these containers come in a variety of sizes and are affordable. Lids are good quality and snap securely)
Pyrex 3-cup Glass Food Storage Set (over 2800 ratings on Amazon with 4.3 average rating. Affordable and a popular choice but people do complain about the lids)
Glasslock 18-Piece Glass Storage Container Set (a great starter set and has a variety of sizes)
2. Plastic
Plastic containers are cheaper, lighter, and are still fairly durable. They are a great choice when you are hiking, or if packing lunches for your kids. Make sure you pick one that is BPA-free.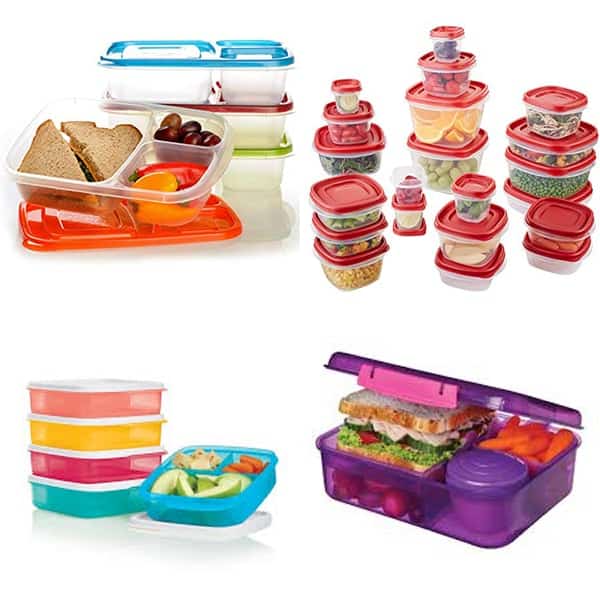 EasyLunchboxes 3-Compartment Lunch Containers (budget-friendly, light, and fits a lot of food)
Rubbermaid Easy Find Lids 50-Piece Set (love the variety of sizes that this package has)
Tupperware Lunch It Divided Containers (SPS community favorite)
Sistema Go Collection Bento Box (SPS community favorite)
3. Lunch containers with dividers
Dividers are essential for when you want to keep certain ingredients separated (like salads, pitas, dips etc). They are great because often you can fit your entire lunch in the one box and have snacks in one compartment and main course in another.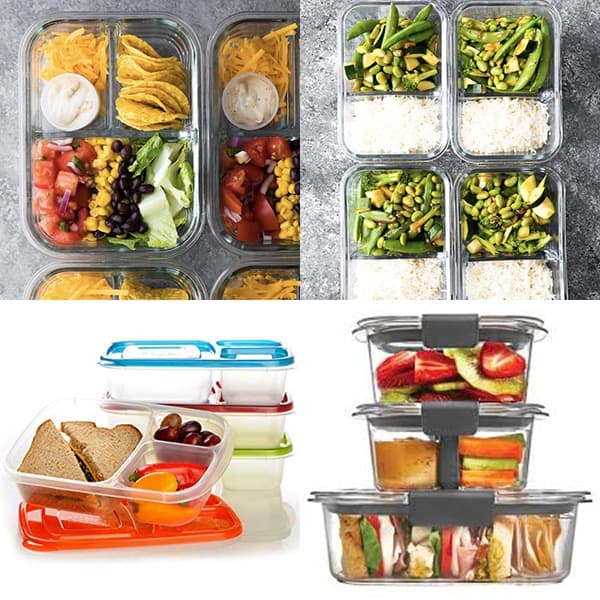 4. Stainless steel
Stainless steel containers like PlanetBox have a cult following! The pros of stainless versus glass is that stainless steel lunch containers will not break if dropped and are safer for kids. They are non-toxic (unlike plastic) and light to carry.
The cons? They are expensive, you cannot heat them in the microwave, and they are not 100% leak-proof.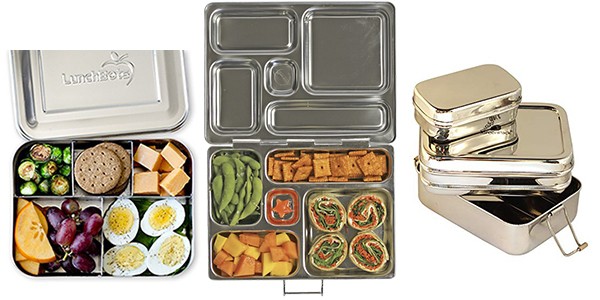 LunchBots Bento Trio (good for adults and kids)
PlanetBox Lunch Boxes (SPS community favorite; many people said they are worth the price and good for both kids and adults)
Medium 3-in-1 Stainless Steel Lunch Box with 3 Compartments (for adults)
5. Kids lunch containers
Packing our oldest a lunch that is nut-free, nutritious, and something he'll actually eat has certainly been a learning curve! One good choice we made was to invest in a good quality lunch box for him.
There are a ton of kid-friendly options on the market these days, all at different price points. I prefer a bento-style lunch box because it means less containers to wash and less likely we will lose containers/lids etc.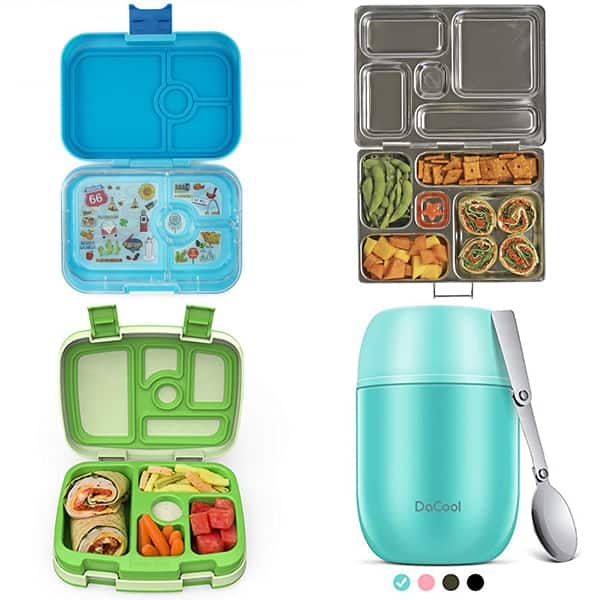 YUMBOX Panino Leakproof Bento Lunch Box Container (we own two of these and they are great- pricy but they've held up really well over the three years we've owned them)
PlanetBox Lunch Boxes (SPS community favorite; many people said they are worth the price)
Bentgo Kids Childrens Lunch Box (SPS reader favorite, is budget-friendly as well)
Insulated Lunch Container DaCool Hot Food Jar (a highly rated thermos on Amazon; only suitable for older kids I would think)
5. Insulated containers
These containers will keep your lunch at the right temperature so you a) don't have to reheat it or b) don't have to worry about it going off on your way to and from work.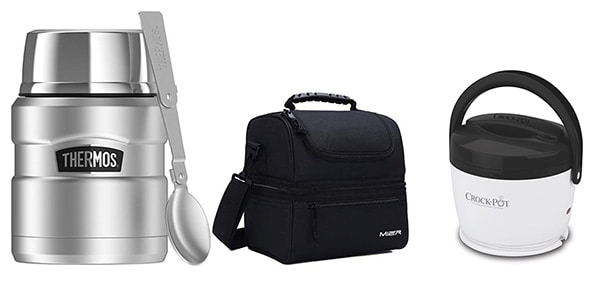 Thermos Stainless King 16 Ounce Food Jar (4800+ reviews with an average rating of 4.5)
MIER Adult Lunch Box Insulated Lunch Bag (2300+ reviews with an average rating of 4.4)
Crock-Pot Lunch Crock Food Warmer, Black (2400+ reviews with an average rating of 4.6)
6. Misc accessories
Don't forget about your sauces, dips and drinks! Here are some cool accessories that will take your lunch to the next level.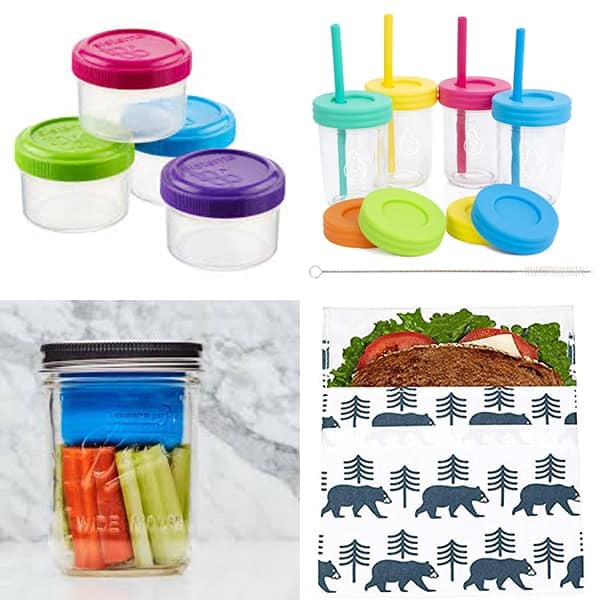 I didn't mention the humble mason jar, which is one of my faves. They are cheap, durable, and easy to find at the grocery store.
Do you have a favorite that I missed? Leave a comment below so I can check it out!
XO