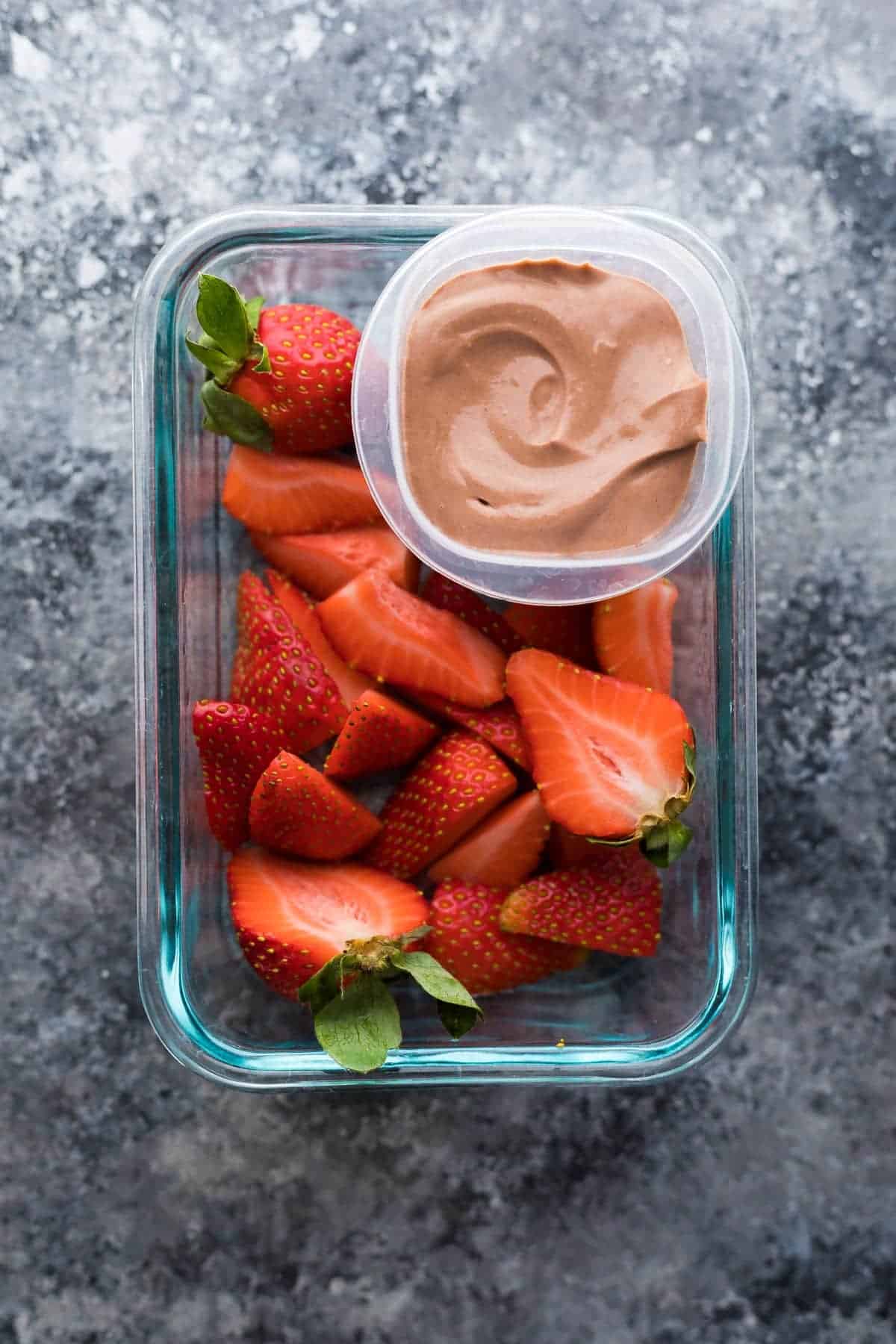 These Healthy Greek Yogurt Fruit Dips are a great way to help you up your fruit intake, and are a perfect meal prep snack idea!
After our January Lunch Prep Challenge, I realized I tend to lean towards savory snacks.
I have these Freezer Mini Pizzas, and these Cheesy Spinach Quinoa Cups.  And my love for hummus knows no bounds.
But healthy sweet snacks…I'm a little behind on.
Today's healthy greek yogurt fruit dips are my attempt to increase my fruit intake.  They are great to make ahead on the weekend (grand total of 5 minutes!) and eat throughout the week.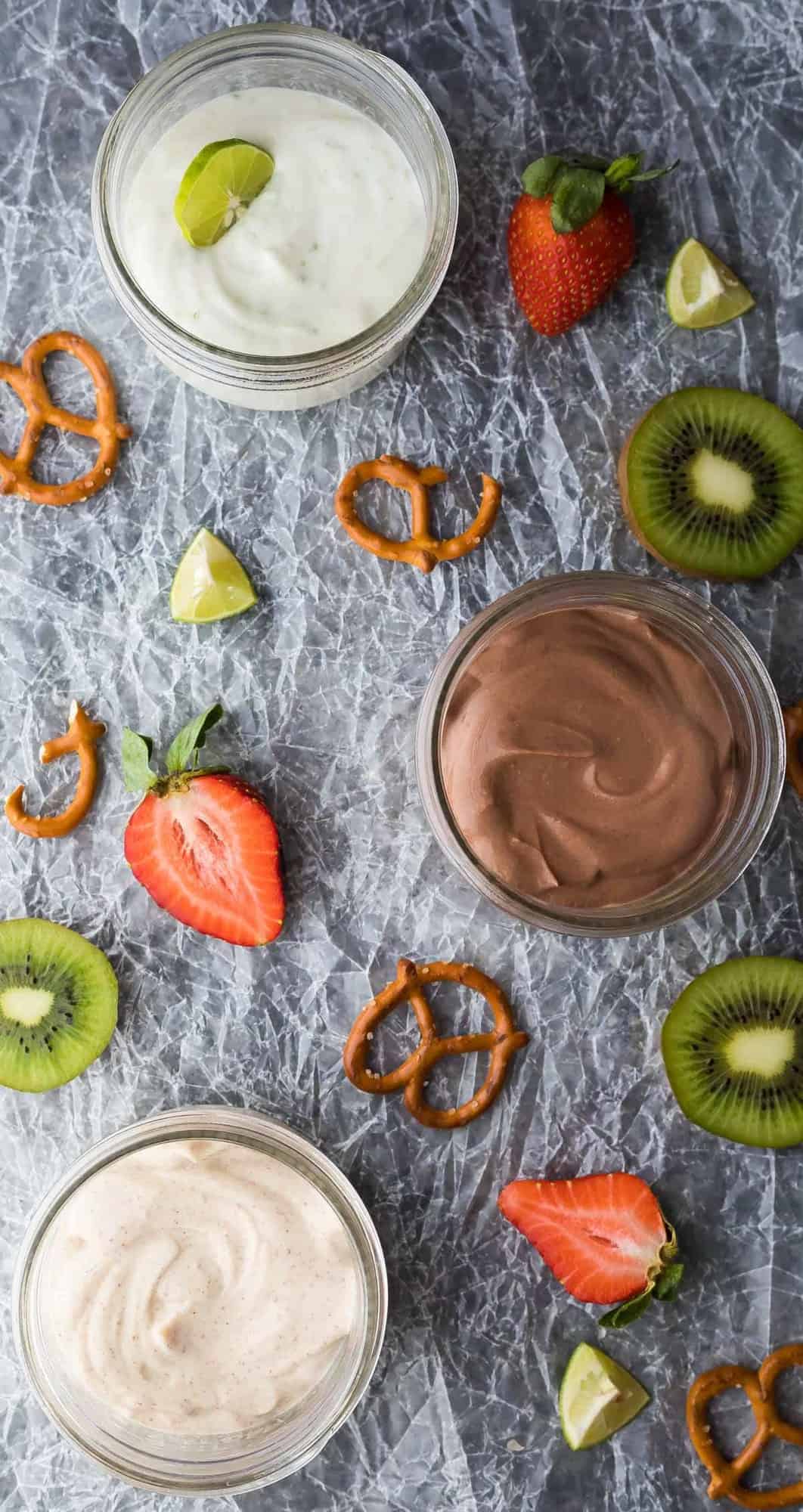 I have to say I never really understood the appeal of fruit dips when served on party platters.  This is probably because I'm not a 'fruit platter' kind of girl.  I'm all about that cheese plate 😉
But when thinking of different sweet snack options for a work lunch, I thought these greek yogurt fruit dips would be a great way to keep calories low while still giving a little more pizzaz to your packed fruit.
I couldn't keep it at one fruit dip, so I ended up coming up with three greek yogurt fruit dip flavors: chocolate, key lime and almond butter!
Each of these fruit dips makes 4 servings.  2 tablespoons per serving sounds small, but it's all you really need since they bring so much flavor to the fruit!
I love the idea of cutting up a bunch of fruit at the start of the week and portioning out these fruit dips.  You are setting yourself up to succeed and you'll be nourishing your body with lots of healthy fruit!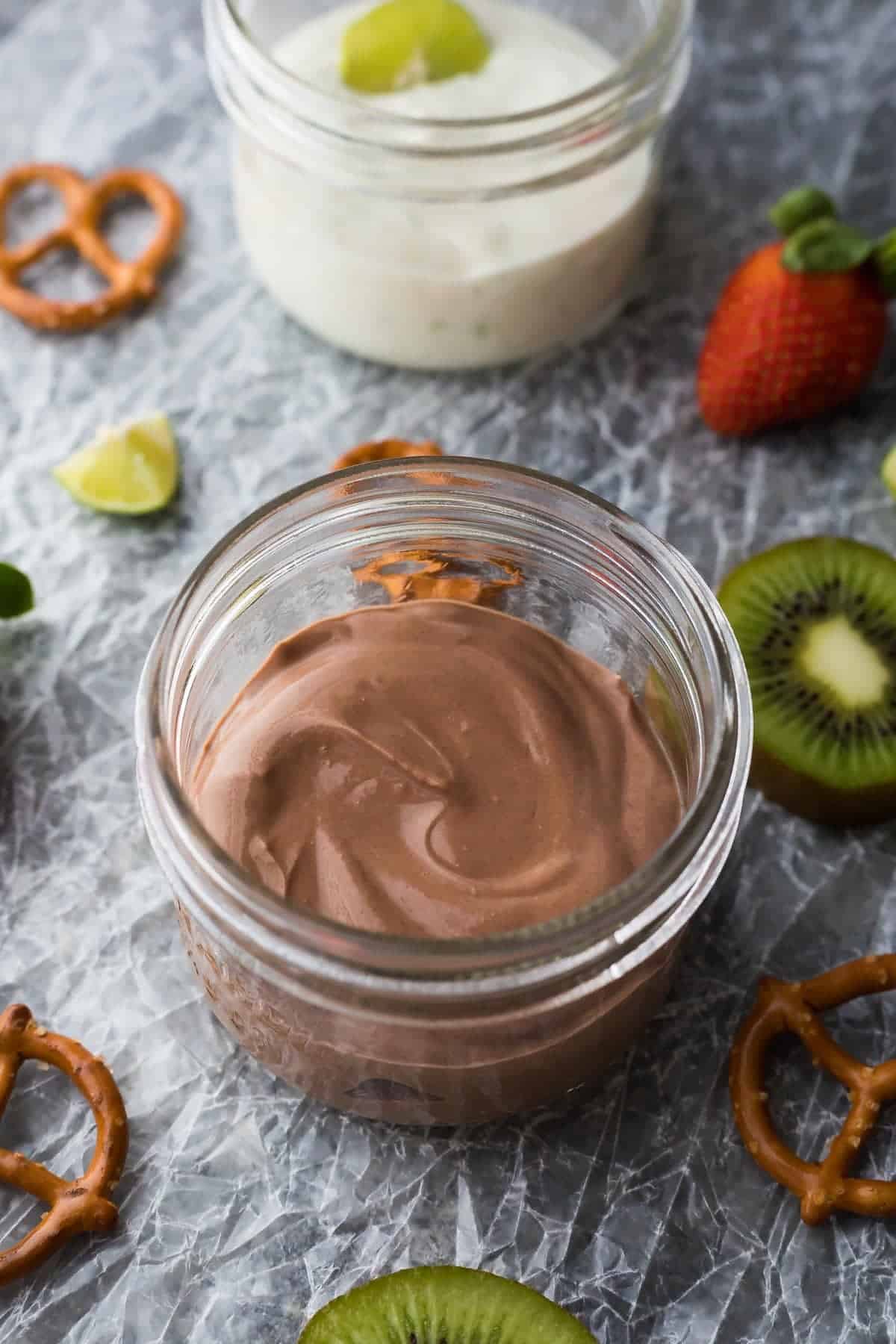 This chocolate greek yogurt fruit dip isn't sweet, although you can adjust the sweetness by adding more honey.  The sweetness comes completely from the fruit, and goes perfectly with the chocolatey, tangy greek yogurt fruit dip.
This dip is great with strawberries…but fruit almost always paris well with chocolate, so the sky's the limit with this one!
Chocolate Greek Yogurt Fruit Dip
Ingredients
½ cup plain greek yogurt
1.5 tablespoons honey
1 tablespoon cocoa powder
¼ teaspoon vanilla
1/16 teaspoon cinnamon (or just a generous pinch)
Instructions
Stir all ingredients together.
Portion out into 2 tablespoon portion and serve with fruit.
The second greek yogurt fruit dip flavor I came up with was key lime…I'm just such a key lime pie addict!  This key lime fruit dip is tangy and citrussy, and goes great with tropical fruit.
Key Lime Greek Yogurt Fruit Dip
Ingredients
½ cup plain greek yogurt
1.5 tablespoon honey
zest of 2 key limes
¼ teaspoons vanilla
Instructions
Stir together all ingredients, and separate out into 2 tablespoon portions.
Serve with tropical fruit.
The third fruit dip flavor is my favorite!  I didn't think I would love this almond butter greek yogurt dip as much as I do, but it's great!  The almond butter flavors are nice and mellow, and go great with all sorts of fruit.  I like to dip apple slices in this one!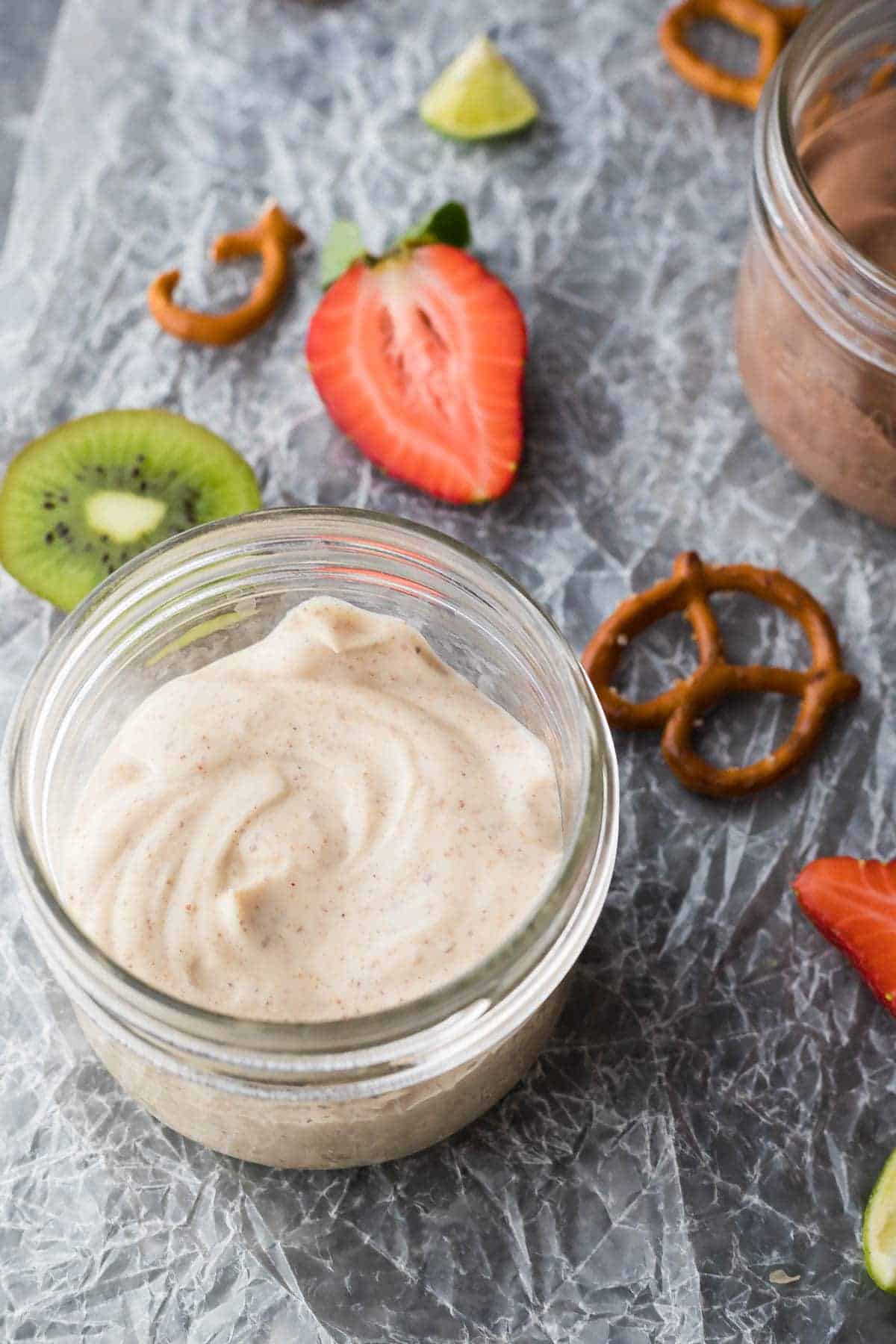 Almond Butter Greek Yogurt Dip
Ingredients
½ cup plain greek yogurt
1.5 tablespoons honey
1 tablespoon almond butter
¼ teaspoon vanilla
⅛ teaspoon cinnamon
Instructions
Stir together all ingredients until smooth. Divide into four 2 tablespoon portions.
Serve with fruit (apple is great).