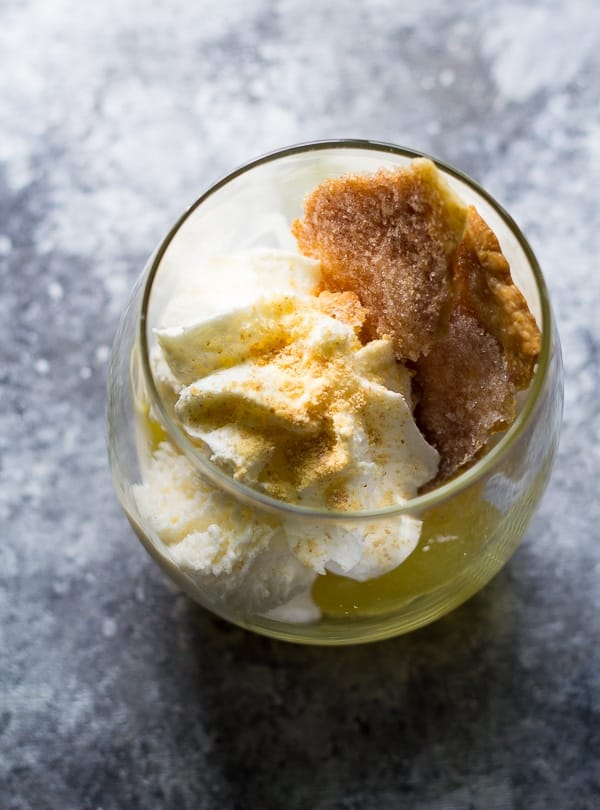 These Lemon Curd Ice Cream Sundaes have scoops of vanilla ice cream, lemon curd, whipped cream, a big cinnamon sugar crust shard, and a sprinkling of graham cracker crumbs.
Guys, I just had the most perfect moment, and I had to share it with you!
I had just gotten home from a long day at work.  It was 30°C (86°F).  Ben was making dinner (YES!!)  Picture me, relaxing on a deck lounger while Kai plays beside me.  An airplane flies over, Kai gets scared and climbs on me.  And we cuddle, pointing at the birds, the airplane track in the sky, blowing kisses to Daddy who is in the window.  Sigh.  If that isn't a perfect moment, I don't know what is.  All I need is my snuggly toddler, a deck lounger, some warm weather, and Ben making dinner (ha!).
Do you ever have those moments?  The ones where you truly feel like you are present, and enjoying what is happening at that exact second?  Not thinking about tomorrow, or what's on your to-do list…just happy.  In that exact moment.
I don't have nearly enough of those moments, and I am going to strive for more!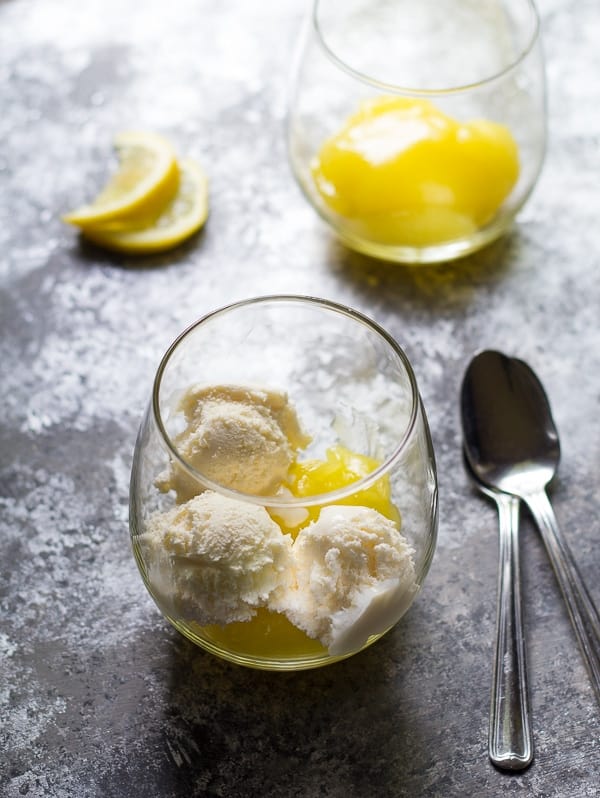 Well…I have a little something that will help you live in the moment.  It's called Lemon Curd Ice Cream Sundaes.  They.  Are.  Delicious.
Every spoonful is like a spoonful of summer…because what is more summer than lemon meringue pie?  Maybe if you close your eyes when you take a bite, you will be transported to your happy summer place.
And guess what?  These lemon curd ice cream sundaes are SO easy to make!  The most challenging part, if you can call it challenging, is cooking up some cinnamon sugar pie crust shards.  Just take some prepared pie crust, roll it out, sprinkle with cinnamon sugar, and bake for 10 minutes.  Was that really so hard?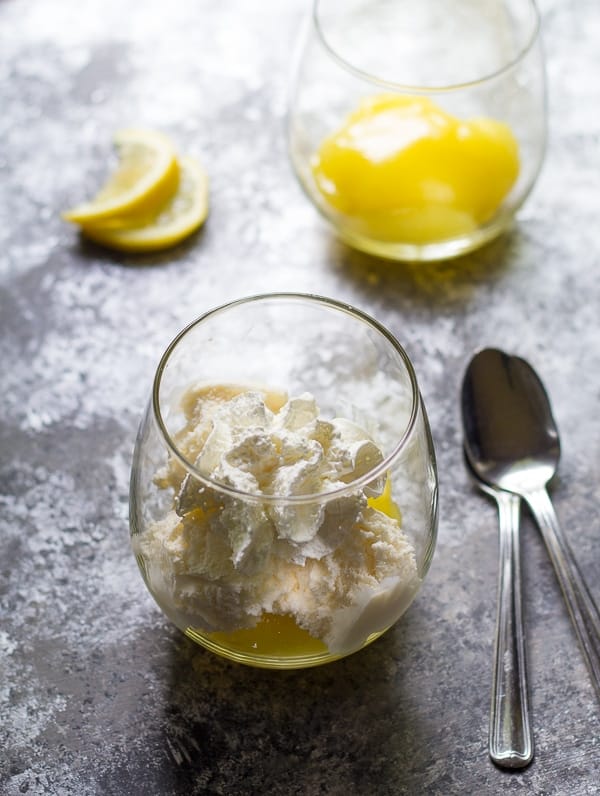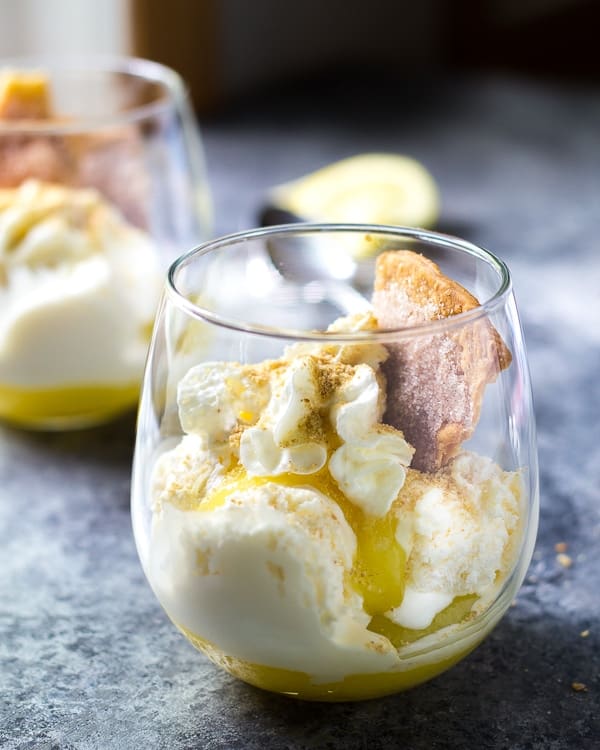 If you are lazy, skip the crust.  Although for both Ben and I it absolutely made the sundaes…so I think you should make it 😉
All you need for these guys is some vanilla ice cream, lemon curd (after all my awesome Canadian readers commented on this post, I was finally able to find store-bought lemon curd, yay!  You guys RULE!), whipped cream, and some graham cracker crumbs.
Then.  Dig in!  Close your eyes, enjoy the moment, and just be.  It does a mind good.
So.  Lemon Curd Ice Cream Sundaes.  Where is your happy summer place?

Lemon Curd Ice Cream Sundaes
A lemony ice cream sundae that has all the delicious flavors of lemon meringue pie!
Ingredients
Cinnamon Pie Crust Shards
1 pie crust
¼ cup sugar
¼ teaspoon cinnamon
Sundaes
ice cream
lemon curd
whipping cream
graham cracker crumbs
Instructions
Cinnamon Pie Crust Shards
Pre-heat oven to 400°F.
Roll the pie crust out onto a parchment-lined baking sheet. Prick several times with a fork. Mix the cinnamon & sugar together and sprinkle evenly over the pie crust.
Bake for 10-15 minutes, until crust is baked through.
Cool slightly and cut into wedges or break into 'shards'.
Sundae assembly
Combine all sundae ingredients to your liking...lemon curd can be quite sweet so go easy on it!
Garnish with a pie crust shard and a sprinkling of graham cracker crumbs.