This taco stuffed acorn squash recipe makes an easy low carb meal prep lunch or dinner that will shake you out of your meal prep rut! Simple to prep and delicious to eat!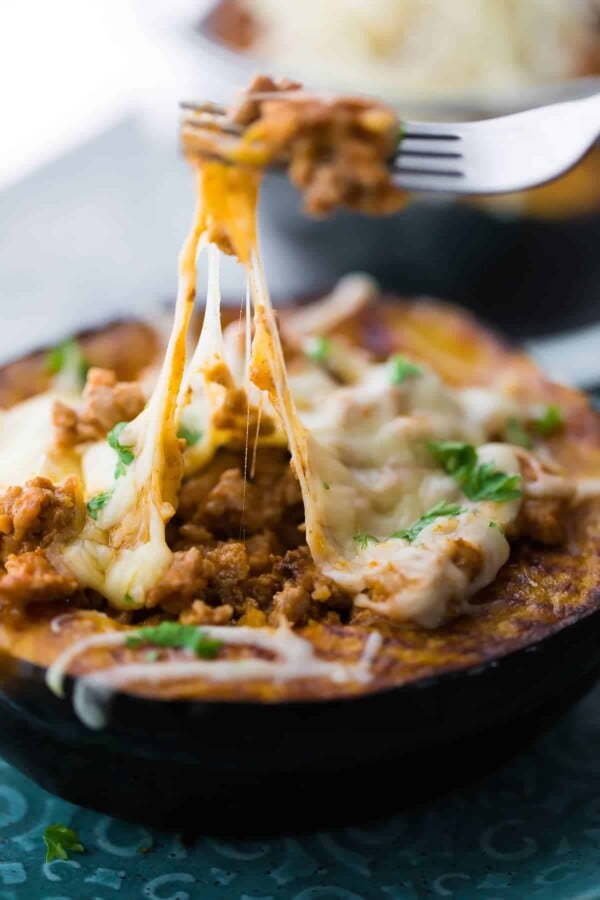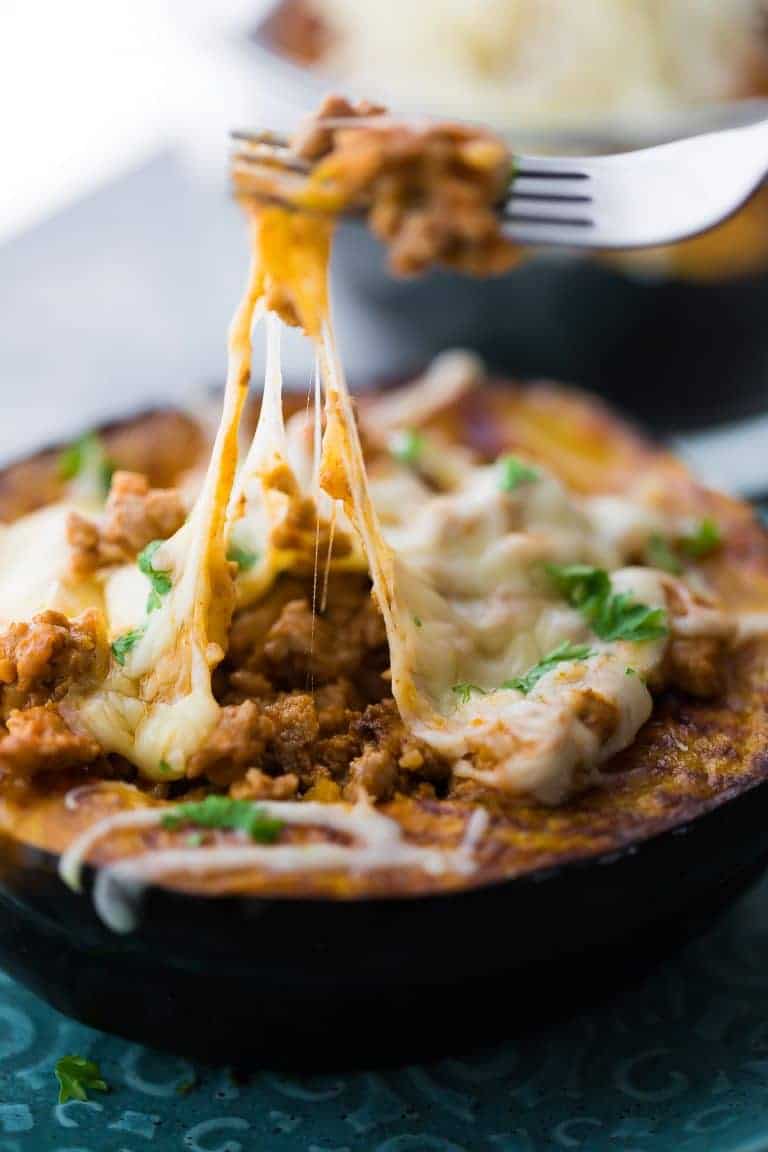 I'm always looking for new ways to mix up my meal prep lunch routine…this fall I've shared several 2-for-1 meal preps to get some variety, but today we are going with a whole new (to this blog) ingredient: acorn squash!
Well, OK, technically I've been sitting on this taco stuffed acorn squash 'recipe' for a year now (see it in this Instagram post!), the only reason being that it barely qualifies as a recipe. But it's simple, is great re-heated, and is super tasty, so I thought it was worth sharing it on the blog 🙂
Also, it happens to be low carb, and while I'm not following a low carb diet myself, I know lots of our Lunch Prep Challenge participants are, and they can be challenging recipes to find!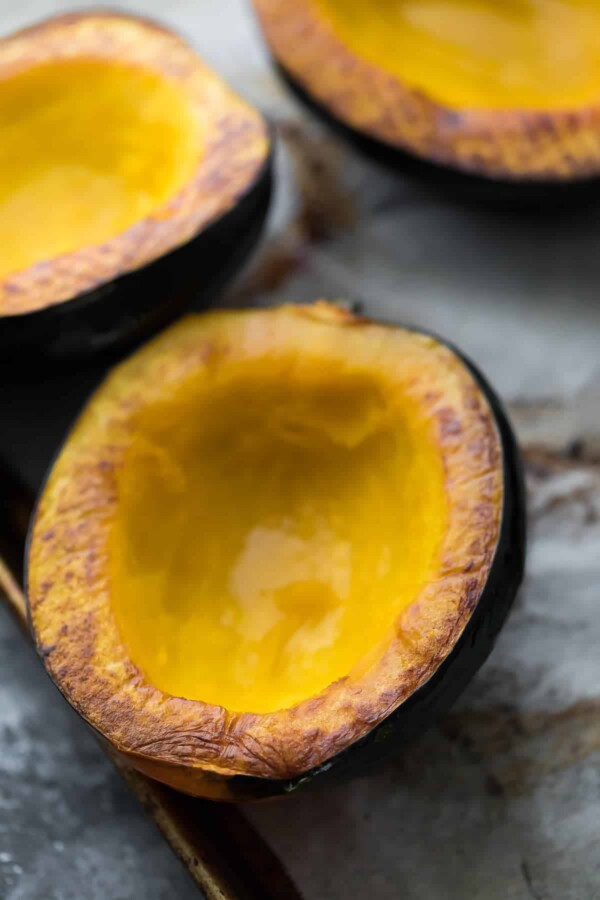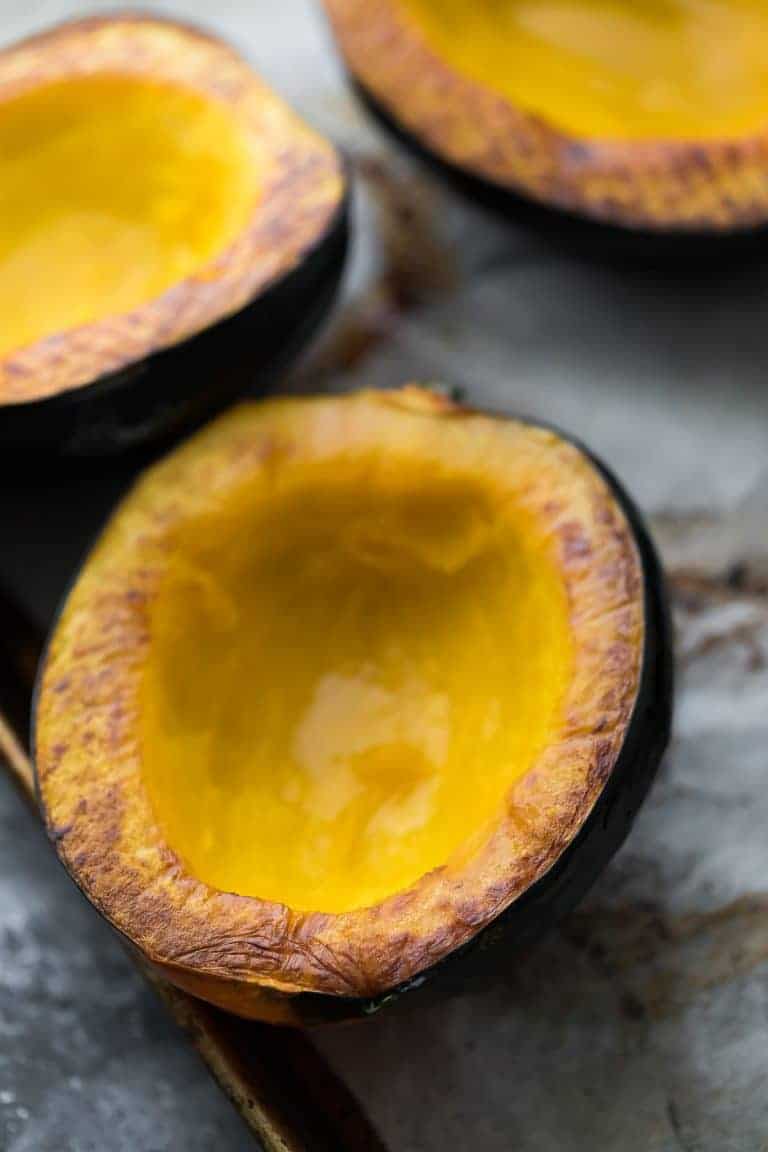 How to roast acorn squash
Now this taco-stuffed acorn squash recipe is super simple to prepare, but it does take some time (hands off!).
Step one is to roast your squash. I simply sprayed with some spray oil and placed face-down on a parchment lined baking sheet. I recommend adding some salt and pepper to the squash as well because that will bring a bit of extra flavor.
Roast away for 30 minutes, flip, then roast for 15 more minutes. Your acorn squash is ready when a fork can easily pierce the skin.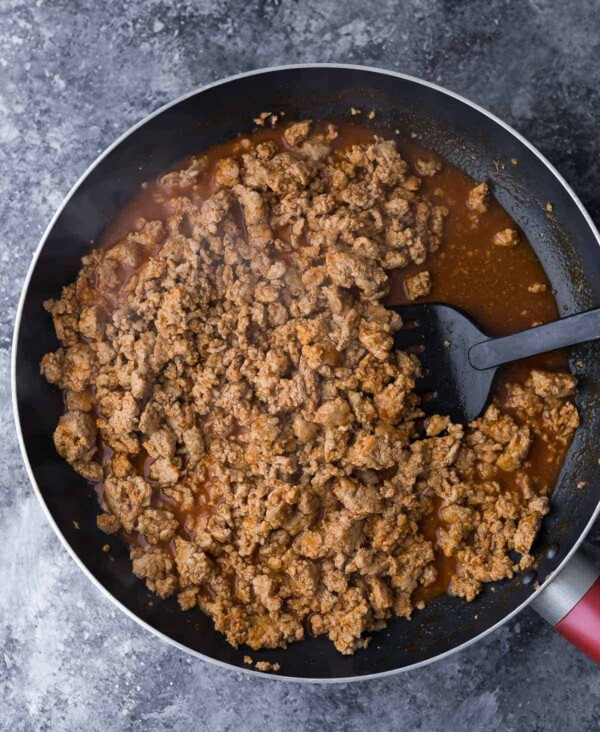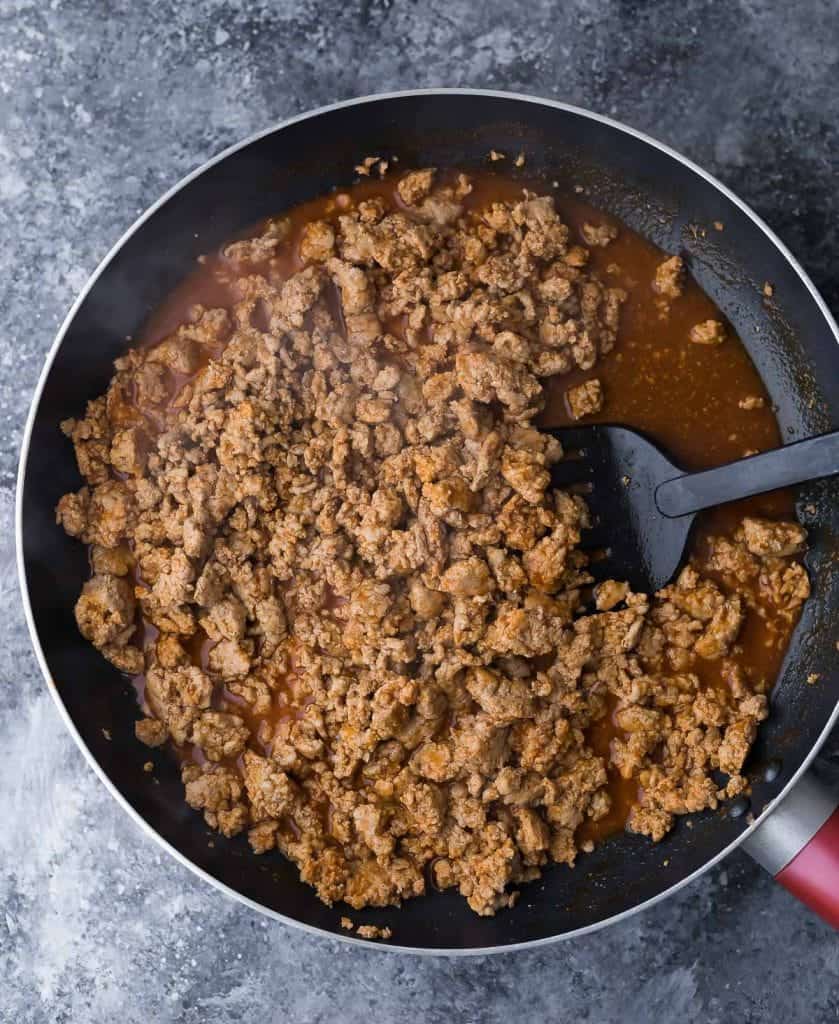 Next: taco meat. I used lean ground turkey, but you could use pretty much any ground meat you have on hand.  3/4 of a pound was perfect to give 1/2 cup portions for four acorn squash halves.
I've heard you can make some pretty delicious taco 'meat' using tempeh…I haven't tried this myself, but it would be worth looking into if you'd like to convert this to a vegetarian recipe 🙂
When your squash is ready, spoon 1/2 a cup of the taco meat into each half of an acorn squash, then sprinkle with 1/3 cup of shredded cheese.
That's it. Four ingredients (if you count taco seasoning as one ingredient), and a really simple prep for these tasty lunches.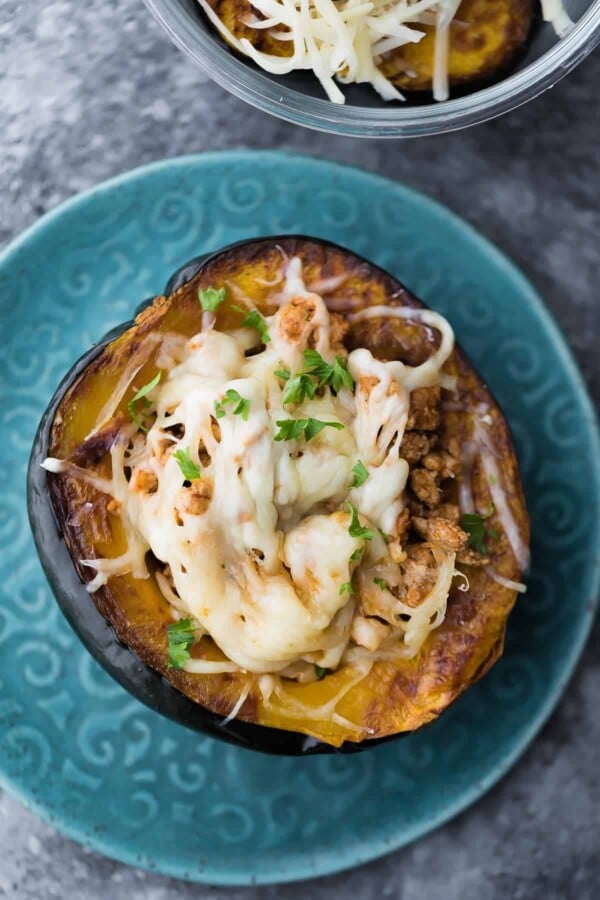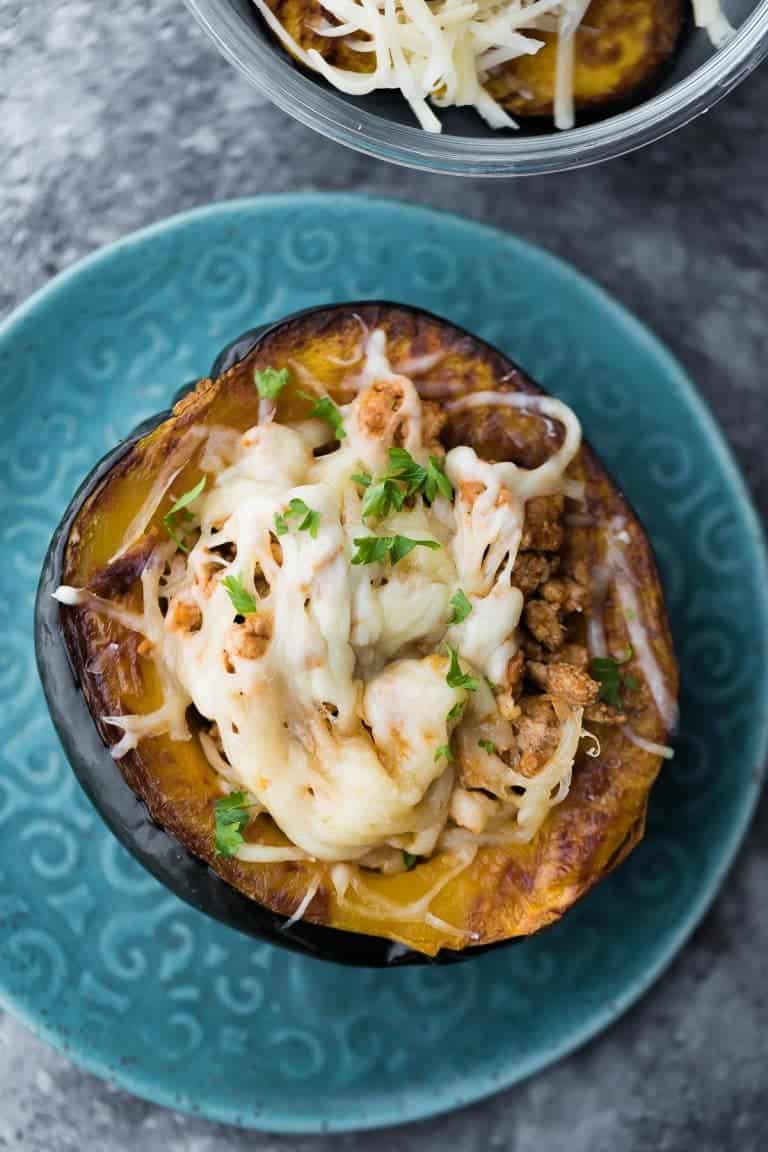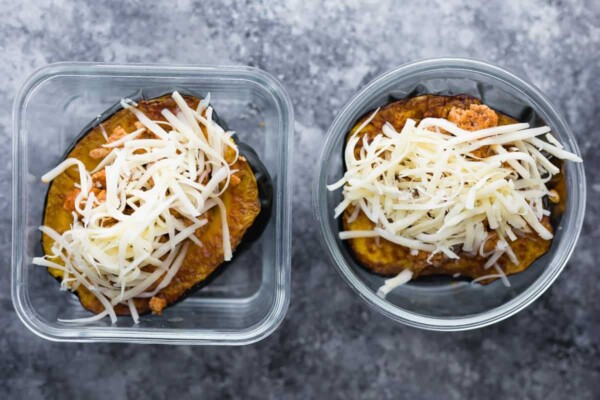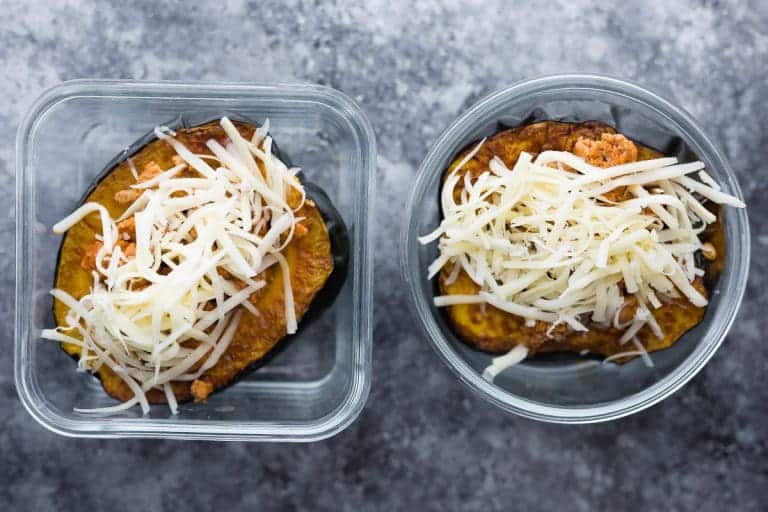 The only challenging thing about this taco stuffed acorn squash recipe is finding a meal prep container large enough to fit them.  I used my 28 oz round storage containers and my 35 oz square storage containers from my Kinetic 22 Piece Glassware set
, and they were perfect.
You may want to keep the cheese separate until you get the squash thoroughly re-heated, so you get that ooey-gooey cheesy goodness, or you can re-heat it with the cheese on top…either way, you are about to find out how well acorn squash and taco seasoning go together…surprisingly well!
Tips for this taco stuffed acorn squash recipe:
Taco-Stuffed Acorn Squash (Low Carb Meal Prep)
Ingredients
2 acorn squash
3/4 lb lean ground turkey
2 tablespoons taco seasoning of choice
1 1/3 cup cheese, shredded
Directions
Heat oven to 425°F. Line a large baking sheet with parchment and set aside.
Cut two acorn squash in half and scoop out all of the seeds. Spray with oil, season with salt and pepper, and place face down on the baking sheet.
Roast for 30 minutes, then flip and roast for 10-15 more minutes, until they are starting to brown and are easily pierced with a fork.
While squash is roasting, cook taco meat: Cook turkey over medium heat, tossing in the taco seasoning and breaking it up as you cook. Cook for 10 or so minutes, until cooked through.
Top acorn squash with 1/2 cup ground turkey and 1/3 cup shredded cheese.
Either return to the oven or store for a meal prep lunch or dinner. *Note: you may want to keep the cheese separate until just before serving.
Storage:
Store in a sealed container in the fridge for up to 4 days.
To re-heat:
Heat in the microwave on low power for several minutes until squash is heated through in the middle. Add the cheese fresh for ooey-gooey goodness.
Recipe Notes
Loading nutrition data...