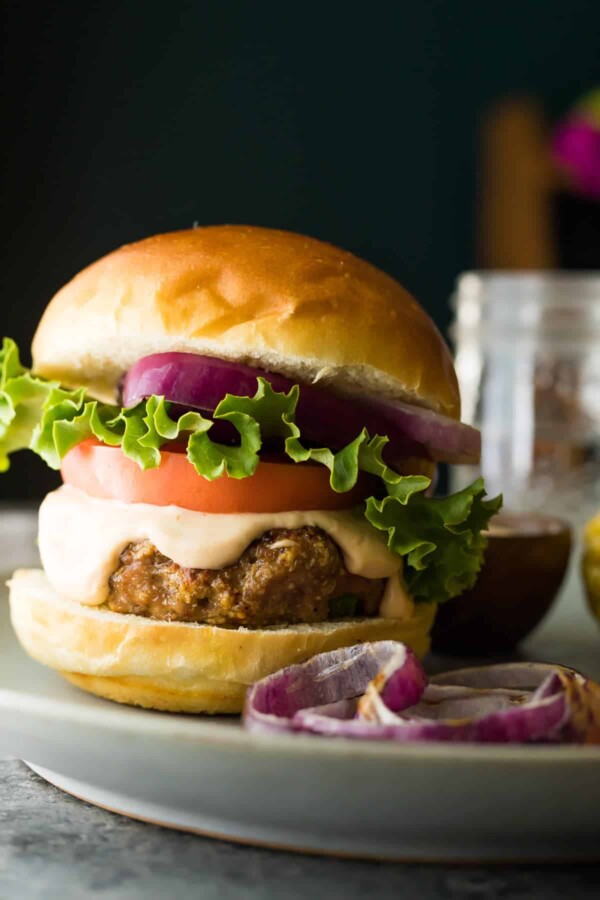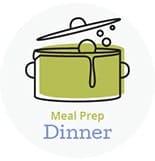 Southwestern Grilled Turkey Burgers– make the patties ahead and freeze for an easy weeknight dinner.  When you're ready, put the frozen patty straight onto the grill and cook away!
Every summer I have to post a burger recipe on this site…two years ago (!?) it was these Greek Turkey Burgers with Whipped Feta, and last summer there were these Mushroom and Lentil Bruschetta Burgers.
2017: Southwestern grilled turkey burgers.  With chipotle lime mayo, OH MY!
Summer = grill time, and burgers are pretty much ideal for meal prepping!  This year I decided to go back to the old turkey burger.  Ground turkey is just lighter than beef, and I've just not had success with moist burgers using ground chicken.
When you have a good formula, you just have to keep coming back to it, and the formula I used for these Baked Turkey Meatballs 7 Ways is too good to keep in the archives.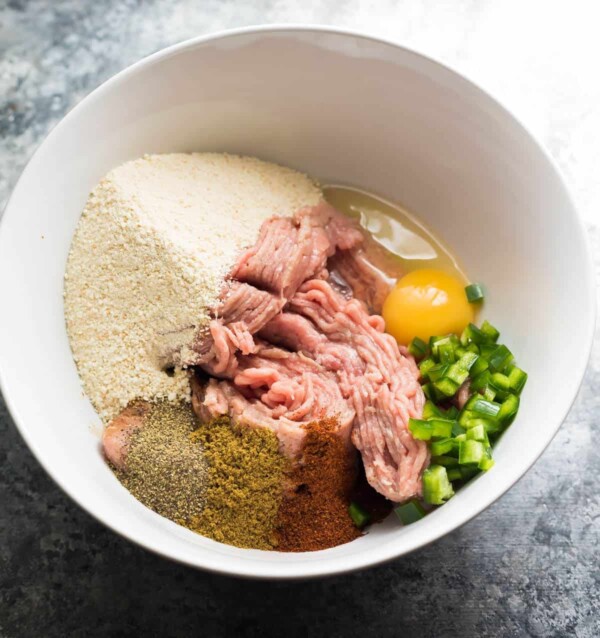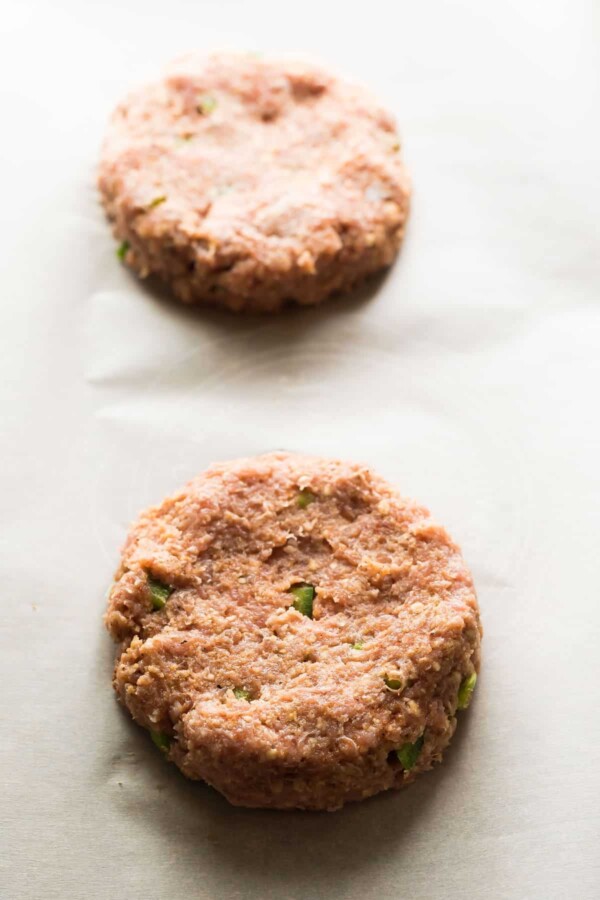 I knew you could freeze turkey burgers, but I wasn't sure if you could cook them up from frozen.  Well guess what?  You can.
We compared a patty cooked from frozen versus a thawed one and there was very little difference.  I love it when convenience also = tasty!
To freeze these patties, just place them on a parchment-lined baking sheet and freeze for a couple of hours until completely frozen.  Then transfer to a bag, separating each patty with a square of parchment.  This helps get them apart when you are ready to cook them up.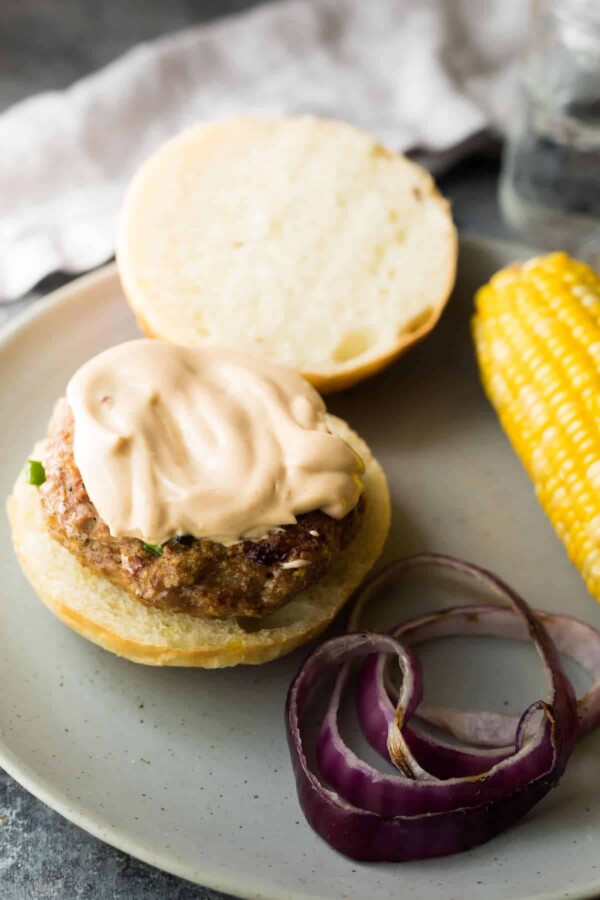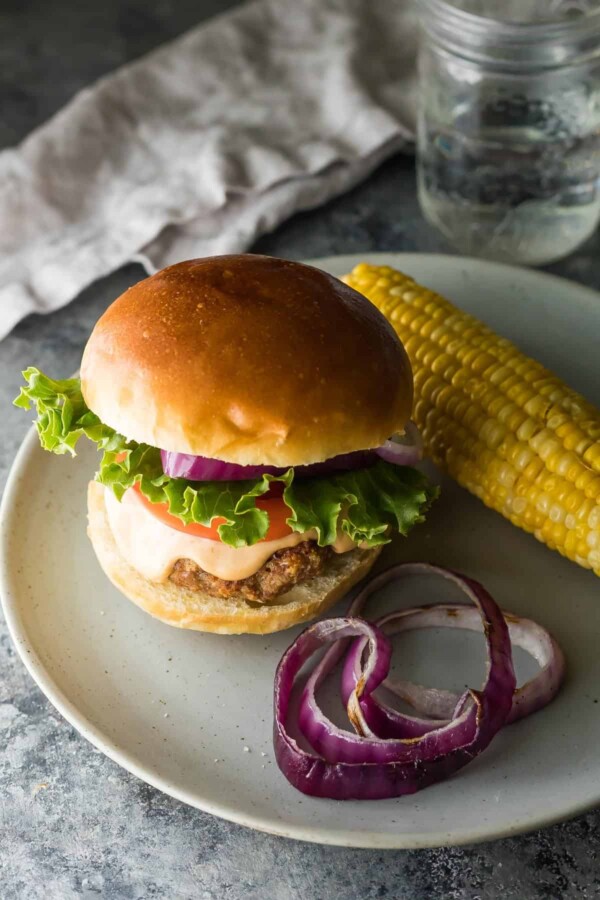 We slathered our burgers with a chipotle lime mayo, lettuce, tomato and grilled onions.  We swapped the mayo with fresh guacamole on one night, but actually preferred the mayo (this is the first time in my life I will ever tell you to skip the guac!).
These burgers are definitely filling, and you won't even need a side dish, unless you want a few extra veggies in your life.  Corn on the cob and a light salad are my recommendations.
Tips for your perfect southwestern grilled turkey burgers:
make sure you form the patties even in thickness across (this is especially important if you are cooking from frozen as they won't cook through evenly)
form the patties ahead and store in the fridge (3 days) or freezer (up to 3 months).  For specific instructions on how to freeze, refer to the recipe card
fire up the grill and cook up these Chili Lime Chicken Skewers with Mango Sauce or these Enchilada Stuffed Grilled Portobellos
Cheesy Beef Tortellini Skillet by Pumpkin 'N Spice
Lemon Garlic Shrimp and Zucchini Noodles by Kristine's Kitchen
Watermelon and Tomato Gazpacho with Chimichurri Sauce by Floating Kitchen
Grilled Fig, Bacon, and Arugula Flatbread Pizza by Flavor the Moments
Avocado Pesto Quesadillas by She Likes Food
Mexican Quinoa Salad by Life Made Sweeter
One Pot Pasta Primavera by The Recipe Rebel
Shrimp Quesadillas with Avocado Cream by Bake.Eat.Repeat.
Southwestern Grilled Turkey Burgers (Freezer)
Ingredients
Freezable Turkey Burgers
1 lb (450 g) lean ground turkey
1 large egg
1/2 cup breadcrumbs
1 teaspoon worcestershire sauce
1/2 teaspoon salt
1/2 teaspoon ground pepper
1.5 teaspoons cumin
1.5 teaspoons chili powder
1 jalapeno pepper, seeds removed, finely chopped
Other
1 red onion, sliced into thick rings for grilling
4 gourmet burger buns
4 tomato slices
4 leafs of lettuce
Chipotle Lime Mayo
1/2 cup light mayonnaise
2 teaspoons chipotle hot sauce (see note)
2 teaspoons lime juice
Directions
Stir together all turkey burger ingredients until completely combined.
Form patties using ½ cup of the ground turkey mixture, patting into 1-inch thick and 5-6 inch wide patties with a slight indent in the center.
To cook immediately:
Heat grill to medium high heat. Clean grill and grease with spray oil so burgers don't stick.
Grill for roughly 4-5 minutes per side (cook time will depend on your grill, so make sure to use your judgement and check on the burgers).
*Recommended: brush the onion rings with oil and grill for roughly the same amount of time as the burgers.
To serve:
Stir together the chipotle lime mayo.
Serve your turkey burger on a gourmet bun, topped with mayo, grilled onions, tomato and lettuce.
To freeze:
Place patties on a parchment-lined baking sheet and freeze for several hours, until firm.
Place in a large freezer bag, with patties separated by squares of parchment.
Burgers may be frozen for up to 3 months; thaw completely before cooking using the directions above, or grill over medium-high heat for 20-25 minutes, flipping every 5 minutes.
Recipe Notes
Nutritional Information:
1 burger (including bun & mayo)
Calories 512 // Fat 20 g // Saturated Fat 3 g // Cholesterol 125 mg // Sodium 1211 mg // Carbohydrate 47 g // Fiber 5 g // Sugars 4 g // Protein 33 g
Nutritional Information: (patty only)
Calories 272 // Fat 11 g // Saturated Fat 2 g // Cholesterol 115 mg // Sodium 539 mg // Carbohydrate 12 g // Dietary Fiber 1 g // Sugars 1 g // Protein 26 g
Chipotle hot sauce may be subbed with ¼ teaspoon chipotle chili powder, but this is spicy! Adobo sauce is another idea but hasn't been tested.
Loading nutrition data...