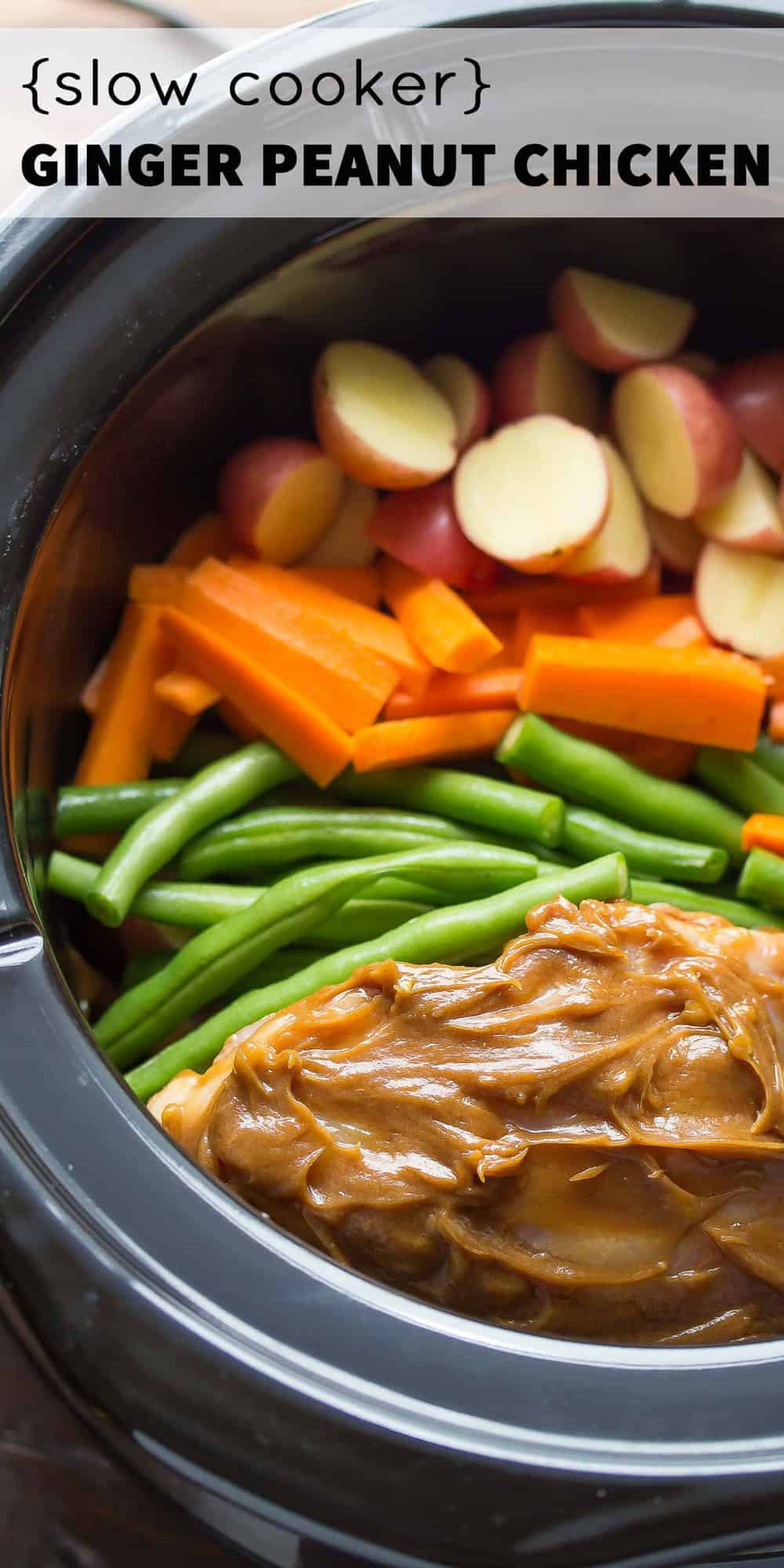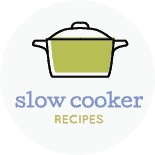 This Thai-inspired slow cooker ginger peanut chicken is so easy to throw together.  It cooks along with baby potatoes, green beans and carrots for a complete meal!
It is becoming increasingly apparent to me that I am not alone in this world in my love for Thai food.
I polled our Facebook group last month about what kind of recipes to create and lo and behold, Thai food was hands down the number one most popular pick.
This makes me so happy because I love Thai food and am a total snob about it.  After living in Calgary for 8 years (???!?!!!!! how is that possible?!) we have only just found take-out place we're happy with.
And after all that rambling about Thai food, today's slow cooker ginger peanut chicken recipe is…not really Thai.  It's inspired by it though…by satay!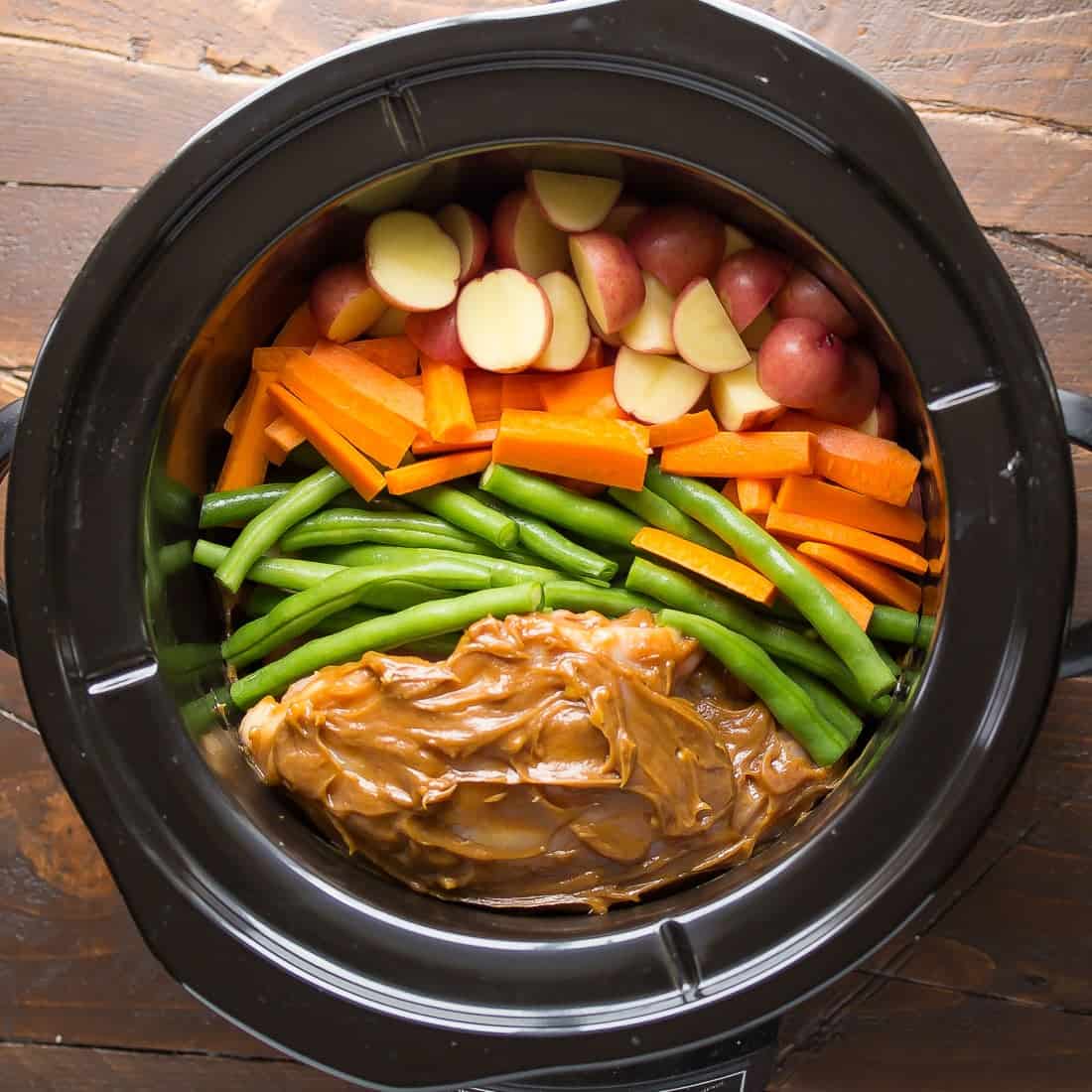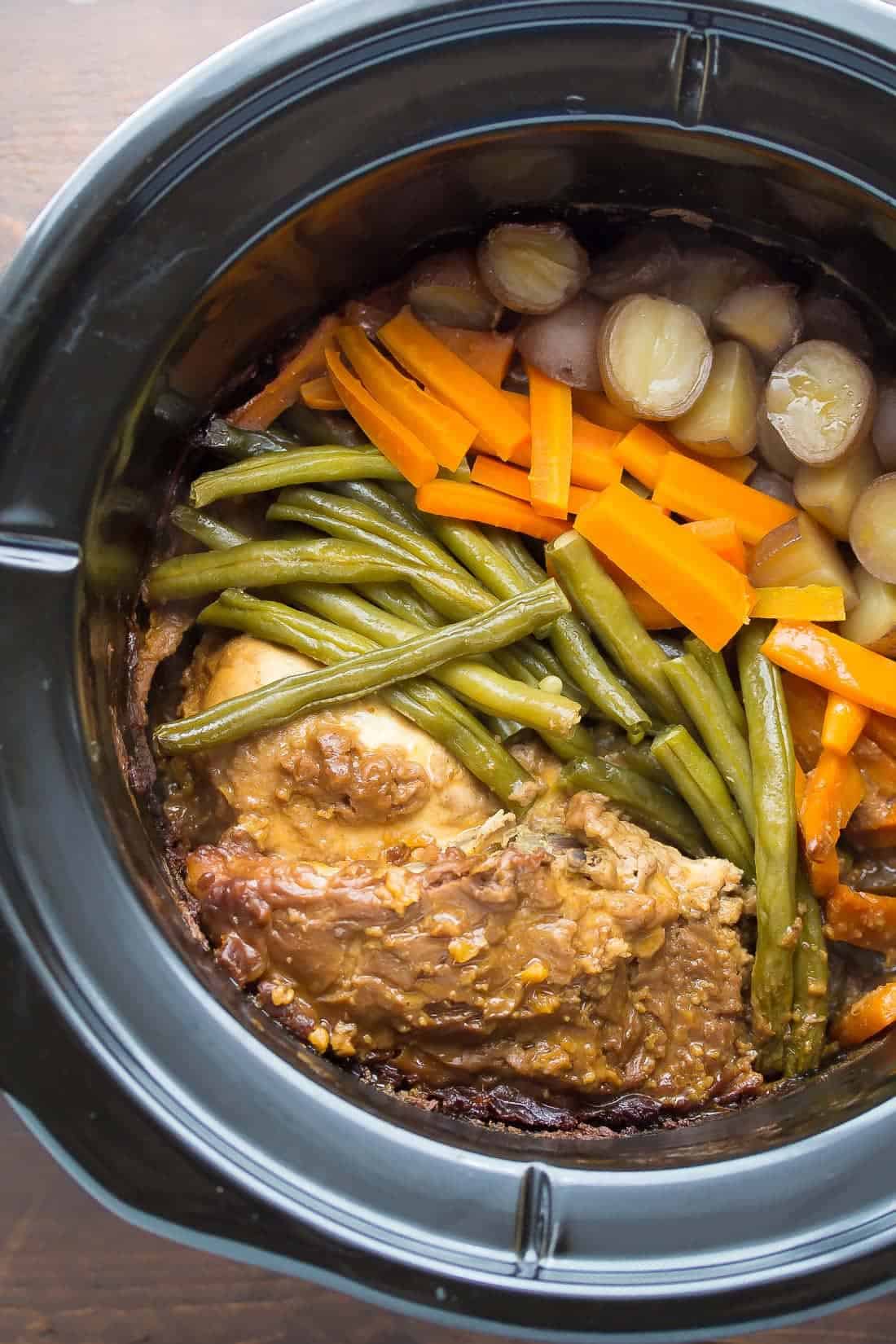 Have you tried this Chicken Satay Salad?  It's an oldie but a goodie.  Well, I initially tried making this recipe using the marinade/dressing, but the flavors were WAY too dilute in here.
So I went back to the drawing board and used a super simple formula: peanut butter + soy sauce + brown sugar + ginger + sesame oil.  And it worked like a charm…this slow cooker ginger peanut chicken is DELISH!
Since a whole crockpot full of chicken is a LOT for my family, I opted to keep the chicken on one side and fill the other side of the slow cooker with baby potatoes.  I topped the baby potatoes with carrots and green beans.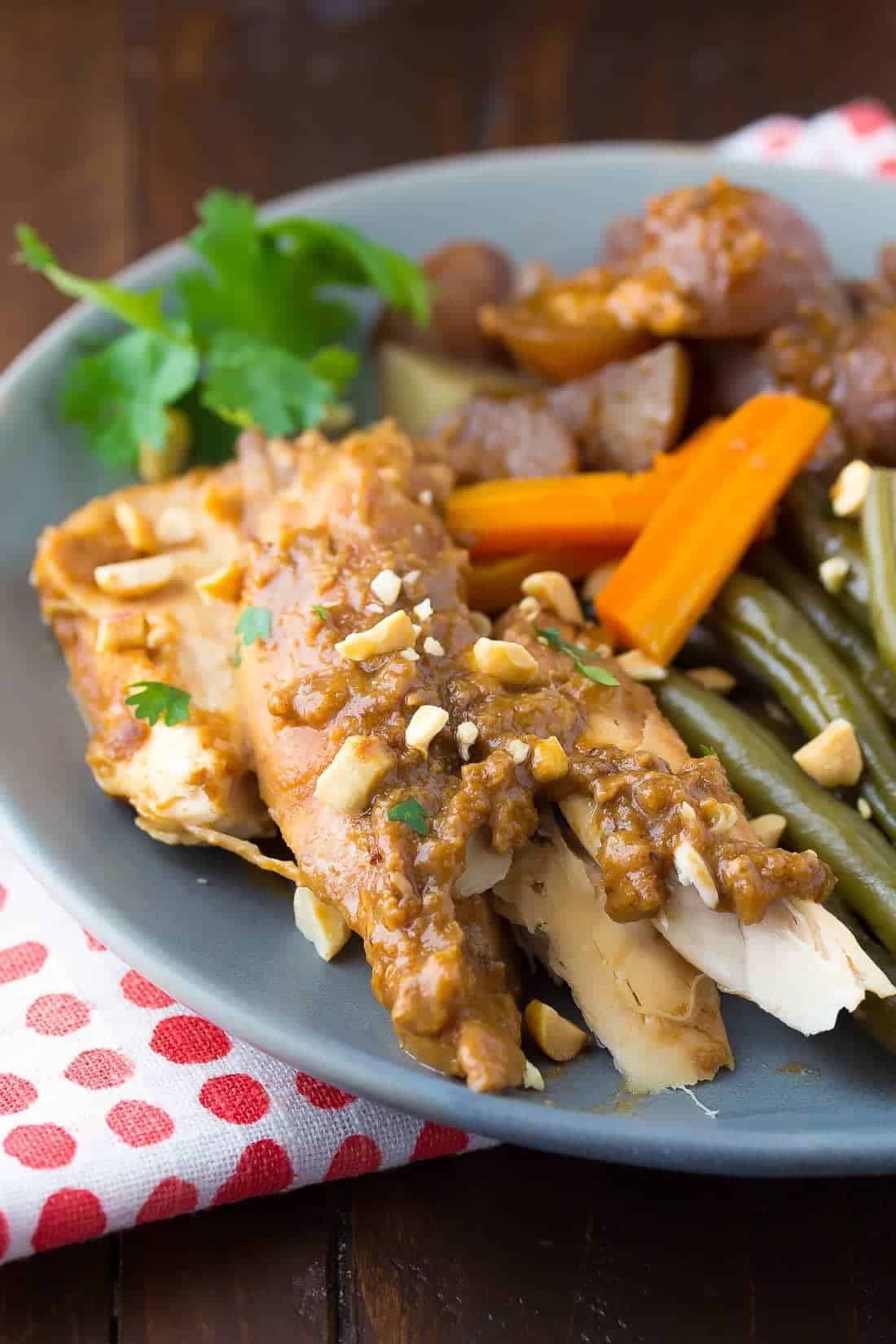 It worked like a charm.  As it cooks, the peanut sauce makes its way to the other side of the slow cooker, and the potatoes that cook in it get such a delicious flavor boost from it!
I also made sure we have plenty of ginger peanut sauce to spoon over the cooked chicken and veggies, it is SO delicious there wasn't a single drop left!
I love that it ended up as such a simple recipe, and it honestly makes dinner SO easy.  So so so easy.
Hope you're having a wonderful Monday!  Don't forget to check back in on Thursday for a brand new recipe!
Slow Cooker Ginger Peanut Chicken with Green Beans & Baby Potatoes
4
adjust servings
Ingredients
1/2

cup creamy peanut butter

1/4

cup soy sauce (I use reduced sodium)

1/4

cup packed brown sugar

2

teaspoons minced ginger

1/2

teaspoon sesame oil

2

skinless chicken breasts (this recipe works with both boneless or bone-in chicken breast)

8

oz green beans, washed and trimmed

2-3

carrots, peeled and sliced into strips

4

cups baby potatoes, halved (roughly 1lb)
Garnish
Cilantro leaves

Crushed peanuts
Instructions
Place the peanut butter in a medium microwavable bowl, and heat for 15 seconds. Stir, and return to the microwave for another 10 seconds, and stir again.
Add the soy sauce, brown sugar, ginger and sesame oil to the bowl. Stir until smooth and completely combined.
Add the chicken breasts to the bowl, and turn to coat in the peanut sauce.
Place the chicken in the base of a slow cooker. Spread any peanut sauce remaining in the bowl over the chicken.
Place the potatoes beside the chicken, and top with the carrots and green beans.
Cook on the lowest setting for 4-6 hours.
Remove the carrots, green beans and potatoes from the slow cooker and arrange on plates.
Shred the chicken between two forks, tossing it in the peanut sauce, and serve. Garnish with cilantro leaves and additional peanuts.
Spoon any additional peanut sauce over the veggies.
Recipe Notes
Nutritional Information:
4 large servings
Calories 518 // Fat 20 g // Saturated Fat 4 g // Cholesterol 70 mg // Sodium 748 mg // Carbohydrate 47 g // Fiber 6 g // Sugars 19 g // Protein 39 g
If you want the sauce to have a bit of a kick to it, add a teaspoon or sriracha or your favorite hot sauce to the peanut butter/soy sauce mixture!
Products used in this recipe:
More Thai recipes from Sweet Peas & Saffron:
Slow cooker Thai chicken recipes from around the web: