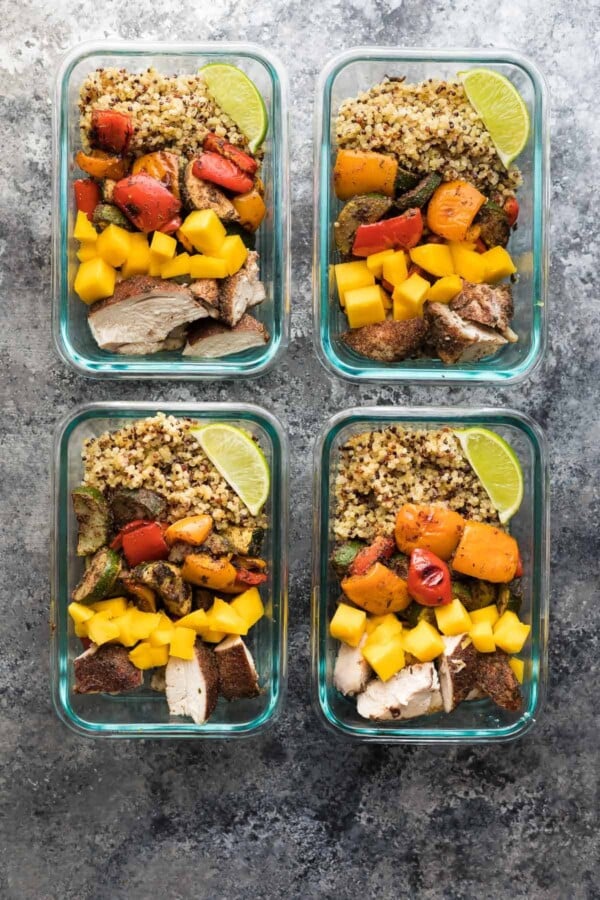 Jerk Chicken Meal Prep Lunch Bowls: bring a taste of the tropics to work with you!  These lunch bowls are sweet and spicy, and packed full of healthy veggies and quinoa to power you through your afternoon.
I'm so happy to be finally sharing this recipe with you!
These jerk chicken meal prep lunch bowls have been sitting in draft mode since February 8.  Isn't that sad?  I even teased our Lunch Prep Challengers with images, but wasn't able to share it with you due to…morning sickness.
For some reason, this little baby does not want mama to even look at a picture of chicken, but I have to tell you, I'm feeling fantastic today and these bowls look darn delicious.
So I'm happy to be finally sharing this super simple recipe with you!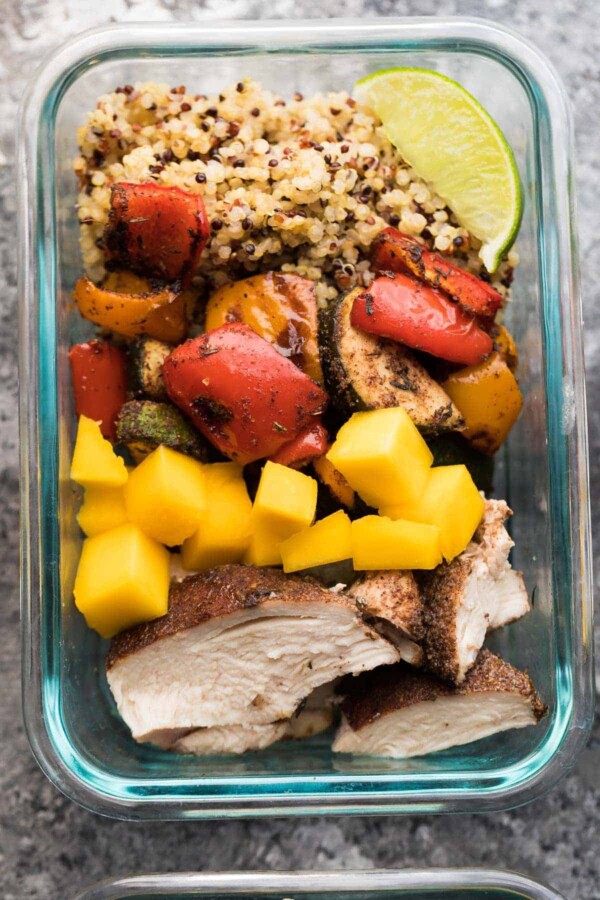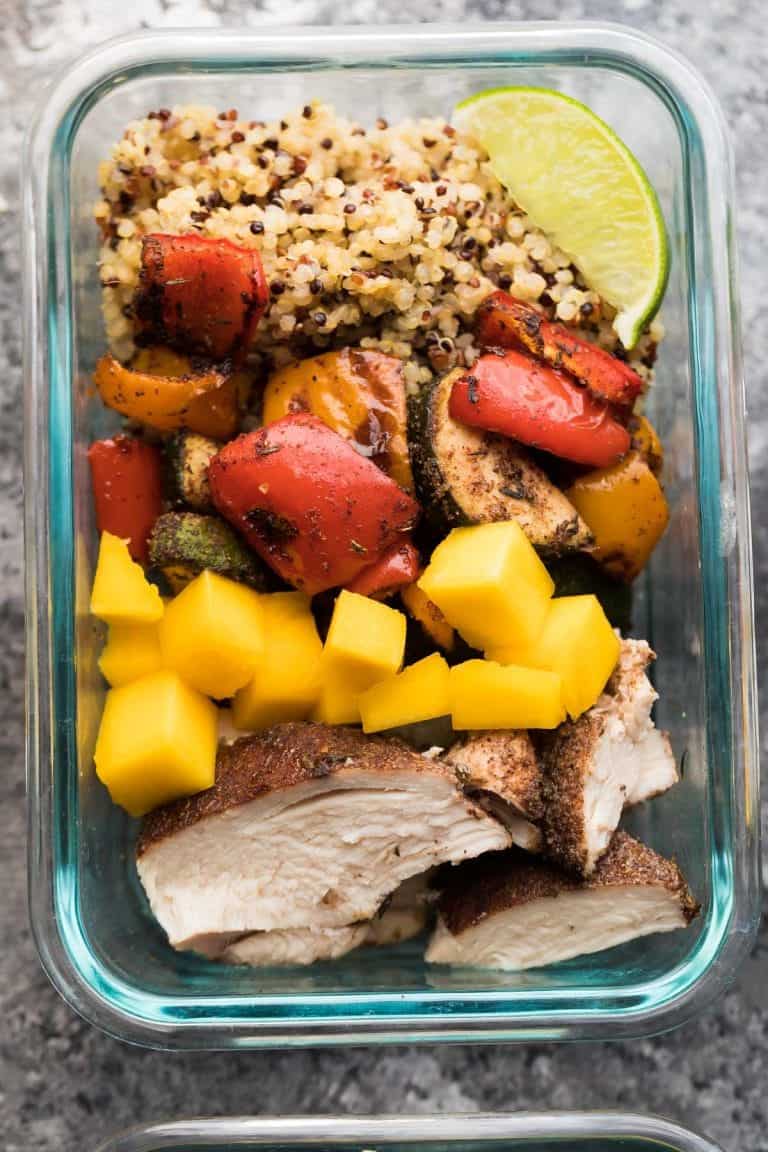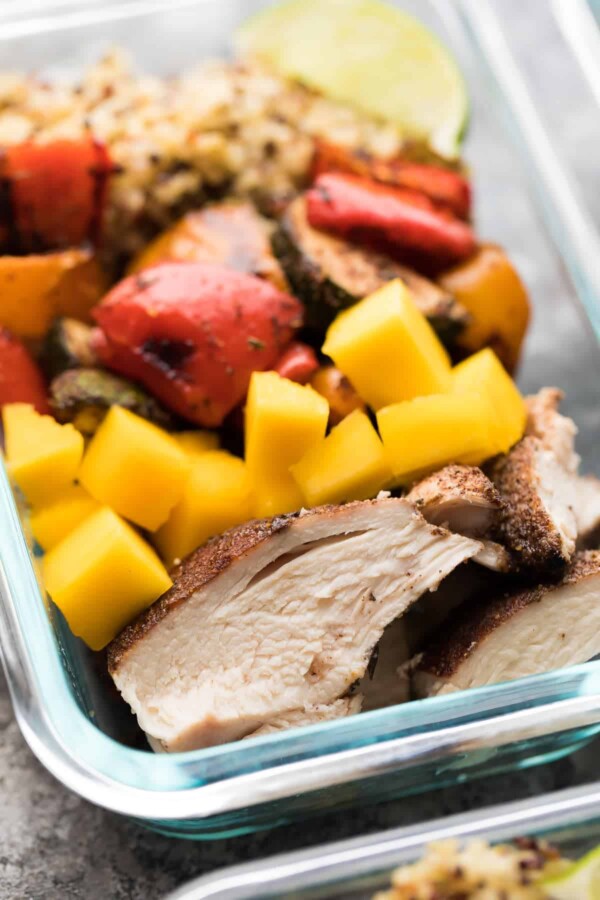 Now I always feel verrrry nervous when I make a recipe from another person's culture.  I read a comment that my jerk chicken marinade was not even close to jerk but it was tasty.  LOL!  I'll take it.  Let's call this 'Denise's version of jerk chicken' 😉
I used the rub from this Jamaican Chicken Sheet Pan recipe, in fact these two recipes are quite similar.  You could totally swap the quinoa for potatoes, or even sweet potatoes (I'm dying to try that version!)
It might not be 100% authentic in terms of the exact spice blend, but it definitely tastes good, especially with the fresh mangos…there is no better combination in the work if you ask me!
These photos only contain 1 mango split between 4 bowls, but trust me, you're going to want to up it…go for 2 mangos.  You really need the extra sweetness, it is the absolute best part of these jerk chicken meal prep lunch bowls!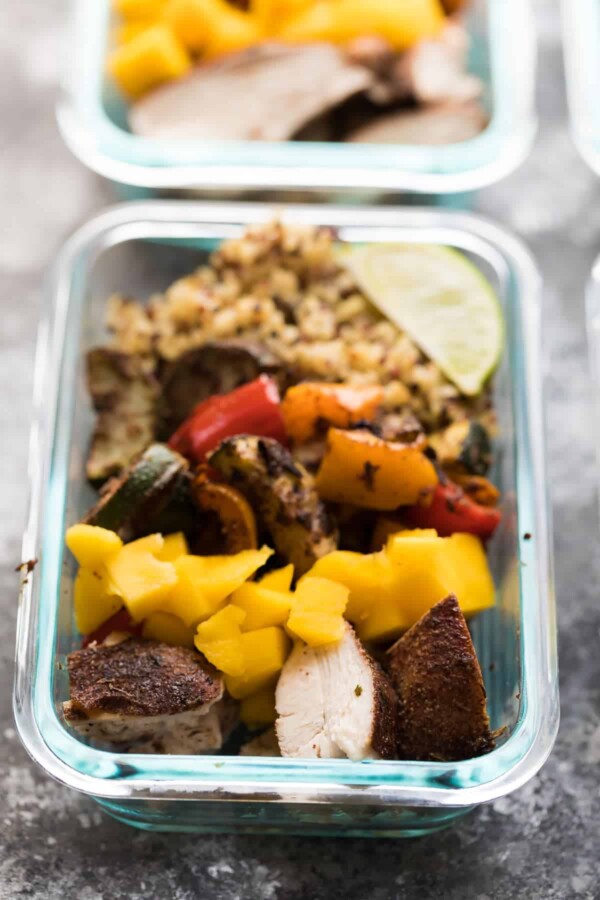 And absolutely, adjust the cayenne to taste.  I like mine medium-hot, but I am also kind of a wuss.  Ben, who puts Sriracha on everything would definitely want to crank it up.
How I enjoyed my jerk chicken meal prep lunch bowls?  Mix them all up and heat gently.  If you want, keep the mango separate and add it to the heated bowls.  Your choice!
Tips for your perfect Jerk Chicken Meal Prep Lunch Bowls
SHORTCUT: cut the chicken into 2-3 inch strips and you can cook the chicken and veggies for the same amount of time (15-20 minutes)
Cook your rice in a rice cooker so you can focus on the chicken and veggies
These are my all-time favorite meal prep containers
Swap the jerk chicken rub out for this brown sugar chili rub and add peaches or nectarines (you probably want to cut them fresh)…flavor bomb!!
Swap this recipe for this Jamaican Chicken Sheet Pan Dinner which uses potatoes
Jerk Chicken Meal Prep Lunch Bowls
4
adjust servings
Ingredients
Jamaican Rub
1/2

tablespoon dried thyme leaves

1/2

tablespoon ground allspice

1

tablespoon brown sugar

1/2

teaspoon salt

1/2

teaspoon pepper

1/2

tablespoon garlic powder

1/2

teaspoon cinnamon

1/16

teaspoon cayenne (for mild spice) or 1/8 teaspoon (for spice-ay!)
Jerk Chicken Lunch Bowls
3/4

cup uncooked quinoa

2

large chicken breasts

1

tablespoon olive oil

juice 1 lime

2

bell peppers, cut into large chunks

1

large zucchini, cut into large chunks

2

mangoes, cubed
Instructions
Pre-heat oven to 425°F.
Cook quinoa according to package directions and allow to cool.
Stir together the rub ingredients and set aside.
In a medium bowl, toss the chicken in half the olive oil and lime juice. Sprinkle with half the rub and toss to coat evenly.
Arrange on a baking sheet and bake for 10 minutes.
While chicken is baking, prepare the veggies: toss in the remaining olive oil, lime juice and rub. Arrange on a second baking sheet, or around the chicken breasts when the 10 minutes is up.
Bake for another 15 minutes, until chicken and veggies are baked through.
Divide cooled quinoa and veggies amongst four 2 cup capacity storage containers.
Slice the chicken and divide evenly amongst the containers.
Top with fresh mango
Storage
Store in sealed containers in the fridge for up to 4 days.
To Re-heat
Mix everything up and re-heat gently OR keep mango separate until after heating.
Recipe Notes
Nutritional Information: 1 lunch bowl
Calories 413 // Fat 10 g // Saturated Fat 2 g // Cholesterol 70 mg // Sodium 80 mg // Carbohydrate 52 g // Fiber 8 g // Sugars 27 g // Protein 31 g