How to cook sugar snap peas- three simple recipes that can be cooked in under 10 minutes! Garlic sesame, grilled with feta and mint, and roasted with parmesan.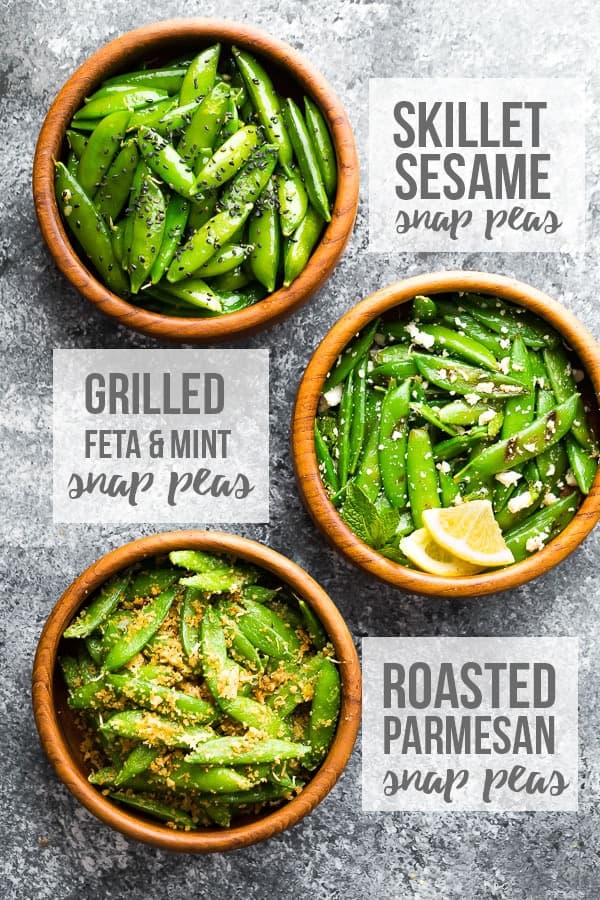 Disclaimer: this post was sponsored by Mann's. Thank you for supporting the brands that I love!
Is spring 'springing' where you are? It seems like the weather is finally turning here in Calgary. And when spring finally gets going, I start craving all my favorite spring foods: rhubarb, asparagus, leeks, and of course, peas!
We love eating our sugar snap peas raw. They are absolutely perfect for dipping and that crunch factor is so good! And the best thing about sugar snap peas is that you eat the entire pod, so you don't need to shell them. Less work and more food!
They are also really delicious cooked, as well!
Today we're talking how to cook sugar snap peas, and we are using the BEST ones: Mann's Stringless Sugar Snap Peas! You can find them in the produce department of most grocery stores across Canada and the US.
To show you how to cook sugar snap peas, I picked three different (super simple!) methods. These recipes make for a simple yet elegant side dish. I could totally see serving them as an Easter side dish, at a barbecue or a casual dinner party. Let's check them out!
Don't forget to pin this post to save the recipes for later!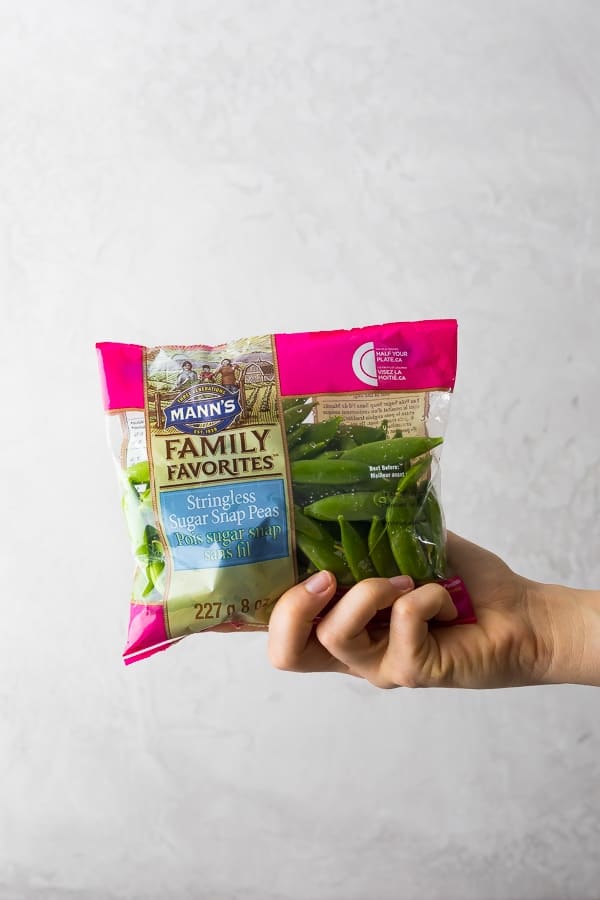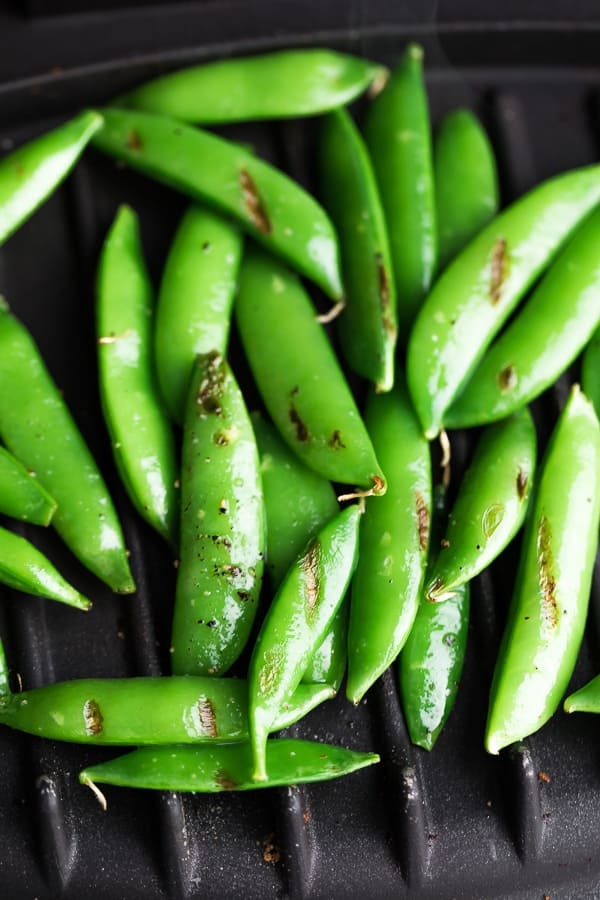 How to cook sugar snap peas
There are a TON of different ways that you can cook them...grilled, pan fried, roasted, steamed, dehydrated, air fried, and probably more that I can't even think of.
Cooking snap peas brings out a touch of sweetness if done correctly. The important thing is to make sure that you don't over cook them. You want them to be bright green and maintain a slight crunch. Overcooked snap peas can end up soggy and slightly bitter, neither of which is good.
The best part about cooking them? It only takes a few minutes!
Here are my favorite methods:
pan fried- using a non-stick pan over medium heat, you can sautee your snap peas for 2-3 minutes. Pan fried snap peas are delicious on their own, with just a little olive oil and salt and pepper, but you can totally add in a ton of different flavors here.
Flavor suggestions: sesame oil, garlic, ginger, lemon herb seasoning blend, even some chili powder and lime juice might be good!
grilled- you can use an indoor or outdoor grill for this. If you are using an outdoor grill, I recommend using a grilling basket so they don't fall through the grates. I have also seen people use skewers (check out this recipe for Grilled Snap Peas & Whipped Ricotta Toast from my friend Liz!).You will need to grill the snap peas over medium heat for 2-3 minutes per side. If you have an indoor grill that has a lid, you will need 2-3 minutes total.
roasted- to roast the snap peas, we cook them a little bit longer. 8-10 minutes at 425°F was perfect in my oven! There are lots of ways you could season roasted sugar snap peas as well; lemon zest, parmesan and crispy breadcrumbs are what I used for this recipe.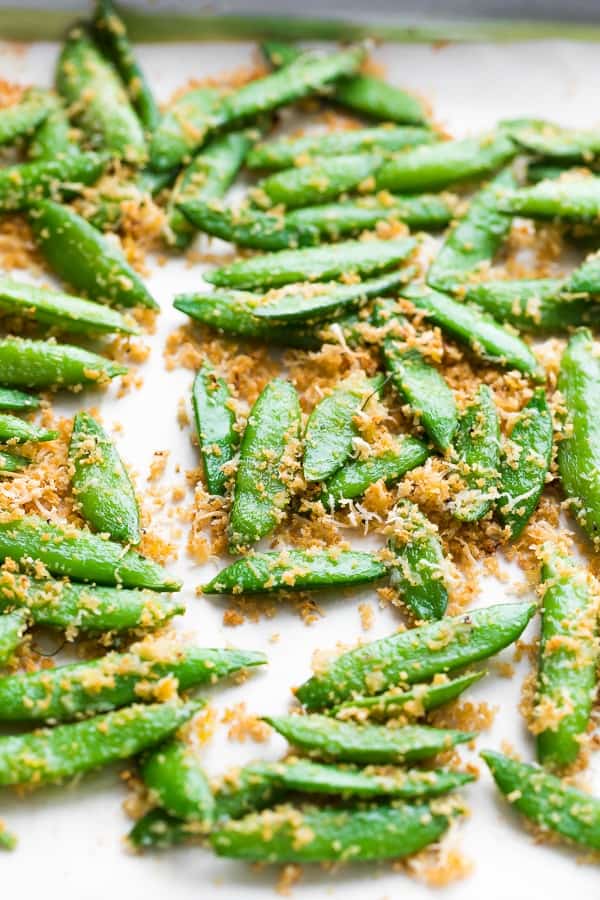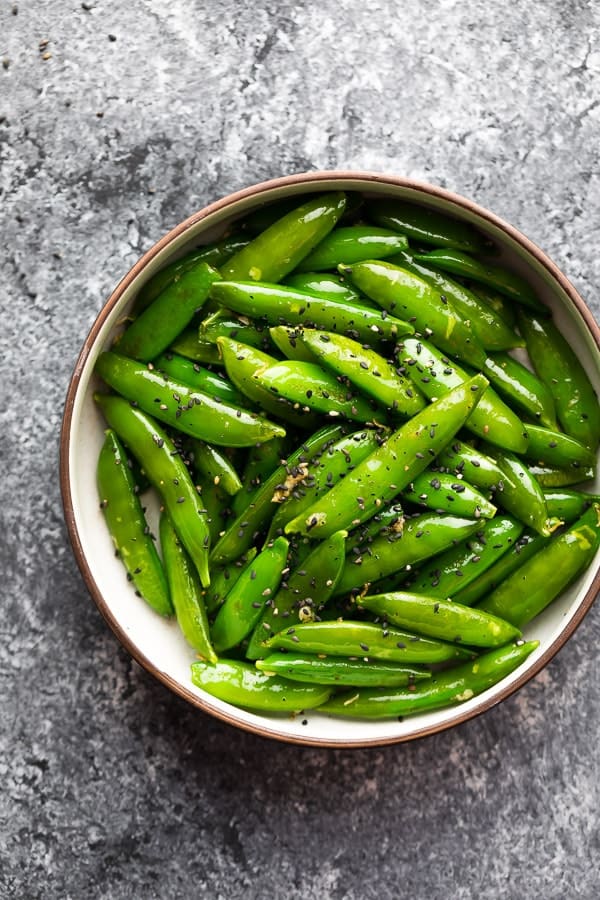 Recipe ideas
Snap peas are so versatile and go really well with a lot of flavors. The sugar snap pea recipes that I'm sharing in this post are 1) garlic sesame snap peas (prepared in a pan), grilled snap peas with feta and mint, and roasted snap peas with parmesan.
There are so many other delicious ways you can enjoy your snap peas, too!
in a stir fry- how about a sweet chili shrimp stir fry?
in a curry- snap peas are so tasty in a Thai curry. I only cook them briefly so they stay slightly crisp.
in a salad- you can add them raw or blanche them quickly. They would go well with barley and a honey lemon vinaigrette...sprinkle with feta for the win!
in a breakfast scramble- sautee with some bacon, onions and asparagus and top with a poached egg.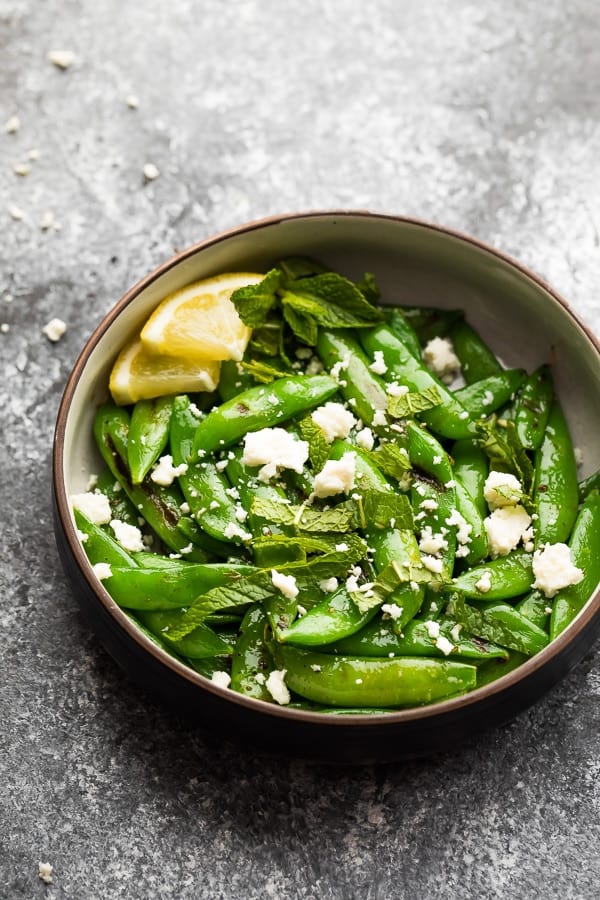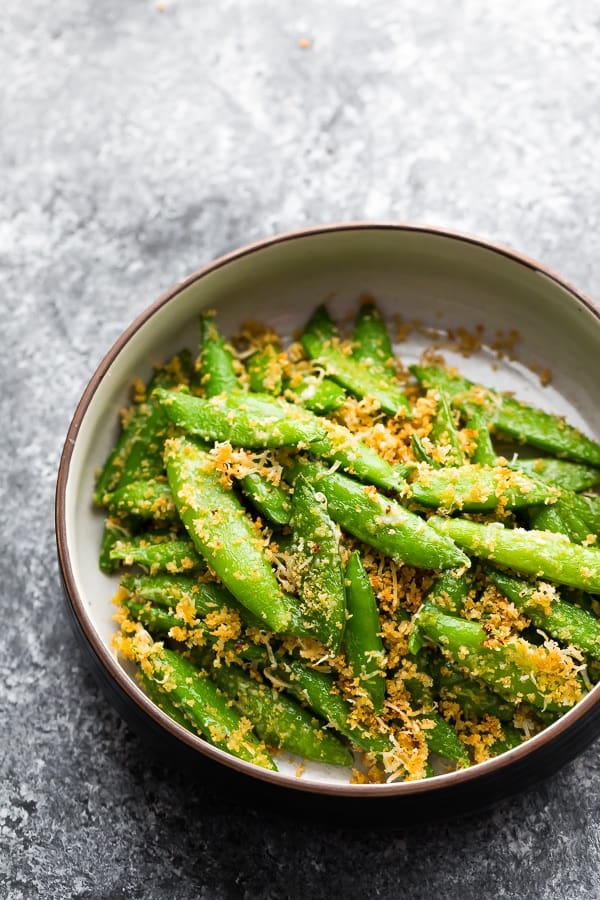 Are sugar snap peas good for you?
YES! Sugar snap peas contain a number of nutrients including vitamin C, vitamin A, vitamin K, and B Vitamins. Not to mention they are a source of fiber and iron.
Can snap peas be frozen?
YES. I have frozen cooked snap peas many times, in a stir fry or curry. They lose a bit of their crunch after they freeze/thaw, but they still retain great flavor. Like most vegetables, it is recommended that you blanche raw snap peas before freezing them.
Can these recipes be prepared ahead?
I recommend enjoying these recipes soon after preparing them. The Garlic Sesame Snap Peas kept quite well, and we enjoyed snacking on them for several days after preparing. The Grilled Snap Peas recipe did not keep as well due to the lemon juice and mint. The Roasted Snap Peas with Parmesan also did not keep their crunchy texture after being refrigerated.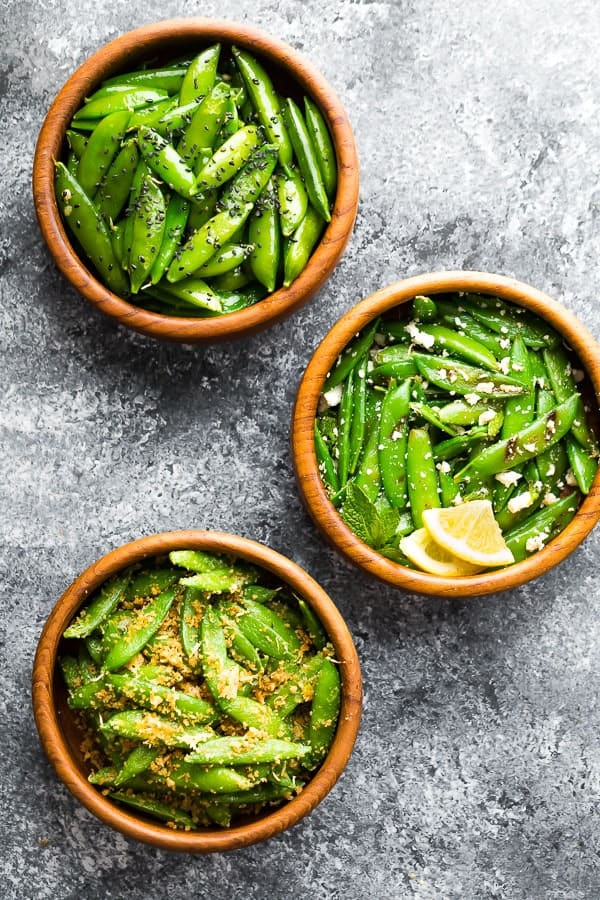 Watch the video below to see exactly how to cook sugar snap peas. It's so easy! You can find more of my recipe videos on my YouTube channel, or on Facebook.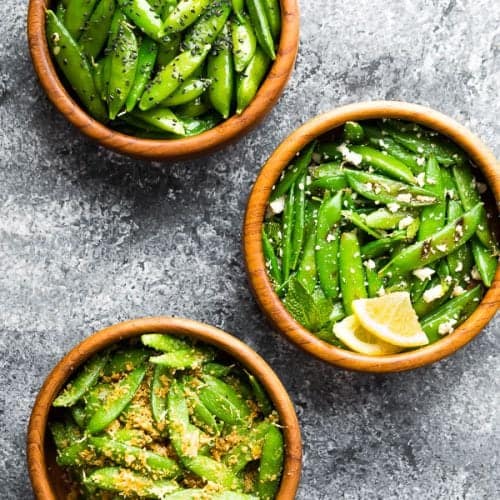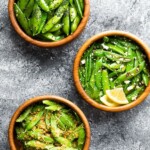 Print Recipe
How to Cook Sugar Snap Peas (3 Ways!)
This post shows you how to cook sugar snap peas using three different cooking methods. Easy, delicious, and cooked through in under 10 minutes!
Ingredients
Skillet Sesame Snap Peas
8

oz

sugar snap peas

note 1

2

teaspoons

sesame oil

salt & pepper

sesame seeds

to sprinkle
Grilled Snap Peas with Feta & Mint
8

oz

sugar snap peas

spray oil

salt & pepper

½

lemon

juiced

2

tablespoons

feta cheese

(crumbled)

2

teaspoons

fresh mint

(chopped)
Parmesan Roasted Snap Peas
8

oz

sugar snap peas

2

teaspoons

olive oil

¼

cup

panko breadcrumbs

½

cup

parmesan cheese

1

teaspoon

lemon zest
Instructions
Skillet Sesame Snap Peas
Heat a skillet or non-stick pan over medium heat.

Toss the snap peas with sesame oil and sprinkle with salt & pepper.

Cook for 2 minutes, or until cooked to your liking. These peas are best when a bit of crunch is left.

Remove from heat, sprinkle with sesame seeds to taste, and serve immediately.
Grilled Snap Peas with Feta & Mint
Heat an indoor grill for several minutes until hot. If you are using an outdoor grill, you may need a vegetable grilling plate so your peas don't fall between the grates.

Spray the peas with a thin layer of oil and toss with salt & pepper.

Add the peas to the grill and cook for 2-3 minutes, until bright green and slightly tender. You may need to work in batches, depending on how large your grill is.

Remove peas from heat, squeeze lemon juice over top and sprinkle with feta cheese and mint.
Parmesan Roasted Snap Peas
Heat oven to 425°F. Line a baking sheet with parchment paper and set aside.

Toss the peas with olive oil, salt and pepper, then with the parmesan, panko breadcrumbs and lemon zest.

Arrange on the baking sheet and bake in the oven for 8-10 minutes.
Notes
1- I don't recommend subbing the snap peas for another variety; snow peas are thin, and pea pods of English peas are not edible.
Storage
These recipes are best served fresh, but can be safely stored in the fridge for up to 4 days.
Nutrition
Serving:
1
/3 batch of sesame snap peas
|
Calories:
188
kcal
|
Carbohydrates:
18
g
|
Protein:
7
g
|
Fat:
10
g
|
Saturated Fat:
1
g
|
Sodium:
9
mg
|
Potassium:
453
mg
|
Fiber:
6
g
|
Sugar:
9
g
|
Vitamin A:
2465
IU
|
Vitamin C:
136
mg
|
Calcium:
137
mg
|
Iron:
5.3
mg