A super easy mocktail (or cocktail) perfect for sipping on a hot summer day!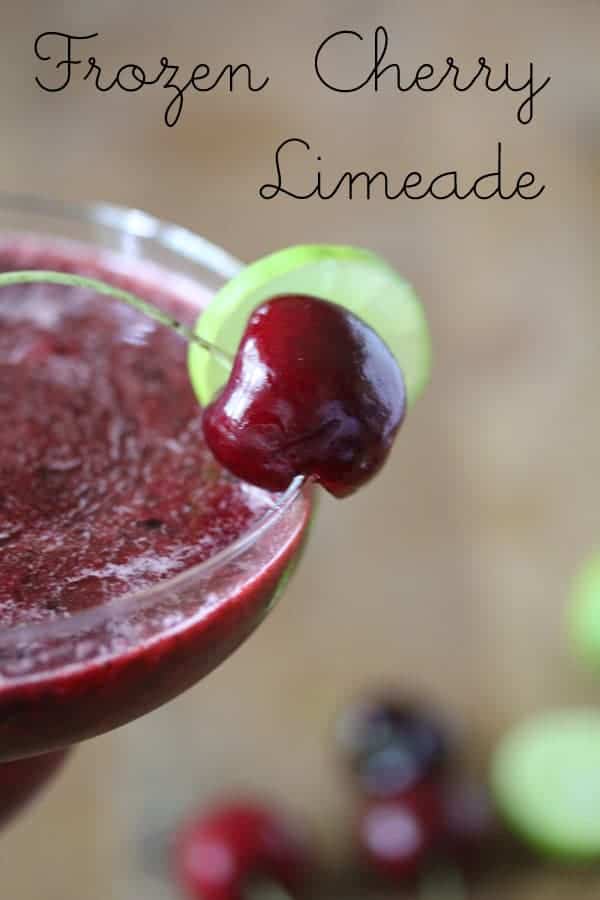 It's Friday!
A few years ago, Fridays meant getting all pumped up and going out dancing, or to the pub. Then it started to be more tame…staying in, watching movies with take out and a bottle of wine. Lately, it has been downright geriatric. I am actually in bed at 8pm.
This is probably due to the fact that I'm 34 weeks pregnant…but these days, Fridays get me riled up to go home, put on my yoga pants, and settle into bed with my pregnant-lady body pillow (which is hilariously named a 'snoogle'…click here for an even more hilarious picture of it).
I mean, I actually get excited to do this! I actually daydream about getting into my stretchy pants.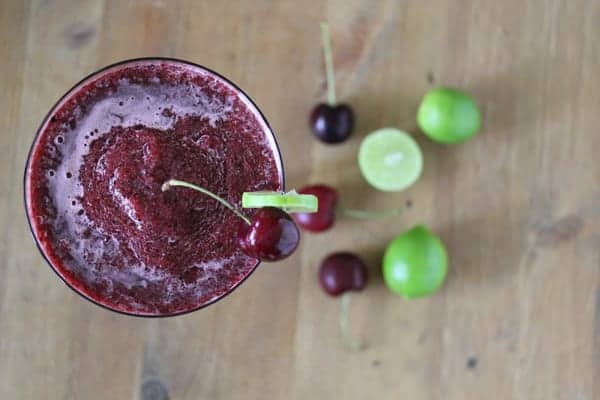 These days, energy is scarce.
Therefore easy=better.
Therefore this drink=a huuuuge winner.
It is so easy! No simple syrup to make. No fancy fruit preparation. No advanced anything at all.
Just frozen cherries. Limeade concentrate. Some ice cubes. Some water. A blender.
That's it.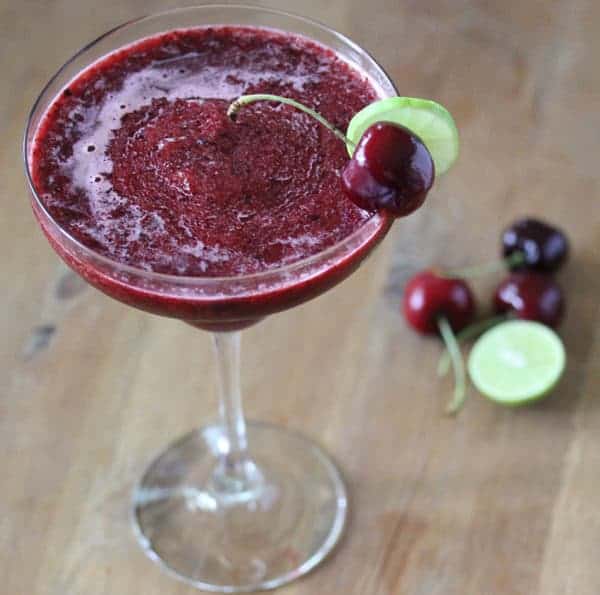 So this week, I'm adding this drink to my Friday daydream…yoga pants, my snoogle pillow, and frozen cherry limeade…maybe not all at the same time but in some sort of sequence.
Now that sounds like a good Friday night to me 🙂
Frozen Cherry Limeade
A great non-alcoholic substitution for a blended daiquiri or margarita for those hot days where you are short on time. Frozen cherries and limeade concentrate are combined for this super simple, refreshing drink.
Ingredients
1

cup

cherries

pits removed and frozen

2

tablespoons

frozen limeade concentrate

1/2

cup

water

plus more as needed

1-2

ice cubes

1

shot rum

optional
Instructions
Combine all ingredients in a blender and blend away!
Notes
To make an alcoholic version, reduce the amount of water you use by ¼ cup and add a shot of light rum.