A delicious non-alcoholic cocktail, perfect for a summery day!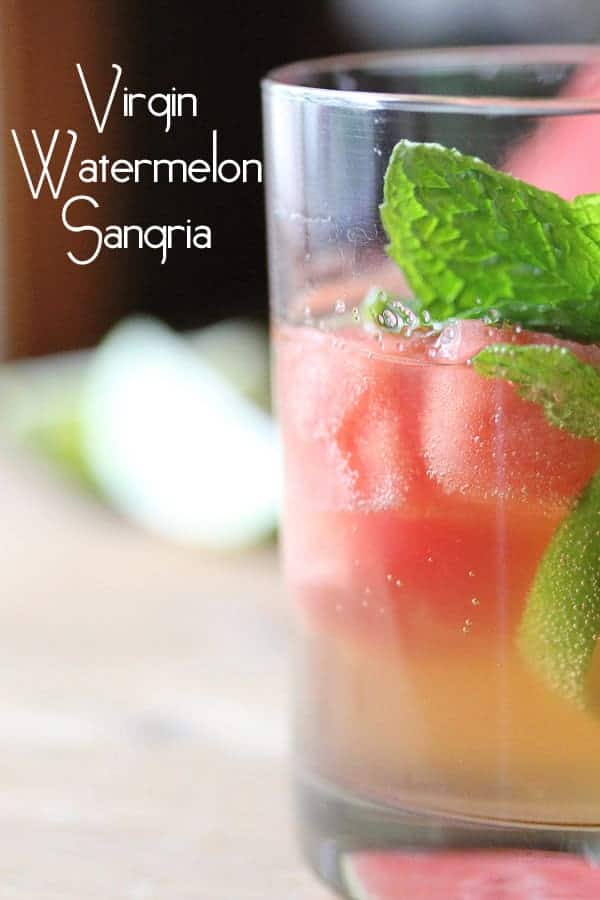 Happy Friday!
Is it just me, or does it seem we've suddenly turned a corner into summer?  I know the US has been having heat waves, but up here in Canada, we were suffering through record rainfall (and floods!), and that rainfall was not accompanied by any sort of heat.  At all.
However this week  has been so beautiful and warm!
With the arrival of summer comes certain expectations.  Ie: burgers…margaritas…ice cream (of which I have already enjoyed copious amounts)…and, of course, the summer fruit, watermelon.
It's just not summer without watermelon.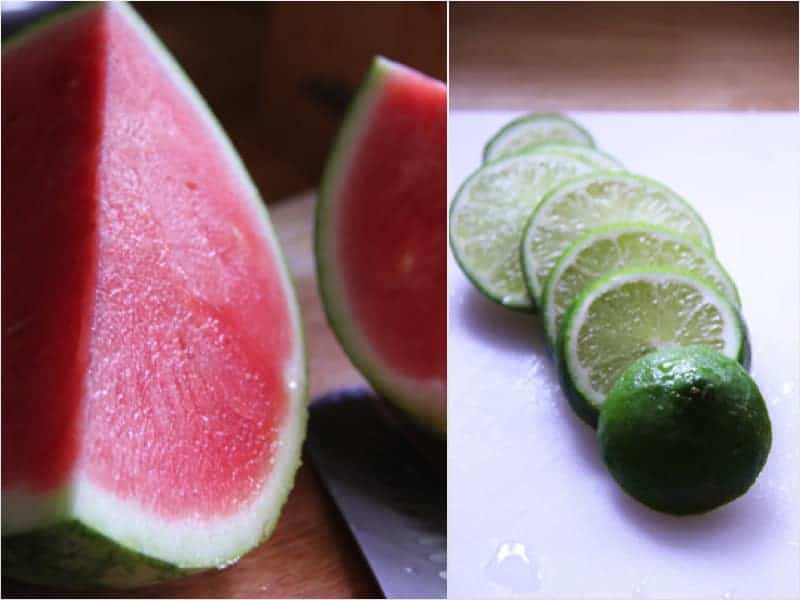 MY LATEST VIDEOS
Last summer I made the highly enjoyable watermelon gin fizz.  This summer, since I am expecting, I am going a slightly different route…of the non-alcoholic variety.
But don't worry, alcohol lovers, this recipe is easily adaptable.  Just sub out the sparkling grape juice for some nice, cold prosecco or sparkling white wine.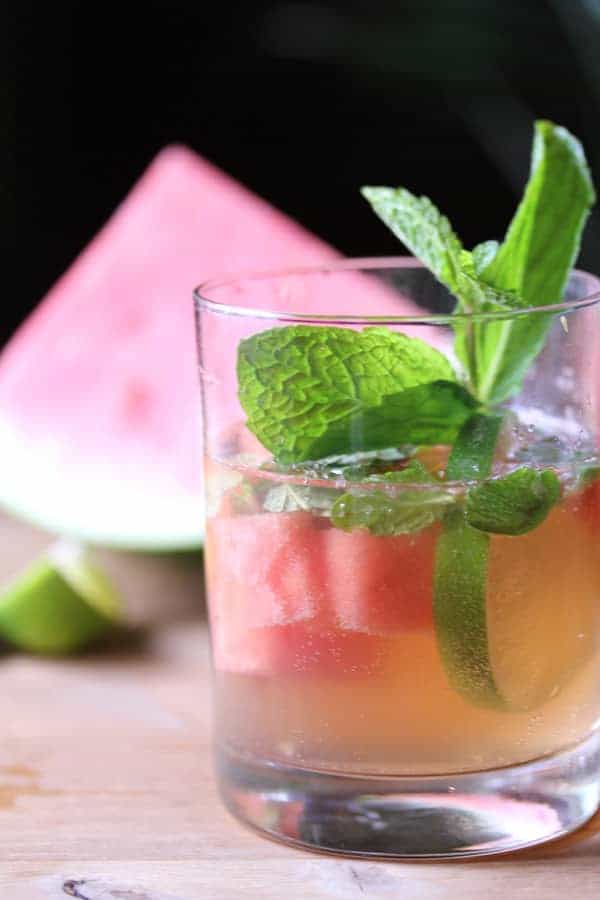 This sangria is great, for so many reasons!
Most importantly, it tastes great…watermelon, mint and lime.  You can't go wrong with that combination.  In fact, mint and lime are pretty compatible with a lot of fruits out there.
This drink takes 3o minutes to make.  And the only reason it takes that long is because you need to freeze the watermelon cubes (this is necessary to prevent the watermelon from disintegrating in your drink, and in my case, room temperature watermelon bringing up the temperature of my cold sparkling grape juice).  So for the 30 minutes it takes to make this drink, 20 of these minutes are spent twiddling your thumbs, waiting.  Or you could do something useful, like clean the dishes.  Or…you know…look at stuff on pinterest 😉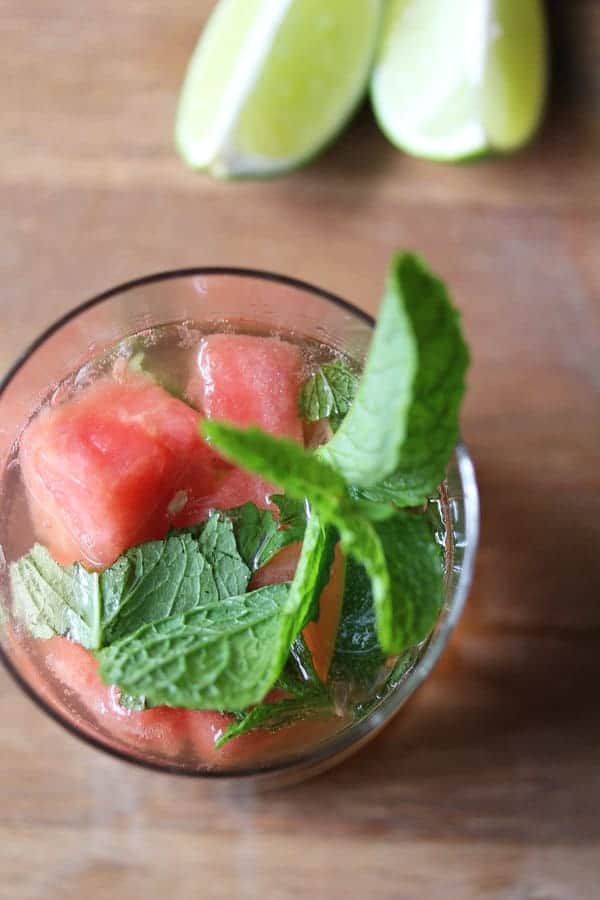 This drink would be great for a BBQ or a picnic.  For a kids version, you might want to go with a slightly sweeter sparkling juice…maybe apple juice?  This sparkling grape juice still had a similar flavor to wine, which was great because I haven't had a glass of wine in 7 long months!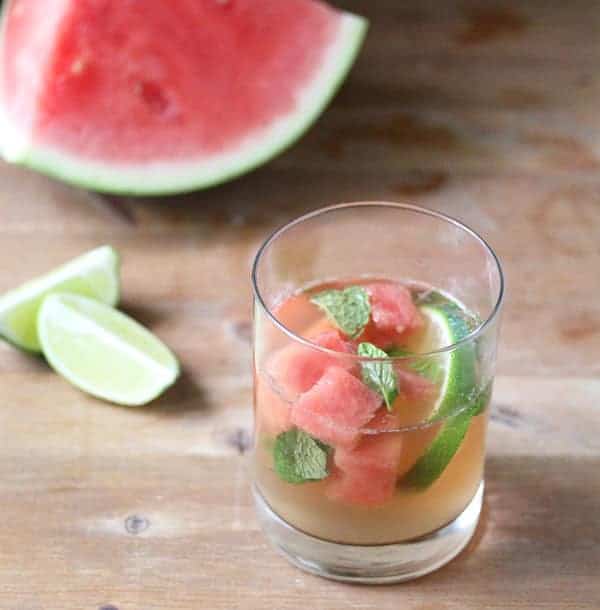 Now that I've had my watermelon fix, I feel like summer really is officially here.  I can't wait to try to fit watermelon into all sorts of dishes.  We've already  enjoyed watermelon, feta and mint salad (forgive the old photos lol), but there are way more recipes out there to try!!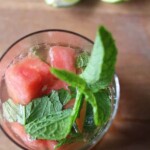 Virgin Watermelon Sangria
This is a super easy recipe perfect for a picnic and refreshing on a hot summer's day.
Ingredients
750

ml

sparkling grape juice

chilled

3

cups

watermelon

cut into 1 inch cubes

1/3

cup

mint leaves

torn

1

lime

sliced
Instructions
After cubing the watermelon, arrange on a cookie sheet and place in the freezer for 20-30 minutes.

Combine lime and mint in the bottom of a pitcher and muddle with a long spoon. Add the chilled watermelon and pour sparkling grape juice over.

Serve immediately.
Recipe Notes
For an alcoholic version, sub the sparkling grape juice with prosecco or sparking white wine.