Crockpot apple butter is the tastiest fall treat! No sugar added, thick and buttery, with pure, concentrated apple flavor.
Continuing on the easy DIY Christmas gifts train with this buttery smooth crockpot apple butter. Not only is it so simple to prep, but it tastes even better than applesauce...thick, sweet and so rich in apple flavor!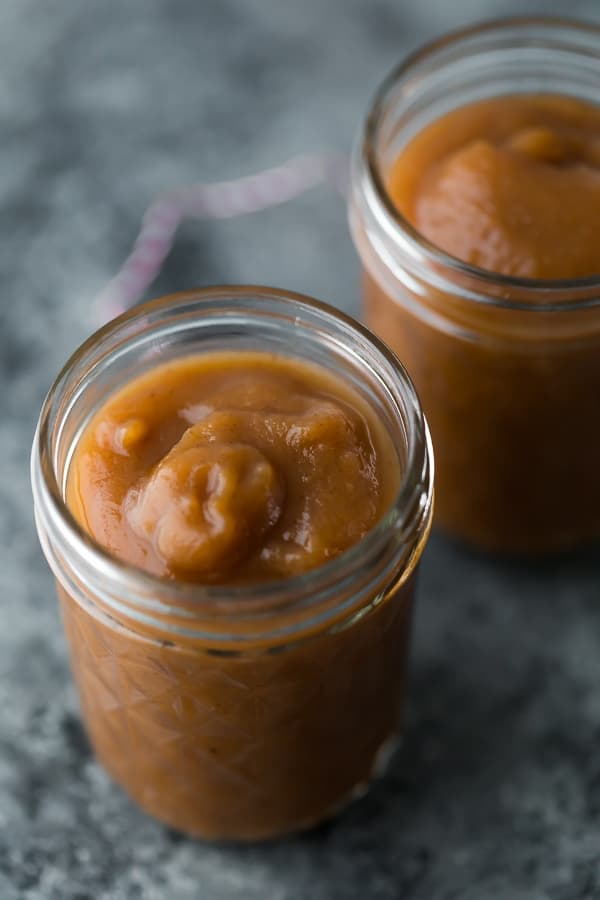 This apple butter also happens to make a great gift! Bottle it up in jars and print out a cute gift tag and voila! You have yourself an easy holiday gift that almost anyone would be happy to receive.
Get your free printable Apple Butter Gift Tag here!
Don't forget to pin this post to save it for later!
Reasons you'll love crockpot apple butter
it's simple to prepare and your house will smell amazing!
it's made of clean, wholesome ingredients
it's versatile and can be spread on toast, drizzled on yogurt or pancakes, or used in baking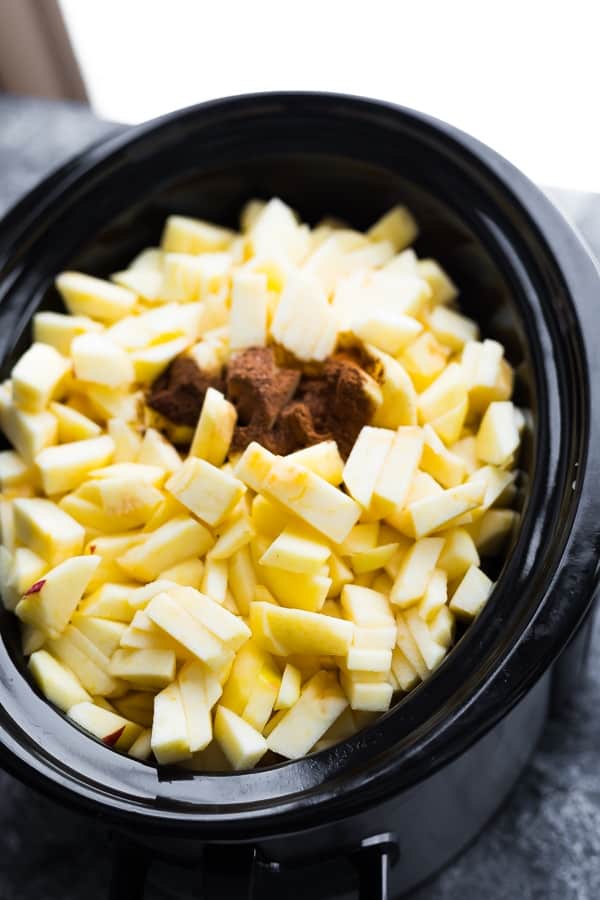 How to make apple butter
Apple butter is similar to applesauce, except that it is simmered low and slow all day long. This helps it thicken and caramelize slightly and really enhances the apple flavors.
Peel, core, and chop your apples. Fill your crock pot right to the top!
Add in the spices, I used cinnamon, nutmeg and cloves.
Cook on high for 4-5 hours, or low for 8-10 hours.
Puree well with an immersion blender.
That's it! So as you can tell, most of the work is in cutting up the apples. Once they're in the slow cooker, there's very little else to do!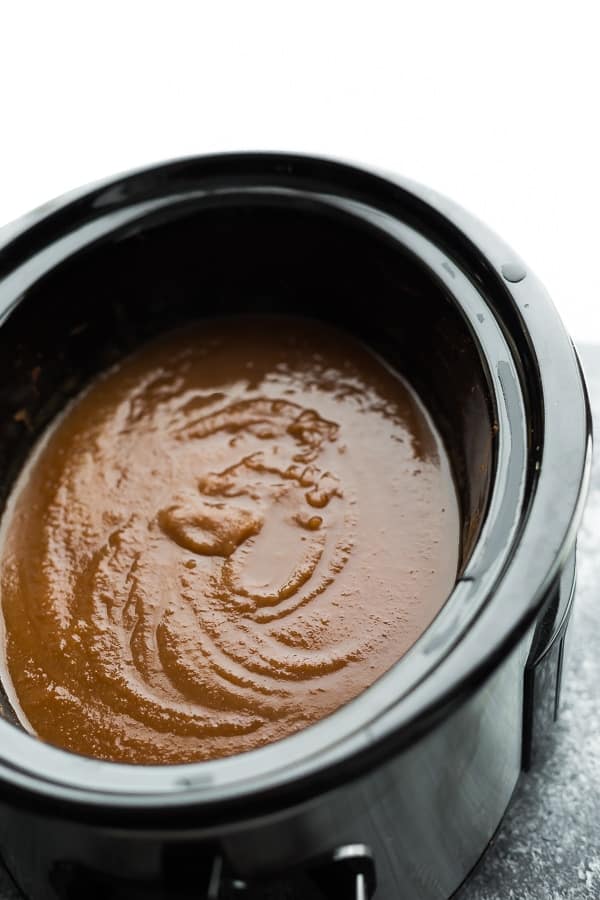 Which kind of apples should I use? You can use pretty much any apple you'd like. I picked ambrosia because they are in season right now and cheap at the grocery store! You can use granny smith, fuji, macintosh, golden delicious, gala, really, use any apple that is in season!
Do I need to add sweetener? Nope! It is plenty sweet since it basically concentrates an apple down...so it's even sweeter than an apple!
Does apple butter thicken as it cools? Yes! You can see from the pictures of the crock pot that it was thinner when it was still warm. As it cools it thickened quite a bit.
Does it need to be refrigerated? Yes. Store in the fridge for up to 2 weeks. You can freeze for up to 3 months. Make sure if you freeze in jars that they are only filled ¾ full and that you leave the lids ajar.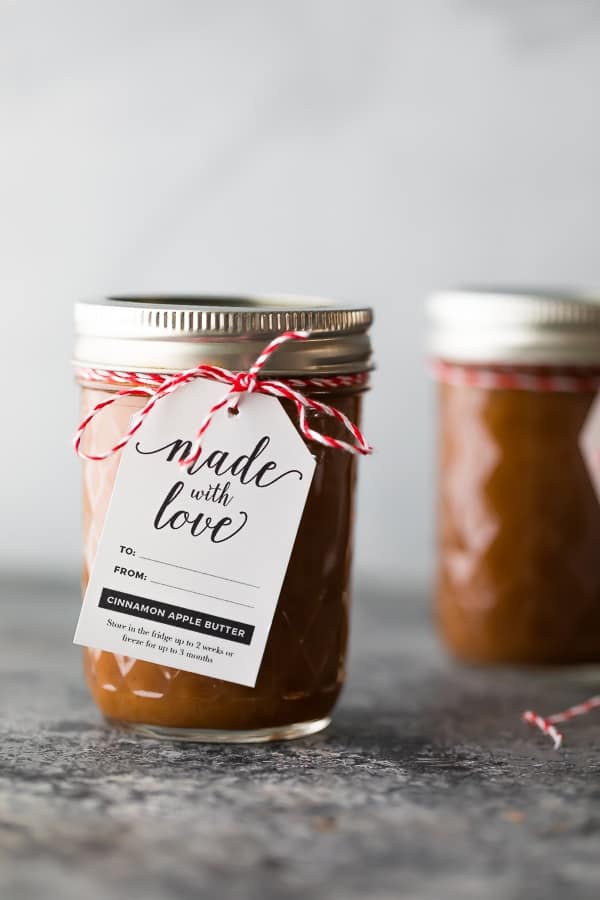 Looking for more DIY Christmas Gifts? Check out: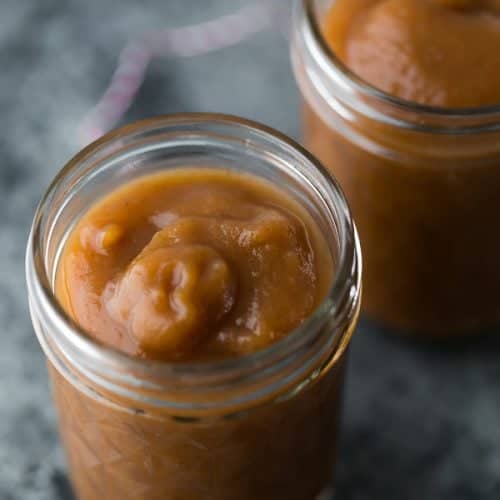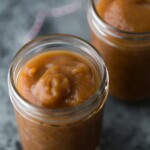 Print Recipe
Crockpot Apple Butter
Crockpot apple butter is the tastiest fall treat! No sugar added, thick and buttery, with pure, concentrated apple flavor.
Ingredients
6

lbs

apples

(approximately; see *; peeled, cored and cut into small ½ inch pieces)

1

tablespoon

cinnamon

1

teaspoon

nutmeg

1

teaspoon

ground ginger
Instructions
Place peeled and chopped apples in the base of a 6 quart slow cooker. Stir in the spices.

Cover and cook on high for 4-5 hours or on low for 8-10 hours. You may want to stir it partway through (only once).

After cooking through, blend it until smooth using an immersion blender. Alternatively you can work in batches and carefully puree the apple butter in a stand blender.

Cool and store in the fridge for up to 2 weeks. You may freeze for up to 6 months; make sure to leave lids ajar and to leave space for expansion if you are freezing right in the jars.
Notes
*I honestly did not measure, but filled the slow cooker all the way to the top with peeled & chopped apples. They will reduce in size substantially during the cook time so make sure to fill it right to the top!
Nutrition
Serving:
1
cup
|
Calories:
145
kcal
|
Carbohydrates:
38
g
|
Protein:
0
g
|
Fat:
0
g
|
Saturated Fat:
0
g
|
Cholesterol:
0
mg
|
Sodium:
2
mg
|
Potassium:
291
mg
|
Fiber:
7
g
|
Sugar:
28
g
|
Vitamin A:
145
IU
|
Vitamin C:
12.5
mg
|
Calcium:
24
mg
|
Iron:
0.4
mg