A mini blueberry shortcake recipe that is topped with lemon whipped cream and almonds! A fun and tasty strawberry shortcake alternative.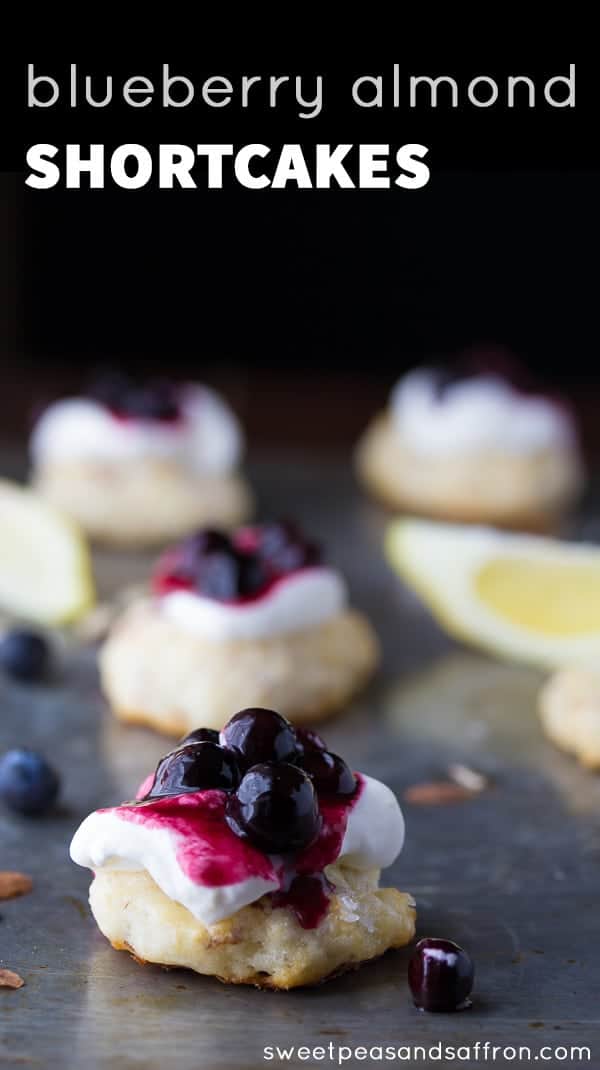 Well hello, Thursday! Where did you come from?
Sneaky, sneaky Thursday…almost as sneaky as June! But Thursdays and June are good things to have sneak up on you, because we have so many sunny, summery wonderful week-end-y type things to look forward to. I say sneak away! Unless your name is Monday. Then you stay away. I mean it.
My favorite summery week-end-y thing of all is baking up some sort of fun fruity dessert. Crisp, coffee cake, pie, shortcake…you get the picture. Fruit. Dessert. Yummy times.
And last week-end, it was time for shortcake. Blueberry shortcake.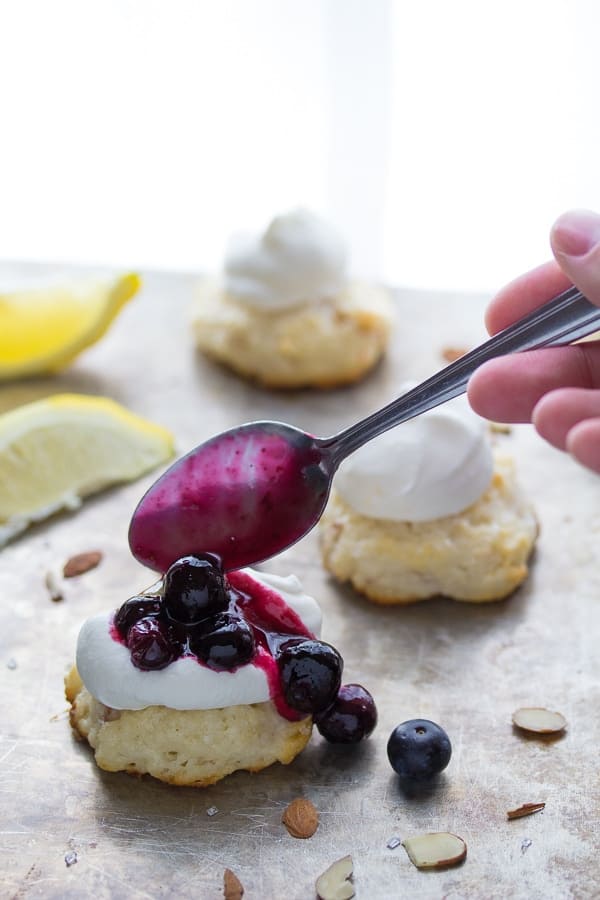 Shortcake isn't something I remember eating growing up. In fact the words strawberry shortcake would have made me think of the TV show, not the dessert.
It wasn't until a few years ago that I tried this recipe from Martha Stewart and fell in love with strawberry shortcake (the dessert). It is just so light: fluffy whipped cream topped with fresh strawberries all over a buttery shortcake biscuit.
I just love how it's not sweet at all, yet still so amazingly delicious (and this coming from a girl with a serious sweet tooth). You walk away feeling satisfied but not over-stuffed or weighed down by richness.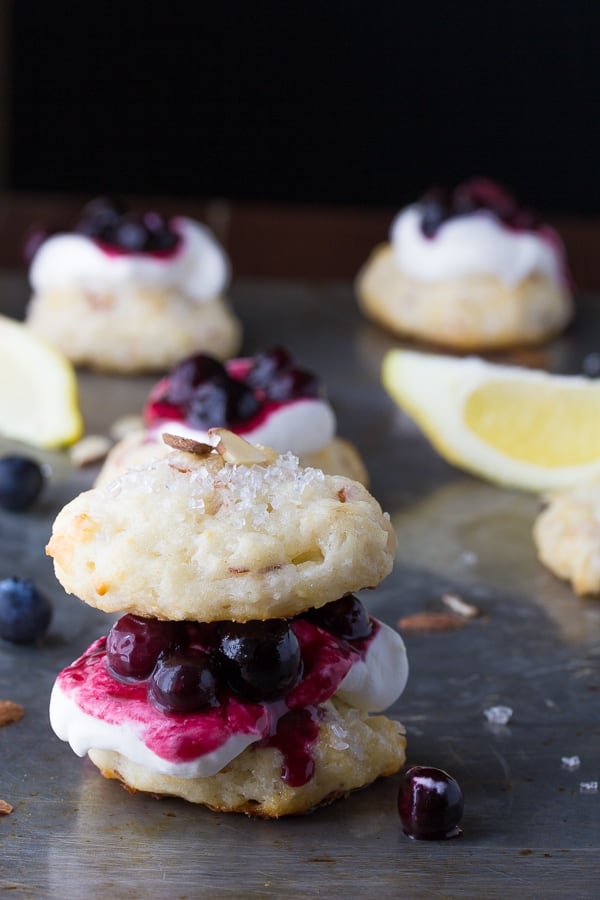 My only beef with strawberry shortcake is that it always felt to me like way too much biscuit for the fruit and whipped cream…I much prefer an 'open faced' shortcake.
Because of this, I decided to make these shortcakes mini-sized, and load them up with blueberries and whipped cream.
For this blueberry shortcake I went with a blueberry-almond-lemon flavor combination…you just can't go wrong with those flavors, they are so good together!
There are three components to this dish: the almond shortcakes, which contain sliced almonds and a touch of almond extract, the blueberry syrup, and the lemon-whipped cream. Awesomely, they can be prepped ahead of time and set aside until ready to serve. Even more awesome news: when stored separately, everything holds up for a couple of days, so you can enjoy the left-overs!
I hope you make this blueberry shortcake recipe a part of your summery week-end-y fun!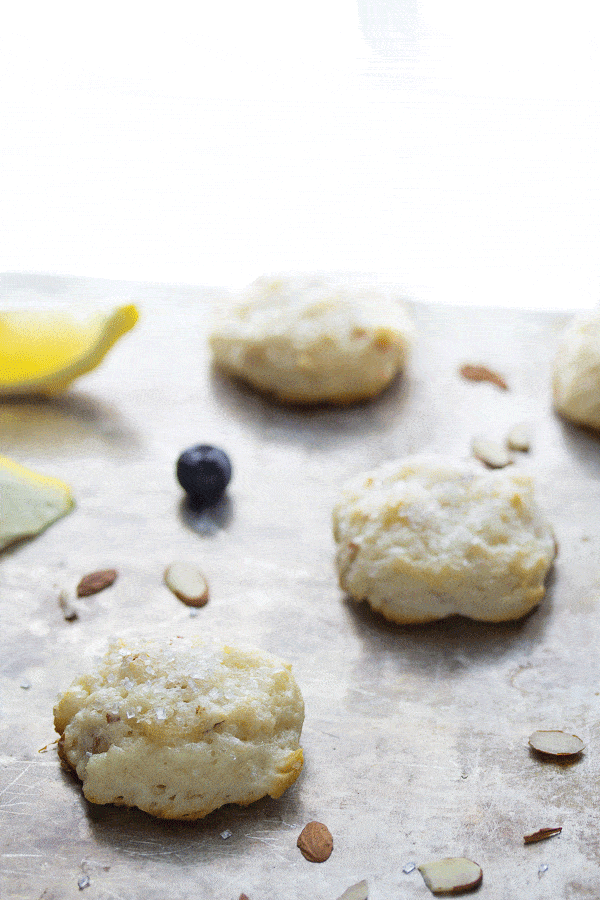 You may also like: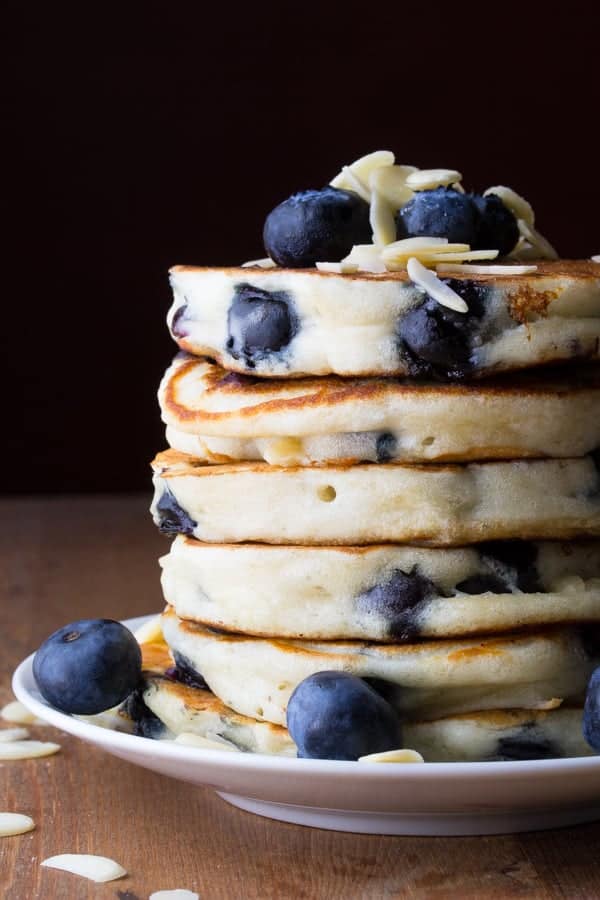 Extra Fluffy Blueberry Almond Pancakes
Skinny Blueberry Buttermilk Muffins
Blueberry Almond Shortcakes with Lemon Whipped Cream
A mini blueberry shortcake recipe that is topped with lemon whipped cream and almonds! A fun and tasty strawberry shortcake alternative.
Ingredients
Almond Shortcakes:
2

cups

all purpose flour

fluffed, spooned & levelled; 250 grams

1

tablespoon

baking powder

6

tablespoons

sugar

6

tablespoons

cold unsalted butter

cut into small cubes (84 grams)

1/2

cup

sliced almonds

1

cup

buttermilk

1/2

teaspoon

almond extract

1

egg

beaten (for brushing)

1

tablespoon

milk

for brushing

coarse sugar

for sprinkling
Blueberry Syrup:
1

pound

of blueberries

approximately 4 cups

3

tablespoons

sugar

2

teaspoons

lemon juice

1

teaspoon

corn starch
Lemon Whipped Cream:
1

cup

whipping cream

2

teaspoons

lemon zest

1

teaspoon

lemon juice
Instructions
Almond Shortcakes
Pre-heat oven to 375°F. Line two baking sheets with parchment paper and set aside.

In a medium bowl, combine the flour, baking powder and sugar.

Using a fork or pastry tool, cut the butter into the flour mixture until it is small and crumbly.

Stir in the almonds, then the buttermilk and almond extract.

Form into 1½ tablespoon-sized shortcakes, around 1 inch thick and 2 or so inches wide. Dough will be very sticky.

In a small bowl, beat the egg and tablespoon of milk. Brush tops with egg wash.

Sprinkle tops with ¼ teaspoon of coarse sugar.

Bake for 17-20 minutes, or until tops are lightly golden.

Allow to cool 5 minutes on the baking sheet before transferring to a wire rack to cool completely.
Blueberry Syrup
Heat the blueberries, sugar and lemon juice in a medium pot over medium heat.

Cook, stirring frequently, until blueberries begin to pop, around 5 minutes. *do not overcook!

Stir in the cornstarch until no lumps remain, and remove from heat.

Allow to cool to room temperature before serving.
Lemon Whipped Cream
In a medium bowl, beat the whipping cream until desired consistency is reached.

Fold in the lemon zest and juice.
To Serve:
Top a shortcake with a spoonful of whipping cream, and another spoonful of blueberry syrup.
Notes
This recipe makes 24 open-faced *mini* shortcakes.
If you would like tops, you can either cut the shortcakes in half, or top with additional shortcakes.
Nutrition
Serving:
1
shortcake
|
Calories:
148
kcal
|
Carbohydrates:
16
g
|
Protein:
2
g
|
Fat:
8
g
|
Saturated Fat:
4
g
|
Cholesterol:
29
mg
|
Sodium:
43
mg
|
Potassium:
115
mg
|
Fiber:
1
g
|
Sugar:
7
g
|
Vitamin A:
270
IU
|
Vitamin C:
2.3
mg
|
Calcium:
51
mg
|
Iron:
0.7
mg
Shortcake recipe adapted from Martha Stewart
Products used in this recipe: