This delicious strawberry arugula salad is packed with fresh berries, almonds, feta and arugula, topped with seared steak, and drizzled with a balsamic vinaigrette! A fast and easy week-night dinner.
I don't think I could ever live somewhere on the equator. Forget the fact that the humidity would make my hair turn like Monica's on Friends (the one where they go to Barbados). Forget the fact that I would be melted into a puddle on the ground.
What I would really miss are the seasons!
Ben grew up in Darwin, Australia, which is practically on the equator. Please, look up Darwin. He literally grew up where Crocodile Dundee was shot, I kid you not. He even claims to know the water buffalo in the movie. I know.
I digress. Darwin doesn't really have seasons…just the hot dry season and the hot wet season. Both of these are Monica-hair-scenarios for me.
Without seasons, we wouldn't have this wonderful time of year to look forward to: berry season! The summer berries are coming…maybe they are already where you live…regardless, I have the world's most delicious way to enjoy them: this strawberry arugula salad!
I mean, yes…technically we are lucky in that we can get ahold of berries any time of year…but those ridiculously expensive winter berries ain't got nothing on the fresh, sweet, delicious summer berries!
I really enjoyed all of the comforting winter dishes I cooked this year. But I'm ready for a change, and I'm so excited for all of the produce that summer has to offer!
I have a confession:  I am not that great at cooking meat…Ben is the meat cooker in this household. But I've decided that it is time for me to put on my big girl apron and learn how to cook meat. So I've been practising with this steak, and we've been eating this steak salad for a few weeks now!
What have I learned? First of all, our barbecue is totally unsuitable for cooking steak. It just doesn't get hot enough, and with steak, you want it suuuuper hot…like oil on the verge of smoking kind of hot.
Secondly, the cast iron skillet is my friend. Steak + skillet = love.
This strawberry arugula salad is one of my favourite salads of all time…there is just so much flavor packed in there: sweet berries, peppery arugula, tangy balsamic, and salty feta.
Also a delicious array of textures: soft berries, crunchy almonds, creamy feta.
Oh, did I mention: steak.
Also: ready in under 30 minutes.
Happy berry season! Celebrate with salad 😉
Strawberry Arugula Salad with Steak & Balsamic Vinaigrette
This delicious salad is packed with fresh berries, almonds, feta and arugula, topped with seared steak, and drizzled with a simple and delicious balsamic vinaigrette! A fast and easy week-night dinner!
Ingredients
Steak
4

steaks of your choice

I used beef sirloin tip, 1 inch thick

steak seasoning

I used Montreal Steak Spice, but simple salt and pepper will also do

1

tablespoon

vegetable oil
Salad
6

cups

arugula

6

oz

1 cup raspberries

6

oz

1 cup blueberries

1

cup

strawberries

sliced

1/2

cup

feta cheese

crumbled

1/4

cup

slivered almonds
Balsamic Vinaigrette
1/4

cup

balsamic vinegar

1/4

cup

olive oil

3

teaspoons

sugar

1/2

teaspoon

Dijon mustard

salt and pepper
Instructions
Steak:
Season steak and allow to sit at room temperature for 5-10 minutes.

Heat oil in a cast-iron skillet over medium high heat. Wait until the oil is very hot, it will be shimmering.

Add the steak to the pan, do not touch it. Cook for 5 minutes, flip, and cook for another 3 minutes.

Transfer the steak to a plate and allow to rest for 5 minutes before cutting into strips.
Salad
While the steak rests, combine all salad ingredients in a large bowl.

Shake together all vinaigrette ingredients in a small shaker, then pour over the salad and toss to coat evenly.
To Serve
Divide the salad into 4 bowls, and top with steak.
Nutrition
Serving:
1
/4 batch
|
Calories:
506
kcal
|
Carbohydrates:
23
g
|
Protein:
23
g
|
Fat:
37
g
|
Saturated Fat:
13
g
|
Cholesterol:
68
mg
|
Sodium:
273
mg
|
Potassium:
567
mg
|
Fiber:
5
g
|
Sugar:
14
g
|
Vitamin A:
840
IU
|
Vitamin C:
40.9
mg
|
Calcium:
187
mg
|
Iron:
3
mg
Products used in this recipe:
 You may also like: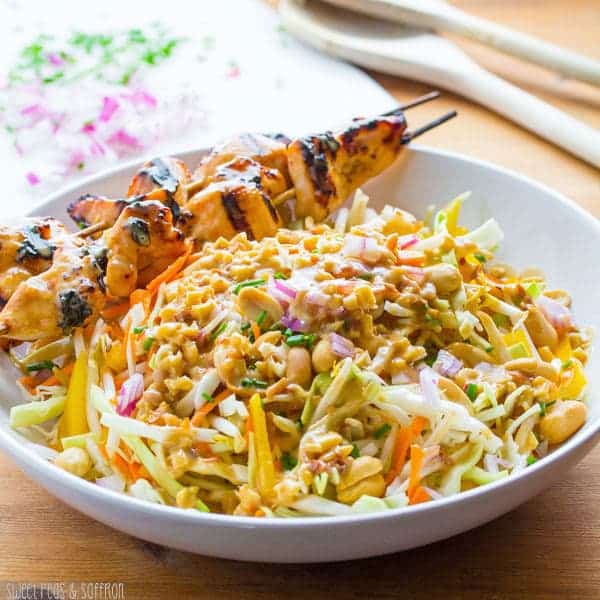 Chicken Satay Salad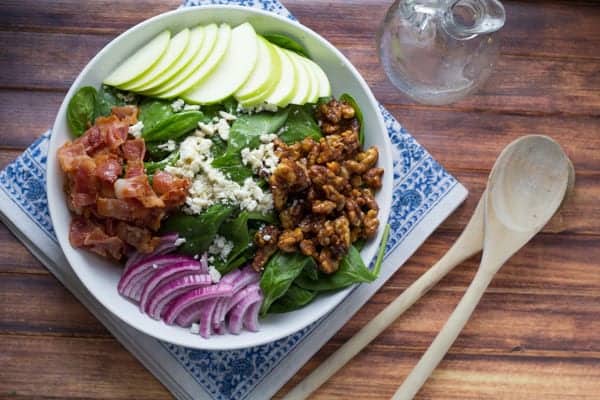 Spinach Salad with Apples, Bacon, and Spicy Maple Walnuts
Roasted Sweet Potato and Wild Rice Salad with a Chili-Lime Vinaigrette