I have a confession…I am a picky eater!  My random assortment of dislikes includes the following: mustard, raisins, gold tequila (I have my reasons), egg nog (it has raw eggs in it), bananas, grapefruit and oranges.
My dislike of oranges is particularly strong, and I'm not even sure how it started!  All I know is that if someone starts peeling an orange around me, I have to leave.  I don't want oranges in my house…not even orange juice!  I can't stand the smell of it, the look of it, any of it!  I am completely and irrationally an anti-orange person.
For this reason, I have traditionally avoided sangria.  Until now.

This sangria combines beautiful wintery fruit (Apples, Pears, Pomegranate seeds) with nutmeg and cloves.  Most importantly, there are NO ORANGES!
The fruit and spices are soaked in white wine for 24 hours.  The wine takes on mild fruity flavors…surprisingly the pear flavors were more intense than the apple.  The nutmeg and pear combo is divine!  I'm taking note of that one.  The fruity-nutmeggy wine is then combined with sparkly, bubbly champagne.
This sangria would make a perfect New Years party drink.  It is sophisticated (although putting pretty much anything in a champagne flute makes it look pretty sophisticated to me), it is pretty, and best of all, it tastes really, really good.  Watch out, though, it might not last until midnight!
Apple, Pear and Pomegranate Sangria
Print recipe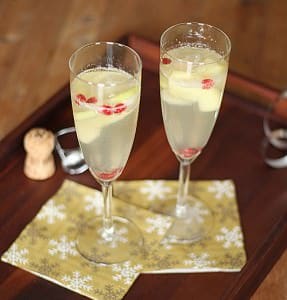 | | |
| --- | --- |
| Serves | 10 |
| Prep time | 5 minutes |
| Cook time | 12 hours |
| Total time | 12 hours, 5 minutes |
| Meal type | Beverage |
A beautiful wintery version of sangria featuring apples, pears and pomegranates with a hint of nutmeg and cloves. Perfect for a Christmas or New Years party!
Ingredients
1 bottle dry white wine
2 apples (peeled, cored, and sliced very thin)
2 pears (peeled, cored, and sliced very thin)
20 whole cloves
1 teaspoon ground nutmeg (fresh makes ALL the difference here!)
1 bottle champagne, prosecco or sparkling white wine (chilled)
handful pomegranate seeds
Directions
| | |
| --- | --- |
| 1 | Combine pears, apples, cloves and nutmeg in a large pitcher. cover with white wine. Refrigerate for 24 hours. |
| 2 | Fill a champagne flute half way with the fruit/wine mixture. Top with champagne and several pomegranate seeds. |
Recipe adapted from My Recipes