Sharing my clean skincare routine with you today! I have swapped out many products for natural or non-toxic products and my skin has never looked or felt this good!
I love reading about other people's clean beauty and skincare routine and thought it would be fun to share my favorite products with you today.
Over the last six months, I have been slowly swapping out my skincare products for non-toxic skincare products. My skin has seriously never looked or felt this good!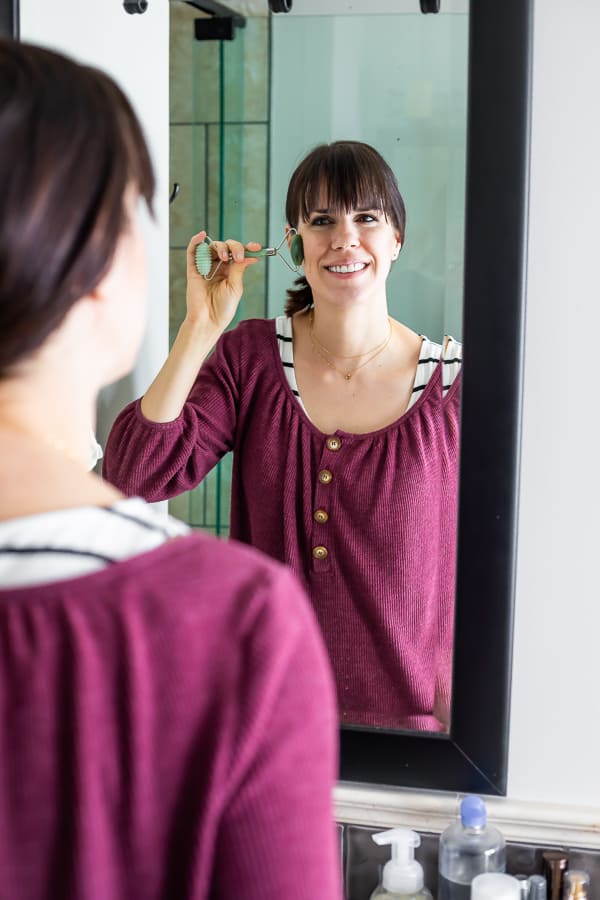 First off, I have to get something off my chest.
I have a PhD in biochemistry, so it bothers me when influencers throw around terms like 'cancer causing' or 'chemicals', or try to convince you that they actually understand the complexity of all the ingredients in our skincare products. I think it is very dangerous to get your information from influencers who have no background or training in what they are talking about.
First, chemicals literally make up our entire planet. Secondly, you can certainly never prove a chemical leads to cancer, though exposure may lead to a higher risk of developing it. You just cannot say 'cause'. Thirdly, just because something is 'natural', does not mean it is good for you. Want to put poison ivy on your face? That's natural 😉
To me, the 'natural' part of things is less important than the 'non toxic' or 'clean' part of things.
Don't forget to pin this post to save it for later!
How I determine if a product is safe to put on my skin:
I put it into the Skin Deep Cosmetics Database, and have a look at what it tells me. They will link you to information on specific ingredients with actual scientific research to back up why this may or may not be a questionable ingredient. This allows me, as a consumer, to make my own decision about whether I use a product on my skin.
I use the Think Dirty app. Similar to the EWG database, this app will give you information on product ingredients so you can make an educated decision on your own. Pros- it's on your phone. Cons- it doesn't have all products and sometimes gives conflicting data to EWG.
I will never rely on the opinion of an influencer. Knowledge is power and we need to educate ourselves about this stuff! I urge you to do the same!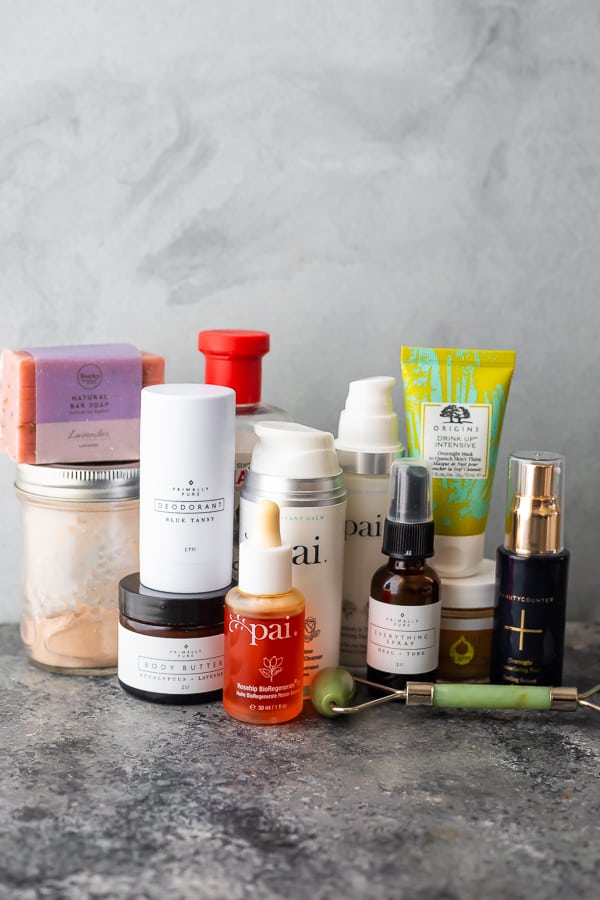 Why am I switching to a cleaner skincare routine?
I'm going to choose my words very carefully here and explain why I am switching to a clean skincare routine.
What we put on our skin can be absorbed into our bodies. I would like to be more selective in what I allow on my skin for this reason.
I worry that putting products with preservatives and hormone-disrupting ingredients can damage my skin and mess with my body. A) Putting things on your skin that are going to keep bacteria from growing...what are they doing to your skin cells? and B) you just don't want to f*ck around with hormones. They control everything. Don't make them mad!
There is a lag between science and policy/law. I want to take control of what I put on my body right now rather than wait for the government to mandate it and force cosmetics companies to remove it from their products.
I do not care to support giant cosmetics companies who don't care about the environment, animals, etc. I want to support companies who have their heart in the right place from the start. I have been thinking about this a lot lately. I am putting my wallet where my heart is this year.
I am genuinely curious! Once I started trying a few non toxic skincare products, I was floored at how well they worked, and even more, how good my skin started to look and feel. After swapping a few products I was hooked!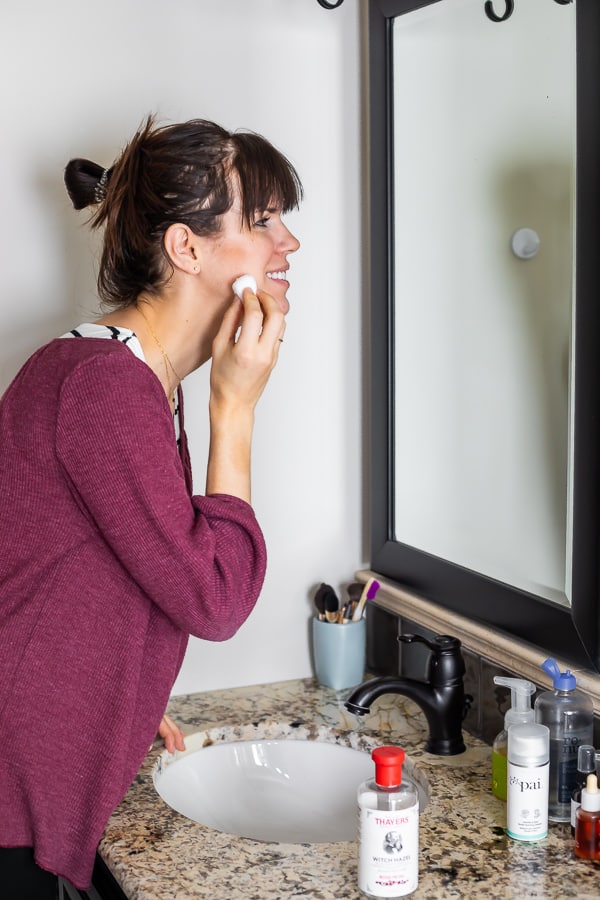 OK, now that I got all that off my chest, I am excited to share my favorite skincare products with you!
After years of sleeping in my make-up, followed by using too harsh of cleansers, I have finally started taking care of my skin properly. I have been taking the time to experiment and see what works.
I always thought my skin was too shiny/greasy I have realized it's actually dry/combination and that using a strong cleanser has been the wrong approach. Using the Pai products listed below has been a huge game changer. They really are the best!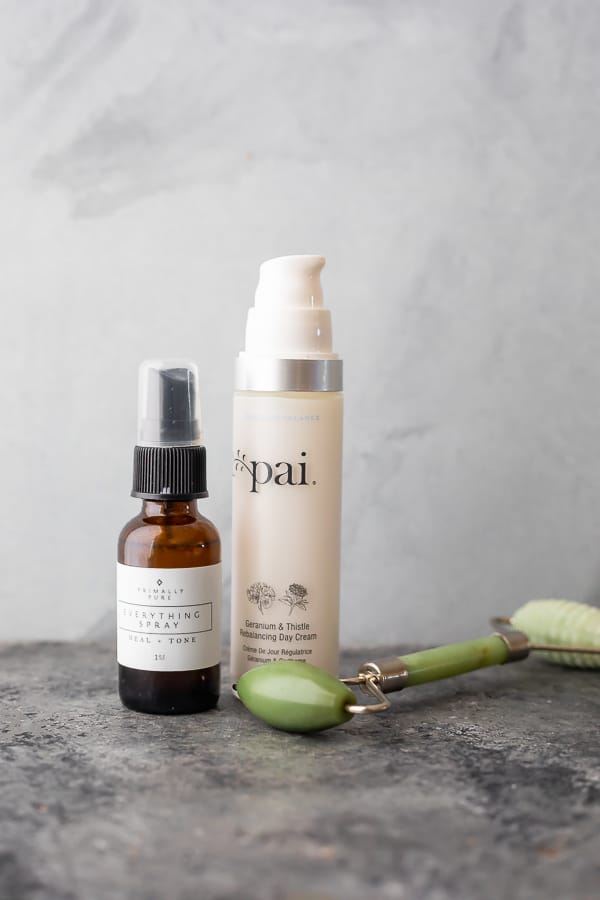 Face
Morning:
This might be hard to believe but I don't wash my face in the morning. I live in an extremely dry climate and found that washing my face in the morning stripped out so much moisture that my face started overcompensating and I would break out. As soon as I cut out my morning wash, everything improved.
Here's my current AM routine:
Primally Pure Everything Spray (use code SPS10 at checkout for a 10% discount!)- I do around 5 spritzes on my face. It's so refreshing and wakes my skin right up!
Jade Roller- this is my second jade roller...I advise you to skip the cheap amazon jade rollers as the one I bought lasted a whole week before it broke. I rub this all over my face for about a minute and it spreads the everything spray all over and de-puffs my skin.
Pai Geranium & Thistle Rebalancing Day Cream if needed. I will put this on over the everything spray and then use the jade roller to help it sink into the skin. It is hydrating but doesn't leave your skin feeling greasy. Love it!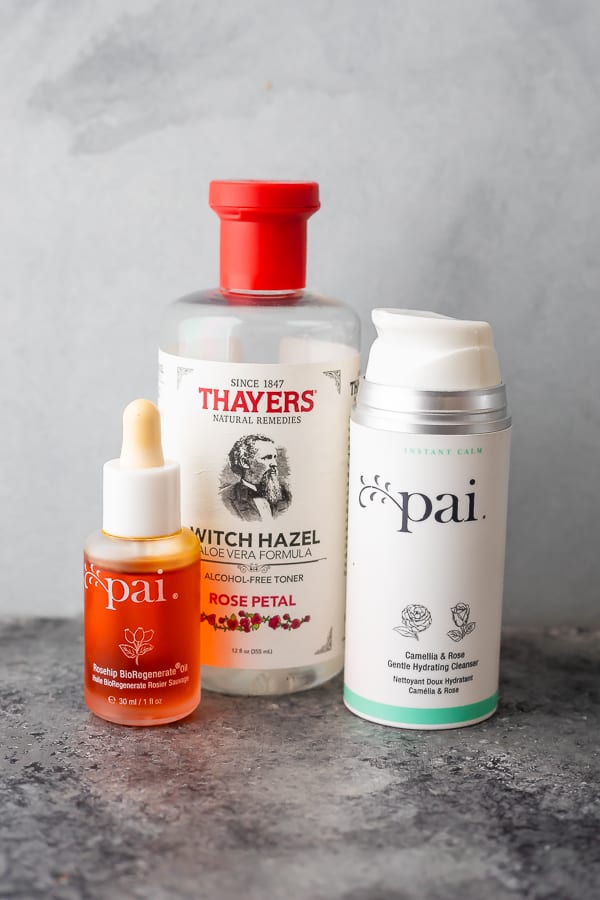 Evening:
I used to hate washing my face. I skipped this step more often than I care to admit, well into my 30's. These days I actually look forward to the nighttime ritual of cleaning my skin before bed.
Pai Camellia & Rose Gentle Hydrating Cleanser- THIS IS A GAME CHANGER! Every other cleanser felt like it stripped all natural oils out of my skin and then you need a heavy, greasy cream to replenish it. But this cleanser keeps the natural oils in place and still manages to remove your makeup. Love love love.
Thayers Alcohol-Free Rose Petal Witch Hazel Toner with Aloe Vera- a great all purpose toner and I rub it on generously with a cotton ball. You can skip this and use the Everything Spray instead!
Pai Rosehip BioRegenerate Oil- I have tried other rosehip seed oils and this one takes the cake. 3 drops and I rub it all over my face. It feels like I am feeding my skin!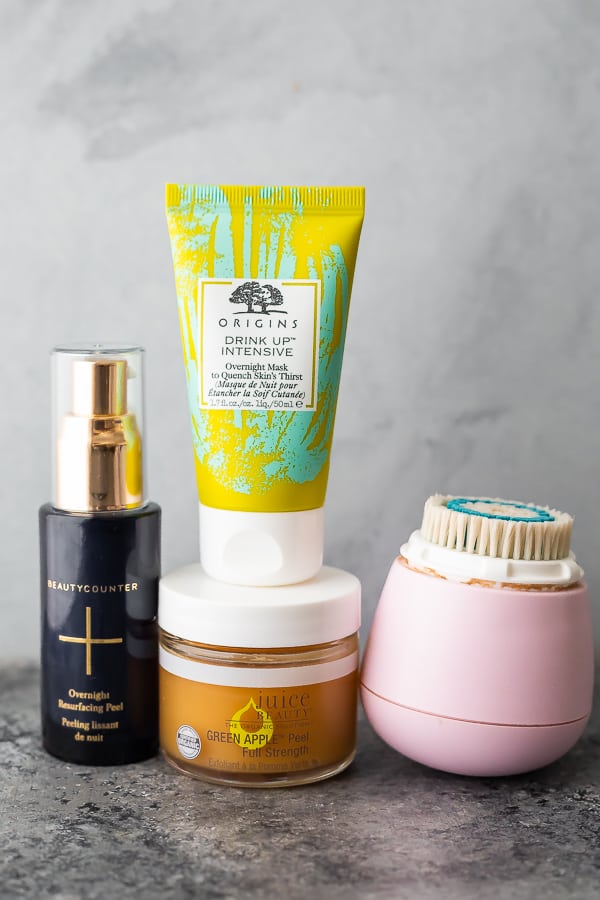 Face (1-2 times per week)
When I have time. I rotate through these depending on what my skin needs (exfoliation versus moisture).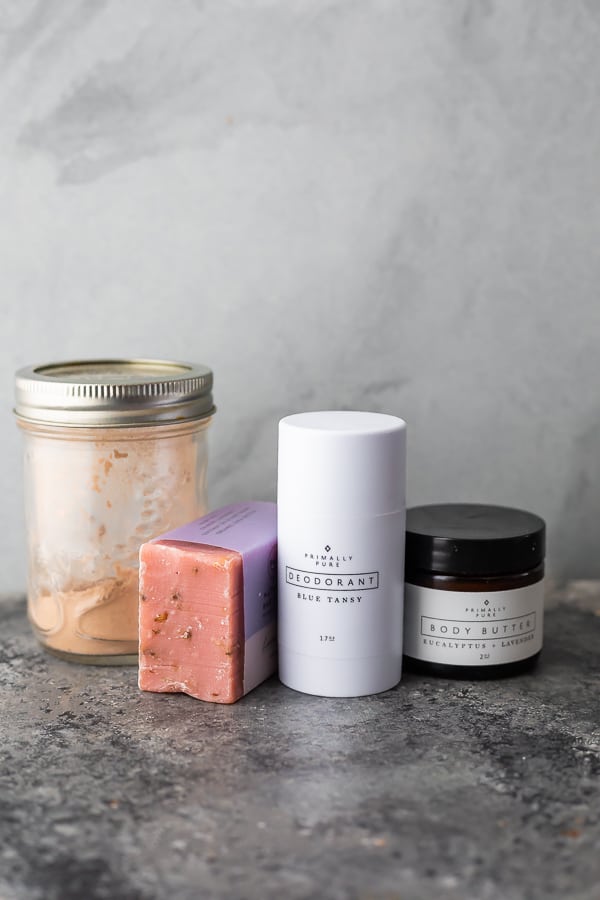 Body
Rocky Mountain Soap Company Goats Milk & Lavender Soap- this is a local store and I really love this soap. Plus swapping from body wash to soap reduces the plastic waste I generate in the bathroom.
Primally Pure Blue Tansy Deodorant - (use code SPS10 at checkout for a 10% discount!)- I am truly obsessed with this deodorant. It glides on so smooth and smells great. I HIGHLY recommend this one if you looking for a good natural deodorant!
Primally Pure Eucalyptus & Lavender Body Butter (use code SPS10 at checkout for a 10% discount!)- this sinks in so smoothly to my skin and smells absolutely divine.
Hair
Hair is where I still need to make some swaps. I am using up what I have rather than tossing it out. So I'll be in the market for non-toxic conditioner and a new bar shampoo soon!
Lush Jumping Juniper Bar Shampoo- I will be switching this out soon because it does contain some questionable ingredients. However I wanted to share that I am still loving having a bar shampoo! If you have a good option for a different bar shampoo I'm all ears.
Homemade Dry Shampoo (from Wellness Mama!)- I have heard Primally Pure has a great dry shampoo but for now, I am loving this cheap and zero waste alternative. It works great and I don't have to worry about blowing through aerosol cans the way I used to!
That's it! My non-toxic skincare routine. I know it looks a little involved, but for me, it has become a bit of a self-care ritual that I truly enjoy.
I would love to hear your thoughts on all of this, and if you have a fave that I should try, leave me a comment below!
Take care,