These mini pear and cranberry pies are so easy to make, and are perfect for a party. Make sure not to skip the brown butter glaze!

Today is a very special day at our house…little man turns two!
I can barely even comprehend how two years have gone by…because I swear it was just yesterday that I was pregnant and googling every symptom I had (pregnant ladies: just don't google it. You'll sleep better).
It is crazy how much one little person can change your life…my priorities have completely changed, sleep seems a little less important, and the things I look forward to revolve less around the material stuff are more about those little moments.
I didn't make these mini pear and cranberry pies with Kai in mind, but they are pretty much perfect for him…mini sized and so sweet (awww)! So I think it's appropriate that I'm sharing them with you on his birthday 😉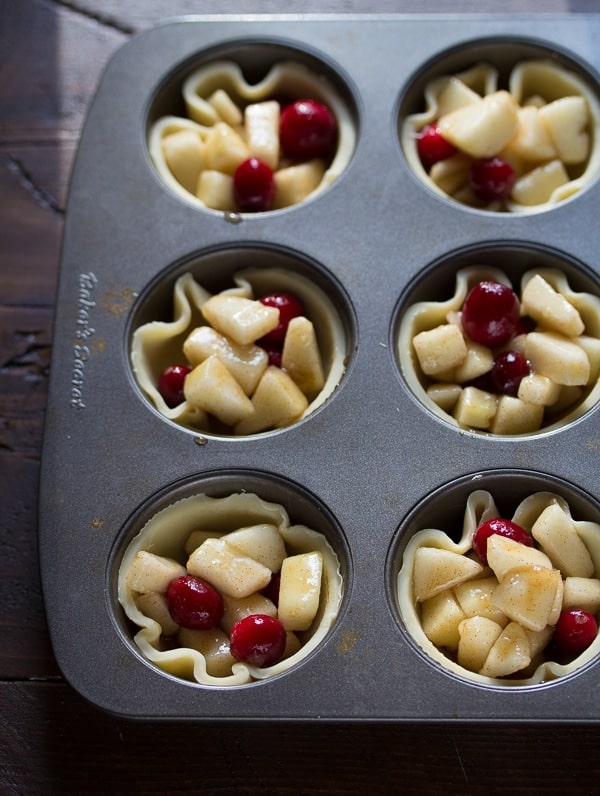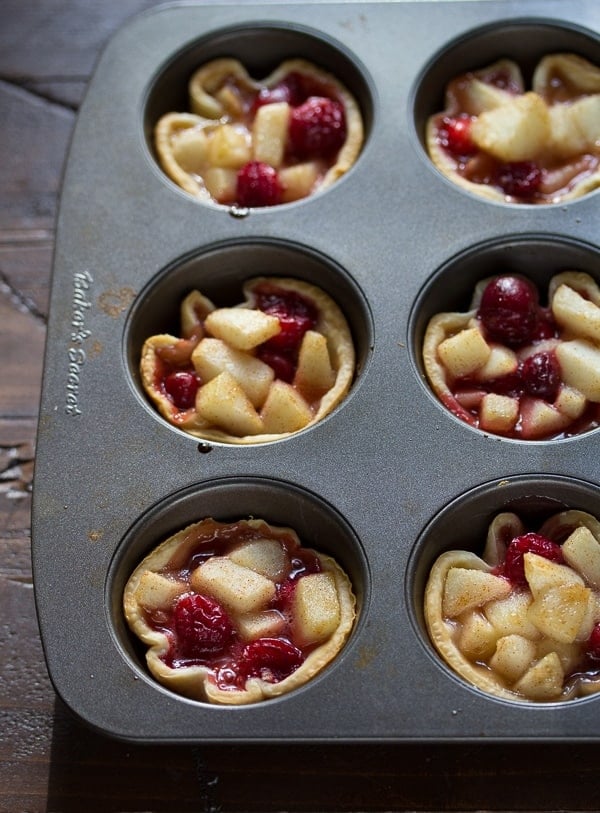 While I do love pie, I find I rarely have a reason to make a whole pie. (Thanksgiving, you're the exception, you always require a full-sized pumpkin pie.)
Ben doesn't have much of a sweet tooth, and I do not need to eat an entire pie myself.
So I love the idea of mini pies…they'd be perfect as bite-sized party snacks, maybe a coffee-break snack, as an after-dinner sweet.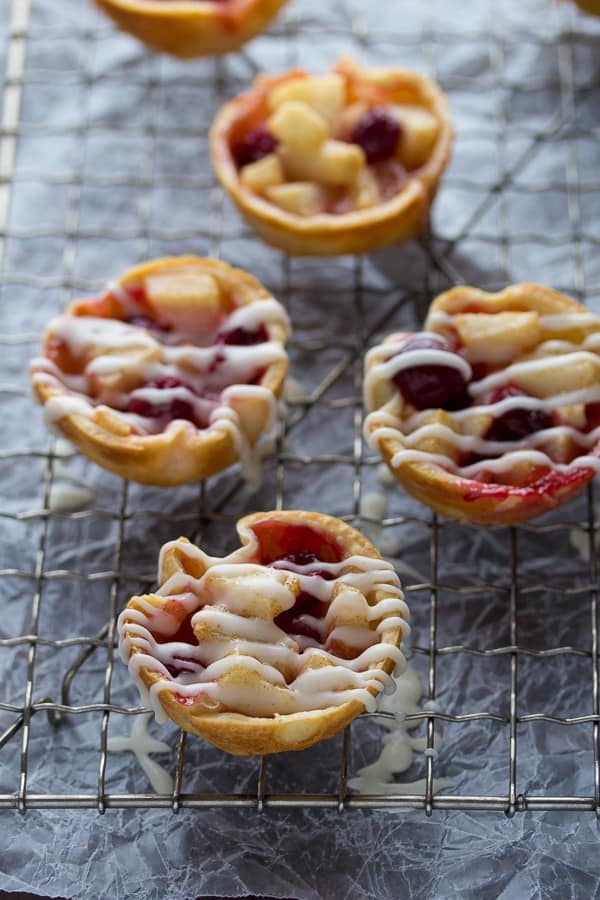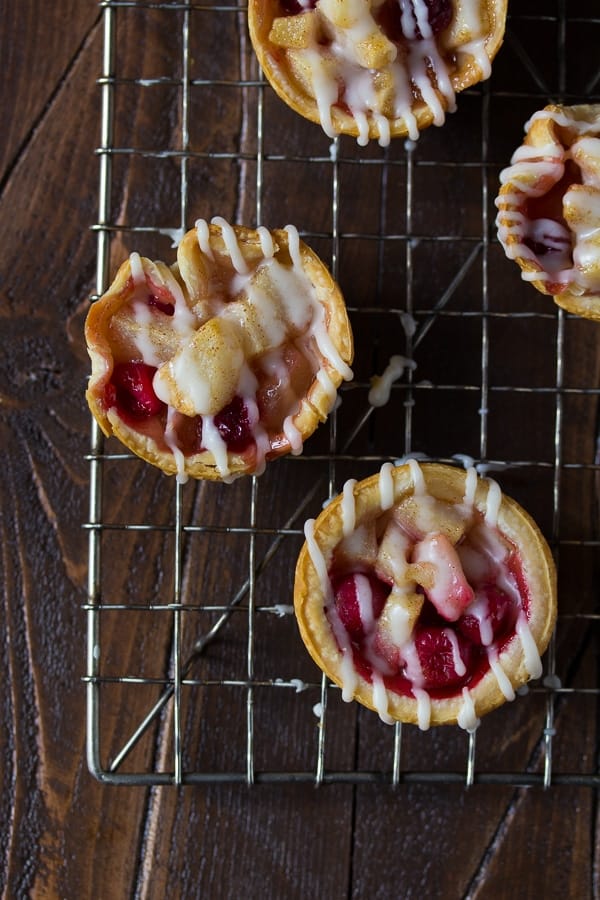 I used refrigerated pie crust rather than making my own because…well, I'm busy!! Like super-CRAZY-busy!! Plus I have yet to find that perfect pie crust (if you have, I'd LOVE to hear about it in the comments!)
But using pre-made pie crust makes these mini pear and cranberry pies so so so simple to make. Cut them out into 4 inch rounds, press into muffin tins, and add the pear/cranberry mixture. Throw them into the oven.
While everything is baking up, make the brown butter glaze. This is the stuff dreams are made of 😉
Drizzle the pies with the brown butter glaze just before serving. Don't be afraid to be generous!
And voila! Perfect little mini pies.
Are you guys happy for fun comfort food, or what?
Mini Pear and Cranberry Pies with Brown Butter Glaze
These mini pear and cranberry pies are so easy to make, and are perfect for a party. Make sure not to skip the brown butter glaze!
Ingredients
1

package of store-bought pie crust

2- 9 inch pie crusts, cut into 4 inch rounds

1

cup

cranberries

3

cups

pears

diced into 1 cm cubes

1/2

cup

brown sugar

1/2

teaspoon

cinnamon
Brown Butter Glaze
3

tablespoons

butter

1 1/2

cups

of powdered sugar

187g

1/2

teaspoon

vanilla

3

tablespoons

milk

or more if you want a thinner consistency
Instructions
Pre-heat oven to 425°F.

Roll out the pie crust and cut out 4-inch rounds. Keep rolling it out and cutting out rounds until you get 18 circles.

Gently press circles into a muffin tray.

In a medium bowl, stir together the cranberries, pear cubes, brown sugar and cinnamon. Spoon into the pie crusts (don't over-fill!).

Bake for 18-20 minutes, until pie crusts are lightly golden.

Let pies cool for 5-10 minutes in the trays, then using a knife, gently pop them out of the muffin trays, and allow to cool on a wire rack.

Brown Butter Glaze In a small saucepan, heat the butter. Cook it, stirring frequently, until the solids separate and begin to brown. It should smell nutty...do not burn!

Once butter is browned, immediately transfer to a medium bowl containing the powdered sugar, vanilla and milk.

Beat until smooth and completely combined.

Transfer glaze to a ziplock bag, snip the corner, and drizzle over the mini-pies.
Notes
If the pie filling leaks from the pie crust and is too sticky to get the pies out, put them back in the oven for a minute, then loosen with a knife.
Products used in this recipe: