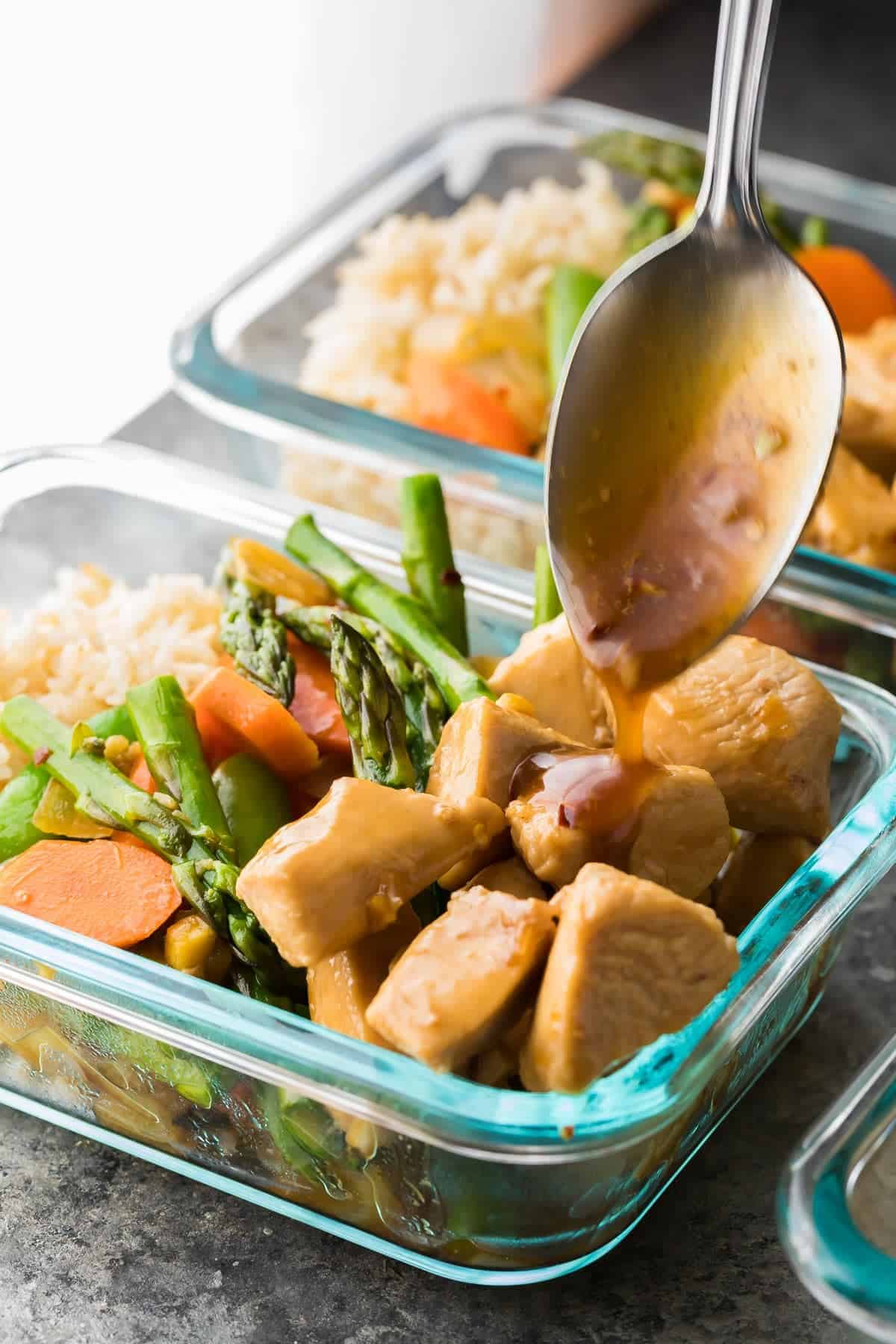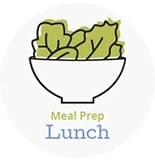 Maple ginger chicken meal prep lunch bowls are made ahead on the weekend so you have four delicious lunches waiting for you!
It's my favorite time of the year!  We are finally able to go for after dinner park adventures, it's warm enough to leave the house without a wind breaker, and the tulips are in full bloom.
This was a long, brutal winter, and we have earned this weather, that's for sure!
Today I'm sharing one of my favorite recipes with you guys…I'm kind of cheating because technically these maple ginger chicken meal prep lunch bowls are already on this site, but I wanted to show you the versatility of this recipe…for meal prep lunches!  Plus, I wasn't loving the old photos.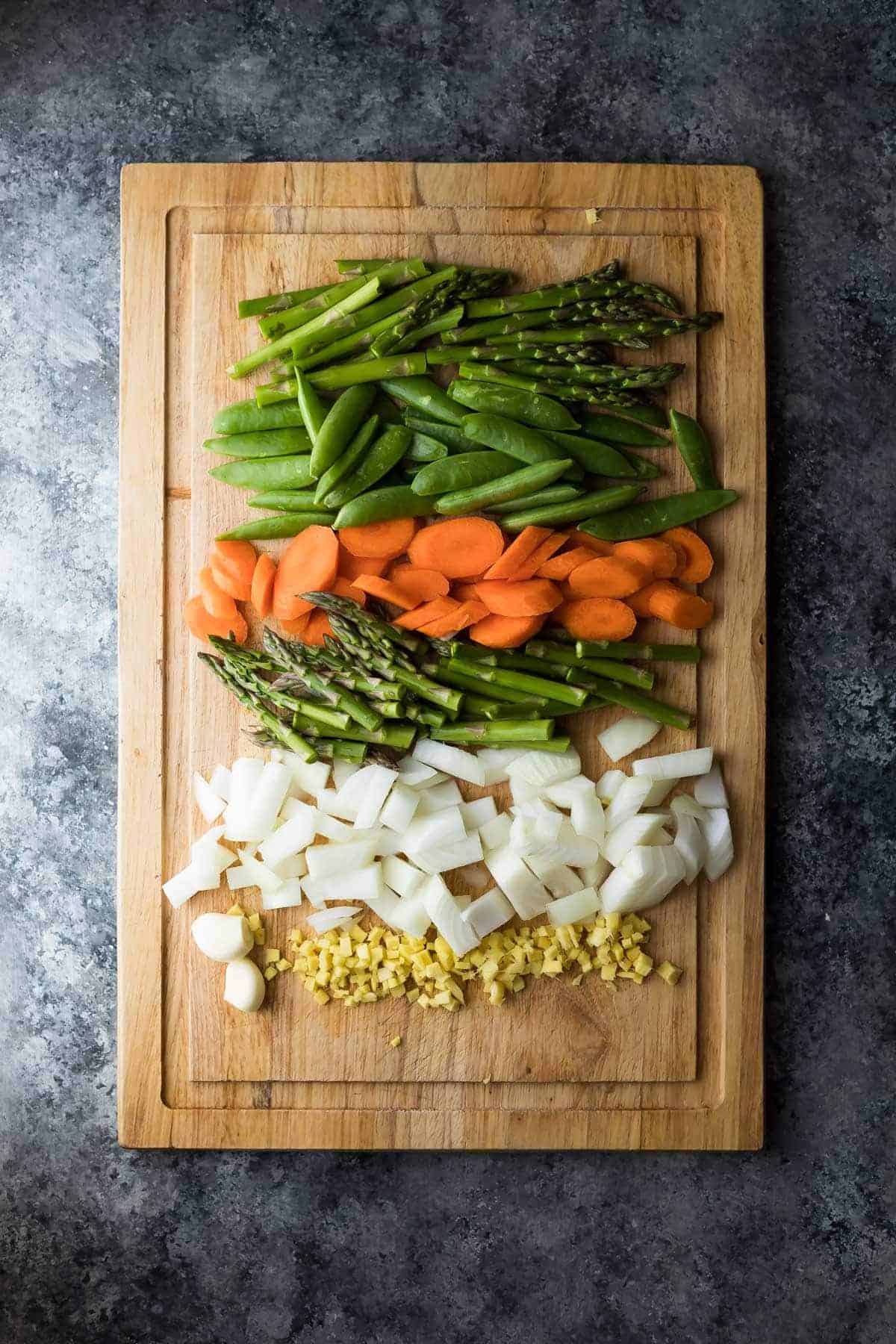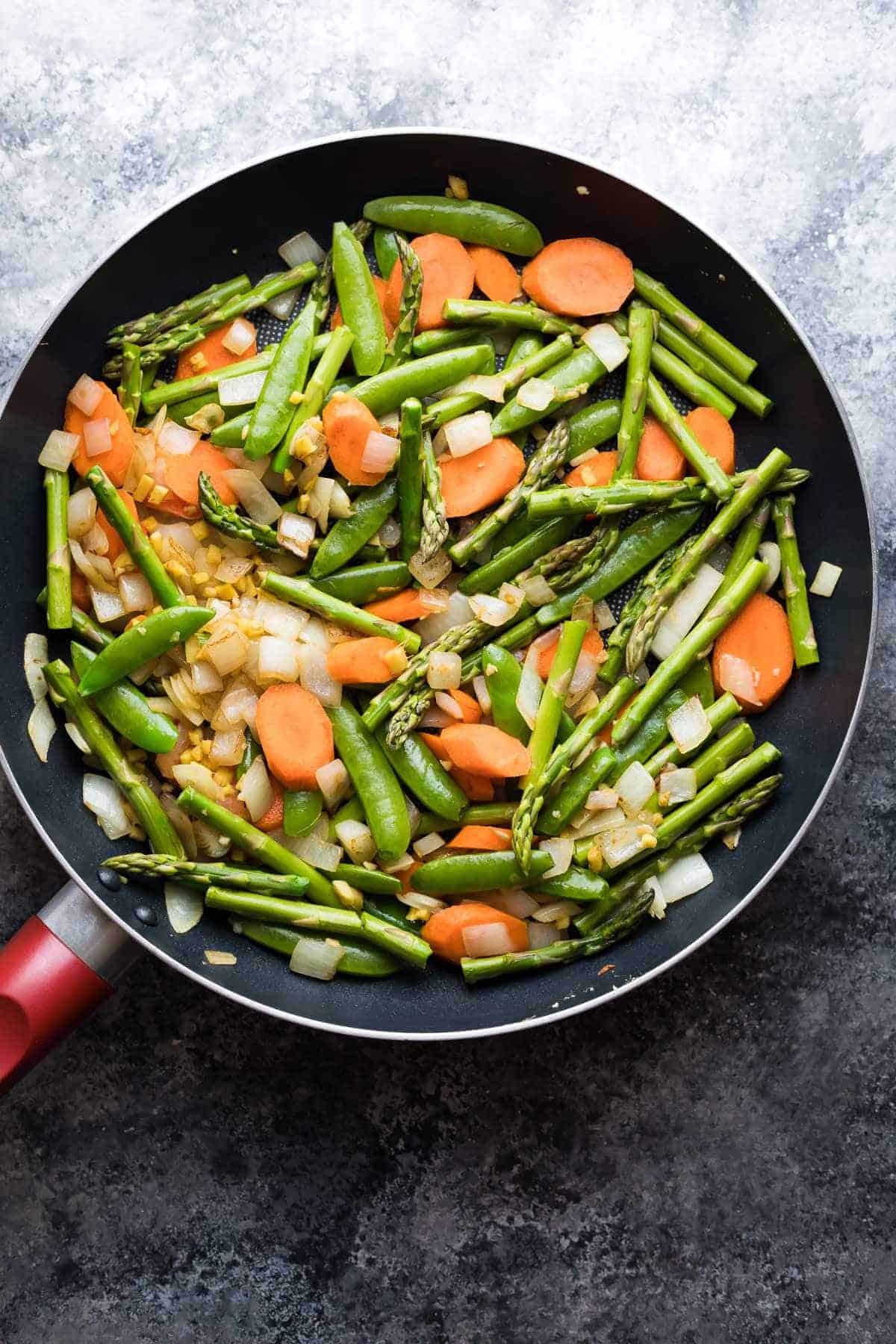 I have to say, I almost didn't post these Honey Sesame Chicken Lunch Bowls, because…well, it's a stir fry portioned out into four lunch portions.
But I was totally blown away by it's popularity…shared over 300K times on Pinterest and nearly 6 million views on the Facebook video.  So after all these years, I still have no idea what is going to be a hit and what is going to flop 😉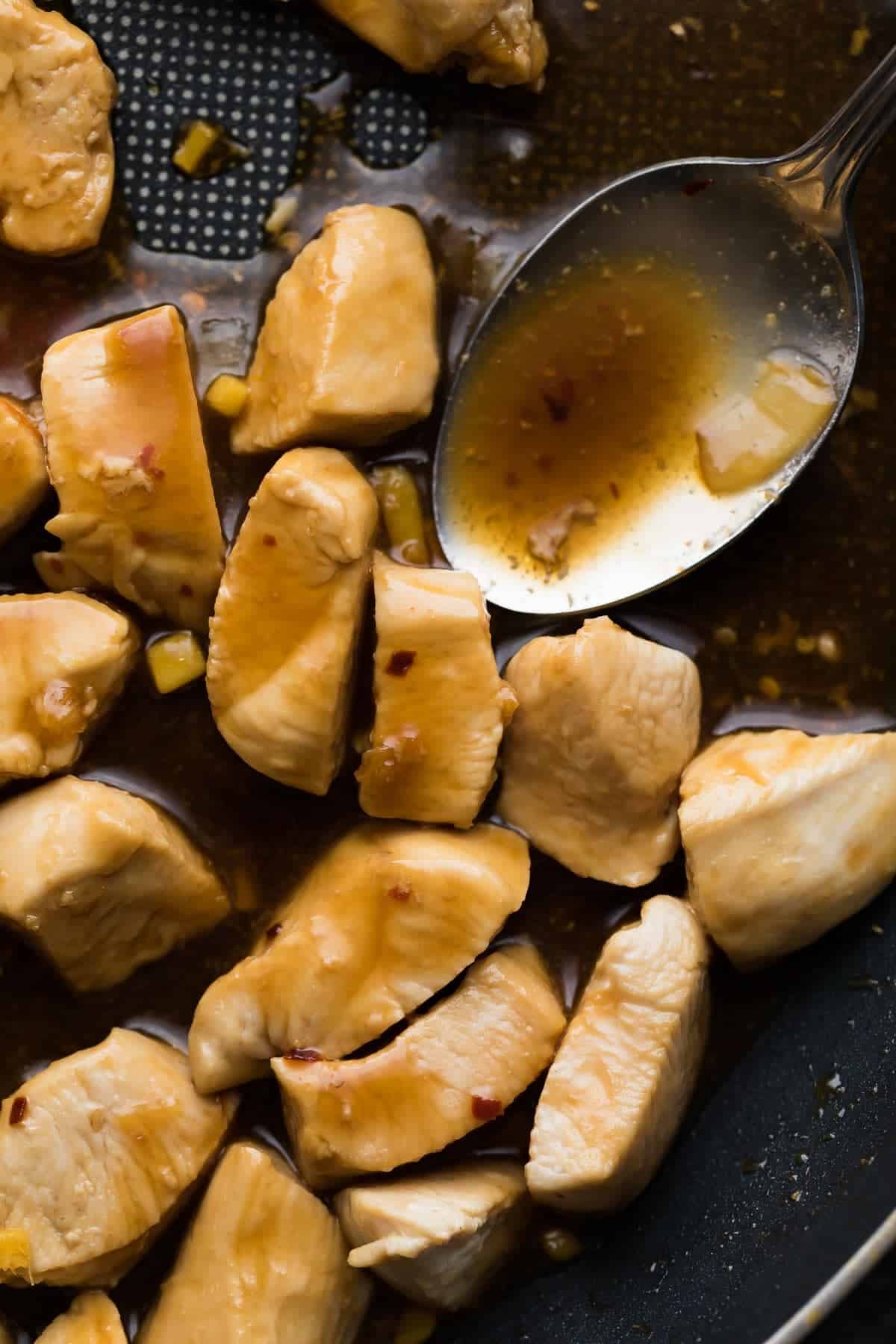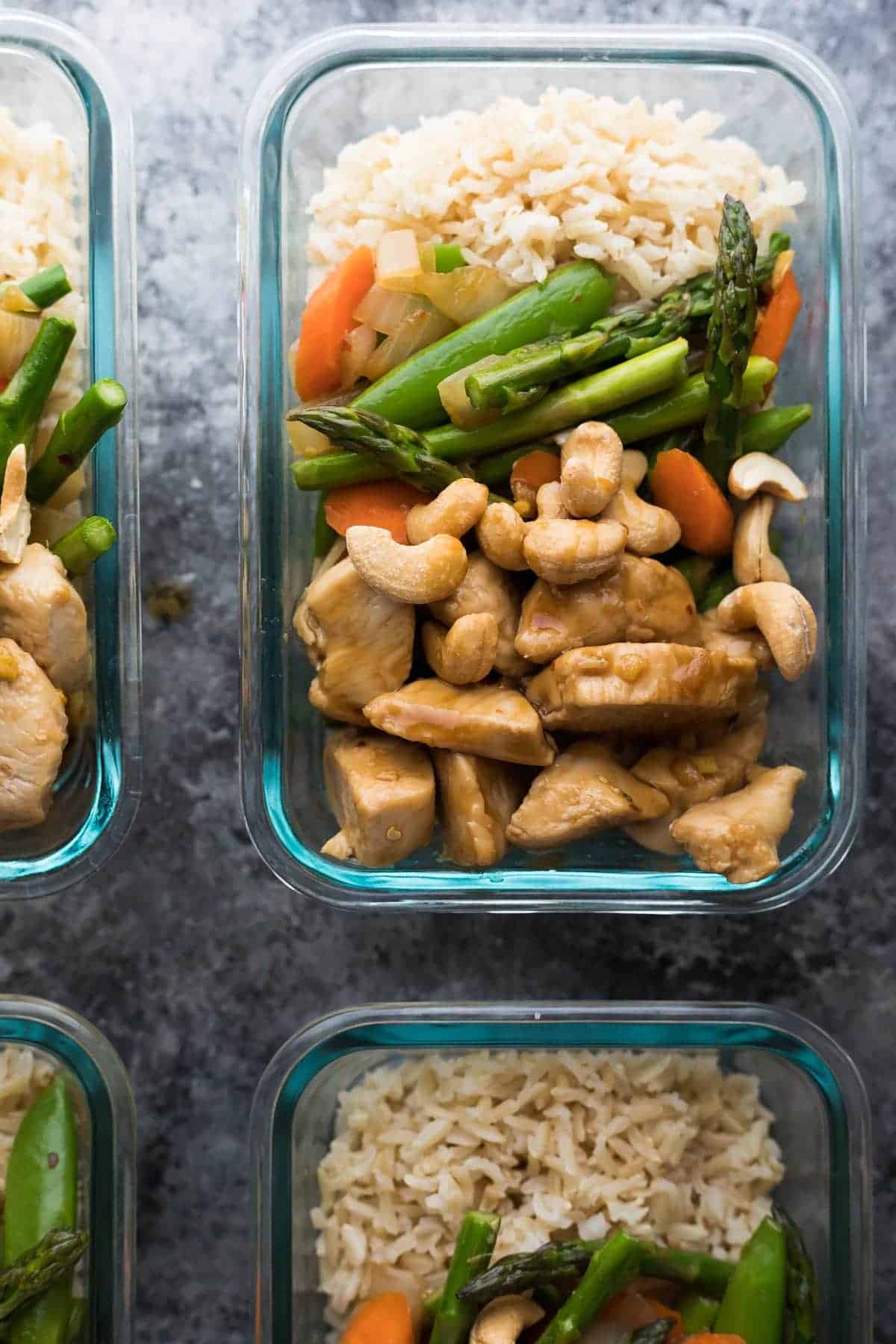 But it got me thinking, and I realized that I do have a lot of cold, salad-type meal prep lunch recipes, but I don't have a ton of hot meal prep lunch recipes.
So let's fix that!
These maple ginger chicken meal prep lunch bowls were our second recipe in the Lunch Prep Challenge and got great reviews from our participants.  If you want a bit of variety, split the chicken & veggies, halve the sauce, and use a half batch of any of the sauces in this post of 7 Easy Stir Fry Sauces You Can Prep Ahead.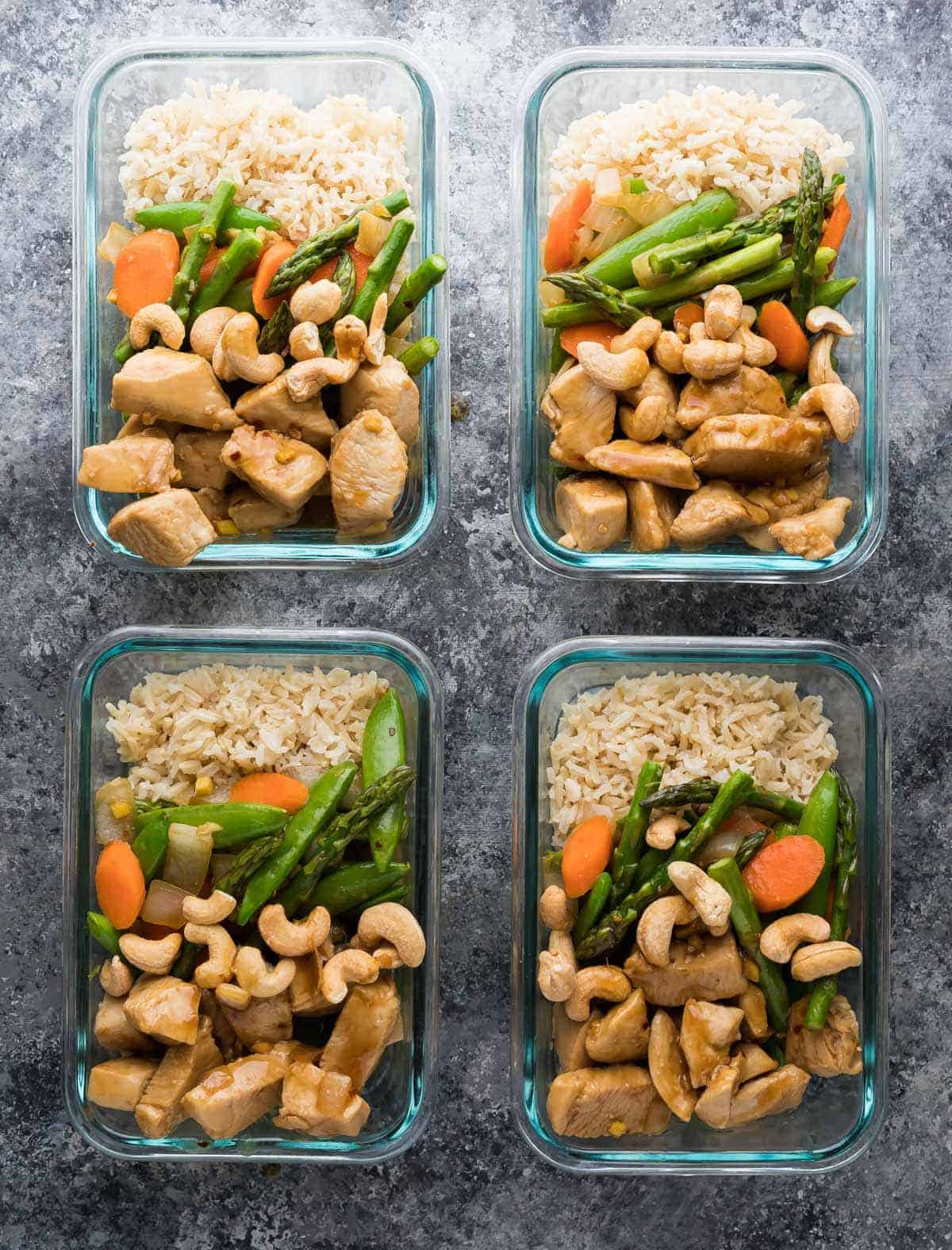 So here's to another stir fry meal prep recipe!  Hope your Thursday is going well.  We've almost made it to the weekend!
Get your perfect maple ginger chicken meal prep lunch bowls
Maple Ginger Chicken Meal Prep Lunch Bowls
4
adjust servings
Ingredients
Stir fry
3/4

cup rice of choice, uncooked

2

tablespoons olive oil, divided

1

onion, chopped

2

tablespoons ginger, finely grated

2

cloves garlic, minced

2

carrots, sliced

1

cup snow peas, ends trimmed

1

bunch asparagus, trimmed

2

large chicken breasts (roughly 12 oz; boneless skinless chicken thighs are also great!)
Sauce
3

tablespoons soy sauce

5

tablespoons maple syrup

1

teaspoon sesame oil

1/4-1/2

teaspoon red pepper flakes (to taste)

1

teaspoon cornstarch
Optional
Instructions
Cook rice according to package directions and set aside.
Shake together all sauce ingredients and set aside.
In a medium pan or wok, heat 1 tablespoon of oil over medium heat.
Add the onion and cook, stirring occasionally, for 5 or so minutes or until onion is soft and translucent.
Add the garlic and ginger and cook for one minute.
Add the carrots, peas and asparagus and cook for 5 minutes, or until slightly tender.
Transfer the veggies to a bowl.
Add another tablespoon of oil to the pan.
Add the chicken to the pan, and cook for 5-7 minutes, until cooked through and no longer pink in the middle.
Add the stir fry sauce to the pan (shake it up again first), and cook for 1 minute or until thickened.
Amongst four storage containers, divide the rice, veggies and chicken. Spoon extra sauce over the chicken.
Optional
Scatter cashews over the lunch bowls.
Recipe Notes
Nutritional Information: 1 lunch bowl, no cashews
Calories 463 // Fat 12 g // Saturated Fat 2 g // Cholesterol 79 mg // Sodium 785 mg // Carbohydrate 54 g // Fiber 3 g // Sugars 18 g // Protein 35 g