5 kitchen organization tips that will help you get your kitchen in order! These tricks and tools make it so easy to see and find what I am looking for.
Organization does not come easily to me; its' something I have to continually work at.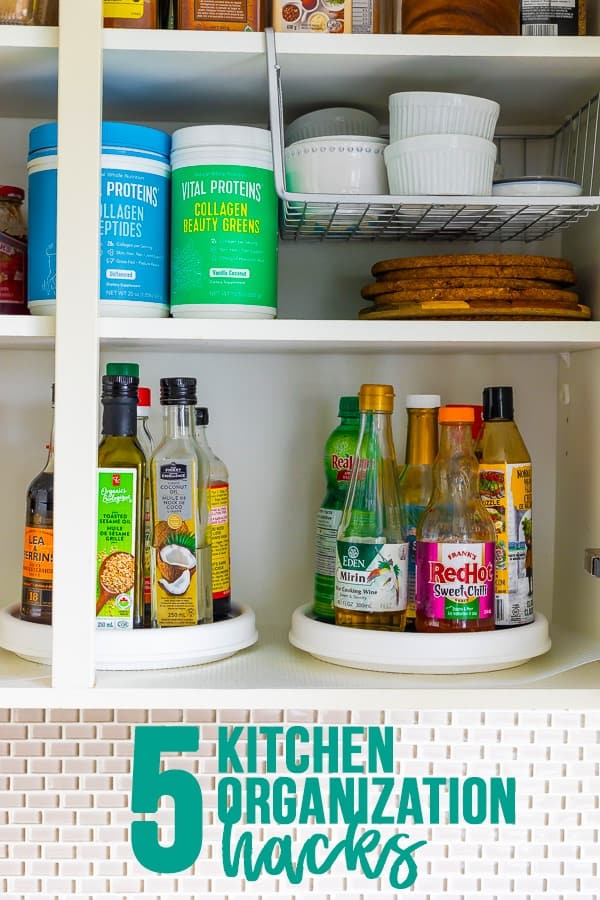 Since moving into our new home, I've organized and reorganized the kitchen several times to get things just right. It definitely takes trial and error for everything to find its place in the kitchen and for everything to 'flow' right.
Today I'm sharing some tricks I've learned along the way. I'm also sharing some of my favorite kitchen organization tools that have really helped me get organized.
Let's talk kitchen organization tips!
Don't forget to pin this post to save it for later!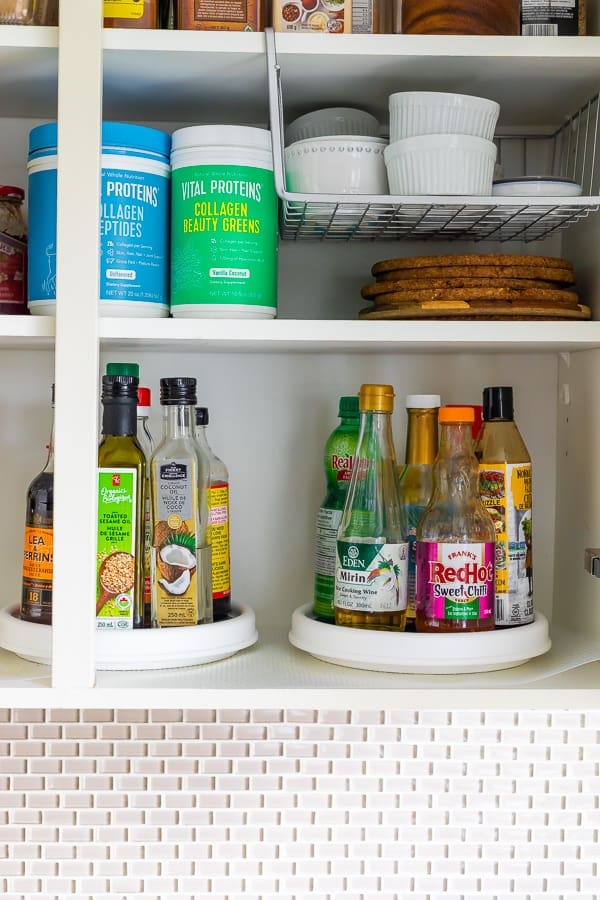 1. Turntables in the cupboard
Steph at Meal Plan Addict told me this probably a full year before I actually implemented it, and I wish I had done it sooner! Having our sauces on turntables makes it so much easier to find what we need, and saves space in the cupboard too.
Equipment & tips
I use these turntables
make sure you can position the shelve above to be quite high so you can fit your bottles and jars on the shelf
these can also work in the fridge and the pantry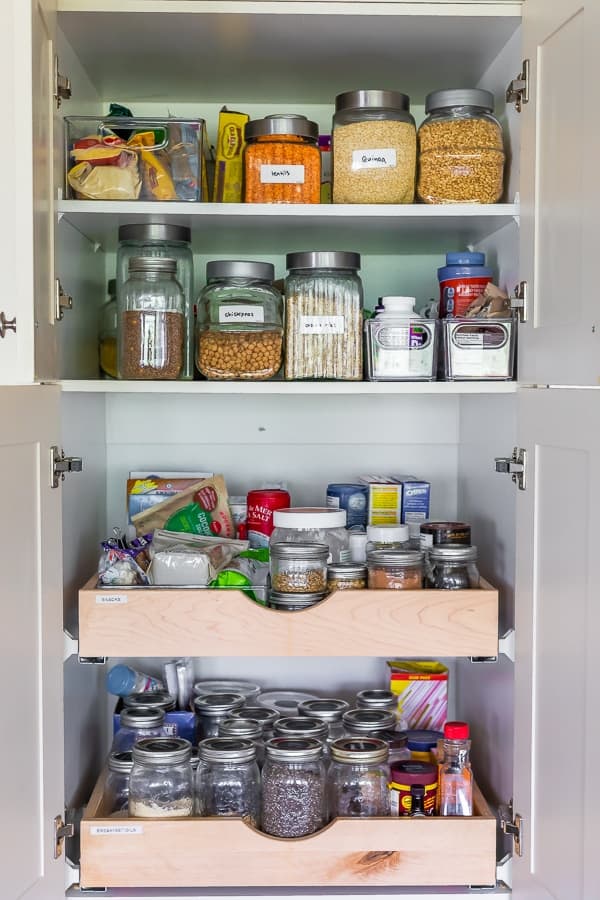 2. Store ingredients in jars
I have talked about my zero waste pantry before (see Pantry Organization Ideas). I transferred all my baking ingredients, nuts, seeds, etc over from bags to mason jars.
I love being able to see exactly what is in my pantry! It really does help keep it clean and organized.
When the jars are empty, I wash them out and take them back to Bulk Barn to refill for a zero waste pantry! Read more about How to Shop at Zero Waste Stores here!
Equipment & tips
I use ½ pint mason jars or 1 pint mason jars for nuts & seeds
I use 1 quart mason jars for frequently used items (ahem...chocolate chips)
I use these chalkboard labels so I can see from the top what is in each jar.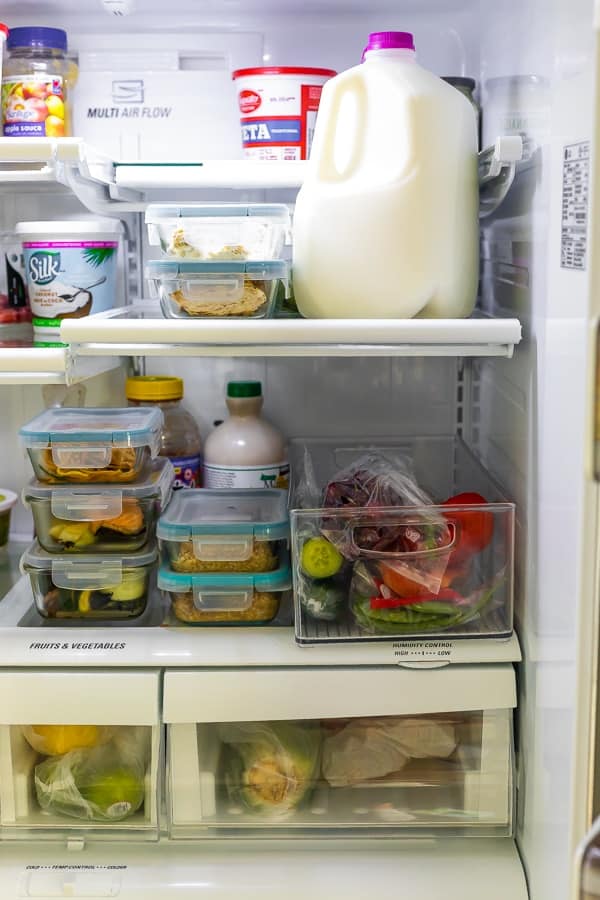 3. Have a 'use me first' bin
Sick of losing ingredients in drawers or the back of the fridge? You need a 'use me first' bin! I put all half-used produce, or anything that needs to get used up ASAP in that bin, then when I'm prepping for dinner, I go to that bin first.
this keeps the fridge more organized
we have less food being wasted because we know what to use first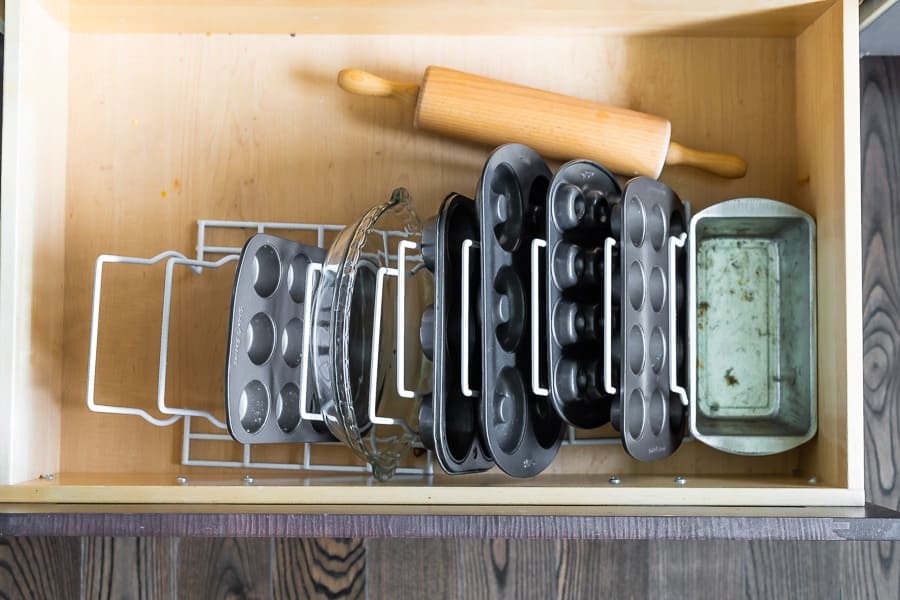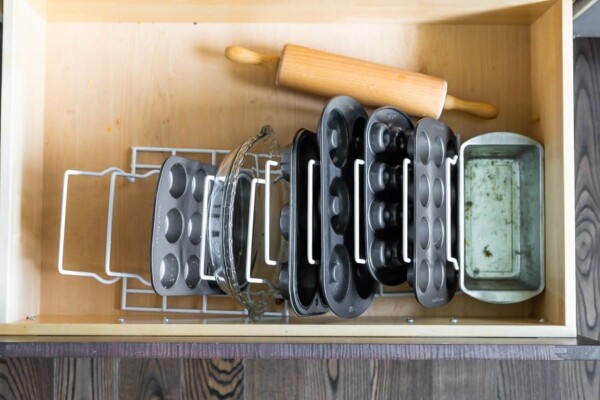 4. Use a pot lid holder to organize baking equipment
I have accumulated my share of baking equipment over the years: muffin trays, donut trays, pie plates and so on. They don't stack very nicely and they are such a challenge to store in my drawers.
The best solution I've found? Pot lid organizers! They work great in our deep drawers and keep everything separated and within reach for whenever the baking bug bites me.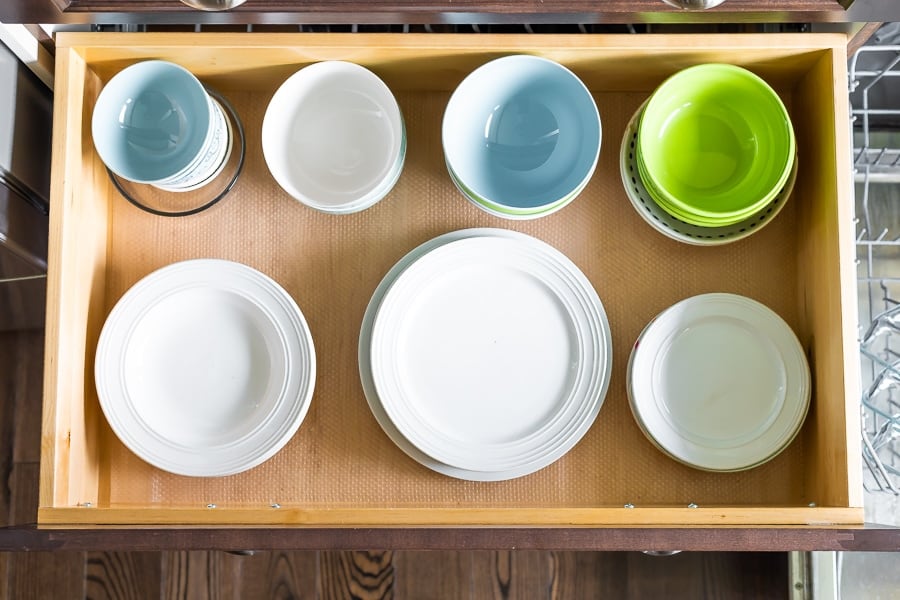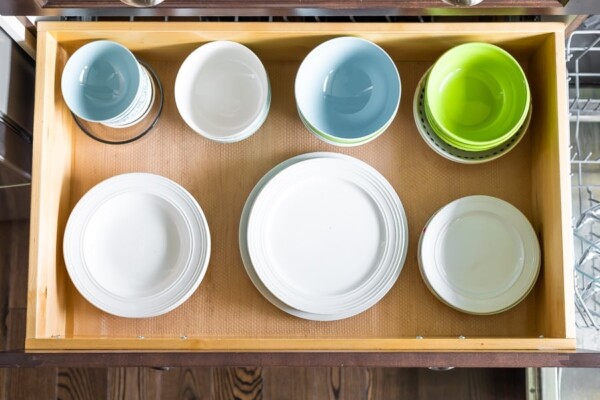 5. Store plates and bowls in drawers
Our kitchen is heavy on the drawers and light on the shelves. Initially we stored our sauces in an under-counter shelf and our plates in one of our coveted eye level shelves. It was awkward and didn't 'flow' right, so we switched the plates to the drawer and the sauces to the shelf.
At first I thought it was really weird to store our plates in a drawer but pretty quickly I realized it was awesome! Switching our plates to the drawer makes unloading the dishwasher SO easy (it's right beside the drawer!), and freed up valuable eye-level shelf space for our sauces (see #1!)
Other kitchen organization tools I love
I also have several tools that I use to keep our drawers and shelves that I didn't mention above. Here are some of my favorites!


Those are my 5 kitchen organization tips! Have a question about anything I mentioned? Please ask me below in a comment.
I hope this was helpful.
XO