Nutella + coffee is a match made in heaven in these delicious coffee Nutella meringue cookies!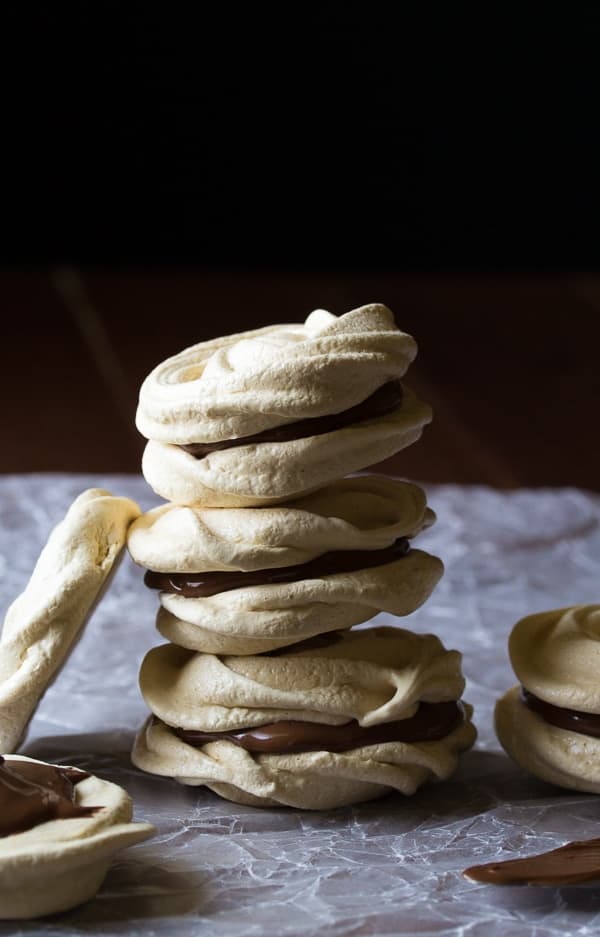 The last time I was at my parent's house (which I still refer to as 'home' for some reason), my dad pulled out an old box.
In it was all of the stories I had written as a child. There was the story about Little Penguin, where he climbed up one side of Mount Everest, then slid down the other side of it on his backpack.
There were also some pretty hilarious 'family newspapers' where I had reported about the 'massacre in the compost', the time when our cat got ahold of some mice. This was followed by a courtroom trial, where a mouse from MAC (mice against cats) gave a speech. There was a cat psychiatrist pleading insanity. But in the end, I think Boots had to do some hard time…sorry, Boots! You do the crime, you serve the time 😉
It was pretty funny to read, and reminded me of why I started a blog…not just for the delicious food, but for the fun and creative writing outlet! I'm wondering if I should re-start the family newspaper…what do you think? Aren't you just dying to hear of the war that is currently brewing: Ben versus the crows nesting in our backyard?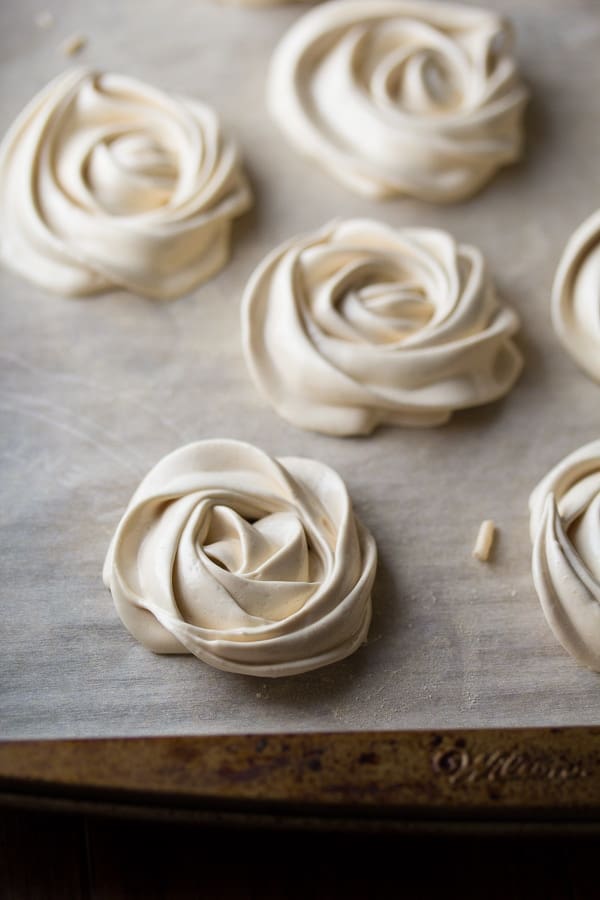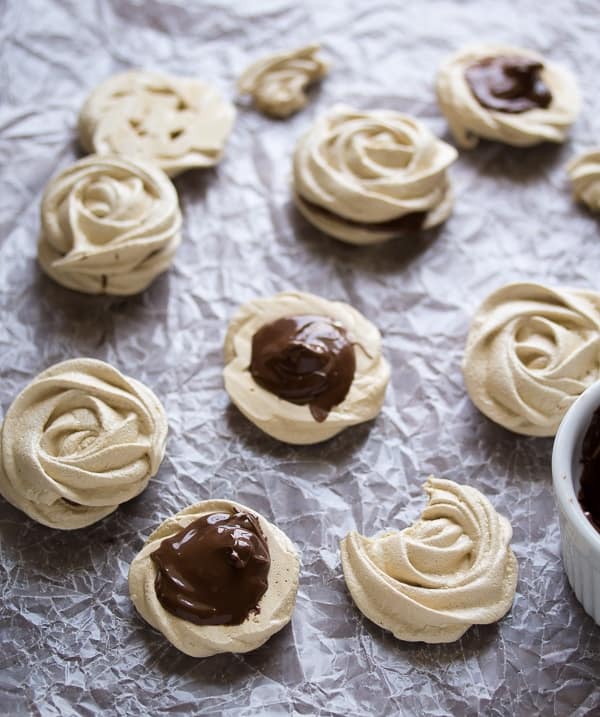 Well, today on this fine and beautiful Tuesday, I have some caffeinated and chocolated treats for you.
This was actually plan B…Plan A bubbled over, set off the smoke detector, woke a sleeping baby, and then had the nerve to turn out overcooked on the outside and raw on the inside. We are not on speaking terms at the moment.
Anyway, plan B (aka: coffee Nutella meringue cookies) tastes much better than plan A!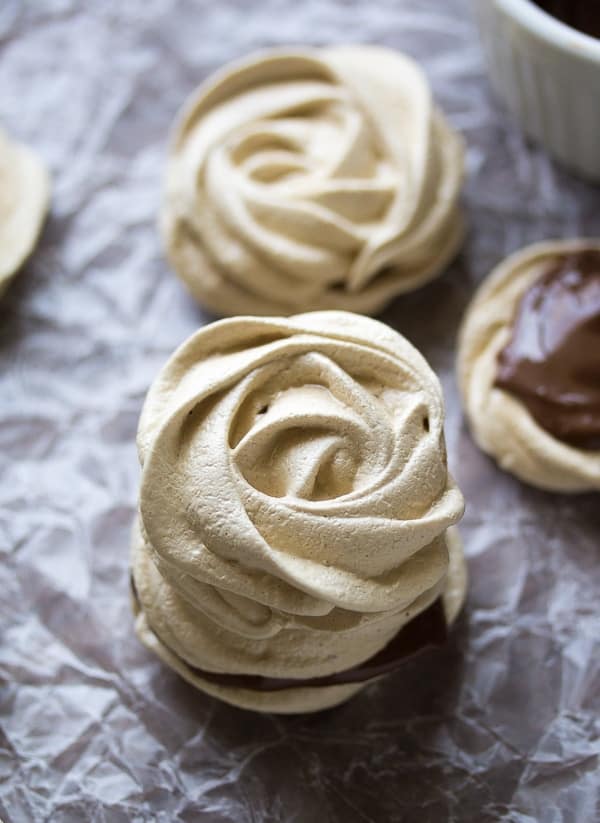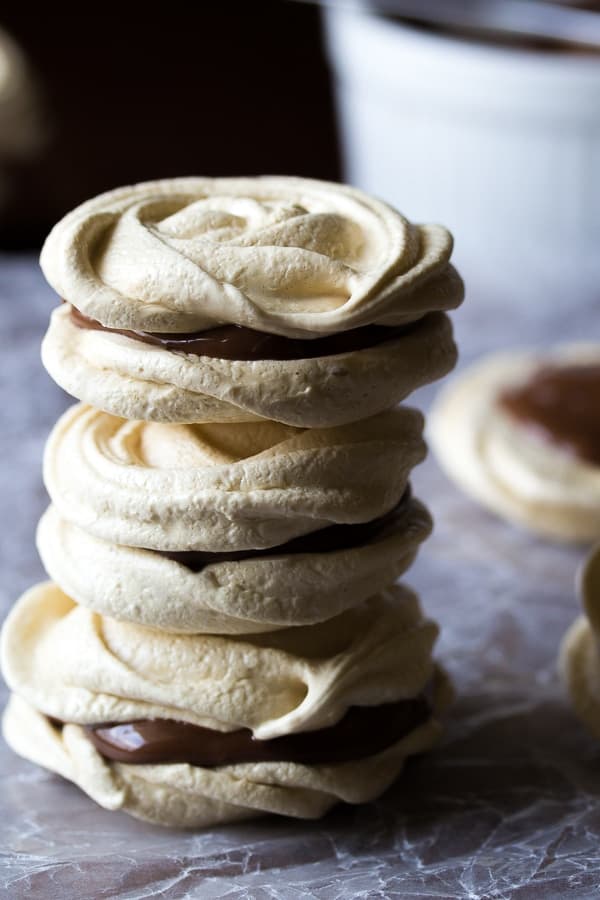 So here's to plan B! Delicious coffee-flavored Nutella meringue cookies, slightly crispy on the outside, chewy on the inside. Slathered with Nutella, and sandwiched with another meringue.
So this here is a 2 for the price of 1 Nutella meringue cookie. Aka: my kind of cookie! Also making this 'my kind of cookie' is the presence of coffee. And chocolate. Definitely my kind of cookie.
Happy Tuesday!
Coffee Nutella Meringue Cookies
Nutella + coffee is a match made in heaven in these delicious coffee Nutella meringue cookies!
Ingredients
Coffee Meringues
4

egg whites

at room temperature

1/2

teaspoon

cream of tartar

1

cup

sugar

3

teaspoons

espresso powder
Instructions
Coffee Meringues
Using a stand mixer, beat egg whites until frothy and form soft peaks (ie: sink back into the bowl), around one minute on high.

Add the cream of tartar, and mix on high for 1 more minute.

Add the sugar one tablespoon at a time over the course of 5 more minutes. Peaks should be stiff by now (ie: don't sink back down into the bowl).

Scrape sides of bowl and mix until sugar is dissolved into the egg whites.

Add the espresso powder, and mix for another minute or so, until espresso powder has dissolved.

Using an incing bag fitted with a 1M tip, form 1.5-2 inch circles on a parchment-lined baking sheet.

Bake for 15 minutes at 300°F, then reduce temperature to 200°F and bake for another 15 minutes.

At this point, turn the oven off and open the door slightly. Allow meringues to cool in the oven for another 30 minutes-1 hour. Meringues should not stick to the parchment.
Notes
Recipe makes roughly 25 sandwiches, (50 meringue cookies)
Nutrition
Serving:
1
cookie
|
Calories:
66
kcal
|
Carbohydrates:
11
g
|
Fat:
1
g
|
Saturated Fat:
1
g
|
Sodium:
10
mg
|
Potassium:
46
mg
|
Sugar:
11
g
|
Calcium:
6
mg
|
Iron:
0.3
mg
Products used in this recipe: