Juicy turkey sliders with a touch of tequila, jalapeno and lime are topped with Monterey Jack cheese and guacamole! A tasty appetizer that would be perfect for Cinco de Mayo.
We are huge fans of turkey burgers! From Greek turkey burgers to Southwestern turkey burgers, they are versatile, juicy, and lighter than beef. Another tasty (and cute!) option are these tequila turkey sliders.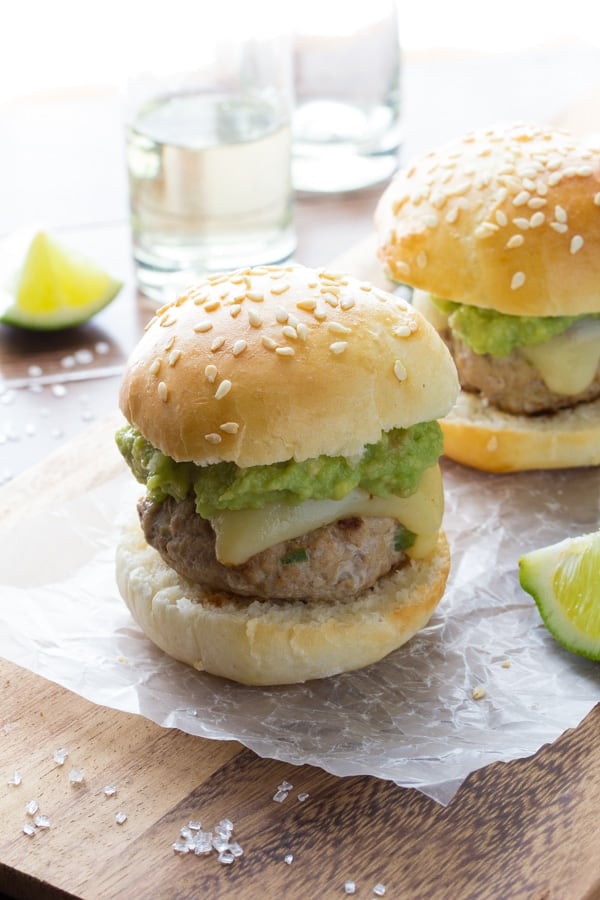 Find the recipe for tequila turkey sliders on Real Housemoms where I was a contributor, or keep reading below for recipe tips.
I love sliders because they are lighter than a whole burger. Not only are they a great appetizer, but you could make a meal out of them as well.
These tequila turkey sliders are such a fun recipe, but don't be intimidated by the tequila; it's just a hint and you can barely taste it.
Reasons you'll ♡ tequila turkey sliders
they make a great appetizer or a main course
they are perfect for Cinco de Mayo
the classic flavors of tequila + lime + jalapenos work surprisingly well in burger form!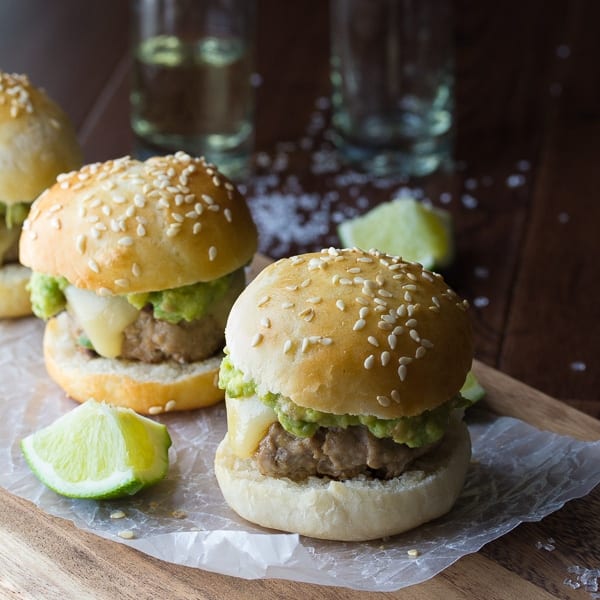 Recipe tips
For turkey burgers, avoid lean ground turkey. Often ground turkey is simply labelled 'ground turkey' and this is a mix of dark and leaner meats, which is perfect for these sliders.
Prep ahead- slider patties can be formed ahead and stored in the fridge (up to 4 days; check expiry date on turkey package first); or freezer (up to 3 months)
to freeze, place on a baking sheet and freeze until solid. Transfer to a bag or meal prep container.
When cooking turkey, the best way to prevent over-cooking is to check the internal temperature using a digital thermometer. Cook to an internal temp of 165°F.
Swap the ground turkey for ground beef or ground pork. I do not advise swapping for ground chicken as it can often be quite lean.
Variations
swap the tequila, lime and jalapeños for 2 tablespoons of taco seasoning
swap the guacamole for lime crema, salsa, pico de gallo or salsa verde
swap the bun for romaine lettuce and make these low carb
add tomato slices, slaw or pickled onions to the sliders