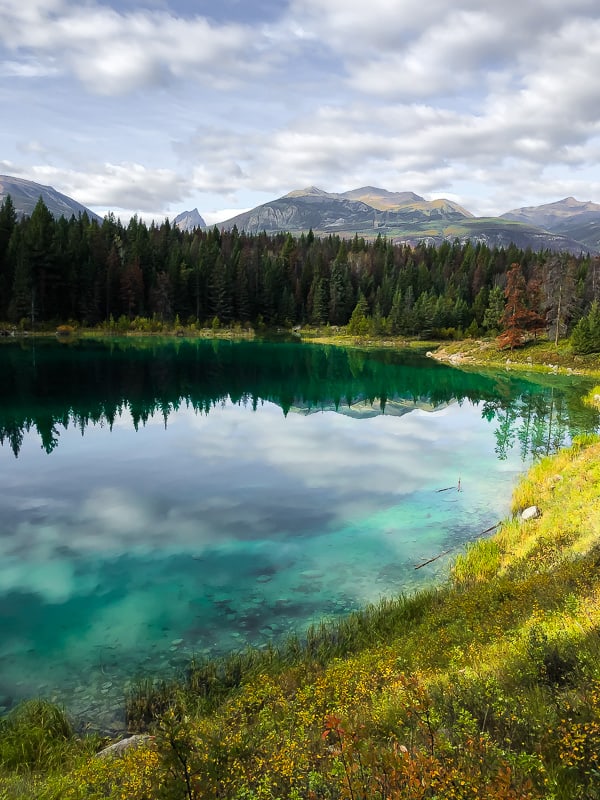 It's been awhile since we've caught up! I am tentatively reinstating catch up time, tentatively because sometimes I have the attention span of a squirrel...so let's see if this sticks.
Let's talk about fun
I've realized something important about myself this year, and that's that I need to schedule fun. I know. Schedule it. How very...adult and regimented, right?
Somehow fun is always the first thing to get cut, and the last thing to get prioritized. So this summer & fall I have put the emphasis back on fun, reconnecting with old friends, and just stepping up and taking a little bit of leadership in organizing things.
While I am by no means an organizer, I've managed to put aside my distaste for it and reach out to people to see if we can actually get together (and not just talk about it like we always do).
The result? The most soul-fulfilling girls weekend in Jasper with three of my best high school friends!
We went river rafting
We saw a moose, a bear and many elk (how very Canadian)
We ate really good food
We stayed up too late and it was just like we were back in high school again
Ahhh you guys. It was so good. I hope we can make it an annual thing.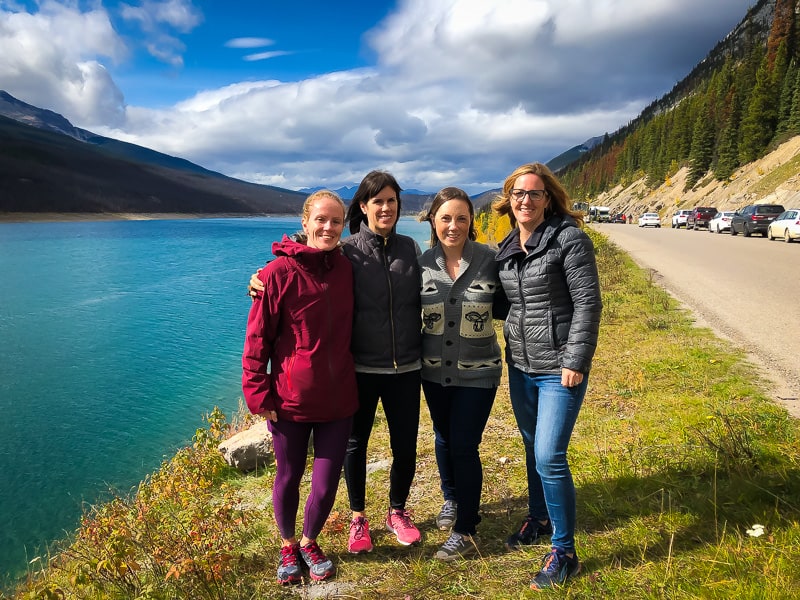 Here are some other ways I'm trying to 'have more fun'
lunch & coffee dates with old co-workers and friends
a sleepover with my college roomie
more walks
more listening to audio books and less listening to business podcasts
more dance parties with the kids
more watching TV without the computer in front of me. Like really watching the show 😂
pranking my family with our new decorative Halloween skeleton (which has been non-stop fun for all of us; see below)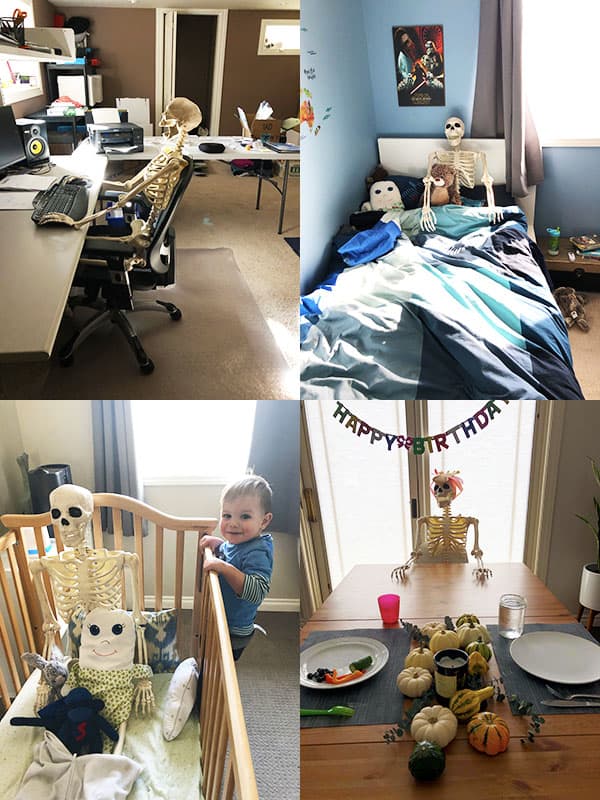 Personal Challenges
I know this blog is know for it's meal prep challenges, but lately I've been doing personal challenges and it really works to keep me accountable!
Challenges I've run this summer/fall:
a 5-day running challenge: run every day for 5 days for 30 minutes...just to see if I still like running. I used to run regularly up until around 10 years ago. Guess what? I do still have a bit of a runner in me! I ended up running a 5km in October and plan to keep it up (weather-dependent), and run another race in the New Year!
30-day no buying stuff challenge: no Amazon, no clothes shopping, no home/decor shopping, basically: no non-essentials. I am almost done this challenge and will probably extend it into a 60-day challenge.
The no-buying stuff challenge has been SO INTERESTING! I am really noticing when I get tempted, and starting to learn motivations behind my shopping (namely fun and boredom)
Here are some of my tips (including some from my lovely Instagram friends):
unfollow accounts that are always pushing 'buy buy buy'
hide Facebook ads that are advertising things you are avoiding buying
clean out the closet and make things easy to see and find
if you're tempted by Amazon- put things on your list instead of your cart

OR use a '2 week rule'- put things in your cart but make yourself wait 2 weeks before you're allowed to buy
Some things I've learned 20 days into this challenge:
I can get a lot more creative with the clothes that I already own
buying things is something I do out of boredom and entertainment rather than necessity
buying clothing online is often disappointing and does not actually make me feel good about myself
Do you run personal challenges? If so, what kind of challenges do you do?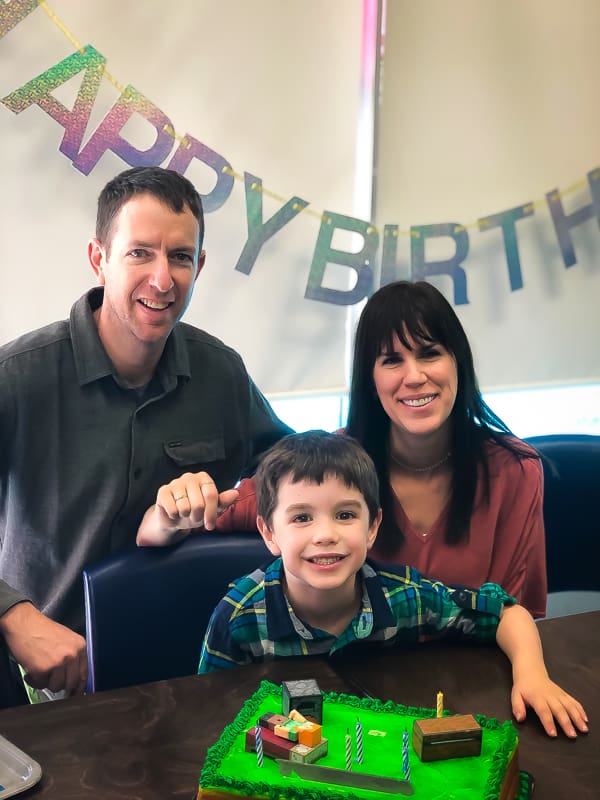 3 birthdays, Thanksgiving and Halloween
That sums up my October. It's busy!! There's been a lot of cake and we ain't done yet because there's still one birthday left...oh and then all that Halloween candy.
As a mom of two INSANELY ENERGETIC boys, October is fun, but also...sooooo much sugar = exhausting. I'm feeling ready for November 🤪
But, October has it's perks. I leave you with this: Zeph the avocado. He was a pineapple last year! I have only a few years to embarrass him and damn it if I'm not doing my absolute best.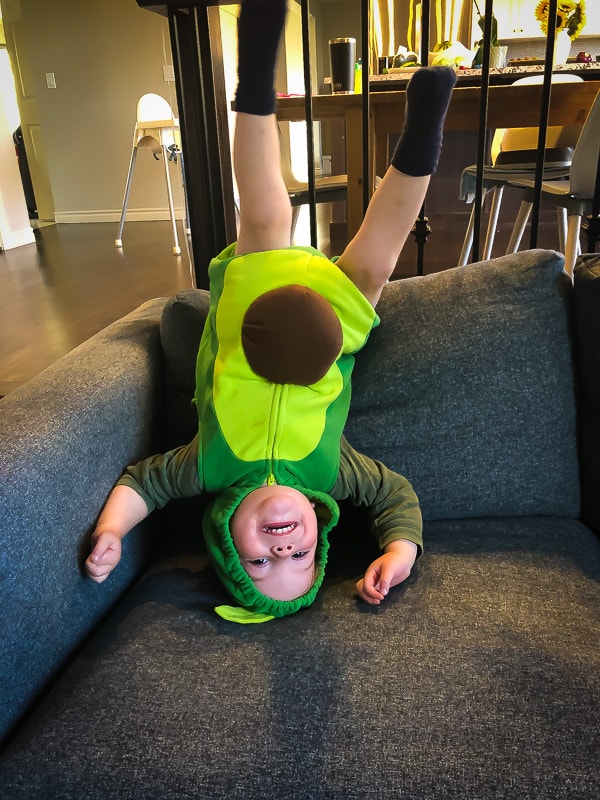 Fall faves 2019
Fave movie- Die Hard 2! We LOVE good/bad 90's action movies and this one was soooo good/bad 😂
Fave TV show- Succession on HBO is so good! We just finished the first season.
Fave book- City of Girls. I was less into it during the first half of it, but it gets good in the second half.
Fave food- I am LOVING Smart Sweets, which is helping me kick my gummy cravings.
Fave music- Flo Rida always gets me dancing in the kitchen 🙂
Fave blog recipe- always and forever, these Instant Pot Steel Cut Oats
Hope you are well, friend!