Instant Pot coconut sweet chili chicken stir fry is easily ready in under 30 minutes! Made with a few simple ingredients, you can assemble freezer packs making for easy weeknight dinners.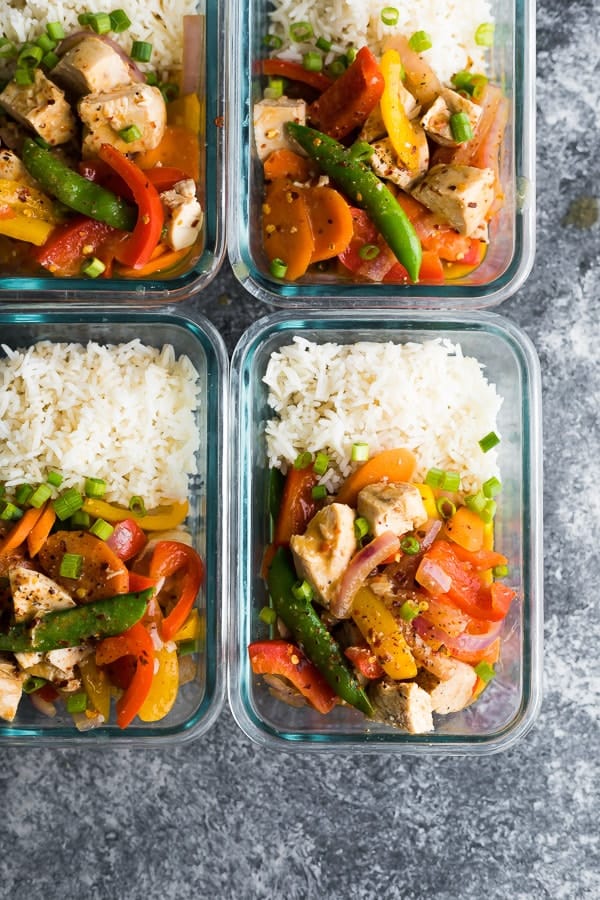 A few months ago, I showed you how to prep Seven Instant Pot Chicken Breast Recipes ahead and freeze them, and I've been working my way through the final products. At long last we are on the very last recipe...coconut sweet chili chicken!
This is actually one of the stir fry sauces from this post with seven stir fry sauce recipes. Since it had close to a cup of liquid, it is perfect for using as a cooking liquid for boneless skinless chicken breast in the Instant Pot.
This coconut sweet chili sauce is one of my favorites on the blog...it's subtle, but the more you eat it, the more flavor that creeps up. It's a bit sweet, a bit savory, and a bit spicy. I hope you give it a try, it really is delicious!
Don't forget to pin this recipe to save it for later!
NEW: looking for Instant Pot Chicken Breast Recipes? Check this post out!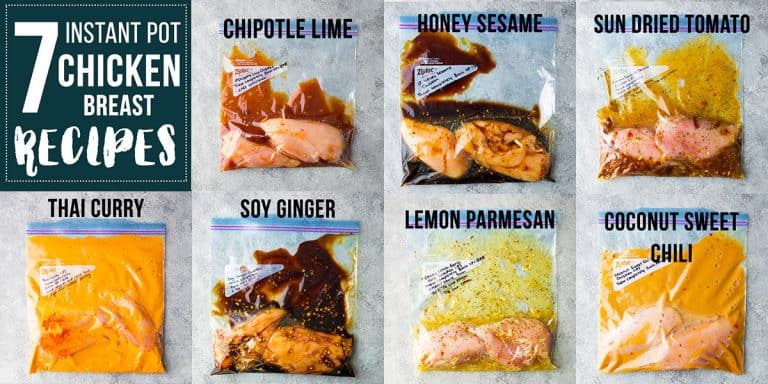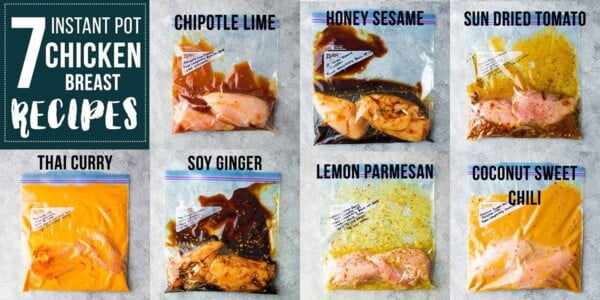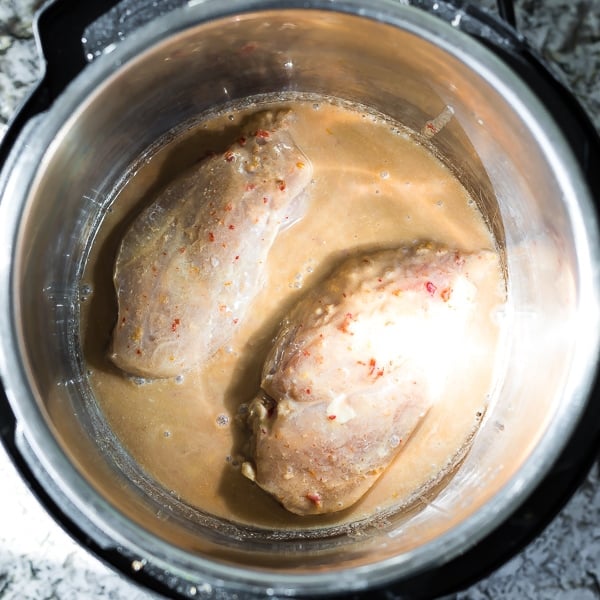 How to make this recipe ahead and freeze it
Chicken breast freezer packs are a staple in my freezer and are an absolute lifesaver during busy weeks! Here's how you can turn this coconut sweet chili chicken stir fry recipe into a freezer pack:
Assemble the boneless skinless chicken breasts, coconut milk, sweet chili sauce, soy sauce, lime juice and red pepper flakes in a gallon-sized freezer bag.
Squeeze out as much air as possible.
Freeze flat for up to 3 months.
So incredibly simple! When you're ready to cook, you will need to thaw completely before placing everything in the Instant Pot and pressure cooking for 8 minutes.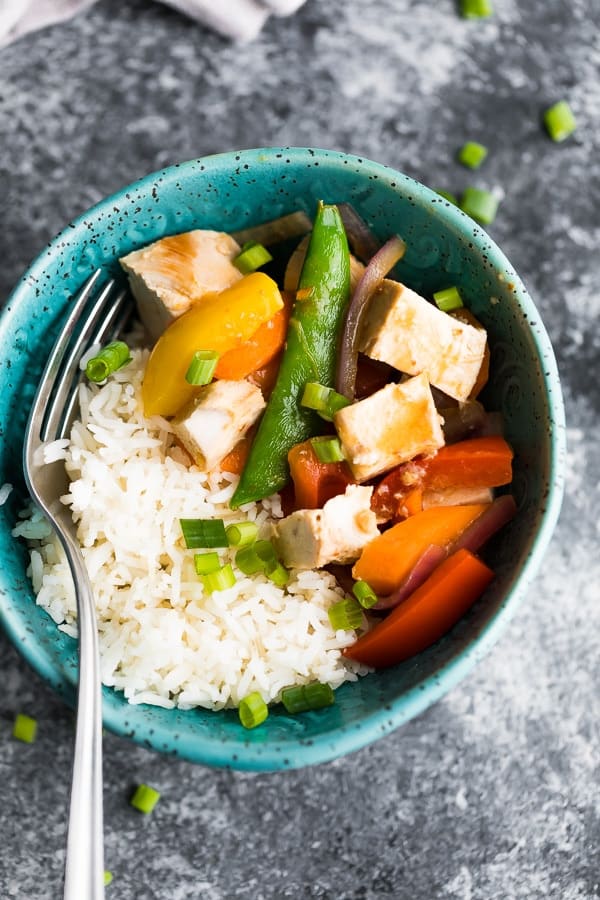 But wait, what about the vegetables?
Yes, this is a 'stir fry', but the vegetables can't go into the Instant Pot at the same time as the chicken. Trust me, I tried, and what I got? A plate full of mushy vegetables.
Instead, we cook the chicken in the coconut sweet chili sauce, infusing it with a ton of flavor. Then we remove the chicken from the Instant Pot and set it aside to let it rest.
Select the 'sautee' function, toss in your veggies, and cook for 5 or so minutes, until the vegetables are cooked to your liking.
Cube the chicken, toss it back into the IP and toss with the sauce.
We served our stir fry over rice. YUM!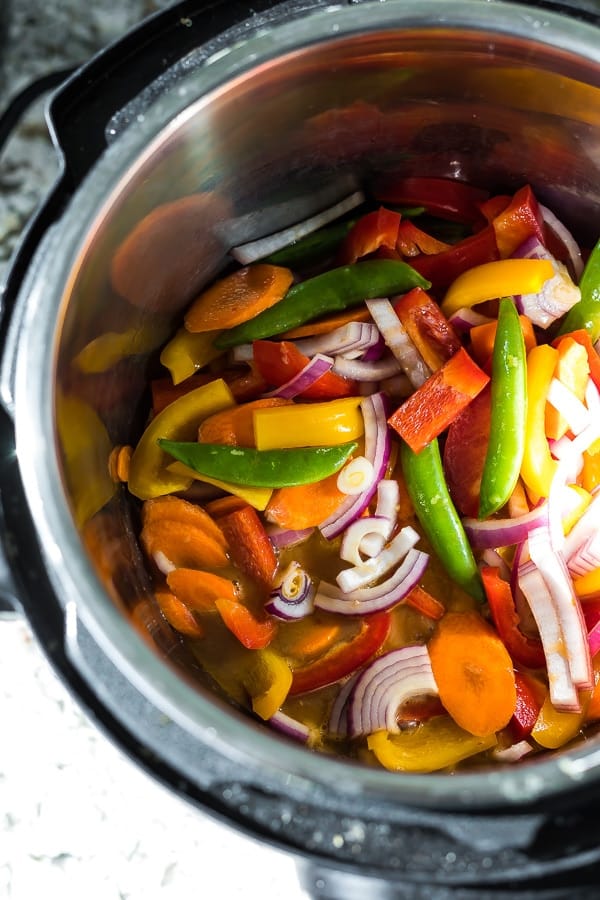 What kind of vegetables can I use in this Instant Pot stir fry? I used a mix of carrots, bell peppers, red onion and snap peas, but you could use different vegetables for sure! Zucchini, cauliflower, broccoli, bok choy, asparagus, mushrooms, anything that doesn't have too high of a water content (like tomatoes or cucumbers).
Can I cook this recipe from frozen? You may be able to, however I have not tried. I do worry that the sauce might burn, so I recommend thawing completely before cooking.
Can I sub chicken thighs in this recipe? Yes! If you'd like to swap the chicken breasts for boneless skinless chicken thighs, simply adjust the cook time to 10 minutes, and you are good!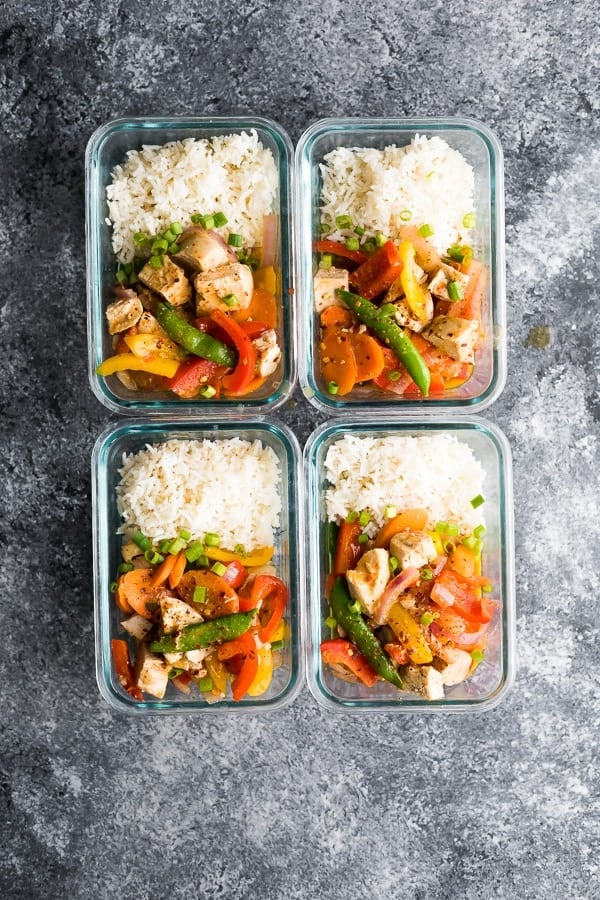 Recipe tips
I used my 6 quart Instant Pot; this recipe has not been tested in an 8 quart or mini
make sure you use heavy duty freezer bags if you are going to make freezer packs
I always use reduced sodium soy sauce; if you use regular it may be slightly saltier
Looking for more chicken breast recipes? Check out these 7 Chicken Marinade Recipes You Can Freeze, and this sequel with 7 (more) Freezer Friendly Chicken Breast Marinades. And of course, the 7 Instant Pot Chicken Breast Recipes post
Looking for more stir fry recipes? Check out these 7 Easy Stir Fry Sauce Recipes!

Print Recipe

Instant Pot Coconut Sweet Chili Chicken Stir Fry

Instant Pot coconut sweet chili chicken stir fry is easily ready in under 30 minutes! Made with a few simple ingredients, you can assemble freezer packs making for easy weeknight dinners. 

Ingredients

1

lb

boneless skinless chicken breasts

(roughly 2 large chicken breasts)

half can coconut milk 200 mL/ 6.7 oz

¼

cup

sweet chili sauce

2

tablespoons

reduced sodium soy sauce

2

teaspoons

lime juice

¼

teaspoon

red pepper flakes

After cooking

4-5

cups

vegetables, sliced thinly for stir fry

(such as bell peppers, snap peas, red onions, carrots)

Instructions

Combine all ingredients (except the vegetables) in 6 quart Instant Pot.

Cook on high pressure for 8 minutes (for average 7 oz chicken breasts; see note). Release the pressure when the Instant Pot beeps (quick pressure release).

Using a pair of tongs, carefully remove the chicken from the Instant Pot and allow to rest while you cook the veggies.

Add veggies to the Instant Pot and select 'sautee'. Cook, stirring frequently, for 3-5 minutes, until veggies are tender.

Slice chicken and return to the pot.

Serve over rice, spooning the sauce over everything.

Notes

*nutritional info does not include rice

Nutrition

Serving:

1

/4 of the batch

|

Calories:

284

kcal

|

Carbohydrates:

33

g

|

Protein:

31

g

|

Fat:

4

g

|

Saturated Fat:

1

g

|

Cholesterol:

73

mg

|

Sodium:

645

mg

|

Potassium:

820

mg

|

Fiber:

7

g

|

Sugar:

8

g

|

Vitamin A:

9315

IU

|

Vitamin C:

21

mg

|

Calcium:

51

mg

|

Iron:

2.3

mg