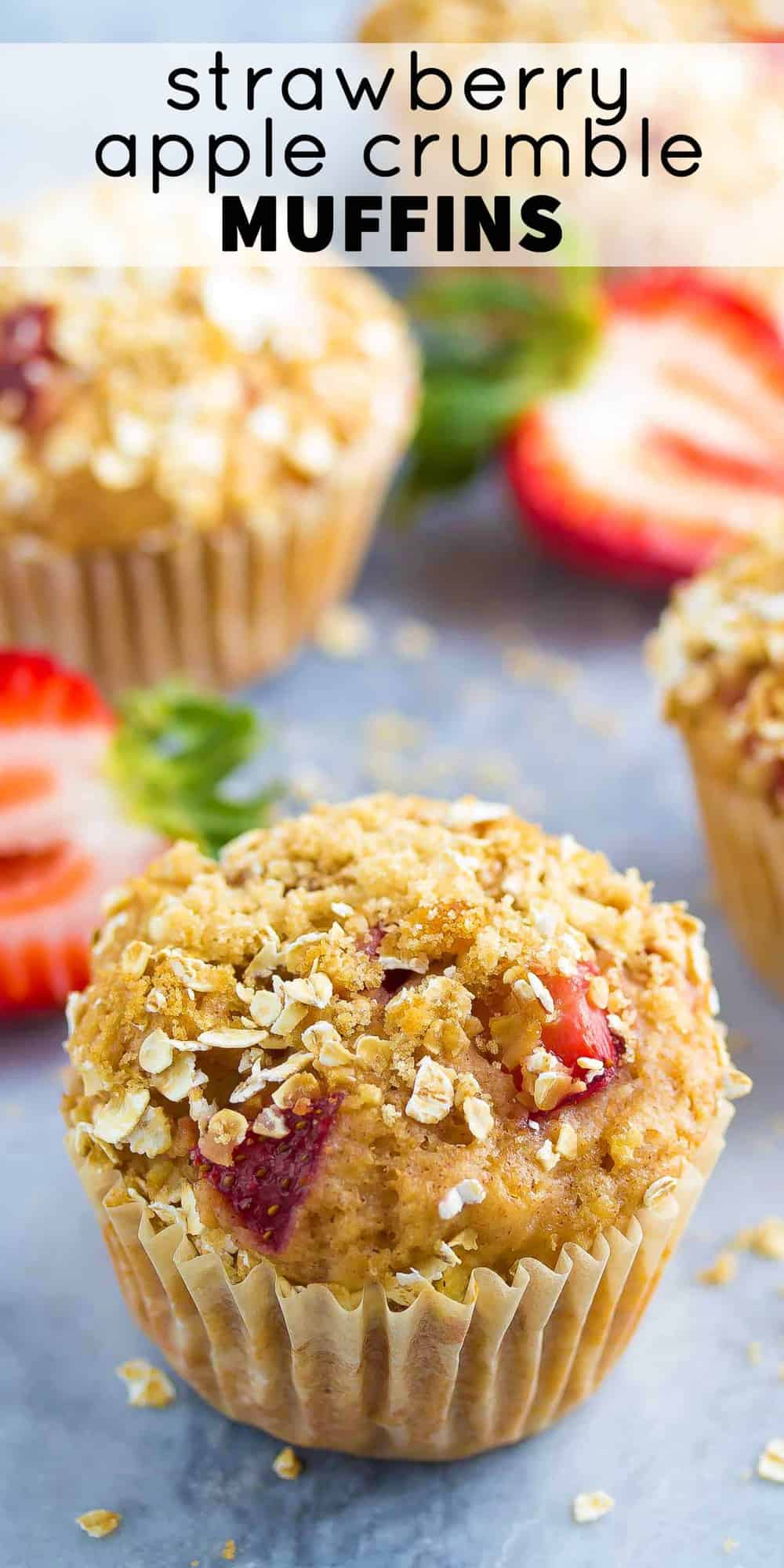 These strawberry apple crumble muffins will satisfy your muffin cravings while keeping things healthy.  No butter or oil, half whole wheat flour, and only 140 calories each!
Is anyone else getting excited about the impending arrival of summer and all of its glorious produce?
Of course we are so fortunate as to have access to fresh strawberries any month of the year, but A) they can be ridiculously expensive and B) they just don't taste the same as the fresh, sweet strawberries.
So I am definitely getting excited!
The strawberries I found in the store recently were definitely cheaper and noticeably sweeter, and after eating the majority of them fresh, I threw the last bit of them into these strawberry apple crumb muffins.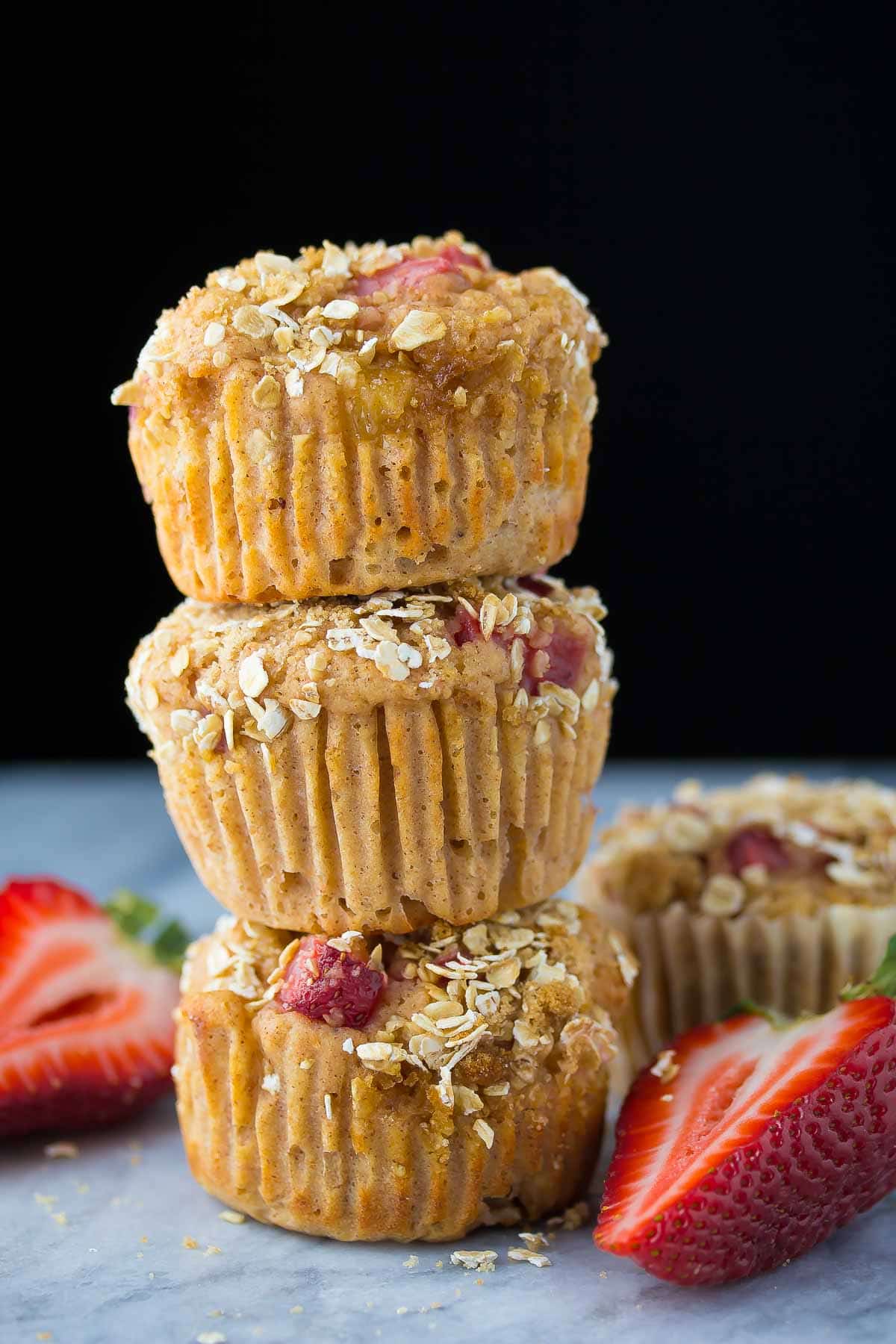 For these Strawberry Apple Crumble Muffins, I used my favorite healthy muffin base recipe from these Skinny Blueberry Buttermilk Muffins.
You know how some bakery-style muffins have about 500 calories each?  These are not those muffins.
These strawberry apple crumble muffins got a healthy make-over thanks to some Greek yogurt and apple sauce.  There is no butter or oil, and only 1/2 cup of brown sugar, whole wheat flour…and only 140 calories per muffin!
They get their sweetness from the strawberry and apple chunks inside the muffins.  Strawberries + apples are two peas in a pod…they go together SO well.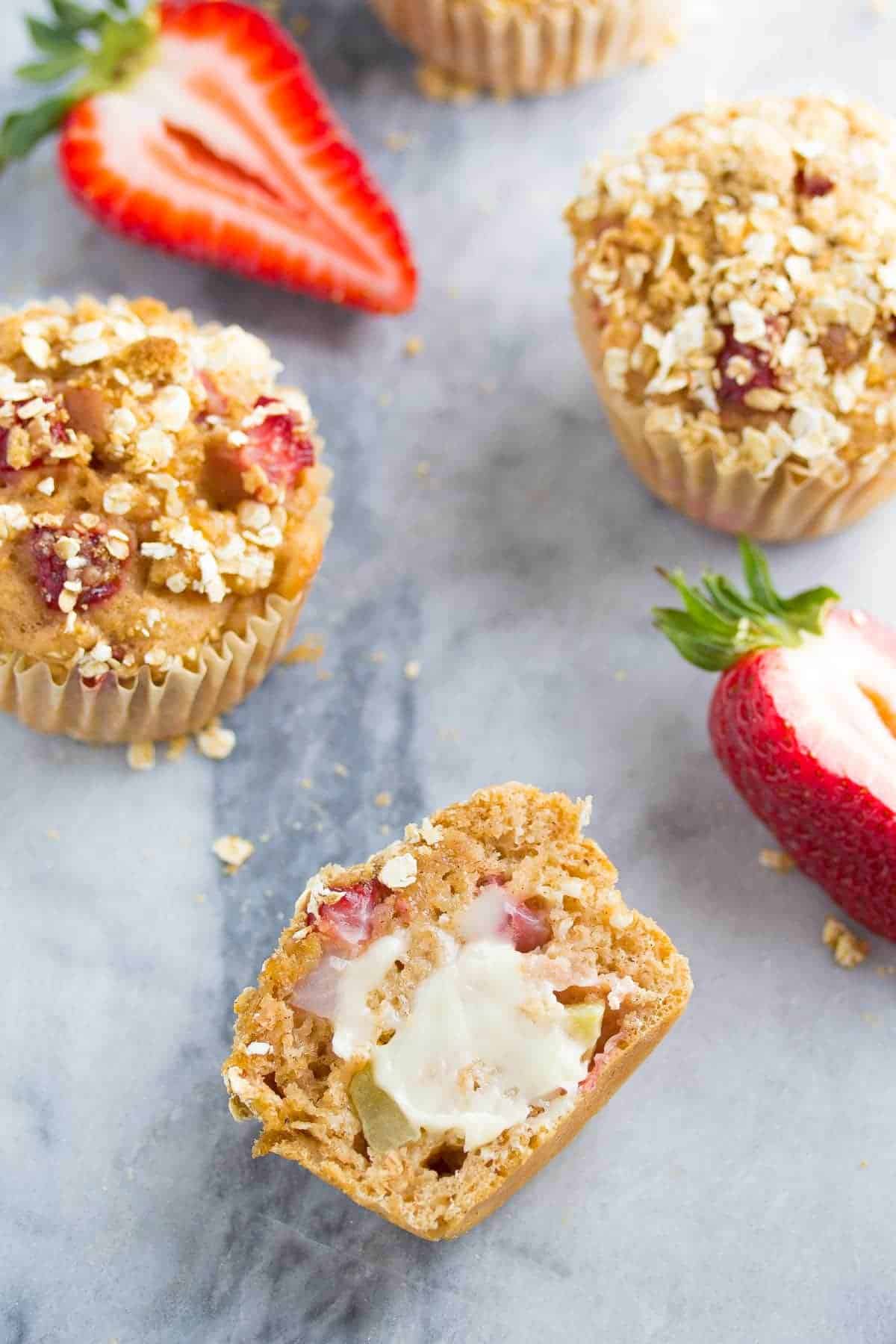 What to love about these muffins (besides the whole strawberry-apple thing)?  They are ready in 35 minutes, they freeze well, they are perfect for a coffee break snack that won't put you into a sugar coma.
And they have 1 1/2 cups of fresh fruit, plus another 1/2 cup of applesauce.  That's a lot of sneaky fruit packed into these guys!
I hope you all love these muffins as much as I do.
Have a fabulous weekend.  I will see you on Monday, and I'm bringing a slow cooker recipe!!
Healthy Strawberry Apple Crumble Muffins
14
adjust servings
Ingredients
1

cup all purpose flour (125g; fluffed, spooned & levelled)

1

cup whole wheat flour (125g; fluffed, spooned & levelled)

3

teaspoons baking powder

1/2

teaspoon salt

1/2

teaspoon cinnamon

1/4

teaspoon ground nutmeg

1/2

cup unsweetened applesauce

1/4

cup greek yogurt (I used 2%)

1/2

cup brown sugar

1

egg (lightly beaten)

1

cup buttermilk (I used 1%)

1

teaspoon vanilla

3/4

cup strawberries, cut into small pieces

3/4

cup apple, chopped into small pieces
Crumble topping
3

tablespoons brown sugar

3

tablespoons oats

1/2

teaspoon ground nutmeg
Instructions
Pre-heat oven to 400F. Distribute silicone muffin liners (parchment works as well, but not paper) in a standard-sized muffin tray.
In a medium bowl, combine flours, baking powder, salt, cinnamon and nutmeg. Set aside.
In a large bowl, combine sugar, applesauce and greek yogurt. Whisk until no lumps remain. Stir in buttermilk, egg and vanilla. Add dry ingredients to wet and stir until just combined. Batter will be lumpy. Gently fold in apple and strawberries.
In a small bowl, stir together the brown sugar, oatmeal and nutmeg.
Spoon batter evenly into muffin tray. Sprinkle the tops with the crumb topping.
Bake for 20-25 minutes, until edges brown and a toothpick comes out clean. 22 minutes in my oven.
Recipe Notes
Nutritional Information: (per muffin)
Calories 141 // Fat 1 g // Saturated Fat 0 g // Cholesterol 14 mg // Sodium 46 mg // Carbohydrate 30 g // Fiber 2 g // Sugars 14 g // Protein 4 g
Products used in this recipe:
More healthy muffin recipes!